August 21, 2020, 11:30 PM
Surprisingly, I never posted about the repainting project that I did in the living room, but better late than never, I suppose.
In any case, I embarked on a massive painting project last fall and winter that transformed the living room and hallways into something that looked the way that I wanted, rather than something that previous owners might have wanted.  The project was something that I had planned from the outset upon moving in because, while I didn't necessarily dislike the color of the living room and the hallways, the paint, depending on the location, was either in poor condition with a lot of old nail holes, or, in the case of the upstairs hallway specifically, never painted well to begin with.  So rather than try to match the color, it made far more sense to just repaint the whole thing in a new color of my choosing.
In planning this project, I had to figure out how to make my living room look its best.  My living room is long and narrow, and only has one window at the front.  So most of the lighting would come from artificial sources, such as the overhead lights and the lamp.  I ultimately decided to go with a sunnier color than what was there before on three sides, and then I also put a dark blue accent wall on the left side.  That left wall is completely blank, which made it a good candidate for an accent color, since I could do just about anything that I wanted with it as far as furniture arrangement and decor went.  I extended the new color up and down the stairs, since I found the transition between the tan living room and white stairs to be a bit jarring.  Extending the living room color up the stairs and down to the basement just made sense.
Continue reading…
May 17, 2020, 12:21 AM
You may have noticed the photo feature that is currently running on the front of the site depicts a vehicle on its side following its being involved in an accident.  First of all, before you ask: we were not involved in this accident.  Elyse and I saw a car with a bashed in front in the middle of the road and a second car on its side at the intersection of Montgomery Village Avenue and Lost Knife Road while we were on the way home from dropping off a package at a UPS locker, and, seeing no emergency vehicles around, stopped and called it into 911.  Thankfully, no one appeared to be seriously hurt, as both drivers were able to walk away from their respective vehicles.  However, I suspect that the driver of the smashed car hit her head on the windshield, as there was damage to the windshield consistent with that sort of impact.  Additionally, both drivers did ultimately leave the scene in ambulances, presumably to get checked out.
Once we were finished talking with 911, we got some photos of the scene.  Here are some of mine: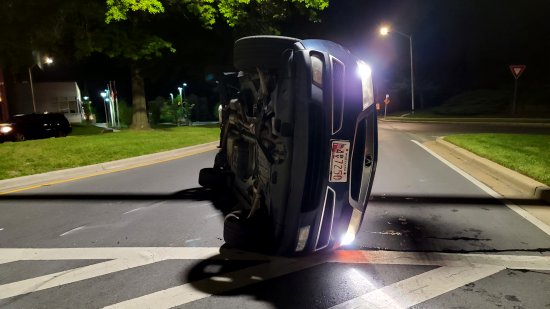 The overturned vehicle, an Acura MDX.  The driver had not yet turned the car off when this photo was taken.
Continue reading…
December 27, 2018, 2:44 PM
Elyse and I drove around our immediate area in Montgomery Village looking at lights after I got home from work on Christmas Eve.  The sense that we got from driving around was that this wasn't a big year for decorating.  There were some houses that were decorated, but on the whole, there was not a whole lot going on.  Last Christmas was definitely better, though admittedly, it is more of a challenge to successfully decorate townhouses than single-family houses.  Nonetheless, I have a few highlights to share: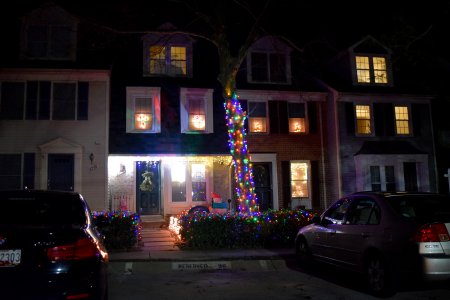 These were the only decorations of note on my street.  It appears that these two houses coordinated their efforts, as the decorations in the second-floor windows match, and the lighting on the hedges on both properties also matches.
Continue reading…
November 26, 2017, 11:58 PM
So as of this writing, I've been living in Montgomery Village for about a week and a half, having moved on November 16.  The new place is starting to feel like home, even though I'm not entirely unpacked yet.  That is a process, and it will take time.  However, I think that the weirdest thing about the whole move process was watching my home of ten years get dismantled and carted out the door.  I hired movers to pack and move everything, so all that I had to do was keep Elyse occupied, make sure that the movers didn't take the cleaning supplies (for the post-move cleaning that I am obligated to do, but have not done yet), and answer any questions that the movers might have.  Afterward, I was struck by what felt like the finality of it all: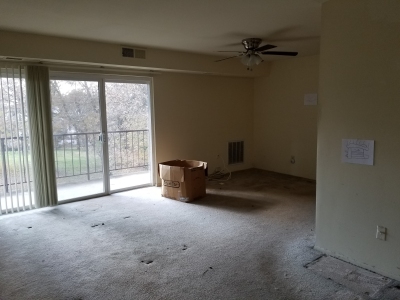 Continue reading…
November 5, 2017, 2:45 PM
You may recall back in May that I sort of casually mentioned that Pixsy money was helping me get ahead financially and eventually buy a house.  "Eventually" has since morphed into "very soon".  So I might as well make it official: I am buying a townhome in Montgomery Village, and therefore, I will be leaving my apartment of ten years in Aspen Hill fairly soon.  I am just a ball of different emotions, being both excited and terrified all at the same time.  I'm also picking up a housemate, as Elyse will be living with me.
I have wanted to own my own home for about six years.  Back then, it was an "eventually" thing, and more of a fantasy than anything else.  While some of my coworkers at Food & Water Watch owned their own homes, almost all of those people were married or otherwise in a committed relationship.  As a single person, I could not afford to buy a house on a Food & Water Watch salary.  I also owed a bunch of money on my credit card due to several large repairs that I had to make on my old Sable station wagon, which certainly didn't help things.  Then when I lost my job at Food & Water Watch, any thoughts of being a homeowner went right out the window for a while as I went into survival mode, having to live off of what should have been retirement money for a little while.  When I started working in public transportation, one of the instructors during bus training gave us some advice: "Get yourself some bricks."  In other words, buy a house.  My financial situation was not where I wanted it to be yet in order to do that, but I knew that our instructor was right.
In the fall of 2015, I was in the financial position to start considering becoming a homeowner, and I was starting to "hit a wall" with my apartment, as I wanted to do things that I couldn't do while renting, like paint the walls.  I had creative energies that I wanted to get out, but couldn't expend them in my place.  So I started fantasizing about redecorating my parents' house, where the decor is somewhat dated ("stuck in the nineties" is the phrase I would use).  Mom wasn't very receptive to my ideas for redecorating, unfortunately, as she didn't see any reason to redecorate.  I also wanted more living space, as it was always hard to have guests over with no spare room and only one bathroom.  Guests sleep in the living room, and so whenever I had visitors over, no one had much privacy.  Plus, with guests sleeping in the living room, bedtime for one basically meant bedtime for all, since no one could really move around without disturbing the other person.
Continue reading…