September 21, 2012, 9:01 PM
So while I was out and about today, I got new photos of Shenandoah Acres as a follow-up to my previous Journal entry on Shenandoah Acres.  And if you ask me, it was kind of depressing.  Take a look: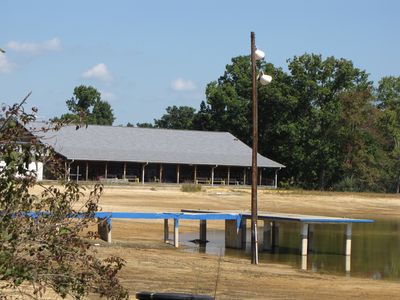 One of two platforms in the lake, and the 1997 beach house.  To give you an idea of the normal lake level, the platform was less than a foot above the water level, and the platform was completely surrounded by water.
Continue reading…
September 2, 2012, 8:39 PM
For the last few years, I have been involved in a Facebook group called "Remembering Shenandoah Acres".  This group is built around discussing memories of times spent at the Shenandoah Acres resort in Stuarts Draft that closed after the 2004 season, but most discussions anymore center around complaining about the state that the property is now in.
For those not familiar, Shenandoah Acres was a facility that billed itself as "America's Finest Inland Beach", owned and operated by the Blacka family for many years.  It had a campground, there were cabins, and a motel building on the property.  The facility also had tennis courts, trail rides on horseback, and miniature golf.  However, the centerpiece of the facility was a manmade lake with a beach around it, playground equipment in the water (including one slide about two or three stories high), and a large tower in the center that offered a zip line ride.  The facility was a popular tourist attraction, and the lake was also very popular with locals during the summer season.
In the years that I've been familiar with the facility, one of the merry go rounds in the water was replaced in 1995 by "Clyde the Slyde", which was a small slide built inside a dinosaur sculpture, and the zip lines were dismantled in the late 1990s or early 2000s and replaced with the "Pink Zipper" water slide.  Additionally, the roof of the original beach house collapsed due to excessive snowfall in 1997, and was replaced with a new structure slightly to the northeast of the original.  The facility closed after the 2004 season because, according to the owner at the time, whom my family went to church with, the cost of insurance finally became too much to bear.  My family went to Shenandoah Acres from 1993 until about 1996.
Continue reading…