August 25, 2017, 12:30 PM
Wednesday, August 23 had been planned as a road trip day for quite some time.  Elyse turned 21 two days prior, and this was my birthday present to her, going on a trip up to Asbury Park, New Jersey to visit the Silverball Museum, a pinball arcade on the boardwalk.  We previously visited this facility in May.  Then the plan was to go up to Menlo Park Mall in Edison to go to Rainforest Cafe, where we were having dinner, and I was buying Elyse a drink.  The day that we ended up having was a lot of fun, but definitely more expansive than I had originally planned.
We left the house around 11:00, with Asbury Park as our destination.  We made a quick stop at Maryland House, and then a White Castle in Howell Township: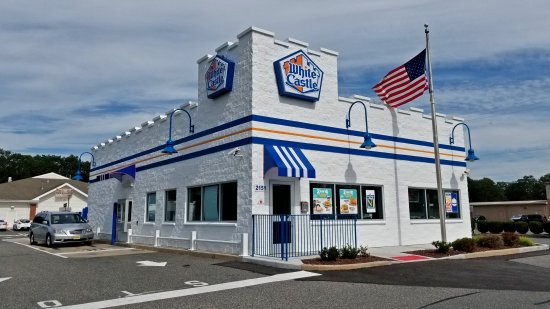 Continue reading…
May 29, 2017, 10:08 AM
On Tuesday, May 23, Elyse and I, along with mutual friend Brian, went up to Asbury Park, New Jersey for the day.  Our goal was to go to the Silverball Museum, which is a vintage arcade on the Asbury Park boardwalk.
We left in the 10:00 hour, and headed up via the Delaware Memorial Bridge, I-295, and I-195, with a stop for lunch at Maryland House.  On the way up I-295, imagine Elyse and Brian's surprise when I said, "I think I left my hat at Maryland House," in that oh, crap sort of way.  Elyse suggested turning around to get it, but we were too far afield to do that.  To turn around would be tantamount to cancelling our trip to return to Harford County, Maryland, just north of Baltimore.  So we continued on, hatless.  After all, we would pass Maryland House coming home, so we could see if it was still there at that time.  I know what I did – I set my hat down on the table next to me when we were having lunch, and I walked off without it.
Arriving in Asbury Park, we located the pinball museum, but first, I wanted to check out a place from my childhood that I had missed during my 2013 trip: Asbury Youth Center, which was a children's clothing store run by my Uncle Skippy.  I remember Uncle Skippy, and remember his being pretty awesome.  Many of the outfits that you saw me in on the Childhood Days page, such as this one came from Uncle Skippy's store.  The store closed in the late 1980s when Uncle Skippy retired, and I hadn't been back there since.  So a quick Google search revealed the address to be 660 Cookman Avenue, and it was off to the races.  This is what the building that housed Uncle Skippy's store looks like today: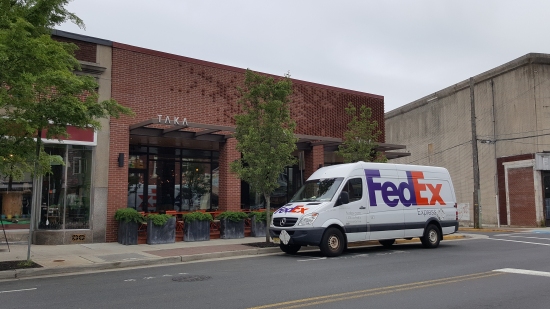 Continue reading…
October 30, 2013, 9:45 PM
Last Thursday, October 24, was a fun day.  I took a one-day road trip to Monmouth County, New Jersey.  The inspiration was my needing a change of scenery for a day, and seeing this as an opportunity to do a few things I'd wanted to do for a while now.
As with any trip, they say that getting there is half the fun, but I was quickly struck by how much it cost to get to New Jersey.  Let's just say that officials in northeastern states, New Jersey in particular, never met a road or a bridge that they couldn't slap a toll on.  And tolls have gone up.  The Baltimore tunnels in Maryland (Fort McHenry and Harbor) are now four bucks each way (up from $2), and the Millard E. Tydings Memorial Bridge is now eight bucks(!) for its northbound-only toll (up from $5).  Otherwise, the Intercounty Connector near me was $2.05 from Layhill Road to I-95 (it's a variable toll depending on time of day – your results may vary), Delaware was still four dollars, the New Jersey Turnpike was $3.50 to Exit 7A, and then the Garden State Parkway wanted fifty cents from me for going one exit.  Kind of surprisingly, New Jersey didn't want anything for my ride on I-195.  Altogether, it cost $22.05 in tolls alone to get to my first destination.  And that's just getting there.  I had to run that gauntlet of tolls coming back, too.
The first stop was a very personal one for me.  I went to Temple Beth-El Cemetery in Neptune, where my grandparents on my father's side, Ruth and Seymour ("Pop") Schumin, are buried.  I also didn't realize before I arrived that Aunt Ruth and Uncle Seymour were buried in the same location.  Uncle Seymour died in April 1981, a little less than two months before I was born.  Pop and Grandma died within a month and a half of each other in the spring of 1988, when I was in first grade.  Aunt Ruth died in November 2003, right around Thanksgiving.  Therefore, I never got to know Uncle Seymour, it's been 25 years since Pop and Grandma died, and it's been almost ten years since Aunt Ruth died.
Continue reading…
July 20, 2004, 9:11 PM
Mom found the most awesome picture ever today while I was at work. Look: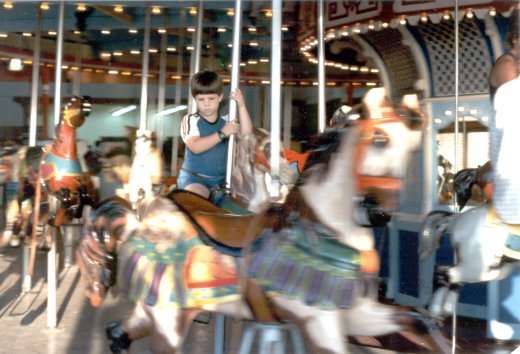 Continue reading…
October 15, 2003, 8:32 AM
What a windy day out today! It hasn't been this windy since Hurricane Isabel. However, it's not nearly that windy. According to Weatherbug, winds are about 20-30 MPH, with gusts up to 50 MPH. Nothing to sneeze at nonetheless. You can definitely hear it outside. Who knows… maybe I'll lose my other screen now. I lost the first one during Hurricane Isabel, and it's now in the garage awaiting reinstallation.
Otherwise, tomorrow I'm going to Pittsburgh! I'm going with LPCM, and we're going to be cleaning rugs at Sojourner House, which is basically a halfway house for mothers who are recovering from drug addictions.
And lastly, I've hung an image that my father grew up with on my door. Basically, I hung up a picture of the Palace Amusements character "Tillie" (named for George Tilyou), which graces one side of Palace Amusements in Asbury Park, New Jersey. I've actually been to Asbury Park, but was too young to remember seeing Tillie in person. But the reason I hung Tillie up in here is because I've been studying vintage roadside architecture lately, and Palace Amusements ranks high up there, but has suffered tremendous decay since they closed in the late 1980s. There's now a group trying to save the place and have it restored. Plus I think it would be a pleasant surprise for Dad to see Tillie again.
(Although if I had a better ink cartridge, maybe Tillie would look more normal instead of having purple hair due to my lack of yellow ink)