Pinball and the Big Apple…
March 23, 2019, 1:55 PM
You know, one of these days, I'm going to realize that doing New Jersey and New York City is too much to bite off for a day trip.  However, that day has not come yet, and so on Tuesday, March 12, Elyse and I did exactly that, going to Asbury Park, where we visited the Silverball Museum, and then we rode a New Jersey Transit train from Long Branch to New York City, and spent a few hours in New York.
All in all, though, it wasn't a bad trip, but it was very strenuous.  New York definitely needs to be its own thing, and always its own thing.  No bundling it with stuff in New Jersey, because we always end up getting home extremely late.  But unlike the last time that we bundled New York with Asbury Park, this time, New York was planned from the outset.
Our time in New Jersey was pretty typical: in via the Delaware Memorial Bridge, up via 295, make the big right turn near Trenton to get on 195, comment on the sign at milepost 14.6 that says that the trees are treated with a noxious substance, go to White Castle, and then arrive in Asbury Park.
The Silverball Museum was excellent, as always, as I played my way around the facility.  They had some new chairs this time around, and a few new games.  Elyse noticed that besides her favorite baseball game, there were four or five other vintage baseball games to try.  They also now have the arcade version of Asteroids.  I used to play Asteroids for the Atari 2600 all the time, so I knew my way around that game.  The controls are different on the arcade machine, though.  I found that the all-button controls were not as intuitive as the Atari 2600's joystick-based controls.  That said, I didn't do very well, but with more practice, I could probably get a decent score.
I also got to take some of my favorite machines there for a spin.  For some reason, I really enjoy Hayburners, which is a pinball game where the ball's movements drive a horse race on the back part.  Take a look: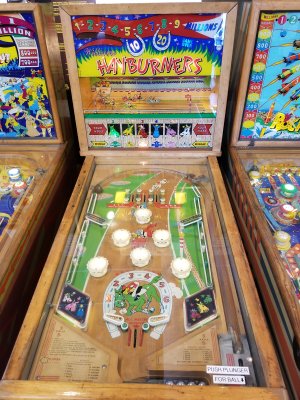 Here's a close-up of the back part: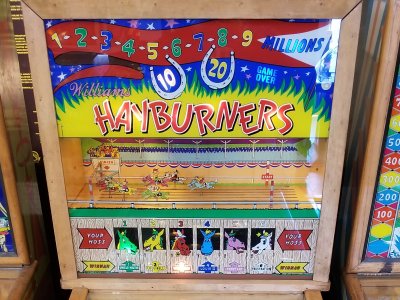 The goal is to move your horse (which the game selects) to the finish line.  What you do on the pinball field affects the movement of the horses.  Some objects advance a single, specific horse, while others advance multiple horses.  One even changes which horse is "your" horse.  The game is over when a horse crosses the finish line.  Here's a video of Hayburners in action.  It's a pretty fun game.  Sometimes, the simple games are the best ones.  Modern pinball games are far too complicated.
Then my other favorite is this one: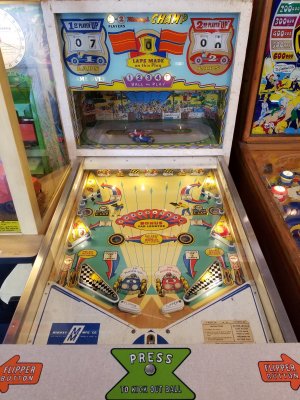 This is Midway's Champ, where two players take turns playing pinball to move cars around a racetrack.  The most laps wins.  It's surprisingly addictive.  Even when you're not racing against someone, there's a certain fun factor to seeing if you can beat your own personal best, both in number of laps made in a single play and overall.  Here's a video of Midway's Champ in action.  Just like Hayburners, the play mechanics aren't complicated.  You hit the targets that cause movement on the track.  No shooting balls into holes, no capturing balls, no weird tubes for balls to travel through.  Just hit the targets to race your cars.  Not bad.
After spending about three hours at the Silverball Museum, we headed up to Long Branch.  Destination: New York Penn Station.  The ride was pretty comfortable on an older NJ Transit railcar: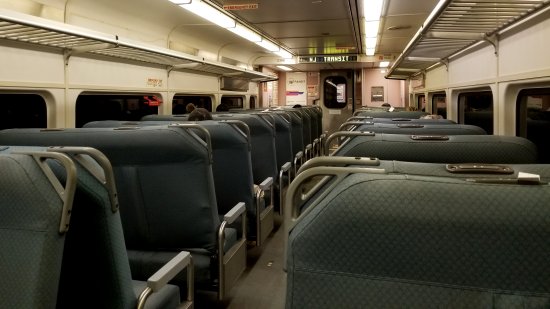 Not bad.  Our ride took us past Wheelock, i.e. the fire alarm company, so that was nice to see.  Also, one perk about working in the transit industry is they let me ride free with my work ID.  I certainly don't mind not paying for a ticket if I don't have to.  The ride lasted 90 minutes, and then we were in New York.
Coming into the station, we saw this sign: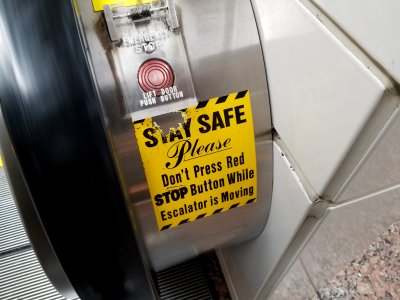 Yeah, about that.  What am I supposed to do, use the emergency stop button once the escalator is already stopped?  I was told by a friend that the intent of the sign is to deter people from pressing the button when it's not an emergency, but that's not what the sign says.  If we're not supposed to use the emergency stop button to stop the escalator in an emergency, then what's the point of having the button in the first place?  Someone needs to remove those signs.
Leaving Penn Station, we took the subway, riding a 1 train to 14th Street/6th Avenue, and then taking an L train from there to Lorimer Street in Brooklyn.  Some subway pix for you: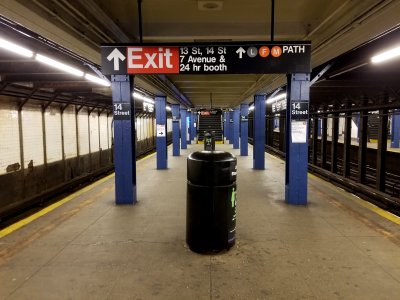 Platform at 14th Street.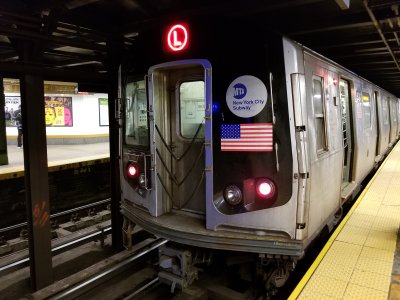 R143 at Lorimer Street.
Every time I ride the New York Subway, it makes me appreciate Metro.  The transfers are all in relatively compact areas, without having to walk in long underground tunnels to make connections, and escalators are plentiful.  After this adventure in the subway, it was clear why everyone that I saw was skinny.  That subway with its tunnels, ramps, and stairs will work you, especially if you're in a hurry.  Elyse and I would probably be little beanpoles if we lived in New York.
Coming out onto the street in Brooklyn, Elyse took me to Sal's Pizzeria, which is somewhere that she enjoyed the last time she was in New York.  We each got pizza and a drink, though, curiously, they forgot to charge Elyse for hers.  Go figure.
My pizza: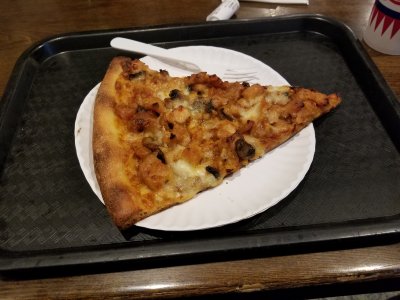 That was some good stuff.  I will definitely have to come to Sal's again.  I also got a selfie at Sal's: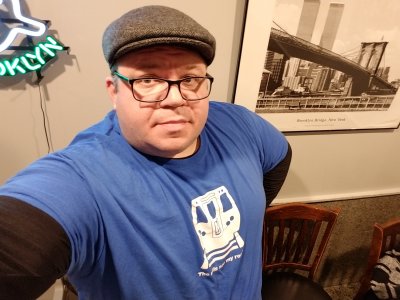 Yep – I'm wearing a Metro shirt in New York.  Have to show a little pride for your home subway system when you're out and about, right?  I plan on bringing this shirt to Toronto as well when I go in a few weeks.
After leaving Sal's, we headed over to a nearby grocery store, where Elyse bought some candies that she hasn't been able to find anywhere else.  From there, it was back to the subway, as we took the L and then the R to Union Square.  We came out to this sight: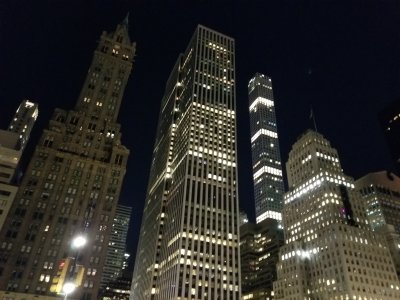 I captioned this on Instagram as, "New York City, yo. #nyc #manhattan".  Seems fitting.  I was annoyed when I got home to find out that I had wiggled the camera just enough to cause a motion blur, which means that I can't really use the photo for anything important.  I liked the shot, but that blur…
Meanwhile, you know that you're in "the city that never sleeps" when you find out that the Apple store, of all places, is open 24 hours.  And the place was hopping at 11-something at night, as was the rest of that area of Manhattan.  After the Apple store, I took my first New York City bus, riding the Q32 from West 58th Street to Penn Station, on an Orion VII.  Not a bad experience.  Our operator certainly knew how to handle the city.
We left New York at 1 AM to return to Long Branch.  This was the last train of the night, as the next train didn't leave until 4-something, which at that point was the next day's service.  We rode one of the newer bi-level cars: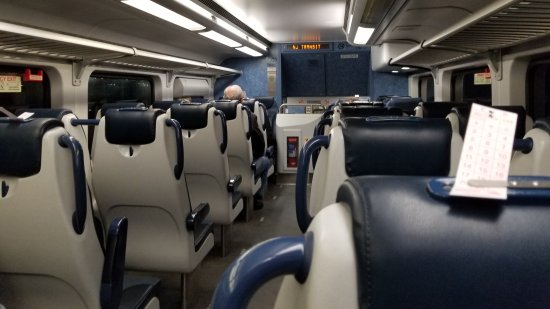 MARC has similar coaches, as they shared an order with NJ Transit.
We got back to our car at 2:30 AM, and after restroom and gas stops, we were on our way.  Already, you can tell that this is going to be a long trip, starting from North Jersey at this late hour.  For future reference, I don't like being in New Jersey at this late of an hour when my sleep location is in Montgomery Village.  We didn't take the most direct route home, which would have been 195 to the Turnpike and over the Delaware Memorial Bridge to 95.  I knew that I'd had a long day, and wanted to make sure that I stayed engaged.  So we ended up taking 195 to Trenton, went over the Lower Trenton Bridge into Pennsylvania, and then took I-95 through Philadelphia and Wilmington to get home.  I also completed a feat that most people passing through New Jersey can't do: I traversed the state and didn't pay a single toll the entire time.  The only tolls that I paid the entire day were the Tydings Bridge in Maryland, and the Delaware toll.  Not a single New Jersey toll.  Also, interestingly enough, Google Maps sent us past Ocean Township High School, which is where my father went to high school.  I definitely wasn't expecting to see Dad's old high school, but good to "put a face to a name", so to speak.
Once we got out of New Jersey, we began to hit rush hour traffic when we got to Philadelphia, and traffic remained heavy until we got past the Baltimore Beltway.  I was exhausted, but the trip through the big cities worked, as it kept me engaged and alert the whole time.
All in all, it was a fun trip, and New York has so much to see and explore.  In the three trips that I've made, I have yet to go over the same territory twice.  But the next time I do New York City, I'm doing it as a separate event, because it really demands it.