July 29, 2019, 10:00 AM
In the past month, Elyse and I completed two small "refresh" projects in the house.  These projects were nothing too major, but still make a big difference in the quality of life in the place.  We repainted the half bath and also replaced the toilet, and then I also repainted the coat closet.
The bathroom project was the more involved of the two, since the toilet was getting replaced.  That one was something that I'd wanted to do for a while.  The idea was that the old toilet was so cheap that it wasn't worth rebuilding, and then since I had to patch a few holes in the walls and the door (from the previous owner's decor) anyway, might as well do a full paint rather than trying to match the old color.  The new toilet came from a thrift store, believe it or not.  We bought a brand new American Standard Cadet 3 at the Habitat for Humanity ReStore in Herndon back in May: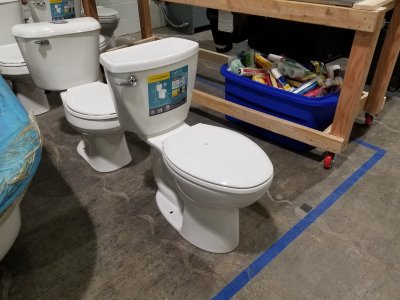 Continue reading…
July 14, 2019, 12:20 PM
Sometimes I wonder if, in hindsight, I might have had an easier time in school if I had just beaten the crap out of a few kids.  Seriously.  I got picked on quite a bit, particularly in middle school. I got made fun of for my weight, I got made fun of for the way I walked (which I found out much later was due to overly tight calf muscles, which is remedied through stretching), and I got made fun of for my mannerisms.
I admit that I was a bit of an easy mark in middle school.  I wouldn't fight back, for a couple of reasons.  First of all, I was in a martial arts class at the time that emphasized never starting a fight.  Additionally, and more importantly, when students get into a fight in school, fault was typically assigned equally regardless of what happened, and so both students got suspended.  Thus even if you were not the one who initiated the fight and you were trying to get the other kid off of you, you were still getting suspended.  Since my parents had decided before I was born that I was going to college, getting suspended was viewed as the worst thing ever.  Recall the "you might as well wish you were dead" remark from when I got suspended in fourth grade.  We later found out after we moved to Virginia that the elementary school suspension wasn't in my records.  Whether that was sloppy work on Mrs. Carmical's part or what have you, I don't know, but officially, it never happened.  However, getting suspended going forward was a no-go, because of the assumption that it would affect my ability to get into college.  As it turns out, that assumption was mistaken, because no college cares about what you did in middle school.  But for that mistaken assumption, I had a rough time.
In reading various discussions online, one thing that I saw over and over was that when the victims of bullying retaliated against their attackers, it generally put an end to it.  One story from online that stuck with me was where a girl who was being bullied walked by and jabbed a pair of scissors into her attacker's back.  She got in some trouble, but the end result was that her bully now feared her.  Seemed like a good result.  She ended it.  And in a fight, if everyone is getting suspended, it really changes the dynamic of things.  With nothing to lose, why not inflict maximum damage?  Give the kid something to remember you by.  Bet that they won't mess with you again after that.
Continue reading…
July 7, 2019, 10:52 AM
Here we go again.
The 2020 election cycle is very much underway, and one of the top-tier candidates is Bernie Sanders.  Sanders, you may recall, is an independent senator from Vermont who ran in the 2016 election cycle, and came in second place to Hillary Clinton, who went on to lose in November.  Back in 2016, we saw a lot of people saying, "Bernie Sanders isn't a Democrat," and they used that as a reason that people should not vote for him, and how if he wants to run as a Democrat, then he should join the party, for whatever that's worth.  In any case, with hindsight, you can see how well all of that petty tribalism worked out.  The Democrats ended up nominating the worst possible candidate in Hillary Clinton, and she ultimately lost the race to Donald Trump, who should have been an easy candidate to defeat, because he's a complete buffoon who had no experience in government.  One could write volumes about what went wrong in 2016, including the complete shutout of the Sanders constituency after the nomination was secured, the choice of a boring vice president who added nothing to the ticket, and so on, but the bottom line is that the Democrats lost, and lost pretty badly.  Sure, Hillary Clinton won the popular vote, but the popular vote unfortunately is not what gets someone into the Oval Office under our system.
And then recently, when a friend posted an article from Business Insider titled "25% of Bernie Sanders' supporters don't trust the Democratic National Committee to run a fair 2020 primary", it generated the following comments:
"Well since he is not a Democrat… or is he now… One cannot run or control something of which one refuses to be a part."

"If one wants to criticize the DNC process and be taken seriously, one should be a member of the party.  It's their primary, so they get to set the rules."
Continue reading…