July 31, 2018, 10:50 AM
So I was recently on Reddit and looking at /r/blunderyears, which is a board where people post old embarrassing photos of themselves, and came across this guy's old photo from 2005: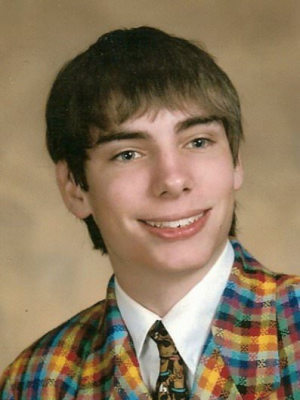 Continue reading…
July 20, 2018, 2:34 PM
Yesterday marked five years since I left Food & Water Watch, where I worked for a little over six years.  I had not been happy there for a while, and the deterioration of things in my last three months or so was the final push that I needed in order to do what I knew that I needed to do, i.e. leave the organization.  Looking back, I suppose that what ultimately happened was the logical conclusion to my work there.  I was hired into a very generalist position back in 2007.  I was that guy who "did everything".  One day I would be doing accounting work.  One day I was building furniture.  One day I was fixing computers.  One day I would be working in fundraising.  You name it, and I probably did it at some point.  Over the years, my job evolved and changed as the organization grew, and people with more specialized roles were added as various functions of the organization became too large for a more generalist position.  Eventually, there became less of a need for a position like mine, but so rather than promote me to a new role, they opted to unload me.  Suit yourself, I suppose.
In any case, the next fifteen months were an interesting time in my life.  I was reminded of exactly how much job hunting sucks, but I also remember not really feeling any of the positions that I was applying for.  More nonprofit work after just having been chewed up and spit out by one didn't exactly ignite my passion.  Especially when there was that nagging thought that in a few years, I would probably be searching for a job again, since most people tended to only stay somewhere for two or three years before moving on.  By October, I had given up on nonprofits, and focused on transportation.  I got a CDL, and I was applying to driving jobs.  I was more excited about the work than sitting in an office all day, that's for sure.  I knew I was in the right place, because I felt like the passion and the fire were back.
It's funny, though, what makes you realize how much you've grown and changed in five years.  I redid my resume about a month ago for a few internal positions that I am pursuing with my current employer, and based the new resume on the one that I had used in 2013 and 2014.  That old resume was trying to be a lot of different things, and focused on how well-rounded I was as a candidate, focusing on technical abilities, writing, and work experience.  It was two pages (front and back), and probably had too much on it, as it had this big, flowery "skills" section, plus a section on volunteer work which covered all of my writing on Wikipedia, and also showcased the various skills developed through Schumin Web.  I thought it was great in 2013 and 2014, but in 2018, I saw a whole lot of fluff.  I condensed that puppy down to one page, as a lot of that was irrelevant to an internal move in a transit agency.  My Wikipedia writing experience went right out the window, as I hadn't done that in quite a few years, and thus it was less relevant.  Schumin Web is now listed as a real job, as the business side of things (i.e. licensing photos for third party use) has actually become a real revenue stream in the last few years.  And then my Office on Youth internship, which I did in the summer of 2003, is gone.  It didn't provide any new insights that other positions didn't already provide, and was for such a short duration that it could disappear and no one would miss it.  Kind of weird to think about, though, since that internship defined my summer that year.  But then again, things change.  No one from when I interned there still works there.  I don't recognize a single face on their staff bio page.
Continue reading…
July 12, 2018, 4:00 PM
You know, there's nothing like undertaking a rewriting project to make you realize that you're a much better writer than you used to be, and also that fluff for the purpose of filling space isn't helping anyone.  For several years, I've had a list of pages that I want to redo, and recently, I finally started knocking a few of them out.  I've already completed the new About Me page, and the main page for Odds and Ends also got a rewrite.  Cars and Quote Archives were substantially reworked recently, though those pages were not full rewrites from scratch.  Then I'm also planning on doing full rewrites on the main pages for Archives, Life and Times, and Photography, as the writing on all of those pages is at least a decade old, likely dating back to the 2003 or 2004 redesign.  The photos on those introduction pages were last changed in 2012, when I converted the site to WordPress (six years ago!).
If the two completed rewrites are any indication, this will be a beneficial and much needed upgrade.  The new About Me page replaced a page that was written in 2007 during a site conversion that left the reader with the impression of a person that I no longer am.  The new page corrects that, reflecting new perspectives on things.  The new version also intermingles the history of the website with my own personal history, acknowledging that I've had the website for the majority of my life, and that as such, our histories are very much intertwined.  I've also linked to different Journal entries and pages throughout, with the idea of providing an overview while not trying to reinvent the wheel by duplicating material that I have already discussed in detail elsewhere on the site.
Then the Odds and Ends rewrite was extremely straightforward, replacing a longer three-paragraph page with a single paragraph.  There's not much to say about what is essentially a "miscellaneous" section, and the new writing reflects that.  It's not quite "here it is", but it avoids droning on for paragraphs just to fill space in order to make the page appear full.  It's not afraid to be succinct, and to be shorter than the section menu to its right.  I suppose that the new Odds and Ends page's having blank space beneath while the sidebar continues downward is a flaw in the current site design, but I'm willing to tolerate that for now.  The current site design is nearly six years old at this point, and the site as a whole could probably benefit from a redesign, but one thing at a time.
Continue reading…