May 24, 2018, 5:40 AM
On May 17, 2018, I took a solo trip up to Centralia, Pennsylvania.  For those not familiar, Centralia is something of a modern ghost town, having gradually been abandoned due to a coal mine fire that's been burning uncontrolled beneath the town since 1962, likely caused by deliberate burning of trash in the town's landfill, which was on top of a former strip mine.  As of 2013, the town had only seven residents remaining, and when those remaining residents pass on or otherwise leave the town, their properties will be seized via eminent domain.
I had done some research about the site, but was a bit iffy on whether it was going to be good or not.  I was concerned about its being a bust, but it was still intriguing enough to make the trip.  And as it turned out, it was pretty cool.  The biggest "attraction" at Centralia is an abandoned section of road known as the "Graffiti Highway".  That road came about when Pennsylvania Route 61 began having subsidence and visibility issues due to the coal mine fire.  The state built a new alignment for the route on more stable ground in 1993, and the old alignment was abandoned.  Since then, many people have come by and left graffiti tags on the road, which gave the road its nickname.  Besides the road, there are also several cemeteries in Centralia, as well as one remaining active church, Assumption of the Blessed Virgin Mary, a Ukrainian Greek Catholic Church.
When I went up, I wasn't quite sure how it would work out.  Based on my research, as well as a little Google sightseeing, there were the roads of the former town surrounded by empty land and a few houses, and the possibility of seeing steam from the mine fire rising from the ground.  The Graffiti Highway was most intriguing.  I'd heard mixed reports about how accessible the Graffiti Highway was, though.  When it was still under state ownership, my understanding was that police tended to chase people away on a routine basis.  I didn't want to travel that far just to get chased out.  But last fall, the state vacated their easement, i.e. they gave up the right of way, determining that it will never again be used for a road, and ownership of the land reverted back to adjacent property owners.  So I believe that the old road is now on privately owned land, and as such, the heavy enforcement went away now that the state no longer owns the land.  In any case, no one bothered me on my visit.
Continue reading…
May 19, 2018, 10:40 PM
A second room in my house meets the paintbrush.  As you may recall, I painted Elyse's bathroom a few weeks ago, and now, while Elyse was out on a trip to Japan, I painted her bedroom.  This was a much-anticipated paint job, because the basement bedroom was, to put it nicely, the only weird room in the house.  While the rest of the house had white trim, the trim in the basement bedroom was a blue color.  That color, along with the wall color and the ugly chandelier, worked with the previous owner's furniture, which involved muted colors.  With my furniture in it the color scheme doesn't work.  So I fixed it.
The color that we chose was Behr "High Speed Access", which is a medium gray color, in satin finish.  I strongly recommended that Elyse go with a neutral color for the walls, because she intended to put lots of different things on her walls, and that would avoid having colors on the wallhangings clash with the walls themselves.  And then the trim was getting painted white.  That part was non-negotiable.  The rest of the house had white trim, and Elyse's room was getting that, too, to achieve a consistent design language.  I have a few other "design language" issues with the house that I want to correct as well, such as doorknobs and light switches, but this was a relatively easy one that I knew how to do.
I started the morning after Elyse left, getting "before" pix: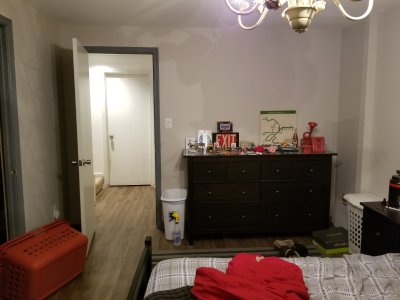 Continue reading…
May 15, 2018, 11:05 PM
People are always amazed when I tell them that I hate receiving recognition.  I just don't like it.  I don't find it enjoyable.  In fact, I find it incredibly awkward all around.  I don't know what it is, but it just isn't a fun thing.  This came to mind recently because of two discussions that I had with colleagues in the last few weeks.  One was about an operator competition that my employer was having, and another was about an employee of the month program that my specific division has.
In the case of the former, where train operators go out and demonstrate their skills for judges, I couldn't see any way to get a satisfactory result for myself as a participant.  If I don't place, I'm kicking myself for not doing better.  If I place, then I have to deal with a whole bunch of unwanted recognition.  Not participating at all seems to take care of both concerns, and I have no problem attending as a non-competitor and watching others compete.  I've done that before at a similar event for the bus, where I was there but didn't compete, and I had a blast.  Besides, I have the most fun just being myself while operating the service.
In the case of the latter, a coworker brought up the idea of it, and how I would possibly be a good candidate for the employee of the month award.  I was honest about it: if I ever were to get the award, I believe that my response would be, "Thank you very much, but please give it to someone else."  In other words, I would probably decline it.  I just want to do my job and call it a day, and a whole bunch of unnecessary attention just gets in the way of my being awesome.
Continue reading…