December 25, 2017, 10:14 AM
For the last several years, I've made it something of a tradition of watching the Today's Special episodes "Christmas Part 1" and "Christmas Part 2" on or around Christmas Eve.  It only makes sense to me.  Most Christmas specials are awful, but Today's Special's two Christmas episodes are outside of that mold, taking the same care with Christmas that they do when discussing the night or feelings.  The end result is a timeless story that still leaves me feeling warm and fuzzy inside after all these years.
This year, I decided to take a minor element from those episodes and bring it into real life.  Across the two episodes, they sing their own variation of "The Twelve Days of Christmas" using food.  It starts out early when Sam sings, "On the first day of Christmas, my true love gave to me a plate full of macaroni!"  Then Muffy later adds, "Hot cheesy sauce on my plate full of macaroni!"  Near the end of the second episode, it takes its full form:
On the fourth day of Christmas, my true love gave to me crisp bacon strips, sliced French bread, hot cheesy sauce, on a plate full of macaroni!
So on Friday evening, I went to the grocery store after work and bought this: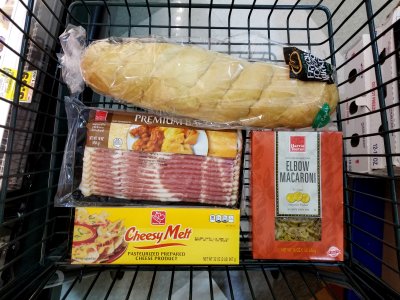 Pasta, generic Velveeta, bread, and bacon.
Continue reading…
December 18, 2017, 12:47 PM
Sometimes, you never know what you'll find online. Check this out:
Continue reading…
December 4, 2017, 2:59 PM
I suppose that what happened to me recently is exactly why you buy a Kia.  My car had been making some funny noises for a while, but since the check engine light had not come on yet, I figured that I had time to deal with it, and put it off until later.  This past Monday, the noises got noticeably worse, and the "check engine" light finally came on.  That's when I scheduled a repair with a Kia dealer (since I suspected it might be covered by the warranty) and booked a rental car for the upcoming repair.  Then the car finally quit on me on the way to work, i.e. it just cut off in the middle of Georgia Avenue in Olney.  Thankfully, I was able to coast to a safe location to call for a tow truck.
The car ended up riding on the back of a tow truck from Olney directly to the dealer, and then I took the bus the rest of the way to work.  Then the next day, Elyse and I took a bus down to Rockville to pick up the rental car and talk to the people working on my real car.  I decided to kill two birds with one stone on that one, because I had planned a trip to IKEA during that time anyway, so I rented a truck.  So for a few days, I went from a Kia Soul – a compact – to a Ram 1500 pickup truck.  That thing was massive: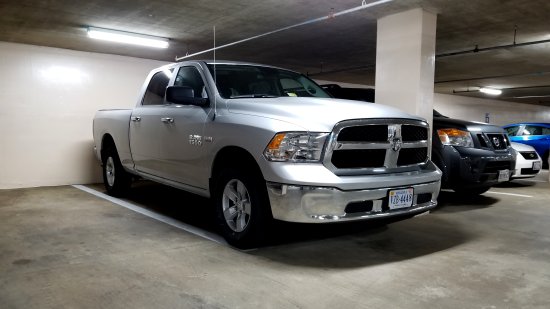 Continue reading…