January 28, 2015, 7:57 PM
I had a good bit of fun on Tuesday.  I went down to the Washington Auto Show at the Washington Convention Center with Elyse, and we wandered through, seeing all sorts of interesting things.  We took the Red Line to Gallery Place, then took the 70 bus up to the Convention Center (and we got an artic).
Unlike most car shows that I've been to in my 33 years, this was primarily for auto manufacturers to show off new cars.  As such, it was heavy on the marketing, and you could touch and interact with most of the vehicles that were there.  If you go on a Tuesday, as we did, the place was pretty quiet.  No wait for tickets and security, and no wait to see or do anything, and more time to chat it up with people.
Right off the bat, with its being a slow day, Elyse and I could tell that the people working the event were in a good mood.  When I purchased my ticket, the guy mentioned that admission, normally $12.00, was only $10.00 with a SmarTrip, or $5.00 with a student ID.  My old JAC card from my college days still lives on my keychain over a decade after I graduated college.  I said, "I still have my old student ID from when I was in college."  The guy sold me a ticket at the student rate, and justified it by saying that it just says "a student ID", and not that you had to be a current student.
Continue reading…
January 20, 2015, 1:22 PM
I just want to bring it to your attention for a moment that this all happened ten years ago today: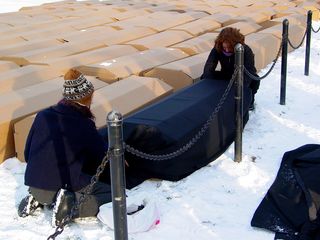 Continue reading…
January 9, 2015, 1:22 PM
When I was in training to be a bus operator, about half of the program involved going out with seasoned operators on their regular runs, and actually driving in revenue service, i.e. taking real passengers where they need to go (as opposed to driving an empty bus around with the "TRAINING" sign set).  During that time, I joined ten different operators on their runs, and learned a number of different bus routes.  It's also where I came up with the idea that great bus operators don't just happen, but rather, they are formed through the help of many, and lends credence to the idea that it takes a village to raise a child.
However, the one point that sticks with me most from this part of training is something that I learned on the first day with a seasoned operator.  This particular operator put a strong emphasis on positive thinking, and encouraged me to say the following affirmations to myself each morning:
I am BOLD.

I am BRAVE.

I am CONFIDENT.

I am SUPREME.

I am COURAGEOUS.
Continue reading…