September 20, 2020, 2:32 PM
Saturday night's drive home was definitely a more eventful one than I would have preferred.  Driving home from work (I currently work out of a division in Virginia), I tend to take Route 267 to the Beltway to I-270 and then to Route 355 (i.e. Rockville Pike) on my way north to Montgomery Village.  The details in MoCo tend to vary depending on my mood.  Sometimes I take 270 all the way to Shady Grove and cut over there, and sometimes I get off lower down and do more travel on Rockville Pike.  Saturday night was the latter, where I got off on Democracy Boulevard and took Rockville Pike all the way from North Bethesda to Gaithersburg.
At the intersection with First Street (the one with the CVS and the Wendy's with the glass sign), I was sitting at a red light in the middle lane, and I saw a car run the red light at a high rate of speed in the right lane.  They were going quickly enough that I could feel their wake as they went by (and I felt them before I saw them).  Then a few seconds later, just as the light turned green, a Maryland state trooper went past me, again at a high rate of speed, with lights off, to my left.  I kind of assumed that they were related, and that I would see the trooper pull the other vehicle over at some point on my way home.  So I had my eyes peeled, as I expected to see blue lights at some point.
Then, just before the intersection with Mannakee Street, a deer darted out in front of me, and with not enough space to swerve to avoid and not enough distance to stop, we made contact.  I remember screaming as we hit, and I saw the deer sort of stagger away.  I stopped the car immediately, right there in the center lane.  I got out, looked at the front of the car, and saw a brand new hole where the grille used to be, pieces of the front of the car sticking out of the front, as well as bits and pieces of the Honda logo on the road.  Then, realizing that the engine was still running, and seeing nothing dripping out from underneath, I moved the car to the parking lot of Cameron's Seafood, and after letting Elyse know that I would be delayed, called 911 to report the accident.  Surprisingly, 911 told me that for a deer strike, they weren't going to send an officer to take a report, and just to follow up with the insurance.
Continue reading…
September 19, 2020, 2:12 PM
Soooooooooo… I recently got myself a toy.  I went on Etsy and bought myself a full-size retro arcade machine.  Check it out: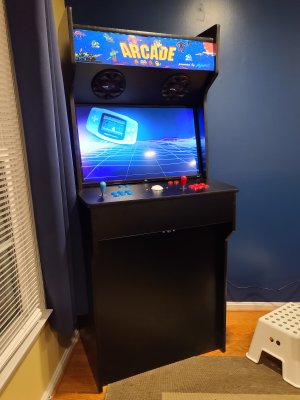 Continue reading…
September 7, 2020, 9:37 PM
It has now been twenty years since Schumin Web really started to get noticed by people.  My first four years doing this site, I was having fun, but I always assumed, in those very early days of the Internet, that very few people were actually looking (though I had no way of measuring it at that time).  But that was okay, because ultimately, it gave me an outlet to express myself, and I was having fun doing it.
Then, in the summer of 2000, things started to change.  I was featured as "Geek of the Month" in the June 2000 issue of the now-defunct magazine Front, a men's lifestyle magazine from the UK, i.e. a "lads' mag".  Check it out:
Continue reading…