August 8, 2021, 9:00 PM
Back on July 20, Elyse and I made a trip up to Pennsylvania for a little photography.  This was one of those adventures where we had a specific mission that brought us out that way, but that mission was too small to justify the time and distance on its own, so we built a trip around it in order to justify the mission.  In this case, the main objective was to purchase some newly released cans of G Fuel (an energy drink) at a Sheetz that had them, and send them to Shock in order for him to do a review video.  Elyse called around ahead of time, and located the flavor in question at a Sheetz location in Gettysburg.  Then in order to justify the trip, I planned a route, adding some stops.  In this case, Sheetz in Gettysburg was a must, but then I added some stops in Waynesboro and Fairfield to the mix to round it out, creating a little arc across south-central Pennsylvania.  We were originally going to run it all the way out to Hanover, but decided to cut it off at Gettysburg in order to get home at a more reasonable hour.
Our first stop in Waynesboro was the Wayne Heights Mall.  This was by no means unfamiliar territory for us, as this was where the Gordmans that we photographed was located.  Gordmans has since closed, but it was a good flight target nonetheless.  Elyse liked it because she could visit Tractor Supply while I was flying.  So here we go: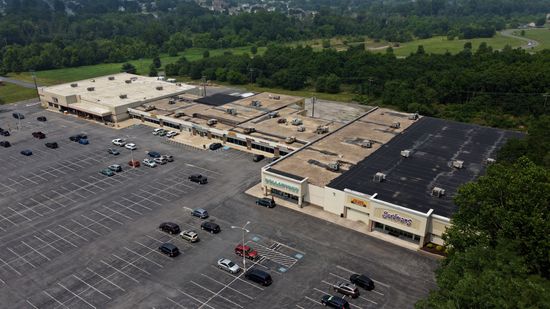 Continue reading…
May 7, 2021, 10:03 AM
Recently, while working through my very large backlog of photos, I processed the various photos that I took of the Gordmans store in Waynesboro, Pennsylvania.  For those not familiar, Gordmans, in the form that I experienced it, was an off-price retailer owned by Stage Stores.  Stage was in the process of implementing a major strategic move, repositioning itself away from department stores and going all-in on the off-price model (like TJ Maxx, Marshalls, or Ross).  With that, the company had begun to convert all of its department store nameplates, i.e. Stage, Bealls, Goody's, Palais Royal, and Peebles, to Gordmans.  The goal was to have all of its 738 stores in 42 states converted to the off-price format under the Gordmans name by the end of 2020.  The Waynesboro store was originally a Peebles, and was an early conversion to Gordmans.
As you probably guessed based on my wording, world events caused a change in Stage's plans.  With the COVID-19 pandemic, the various "lockdown" orders issued meant that all of Stage's stores, considered "non-essential" businesses, were shuttered for several months.  With the stores closed and the resulting lack of sales for an extended period, this pushed Stage off of a cliff, financially speaking, which lead to their filing for bankruptcy.  It was ultimately determined that the best course of action was to wind-up operations, and as such, when the stores reopened, they immediately began going-out-of-business sales.
My first experience with Gordmans was on June 1, 2020.  Elyse and I were out doing some photography in the Hagerstown and Waynesboro areas, and happened upon the Gordmans store in the Wayne Heights Mall shopping center, at an hour when it should have been in operation, if not for government orders requiring that it be closed.
Continue reading…
October 25, 2015, 11:12 PM
This past Thursday, I went up to High Rock, which is a rock outcropping on South Mountain in Pen Mar, Maryland, in Washington County near the Pennsylvania border.  It reminds me a little bit of both Humpback Rock in Virginia, and the Aqueduct Bridge stub in DC.  Like Humpback Rock, it's high on a mountaintop, however, unlike Humpback Rock, you can drive up to it and park right next to it, rather than parking down below and then hiking a mile straight uphill.  Like the Aqueduct Bridge, it's covered in graffiti and a popular overlook point, but unlike the Aqueduct Bridge, it's a natural feature rather than manmade.  I went up there with the intent of scouting out the location for a potential future set for the Photography section on Schumin Web.  I knew it had a view, but I wasn't so sure about it.  I arrived just before 5:00 PM, and stayed for about an hour and a half.  While there, I let my curiosity lead the way, as I checked things out at the site and just kind of followed what I found interesting.  I don't know which intrigued me more: the formation itself, the view, or the graffiti.
So here's what some of the take from this outing looked like: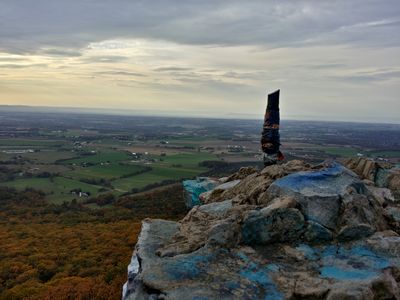 View from High Rock facing approximately north, towards Waynesboro, Pennsylvania.  The bit of stone in the foreground is actually manmade.  As much as I can tell, this is some of what remains of an observatory that once stood at this site.
Continue reading…