January 10, 2021, 11:42 AM
I was recently participating in a comment thread on the Staunton News Leader's Facebook page about the arrest and charging of Jake Angeli, one of the more prominent figures to participate in the storming of the Capitol on January 6.  Most the comments praised the arrest, while some other comments amused me thoroughly.  One comment claimed that it was not Trump supporters who came to DC, but rather, it was "antifa".  That comment reminded me of how little many right-wingers understand about what antifa is, and it made me laugh.  Recall that I used to do a lot of antifa back in my day (though the common use of the term "antifa" postdates my participation), so I know a little something about it.  The thing that amuses me most is when people think that it's an actual organization, because trust me, it is most definitely not.  For those not familiar, the term "antifa" is short for "anti-fascist", and if a bunch of people assemble and decide that they want to call themselves "antifa", then they are antifa, and it's over at the end of the event.  It's really not that complicated.  There is no real organization to it, and people don't answer to anyone at some headquarters.
But that commenter's attempt to pin the whole thing on "antifa" reminded me of an event that happened back in January 2007, nearly 14 years ago.  Back then, at an anti-war protest (which I documented here under the title "J27 Anti-War Demonstration"), an affinity group of sorts, comprised mostly of people wearing black clothing and masks, i.e. a black bloc (which many might call "antifa" today), broke away from the mainstream march and headed up to the United States Capitol.  The group made it as far as the bottom of the steps, where Capitol Police was standing to prevent further movement.  No effort was made to go past them, and as far as I know, the bloc was content with that.  While we were there, a few people pulled out some spray paint cans and left some tags on the sidewalk in front of the steps of the Capitol.
Continue reading…
January 7, 2021, 5:18 PM
On January 4, 2021, the Federal Highway Administration (FHWA) issued a ruling providing "an official interpretation of the provisions of the 2009 edition of the Manual on Uniform Traffic Control Devices for Streets and Highways (MUTCD) related to changeable message sign messaging".  In a nutshell, this ruling bans all of those cutesy safety messages that highway departments love putting on those overhead message signs, such as this one: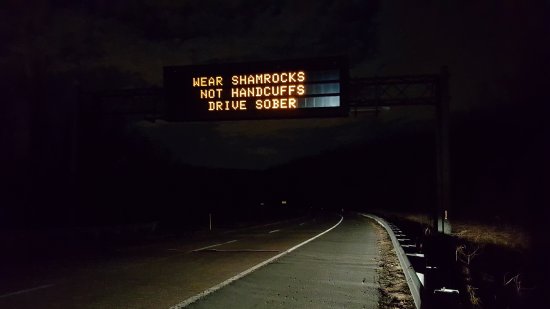 Continue reading…