February 19, 2015, 3:28 AM
While I was between jobs, I put on a bit of weight, most likely due to reduced activity due to my being out of work, and out of a routine.  My current job, where I operate a bus, is not exactly conducive to physical activity, considering that I sit strapped to a seat for nine hours a day.  Pushing pedals and turning steering wheels does not count as physical activity, though I was getting nighttime leg cramps from it for a while. I also was a bit lazy when it came to exercise once I finished training and got my own assignment.  I work late afternoon into the wee hours of the morning, and initially would tend to sleep in a bit.  The only exercise I got was just under two miles on Sundays, going to and from a street relief that was just a shade under a mile away from the bus garage.  I also now drive to work in my car, which means that I don't get any activity related to my own commute.
However, now that the bus has finally become routine and I'm really starting to get the hang of things (and – heaven forbid – having fun at work), I can start getting serious about fitness again.  After all, one of my more recent splash photos shows me looking like this: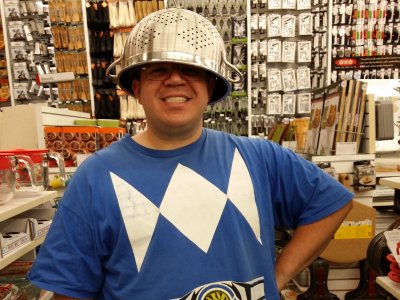 Continue reading…
June 17, 2014, 3:52 PM
Took the bicycle out for the first time today: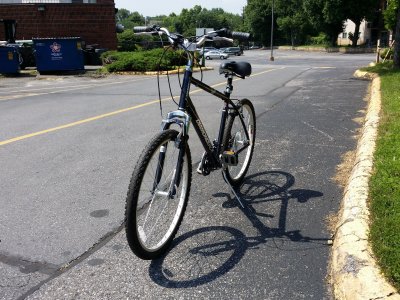 Continue reading…
June 11, 2014, 6:06 PM
Ever get that feeling of "I just have to get out of the house"?  I recently had that feeling, where I just needed a change of scenery for a little bit, and so I planned a weekend trip down to Stuarts Draft to visit the parents, going down Friday, and coming back Sunday.  They were, as always, delighted to see me, and on the whole, we had a good time.  I also made some extra space in my house, as, on Mom's request, I brought my sister's old bicycle back to my parents' house.  Gave me some practice in "beheading" a bicycle by removing the front wheel, and then reattaching it at my destination.  But it travels much more easily without the front wheel: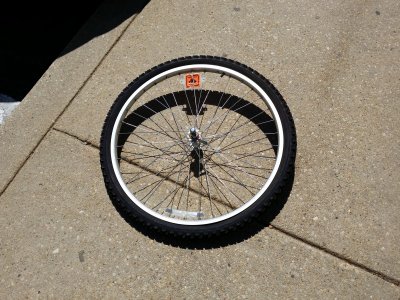 The freshly-liberated front wheel.
Continue reading…
Categories: Bicycle, Companies, Driving, Family, Fire drills, Harrisonburg, Middle school, Reddit, Stuarts Draft, Walmart, Waynesboro, Weather
May 30, 2014, 10:36 PM
So today was my birthday, meaning that I am now 33 years old.  And for my birthday, I got a baby elephant.  Check it out: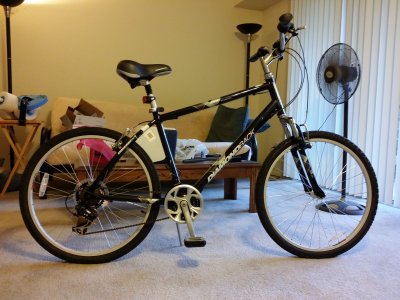 Continue reading…
August 4, 2013, 12:47 AM
So I have a new piece of fitness equipment: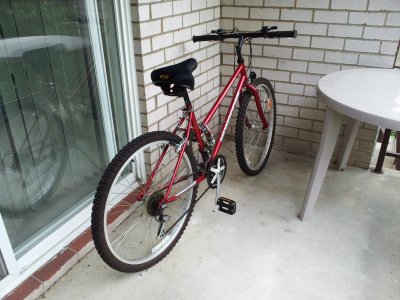 Yep… it's a bicycle.  Specifically, it's my sister's old bicycle – thus why it's a female bicycle.  But no worries.  I'm secure enough in my masculinity to use a women's bicycle, and besides, the only difference is one bar, and that lower bar means it's easier to get on and off since I don't have to lift my leg as high to get over the horizontal bar on a male bicycle (so there).  When I wanted to get a bicycle for myself, I asked my parents, thinking that all of the old bikes were still in the shed in Stuarts Draft.  Thus I was hoping to get my hands on my old bicycle (the "baby elephant", as it was), which was a green Huffy mountain bike that cost $110 at Walmart's "Sample Store" in Bentonville, which I got in 1992.  It was a very nice bike, though as one of my childhood friends mentioned, that bike was too big for me at first (I later grew into it).  Surprise: my parents got rid of my old bike.  I guess that's what happens when you don't ride a bicycle for more than a decade.  Don't know what happened to it, but it's gone.  However, Sis's bike was available, so when Mom came up recently for our trip to Chicago (more on that in another entry), the bike came up with her.  This is a Mongoose Threshold mountain bike.  Not bad.
Continue reading…