March 14, 2019, 10:00 AM
I was checking my Facebook feed on a break at work on Sunday, and imagine my surprise to see one of my old elementary school teachers post this:
Lost a special teacher friend this morning.  Sharon Bradley made you smile, and was the best story teller!  She was also my neighbor for a few years.  Sharon was good to my children and the students she taught.  Prayers for her family and extended school family who loved her.
Apparently, my old fifth grade teacher, Sharon Bradley, died on the morning of March 10, at the age of 76.  As of this writing, I do not know the cause of her death.
You may recall that I wrote a very long Journal entry last June about my fifth grade experience, after Mrs. Bradley came up in the "people you may know" list on Facebook around that time.  Fifth grade was, without question, my worst year in school, from kindergarten through college.  I suffered so much emotional abuse under her over the course of those nine months, enabled by the school administration and the guidance counselor.  When presented with the opportunity to reconnect through Facebook and potentially make peace, I declined, choosing to keep her out of my life.
Continue reading…
June 4, 2018, 2:30 PM
Recently, a very familiar name came up in my friend suggestions: "Sharon Payne Bradley".  In other words, this person: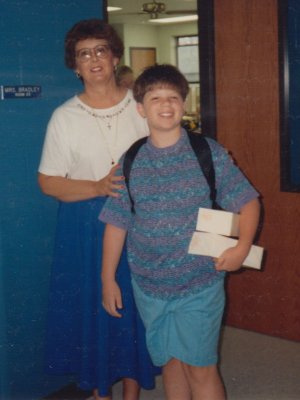 Continue reading…
August 31, 2004, 12:11 AM
I went online and did a little Rogers-hunting here. As I found out that a former coworker of mine at Wal-Mart used to live in Rogers, it was interesting to share stories, as her family knew Mrs. Carmical, the principal at Grimes Elementary at the time, Wal-Mart store #1 (though I knew it as a regular Wal-Mart, and she knew it as a Supercenter – the 1991 store was converted), Beaver Lake, and all that. That was just cool. So I went online this evening and went to Rogers.
I actually was somewhat drawn to the parks and rec pages this time around. I found a page about Lake Atalanta in there. Although that name has four A's in it, making it "Lake At-a-lan-ta" (to break it up by syllables), the common pronunciation in Rogers was "Lake Atlanta" (like the city in Georgia). You pronounce the extra "a" in there and I think that people will look at you strangely. But anyway, they show it as two parks. You have "Lake Atalanta" and "Lake Atalanta Dam Site". Now I'm confused. I remember there being two major Lake Atalanta recreational areas, straddling Walnut Street. The older area was adjacent to Lake Atalanta itself, which had a large playground made mostly of large wooden beams (nice to play on, but watch for splinters!). They don't make 'em like that anymore. They also had a skating rink which closed not long after we moved there. I think I went in that building once when it was a skating rink, and I was still not comfortable on roller skates, so my memories are of falling down in there. Most of my memories of the skating rink are of it as an abandoned building. I'm told it's since been renovated and converted into banquet space. There was and still is a pool at Lake Atalanta, which I remember as being a really cool pool. Had two water slides. A small one for the kiddies (which I used as one of those little kiddies), and a big one that was like huge (but remember I was like eight). That was cool. Then there was the bait shop. There you could not only buy bait, but also rent paddleboats. Those were fun, as I got to drive and pedal the boats with Mom. When we left Rogers, the bait shop had closed. Presumably it's opened back up since then, since the Web site mentions it.
Continue reading…
May 21, 2004, 2:25 AM
What a wonderful day on Wednesday! I admittedly got a late start, not leaving for Covington until 1 PM. But I still had fun. Stopped at Wal-Mart in Covington to grab some cheap flip-flop sandals (palm tree print!) and some sunscreen, and then went off to the lake.
I found the swimming beach, and the little bath house next to it, and changed into my suit, and went to soak for a while. It was fun. Very cool and refreshing. Very quiet, with the Interstate and the city of Covington far away. It's really a great place to let your mind just go. Way out in the mountains, where you can just let your mind relax. I do love Lake Moomaw. I need to go out there again some time.
Meanwhile, the Covington Wal-Mart is amusing. I think it's perhaps the smallest Wal-Mart Supercenter I've ever seen. It's also what I'd describe as a "transitional" store. On the outside, it looks like the older-style Supercenters, like Staunton. But on the inside, it's just like the Dayton Wal-Mart, which is a newer-style Supercenter (the ones with "Always" over the entrances). But it's painted gray inside like the older Supercenters. It's also amusing about the signage. You know how practically every Wal-Mart says "Thank you for choosing your (city name) Wal-Mart"? Well, in Covington, over the Grocery entrance, it says, "Thank you for choosing your Covington Wal-Mart" (right over the doors, mind you, vs. over the cart area). Over the General Merchandise entrance, there's nothing at all. My semi-humorous interpretation is, thanks for shopping at Wal-Mart if you're buying groceries, but if you're not, thanks for nothing. We realize that this is probably an omission rather than something done intentionally, but it's amusing.
Continue reading…