New House
Part 1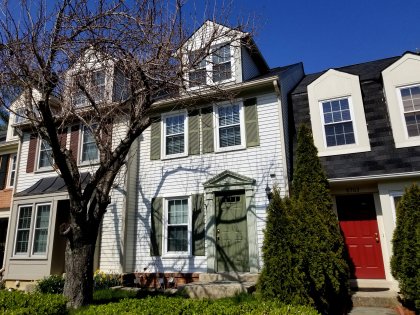 My 2017 is probably best described as the year that I became a homeowner.  I started working on the financing with Movement Mortgage in January, got preapproved and started house hunting in March, and by the end of the year, I owned my own home and had it mostly furnished, and was out of my apartment of ten years.
House hunting was quite the experience.  I was looking for a three-bedroom townhouse, and my realtor, Joe Horvath (Elyse's father) took me on tours of 56 different places in Aspen Hill, Glenmont, Wheaton, Gaithersburg, Montgomery Village, and Germantown.  I quickly got a feel for what I did and did not like in a townhouse.  I saw traditional townhouses.  I saw back-to-back townhouses.  I saw quads.  I saw townhouses where four units shared a common entry.  I saw townhouses with basements.  I saw townhouses without basements.  I saw townhouses with two, three, and four stories.  I saw townhouses with garages.  I saw townhouses where you had to walk some distance to get from your car to the front door.  I saw townhouses in great condition.  I saw townhouses that needed lots of work.  You name a style and condition, and I probably saw it at some point.
While some houses were downright forgettable, some stuck out in my mind, for various reasons.
---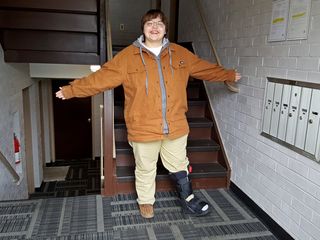 Elyse is all smiles as we leave for the first day of house hunting.
---
On the first day of house hunting, in mid-March, I quickly learned that not every house for sale is in turn-key condition.  This house in Aspen Hill was priced low, but it was in deplorable condition, requiring rehabilitation throughout.  No thank you.  The house's half bath, shown below, with that awful gold wallpaper, was actually the best room in the whole house.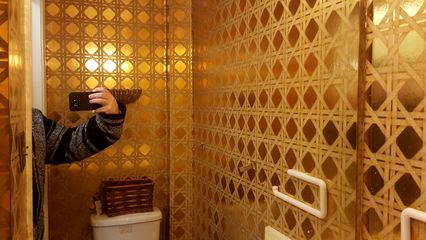 ---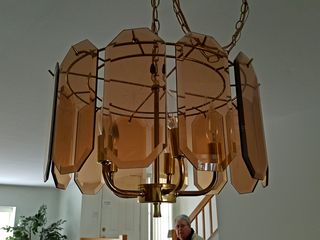 Imagine my surprise to find this 1990s-era chandelier in one of the houses that we looked at on the first day.  My parents have a two-tiered version of this chandelier, and my parents' neighbors have this exact model.
---
I also learned on the first day that some houses have oddities within that may or may not be easily rectified.  One house that we toured appeared, from the outside, to have a walkout basement, but then when we went down into the basement, we discovered that it was only about half the size that we expected, with no exterior entrance.  When we inquired, it turned out that the remainder of the basement belonged to the homeowners' association and was used for board meetings.  In exchange for use of the basement, the owner of that house had a lower HOA fee.  When I ran the numbers, it turned out that the HOA was paying $75 per month for use of the space via the reduced fee, and the possibility of returning the space to the homeowner was "maybe" at best, and definitely would not happen before any closing.  The house wasn't that great anyway (quite dated), so I was able to pass on that one fairly easily.
The next time out, and the first time looking in Montgomery Village (where most of the search would occur), I discovered two configurations that I didn't like: quad entrances, where four houses shared a common entryway, and back-to-back, where another house was behind your house as well as on both sides of you, and thus only one side of the house had windows.  The quad configuration reminded me too much of my apartment building, and I came to refer to the back-to-back configuration as "all stairs", since the feeling was that in order to get anywhere in the back-to-back houses, you had to go up or down a flight of stairs.
---
This townhouse had a quad entrance and was also "all stairs".  This layout was typical for a back-to-back, where the living room/dining area and kitchen were on the lowest level, the middle level had two bedrooms and a bathroom, and the top level had the same thing as the middle level.  The washer and dryer were in a corner on the middle level, where there was available space.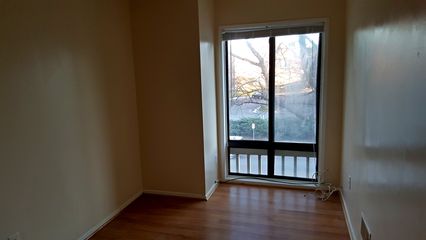 ---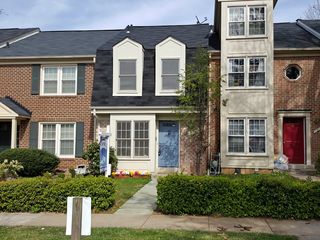 This house, on the other side of the neighborhood where I would eventually end up buying, definitely caught my eye.  It had features that I liked, such as wood floors, a nice kitchen, and a basement, plus it had a mezzanine level in the master bedroom.
---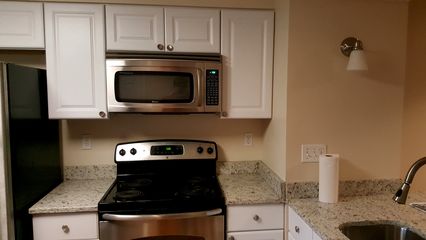 The kitchen, the living room, and master bedroom with mezzanine level.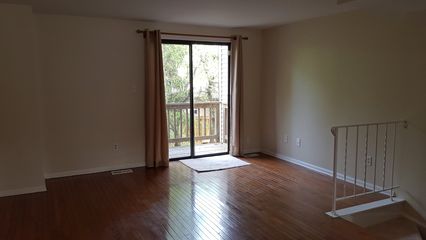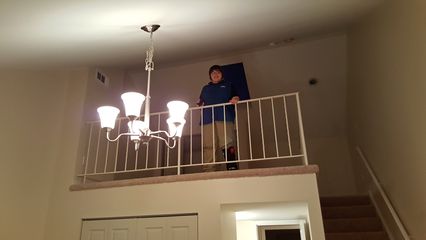 ---
Immediately after touring this house, I said, "I want this house," and it tended to dominate the search in my mind for some time.  Ultimately, however, I liked the layout, but not necessarily the features individual to this house, and not for the price that they were asking.  It had a lot of carpet, the kitchen appliances were "meh" at best, and there wasn't a whole lot of cabinet space.  Other houses in this neighborhood had a row of cabinets over the sink, which worked out to an average amount of cabinet space.  Without that additional row, it left me wondering how I would make my kitchen fit into this layout.
---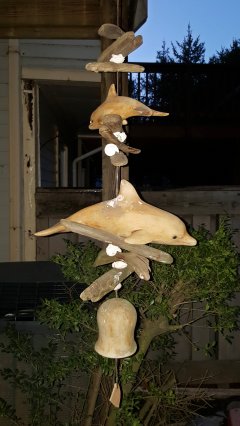 This house also had a minor decorative feature that Elyse really liked: a dolphin wind chime, leading her to call it the "dolphin house".  I found this same exact wind chime online, and I will eventually order one for myself.
---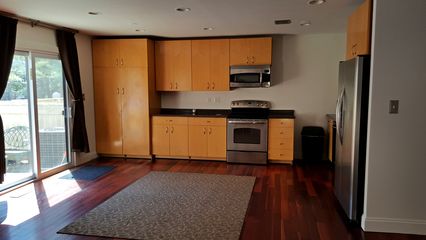 One thing I found many times over was that some houses have really great features, but fall completely flat on others.  A corner townhouse that we looked at in late March was awesome in some places, but less so in others.  I liked that it had a big rec room in the basement, because it was essentially a blank slate to create whatever I wanted.  However, the living room and kitchen were a bit lacking.  In this case, it was all one massive room.  The kitchen was just kind of there, with no visual separation from the rest of the space.  I felt like it needed an island or retaining wall to better define it from the rest of the space.  Without that, it reminded me of an office kitchen.
---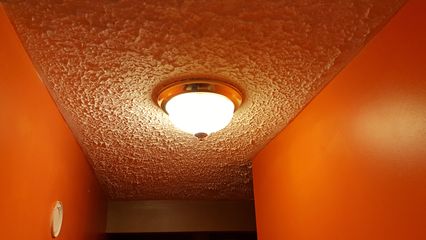 This house, in the Fairland area of Montgomery County, was special for its decor.  I'm sure that when seen in context, with the previous owner's furniture in place, it looked lovely – especially with what was clearly a child's bedroom.  However, out of context, all that I saw was dollar signs for removal of the custom decor job and subsequent repainting, and removal of that awful ceiling texture (I prefer plain ceilings).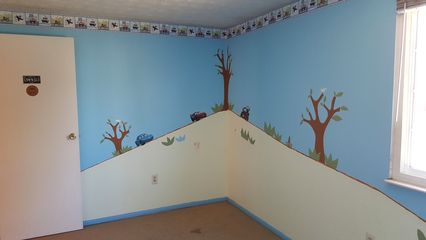 ---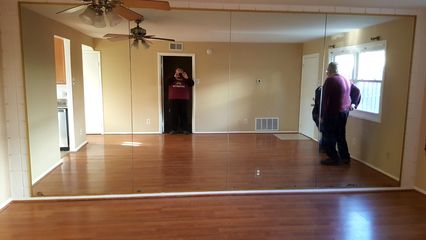 We found this mirrored wall in a townhouse in Aspen Hill.  The mirrors covered a cinderblock wall.  Talk about a rock and a hard place.  I hated those mirrors, but a cinderblock wall was even worse.  Who ever thought that a cinderblock wall was a good thing to have in a living room?  This house also had only one bathroom, and it was upstairs (and also didn't have an exhaust fan).  I spent ten years in an apartment with only one bathroom, and so more than one commode was important to me.
---
I also learned about something else that I didn't want: upstairs and downstairs neighbors.  A few places that I looked at had either another unit above or another unit beneath.  One house that we looked at was two stories with an unrelated unit beneath.  But then it also had a stairway down from the living room to a backyard area under a deck.  Very strange layout.  It also had the laundry in the upstairs bathroom.  I suppose that's convenient for those people who like to do their laundry while they're also taking a dump?
There was another house in Wheaton that I felt had promise, but when I actually toured it, I found that it had a horribly outdated floor plan.  The house had two full baths: one upstairs, and one in the basement.  No bathroom on the main level.  Additionally, in order to go from the basement to upstairs and vice versa, you had to go through every single room on the main level like a maze, i.e. through the living room, the dining room, and then the rather small and dated kitchen.  The basement had a rec room of sorts, and then the full bath at the end, which needed a ton of work.  Even though I liked the location, and it had no HOA (the only property that we looked at that didn't have one), I could pass on it.
---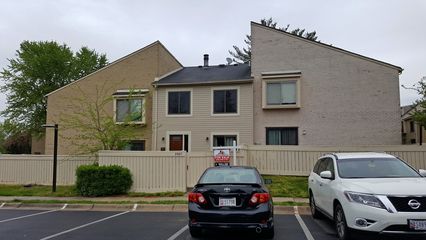 This house, which we viewed in late April, was somewhat unique.  Unlike most back-to-back units, the living room was in the middle and it had a basement, which reduced the feeling of "all stairs", as there was only one set of stairs to reach the other levels from the main floor.  So it felt a little closer to a traditional townhouse in that regard.  However, due to the roof design, the feeling that I got was that it was just occupying the space left over between the two houses on either side of it, and looked somewhat diminutive, with taller features on either side of it.  I imagine that a hipped roof on the adjoining units would have eliminated that perception, but that wasn't the case.  Additionally, the four windows visible in this photo were the only windows in the whole place, and two of those were the front door and a sliding door to a fenced front yard.  For someone who likes to see out and have a lot of natural light, that was less than ideal.
---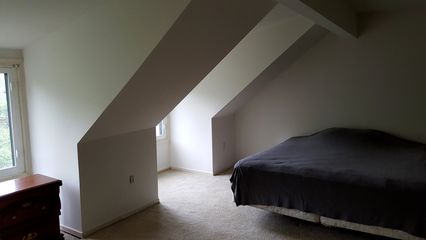 Sometimes you can just see an unpleasant situation from a mile away.  This was the master bedroom in a back-to-back townhouse.  I wondered if I would need to keep a helmet on hand in here, considering that in my one visit to this room, I managed to hit my head on that slanted ceiling several times.  It also reduced the amount of usable space by quite a bit.
---
On May 10, we viewed two houses that were rather special for different reasons.  The first was a townhouse in Montgomery Village, and the other was a twin house just outside Montgomery Village.
---
In the first house, the living room, with its hideous paint scheme, was the best thing in the whole place.  I got the distinct feeling that this house had been renovated at some point, but the renovation was done badly.  I believe that the only reason that the living room was so nice was because there was nothing in it that they were able to screw up.
---
Here are four examples of how this house was renovated badly.  In the upper left, a trim panel for a sink had been placed over part of a power outlet.  In the upper right, a vanity was chosen that was too large for the space that it would be in.  In another bathroom (lower left), the counter overhung the toilet by about a foot.  Just what I like – having to contort myself to use the bathroom.  And in the lower right, the washing machine has a wall built in front of it, meaning that if you drop something over the right side of the washer, you're screwed, because anything past the washer is inaccessible unless you climb over the washer.
---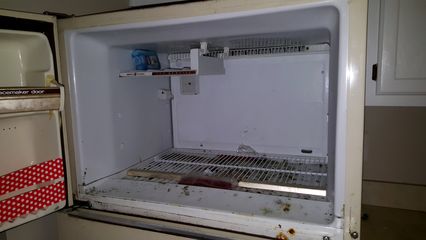 At the other house, it was clear that this place had not been lived in for a while.  All that I saw was dollar signs to refurbish the place to make up for neglect.  Moldy, outdated fridge.  DIrty, outdated oven.  What was going on with that toilet?  And then one has to wonder how much effort it would take to get those stains out of the tub.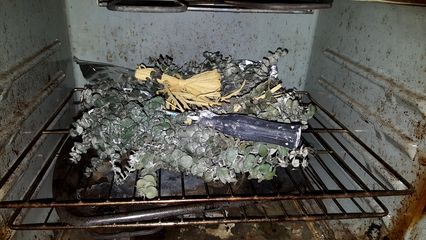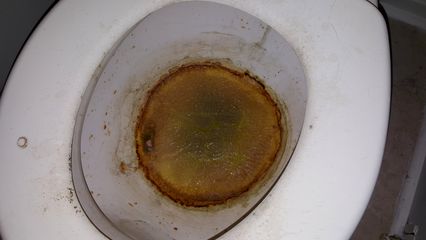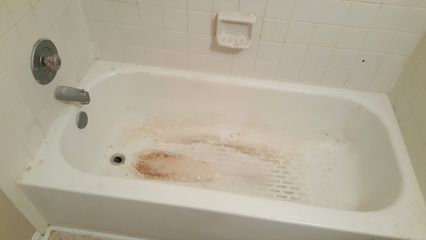 ---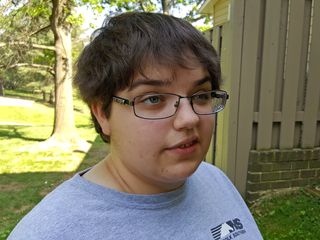 You know that a place is not going to be a winner when Elyse makes this face upon seeing it.
---
In June, I started having some luck with back-to-back townhouses.  I found two that defied the usual convention for back-to-back townhouses, i.e. darker spaces with lots of stairs.  One was two stories, and another was three stories.  As it turned out, skylights and a general sense of openness make all of the difference.
---
The two-story house was really nice.  It had wood floors downstairs, granite countertops in the kitchen, a skylight over the stairs, and two bedrooms with carpet upstairs.  The master bedroom also had a balcony with a sliding door.  It was nice enough that I was seriously considering it, and so when there was an open house the following Sunday, we went before I had to go to work in order to give it a second look.
---
That open house, however, put it firmly in the "no" category due to an incident that occurred while we were there.  I went out on the balcony and closed the door behind me.  Then when I went to go back in, I realized that I was locked out on the balcony with no safe way out.  I had to call down to Elyse on the phone to get her to come up and let me back in.  All I could think of was my potentially getting locked out on the balcony with no way down when no one else was home.  What would I have done then?
---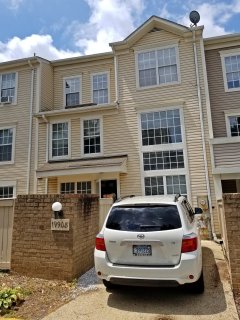 The three-story house was also quite nice.  For a back-to-back, it had lots of light, a very spacious main level, the stairs were open with a skylight at the top, and the master bedroom had its own skylight and a den overlooking the living room with a two-story window in front of it.  It had carpet throughout and the kitchen looked a little dated with something of a half-hearted attempt to appear more modern, but I was able to see those as long-term improvement projects, eventually replacing the carpet with hardwood, and refacing the cabinets.  I was impressed enough with this house that I put in an offer for it, but ultimately, they accepted another offer.  Oh, well.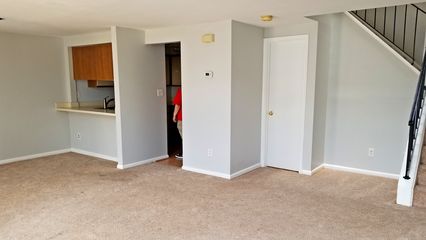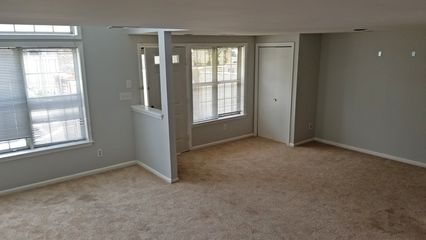 ---
In July, we were back in the neighborhood that I would eventually buy in.  Those narrow, traditional-style townhouses with the mezzanine in the master bedroom still interested me.  Perhaps another house could win me over where the other one had failed?  We would soon find out.
---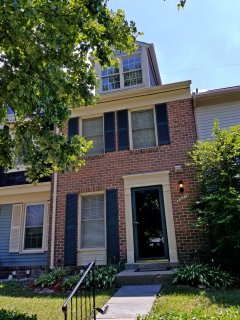 This house was one of several styles in the neighborhood.  Unlike others that I looked at, this house had a dormer at the mezzanine level, which meant an extra window.  We had previously tried to tour a similar house with a mezzanine window, but it got snapped up so fast that Joe couldn't even book a showing.
---
The main level was fairly typical of the houses in this neighborhood, with the same placement of the half bath, stairs, and such as in other houses that we visited.  The kitchen was eat-in, but the space for a table seemed a bit small, which concerned me.  I didn't know whether my kitchen table would fit.
---
One thing that excited me about this house when I was looking at the description was the backyard.  Unlike other houses that we saw in this neighborhood, it was adjacent to a Pepco reservation, which meant that there were no back neighbors, and there never would be.
---
The master bedroom suite was, to put it charitably, colorful.  I would never have chosen that green color for my bedroom.  They also opted to leave the east wall white, perhaps as something of an accent color, which was strange (who ever heard of an accent color that was lighter than the rest of the room?).  I also noticed that the mezzanine in this house was smaller than in other houses with similar floorplans.  In this case, about half of the mezzanine had been converted into a storage closet, and the skylight was the only source of light in that closet.  I was starting to see dollar signs, thinking about how much it would cost to remove that wall and return the storeroom space to the mezzanine, plus how much trouble it would be to get up in that dormer to repaint the bedroom to something less bold.
---
The basement was quite nice, though unlike other houses that we saw in this neighborhood, it wasn't a walkout due to the surrounding topography.  This one was unique in that part of the utility room had been converted into a second kitchen, creating a full mother-in-law suite downstairs.
---
However, I noped right out of this house when we heard a cracking sound as we walked downstairs, and I felt a stair move under me.  We went into the downstairs closet, where the underside of the stairs was visible, and found significant cracking in one of the vertical boards that held the stair together.  I didn't want to take on the task of dismantling the stairs to replace damaged boards.
---
Then finally, on July 29, we toured the house that I would eventually buy.  I had a good feeling about this house from the moment that I saw the listing for it online, because it seemed perfect.  If you've ever seen the movie Mrs. Doubtfire, this was the part where Robin Williams' character Daniel Hillard finally gave his ex-wife a good nanny persona, after portraying many crazies prior.  "In for the kill," as he said.  The house was beautiful.  It had a dormer at the mezzanine level.  It had wood flooring on three levels.  The kitchen was modern, and had a built-in breakfast bar.  Subway tile in the kitchen and upstairs bathroom.  Nice colors throughout.
---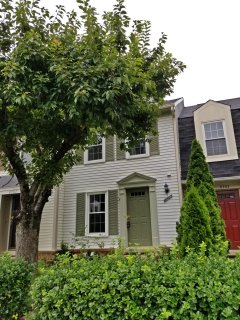 The house, with a massive tree in front.
---
The living room, unlike others that we saw in this neighborhood, lacked a fireplace, which opened up a lot of space.
---
Kitchen with breakfast bar.  Lots of cabinet space.
---
Master bedroom and mezzanine.  I had the exact same dresser, and so it was good to know that it fit quite well in the space.
---
The basement bedroom was the only room that I wasn't thrilled with.  I wasn't a fan of the trim, as it didn't match the rest of the house, and that chandelier was just plain ugly.  But light fixtures and paint were easy things to change.
---
By the time I got through looking at this house, I knew that I wanted to make an offer on it.  We did the paperwork, and sent it in.  The whole time, I was thinking, this house is too nice.  Someone else is going to get this house.  Then, surprise: my offer got accepted!  As this was a short sale, it meant that we would have to get third-party approval for the sale before we could proceed, and that would likely take a while.  I didn't mind, because in any case, it meant that my time at Hewitt Gardens Apartments would at last come to an end, even if it took a little longer than I might otherwise want.
Then, in late September, the sale was approved by the seller's bank, and it was off to the races.  We did the home inspection through Pillar To Post.  The inspector took Elyse and me through the whole place, showing us what he was inspecting and why, what we needed to look out for, and what things we probably should get fixed.  I learned a lot about what comes along with being a homeowner that day, but I was up to the challenge.
We did a final walkthrough on November 8.  Everything looked good during the final walkthrough, though we did note that a toe board was missing beneath the sink that had been there during the showing.  I asked about it at closing, and as it turned out, that toe board had gotten broken, and was discarded.
---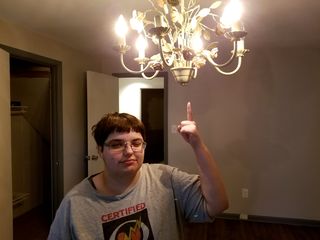 Elyse points at the chandelier in her new bedroom during the final walkthrough.
---
Closing was on November 9 at Lakeside Title up in Columbia.  That was a straightforward process, but felt overwhelming and a bit mentally draining, signing so many documents.  But in the end, I had the keys to a house.  After closing, we went to Walmart to get a few things for Elyse.  She wanted a beanbag chair for her room, and she also got towels and a few other odds and ends to outfit herself since she was moving out of her parents' house and needed her own stuff.
---
Welcome home.  I thought that a Wheelock 7002T on the breakfast bar was a most fitting way to show that the house was at last mine.
---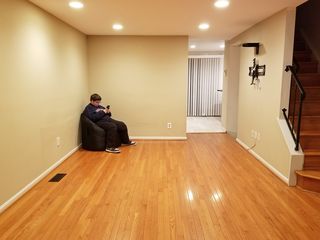 Elyse with her beanbag chair in the otherwise empty living room on the night after closing.  That beanbag chair was, at that time, the only piece of furniture in the whole house.
---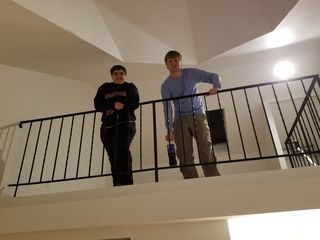 Brian later came over to see the place, and I got this photo of them looking down from the mezzanine.
Part 1