Funk the War 7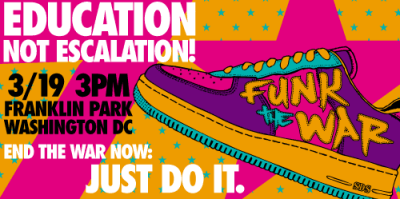 March 19, 2009 marked the sixth anniversary of the US-led invasion of Iraq.  In Washington DC, among other demonstrations being held that day, the DC chapter of Students for a Democratic Society (SDS) held a Funk the War demonstration.  This was the seventh of this style of demonstration, which combined an anti-war protest march with a mobile dance party, visiting the offices of various war profiteers, media organizations, lobbying firms, think tanks, and government offices.
Funk the War 7 started off from Franklin Square at 4 PM for a march that was slightly more than a mile and a half long, and followed a route through downtown Washington that took it past offices for the American Petroleum Institute, an Armed Forces Recruitment Center, Caterpillar, Bechtel, Parsons Corporation, the Research Triangle Institute, the Project for the New American Century, the American Enterprise Institute, Halliburton, and SSA Marine, before heading to its conclusion at Dupont Circle.
The march consisted primarily of DC's usual radical activist community, and also drew members of Code Pink, as well as a small black bloc that gathered separately a block away at McPherson Square.
---
I took the day off of work to attend Funk the War 7, and so I stayed at home until around 1:00.  I drove down to Wheaton Metro, and caught the train from there, where I got CAF 5052.  The weather had been rainy much of the day, as it had been in 2008, and I was driving down to Wheaton with the windshield wipers on the whole time.
However, unlike in 2008, where nature claimed Big Mavica during Funk the War 3, this time I was prepared for anything nature wanted to sling at us.  I had the Canon with me, but more importantly for today, I had Duckie, my waterproof Vivitar digital camera, loaded with fresh batteries and a clean memory card, and all the waterproof seals were in place.  There was no way that I was going to drown another camera this year!
I took Metro to Farragut North, and then walked the roughly four blocks to Franklin Square.  I consider it preferable to just take the Red Line to Farragut North and then walk over to Franklin Square from there.  The alternative is to transfer to the Blue or Orange Line at Metro Center, and then ride over to McPherson Square station.  Despite McPherson Square's closer proximity to my destination, I walked mainly to avoid a transfer.  With this being off-peak, it was somewhat luck-of-the-draw on whether it would be a quick transfer or a long transfer, and I didn't want to gamble on it.  Basically, if transfers like you, it's only two minutes, saving a bit of time and putting you ahead compared to walking.  However, if transfers don't like you, it can be as much as ten minutes' extra time, which is longer than just walking it.  Add to that the fact that walking is fairly predictable as far as arrival time, so I decided to skip the transfer, and walked.
I arrived at Franklin Square a few minutes before the announced start time of 3 PM, and got all my gear together.  Even though it wasn't raining right then, the weather forecast was calling for more rain around 4:00, so the Canon stayed packed, and Duckie came out.  I went with Duckie because I didn't know how swiftly-moving of a march this was going to be, and didn't want to have to deal with a camera change in mid-stride.  In Franklin Square, DC's SDS crowd was in place, and they were ready to go.  There were banners, signs, and lots of people waiting to step off.  I got to visit for a bit, and one comment I heard more than once was that the numbers were smaller than in 2008.  I believe the numbers ultimately ended up comparable to Funk the War 3 last year, but one has to remember that we're dealing with "activist time" here, and "3:00" really means 3:30 or even 4:00.  If you show up at the announced start time, you are early.
---
Face painting, with a peace sign on one side, and catlike features on the other.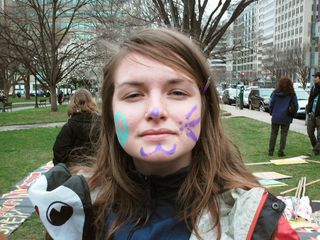 ---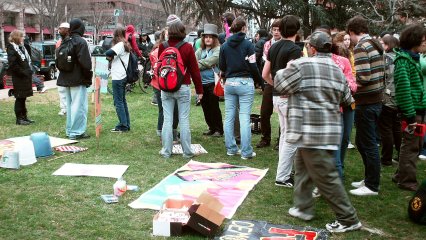 Crowd gathered at Franklin Square for Funk the War 7.
---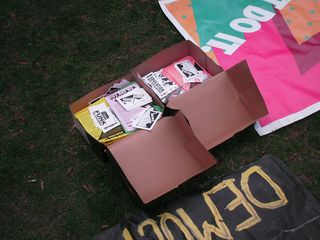 Flyers, ready to hand out to passers-by.
---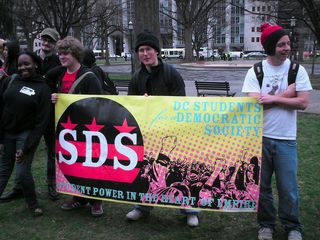 Holding up one of the DC SDS banners.
---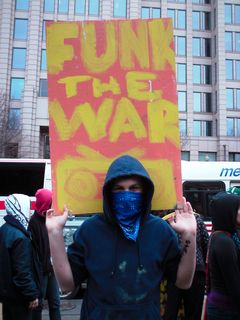 A masked individual holds a hand-painted "Funk the War" sign.
---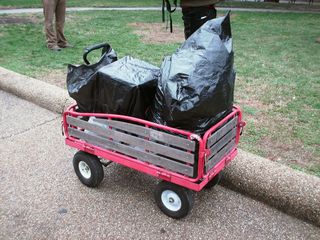 The sound truck is all ready to go, covered in plastic to protect against the rain.
---
Around 3:45 PM, an hispanic man who appeared significantly older than much of the crowd started making moves to get the march started.  People listened to him, and lined up facing west.  This quickly ended when Samantha, one of the SDS organizers, stopped him and talked to him, since first of all, it wasn't time yet, and secondly, the march would be leaving from the northeast corner of the park rather than from the west.  Samantha explained the situation to everyone by saying, "Don't listen to the drunk guy!"  As it turned out, the man reeked of alcohol, which also made him a hazard to everyone in a protest situation.  Thankfully, this would be the only trouble he would cause.
---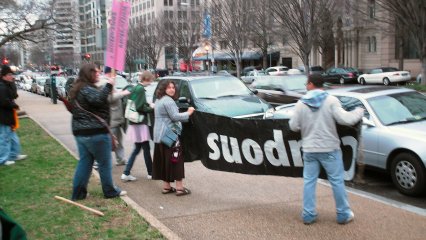 Lining up and preparing to march in the wrong direction.
---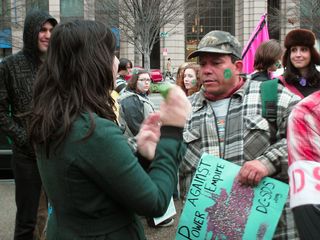 Samantha discusses things with the gentleman who lined up the march and started it going the wrong way.
---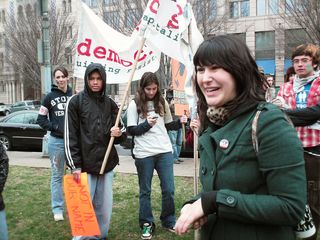 "Don't listen to the drunk guy!"
---
At 4:00 PM, the music got started, and we were off!  The march originally took to the streets, but when the police showed that they were determined to keep us out of the street by pushing the march onto the sidewalks fairly early on, as well as on any subsequent attempts on our part to go into the street.  Thus Funk the War took to the sidewalks.
---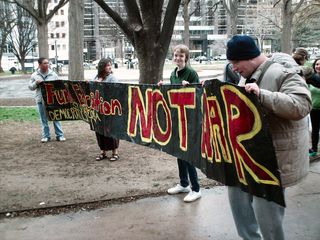 Staging for the march, this time for real.
---
Lining up behind the banner in preparation for movement, with the music already playing on high.
---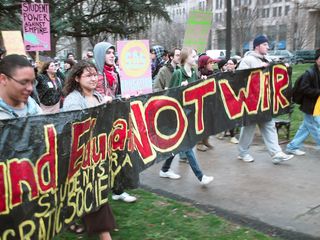 And we are on our way!
---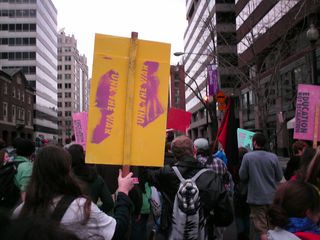 Funk the War 7 steps off, initially taking the streets.
---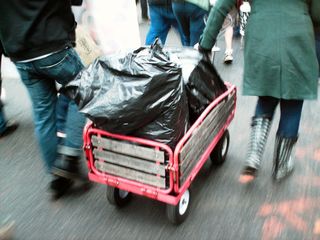 Towing the sound equipment along.
---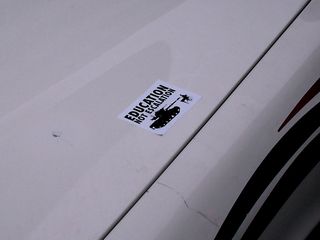 "Education Not Escalation" sticker placed on a police car.
---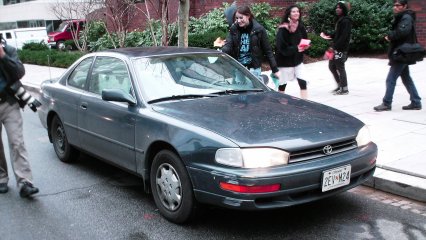 Handing a flyer to the driver of a car stopped by our march.
---
We first went north on 13th Street, and then turned west on L Street, which took us to the military recruitment center in downtown Washington.  This was by no means an unfamiliar place, as the military recruiter's office has been the target of many anti-war protests over the years.
---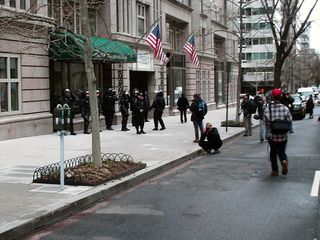 Arriving at the military recruitment center.  As you can see, cops in helmets preceded us there, ready to block the entrance.
---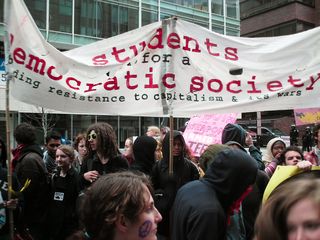 The crowd, gathered in front of the military recruitment center.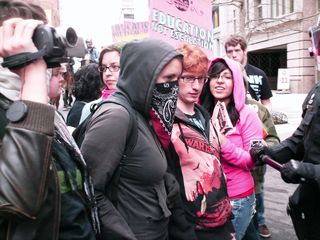 ---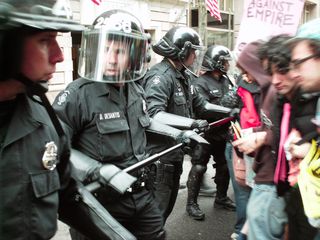 Cops using sticks to contain demonstrators.
---
And underway again, still in the streets.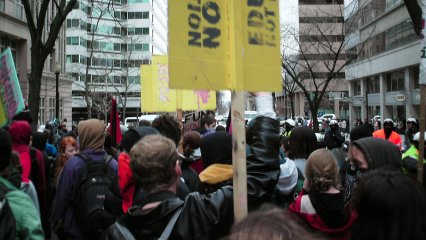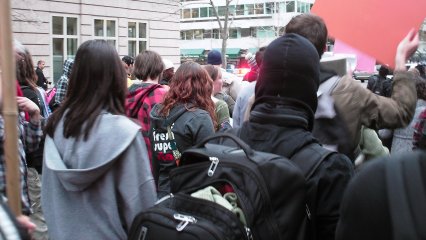 ---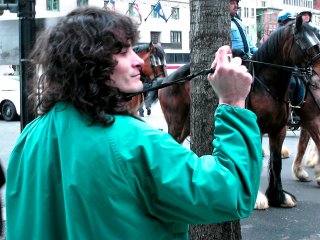 Luke takes a moment to line up a photo.
---
Following our brief visit to the military recruiter, we turned south on 14th Street, and headed west on K Street, past Caterpillar and Bechtel.  Additionally, around this point is where we were finally forced to march on the sidewalks.  We made a stop at Bechtel, and took a moment to give them a little extra attention in our anti-war protest.
---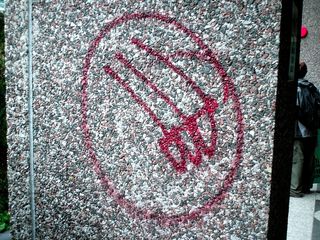 Symbol spray painted onto the building.
---
And then we continued, up 15th Street to the home of Parsons Corporation, another alleged war profiteer.
---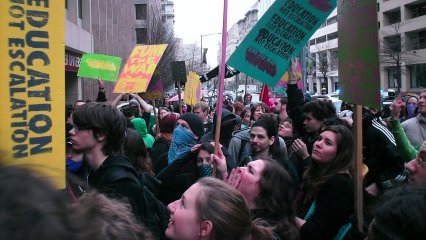 Demonstrating outside.
---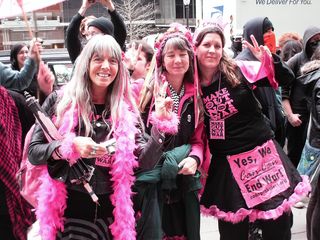 Code Pink demonstrators who joined our march partway through.
---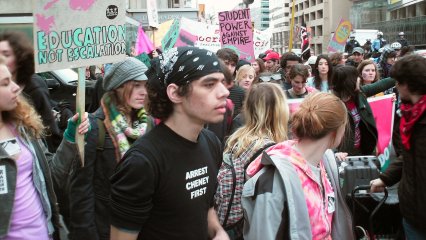 Underway again.
---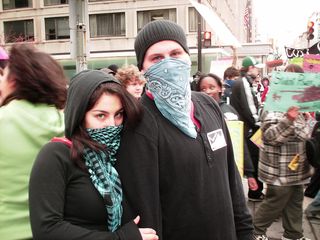 A masked couple poses for the camera.
---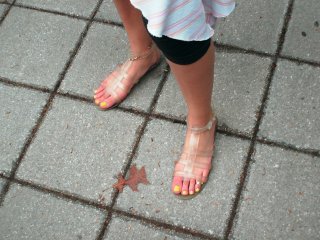 One woman wore jelly shoes to this protest, and honestly, I didn't understand why on earth she would want to do that (and trust me, I gave her a good-natured ribbing about it). First of all, I consider going to an anti-war protest in open shoes in the first place to be a bad idea. Secondly, it was cold on this particular day – the final day of winter. As you can see by the pink color of her toes, though, she was cold.
---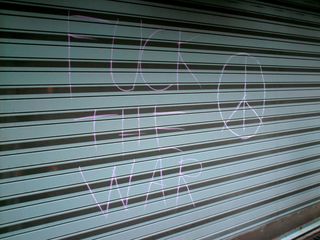 "F— THE WAR" and a peace sign drawn in chalk on a garage door. The person who chalked this got scolded by the police, but not arrested.
---
Continuing, we turned west on M Street, and ended up, by coincidence, in front of the headquarters of the National Geographic Society. But they would not be the focus of our demonstration. They just happened to be there. Our targets at that location were the Research Triangle Institute, the Project for the New American Century, and the American Enterprise Institute.
Unfortunately, one of our demonstrators was arrested here, allegedly for paint. They were handcuffed and taken away in a police car. The charges were later dropped.
---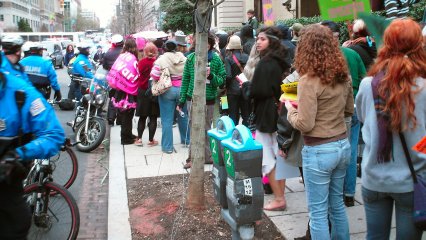 The march is stopped while a demonstrator is arrested.
---
Shouting "LET HIM GO!" while police arrest the demonstrator.
---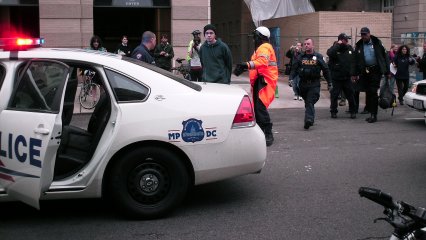 Arrested!
---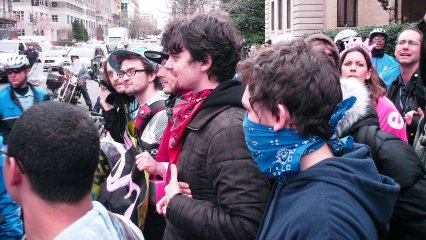 Watching as the arrest is completed.
---
After the arrest was completed, we continued on our way, turning south on 18th Street to reach the Washington offices for Halliburton. Here, the self-described anarchists that met and formed a black bloc at McPherson Square joined us.
---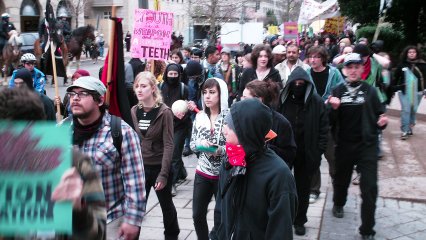 Underway again.
---
At Halliburton, the demonstration was spirited, but it turned ugly for a moment after a paint bomb (basically a water balloon containing paint instead of water) filled with dark pink paint (why that color?) was thrown at the building, and hit its target, splattering paint all over the building, the sidewalk, and (heh, heh) the police. When another paint bomb was discovered, that's when police made their move, and a number of us, myself included, couldn't get out of the way fast enough. Seriously, we had to move very quickly as the cops moved in on someone, and paint bombs in reserve got smashed, sending red, green, and yellow paint cascading onto the sidewalk and onto the people unfortunate enough to be nearby.
---
Demonstrating outside the Washington offices of Halliburton.
---
Dancing on the sidewalk outside the Washington offices of Halliburton.
---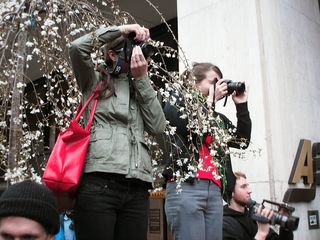 Meanwhile, two photographers found a vantage point to witness the scene.
---
A "paint bomb", filled with pink paint, found its target on the face of the building.
---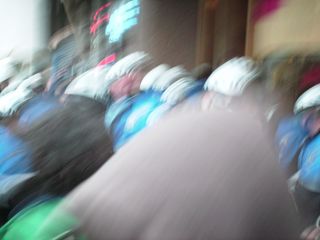 The police move in. I could barely get out of the way fast enough, as evidenced by this blurred photo.
---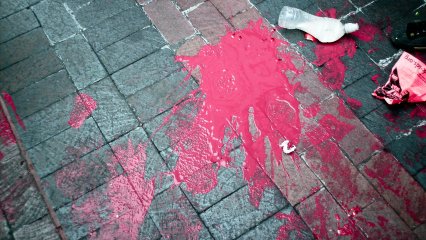 Another potential paint bomb filled with red paint did not make its target, having been smashed on the ground, with its contents splattered all over the sidewalk.
---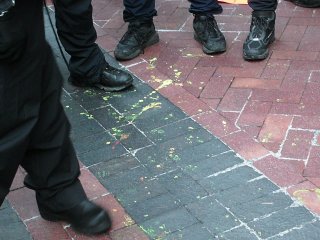 Yellow paint spattered on the sidewalk. I managed to catch a spot of this paint on my shoe, in fact.
---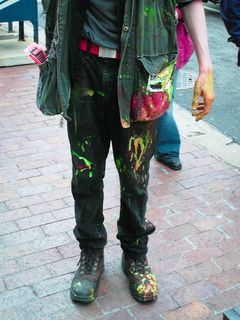 A demonstrator stands covered in paint following the breaking of several paint bombs.
---
Here, the second arrest took place, also allegedly for paint. The charges were later dropped.
From here, having reached all of our targets, the march set its sights on its endpoint – Dupont Circle. We returned to M Street heading west, and then turned north on 19th Street, and went straight up to the circle.
---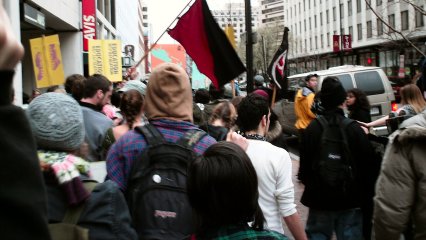 Underway once again, with our sights set on Dupont Circle.
---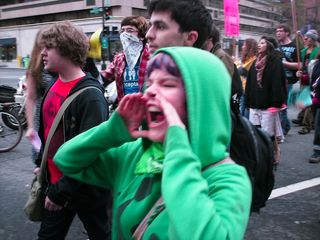 A woman shouts along the march route.
---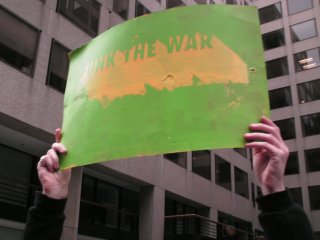 "Funk the War" sign.
---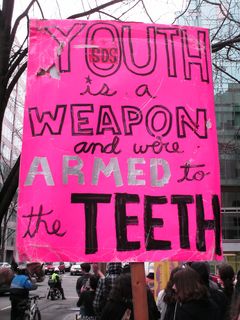 One poster gave a strong message: "Youth is a weapon, and we're armed to the teeth".
---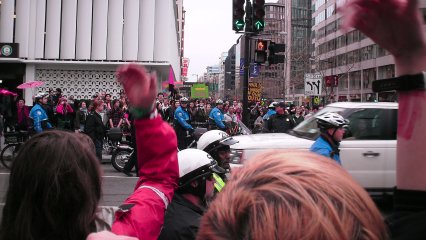 On 18th Street, we took both sides of the street!
---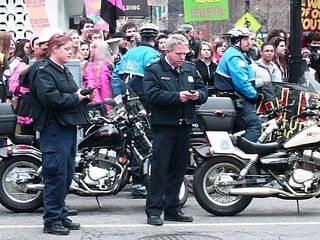 Meanwhile, MPDC Captain Jeff Herold takes a moment to check his cell phone.
---
Singing "Shout" in the streets.
---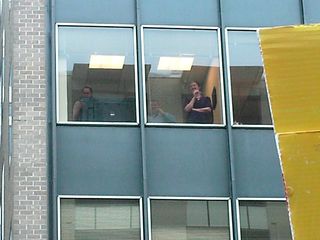 Office workers watch us demonstrate from their building. We, meanwhile, urged them to come out and join us. After all, I took the day off from my office to protest the war – they should, too!
---
"Cops here, troops there, US out of everywhere!"
---
Stopping for a moment to dance.
---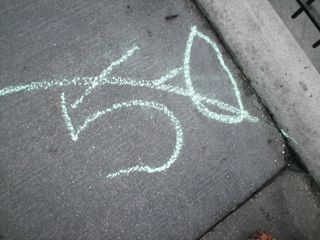 A chalked message on the sidewalk gives an anti-police message with a slash through "5-0".
---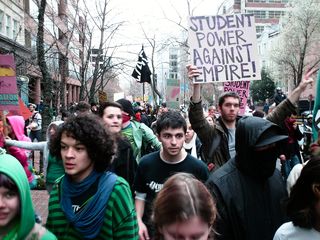 Marching north on 19th Street, towards Dupont Circle.
---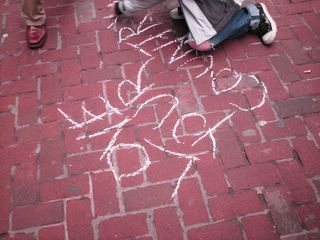 A demonstrator writes "Love your country" on the sidewalk in chalk. I personally think that this sends an important message. We don't hate America by any means. In fact, by coming out to protest, we are showing that we love the country more than most, but believe it's going in the wrong direction, and that it indeed can be improved. After all, it's not "my country, right or wrong". It's "my country" when it's right, and when it's wrong, I make it right.
---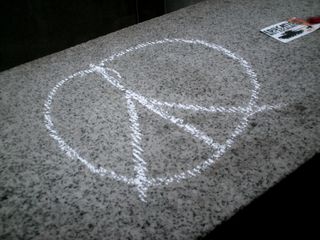 Peace sign drawn on the south entrance to Dupont Circle station.
---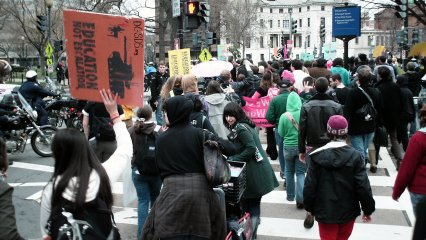 The final approach to Dupont Circle.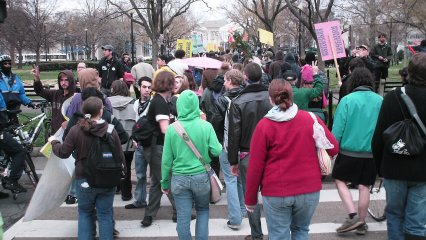 ---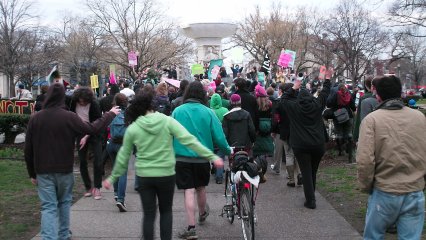 We have arrived!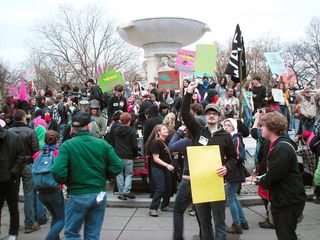 ---
Arriving at the circle, we had fun. The sound wagon was brought up the steps to the fountain in the center of Dupont Circle, and demonstrators took the fountain by storm. People danced in the fountain, danced around the fountain, and generally had a great time. They even drew on the fountain in chalk a little bit, leaving messages and drawing pictures – some pleasant, and others crude. Additionally, signs were placed in the classical figures' arms, giving the fountain a very anti-war flair to it.
---
The mood in Dupont Circle was festive and jubilant as we took the fountain. Note the comment in the last few seconds of the clip, "Is chalk illegal?"
And yes, sidewalk chalking is indeed legal.
---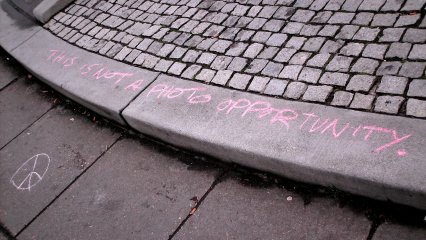 "This is not a photo opportunity" written in pink chalk at the edge of the fountain. I believe that they left out the word "just" in here, because while photographs are certainly beneficial to any movement's public events, it shouldn't be the end all.  This is not something to just get a few photos of and be done with.  To the contrary, anti-war protests are part of a larger anti-war movement.
---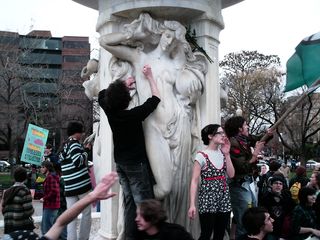 Drawing in chalk on the Dupont Circle fountain.
---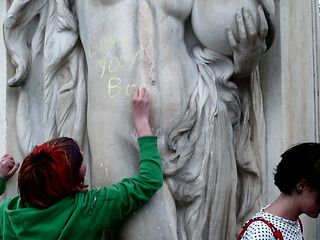 Writing "love your body" in chalk on the fountain.
---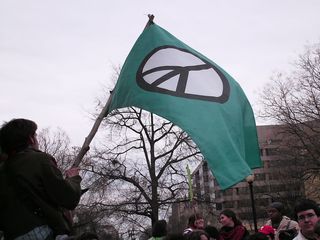 Waving a peace flag from the center of the fountain.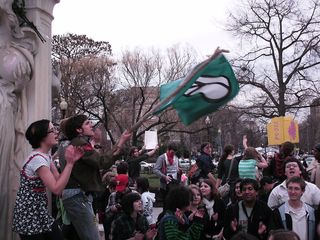 ---
Dancing on, in, and around the fountain, while various individuals draw with chalk.
---
The scene in Dupont Circle at the end of Funk the War 7.
---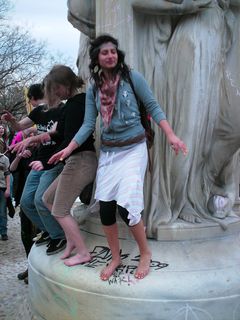 Dancing on the fountain.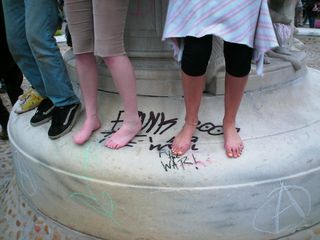 ---
Two of the messages on the fountain were left in ink, which is far harder to remove than chalk, which simply washes off. I disagree with inking the marble statue, because when it's an identifiable group like DC SDS, and their highly visible "Funk the War" demonstration, it reflects badly on the movement, and thus harms the movement more than it helps it. Chalking is one thing, and I highly encourage it. However, inking is where I believe the line should be drawn.
---
Chalk drawings on the fountain, and signage hung from the fountain.
---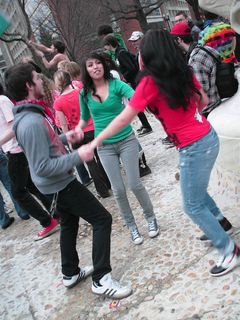 Dancing in the fountain.
---
Then before it was done, there were announcements. One person announced that a radical anti-capitalist bloc was going to be meeting at 10 AM at Farragut Square on the following Saturday for a feeder march to ANSWER's march on the Pentagon. Another announcement advertised a consulta at American University on the following Sunday about protests surrounding the spring 2009 meetings of the World Bank and IMF.
And from there, that was basically it. People hung around and danced for a while, and people gradually dispersed. During this time, Patty and Jon, two coworkers of mine, came by to say hello. They saw the anti-war crowd in Dupont Circle, and wondered if it was the event I was attending. And indeed it was, and we said hello for a few minutes.
---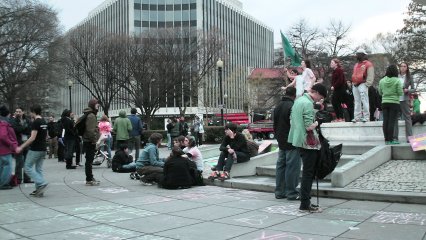 Hanging out in Dupont Circle after the demonstration had formally ended.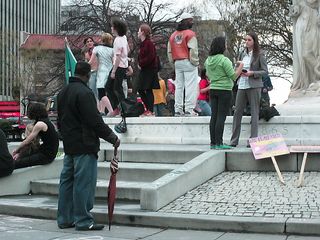 ---
After hanging around for a few more minutes, mostly "talking shop" with other activists, I headed out myself, leaving via the Q Street entrance at Dupont Circle. While this march was certainly shorter and less intense than I had anticipated, it made up for it in its message, and in the major fun factor. Seriously, we spread our message loud and clear, and we had a great time doing it. And that's a win by my book.
And with Funk the War 7 now behind us, it was time for us to set our sights on the next anti-war event, happening two days later: ANSWER's March on the Pentagon.