Tubing the Shenandoah River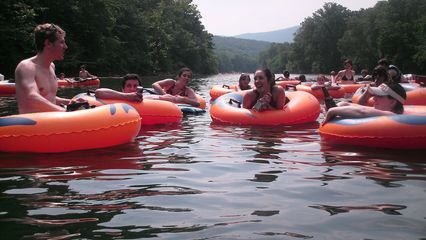 On July 25, 2009, a bunch of my coworkers and I went out to Luray, Virginia on our second annual Shenandoah River tubing trip.  I was unable to make the first tubing trip in 2008 due to a schedule conflict with the Over 9000 Anon March, but this time, my schedule was clear, and I was excited to go!  My coworkers are a joy to be with, and so I was really looking forward to a day with them, relaxing on the river with cheap beer.
My day started out with an errand.  I was asked to pick up some ice on the way in, and so I stopped by the 7-Eleven store next to Glenmont Metro and grabbed a bag.  Then from there, I drove the remaining ten miles or so to the office, which we had designated as our meeting point, making a side trip to pick up Meredith.  Arriving at the office, I found a good-sized group of my coworkers waiting, along with their friends and family members.  Since we weren't ready to go just yet, and had paperwork to take care of, I parked the car in the alley between our building and the Embassy Building.  That turned out to be a less-than-wise decision, as I was nearly boxed in by construction vehicles there to renovate the Embassy Building into Scientology's Ideal Org.
Once parked, Alex, who organized this trip, got the paperwork going.  We all had to sign a waiver which, in a nutshell, said that we go out on the river at our own risk, and that we agree not to sue Shenandoah River Outfitters, our hosts for this trip, if we are hurt or killed on the river.  I figuratively put on my Senior Office Manager hat for this one, and handled the waivers, distributing and collecting them, and making sure that the pens got around.
Then after a quick CVS run for drinks and extra sunscreen, we were off!  I had four passengers – Meredith, Adam, Caitlin, and Caitlin's friend Ryan.  The route took us on I-66 to US 29, and then from there to US 211 at Warrenton.  We took US 211 nearly its entire length, from Warrenton through Fauquier County, Culpeper County, Rappahannock County, through Shenandoah National Park and over Thornton Gap, and finally Page County and Luray.  From there, we took a number of local roads to reach Shenandoah River Outfitters.  The only big question was how to get from P Street to I-66.  I chose to take 16th Street to K Street, which links up with I-66 in Foggy Bottom.  Meanwhile, three of my passengers were from New York State, and were all "ooh" and "aah" when they saw a Wegmans along Route 29.  Meanwhile, I took criticism for the way I handled Thornton Gap – they claimed I took a few curves a tad too fast, though I didn't think so.  But we made it in one piece, and that's what counted in the end.  And then I only made one wrong turn throughout the whole run.  211 made a right turn in Warrenton that I wasn't expecting, and so I was in the wrong lane for it.  Not to worry, though – it was a small oopsie, and I was back on the right course in about a minute or so.
And we made really good time, too.  Due to the CVS run in DC, we were the last ones to leave, but interestingly enough, out of about five cars, we were the second ones there.  So we got everything together.  We got the coolers out, we got the sunscreen out, and greased up.  After all, it was a sunny day, and so if we didn't put on sunscreen, we would burn.  As Alex put it, we were "a very white group."  Such is what happens when you spend all day in an office building, I suppose.  So we took adequate precautions, and I for one was quite liberal with the sunscreen, paying particular attention to my big, bald head.  I burned my head during the Nazi counter-protest last year, and that was quite painful.  I quickly learned not to let that happen again.  And I changed from flip flops into my Crocs.  I ended up going with the Crocs on the river, after my search for affordable aqua socks was unsuccessful.  But it worked out.  And of course, I had fresh batteries loaded into Duckie, my waterproof camera, to document the whole affair.  I warned the group, though – be careful when handling Duckie, because in the water, Duckie sinks.
---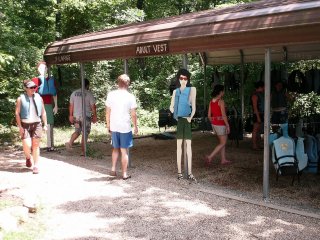 Getting and putting on life jackets.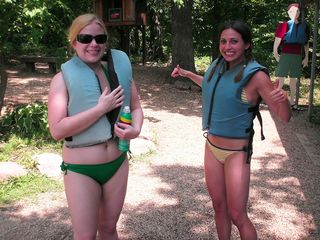 ---
After we grabbed our life jackets, we boarded a bus.  Shenandoah River Outfitters uses old school buses to transport people between the river and their building, and so we rode Snapper to the place where we would join the river, at milepost 16.  Snapper was an old Blue Bird bus, formerly bus 74 for a company called "Donald G. Maring" from Woodbine, Maryland.  I hadn't ridden a school bus since I was in high school, so it had been a good ten years or so since I was last on one of these.  You could tell that this bus was manufactured in the late 1980s or early 1990s because it had the tan interior with brown seats.  Immediately prior to that, school buses had a greenish interior, with dark green seats, sometimes alternating with orange.
---
Interior of Snapper.  The last few rows of seats had been removed to create space to store coolers and such.
---
Door controls and driver's area.  Too bad that the controls for the lights no longer go to anything, though.  When the bus was converted following its service as a school bus, the lights and stop sign were removed.
---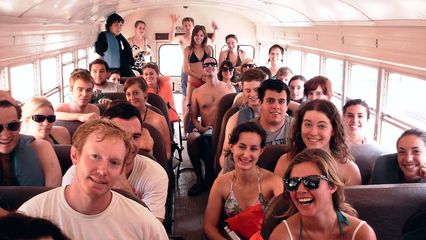 Everyone is on the bus, and we are ready to go!
---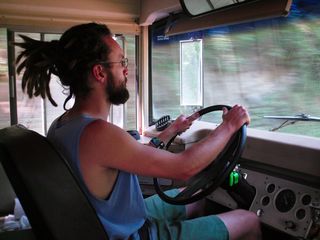 The driver takes the bus up the road to milepost 16, the beginning of our tubing run.
---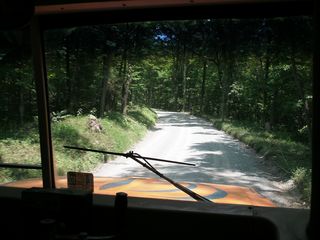 The road to the tubing location was fairly narrow, and somewhat curvy.
---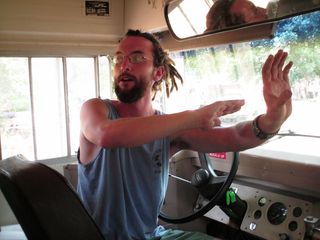 The bus driver explains how to handle a section of rapids that occur roughly halfway through the run.  He explained that if we lost our tube through that section, we should float feet first until we were clear.
---
Arriving at milepost 16, we got our tubes, got the cooler tubes loaded up, and we were in the river.  One thing that surprised me about tubing the Shenandoah River was how shallow the river was – only about a foot deep in the area where we started.  I'd been on a number of other river tubing trips in the late 1990s, tubing the James River in Rockbridge County in those cases, and the river was always a few feet deep – never this shallow.
---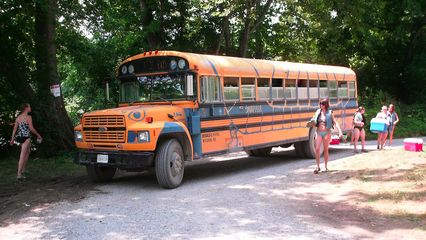 Unloading the coolers and departing Snapper following our arrival at milepost 16.
---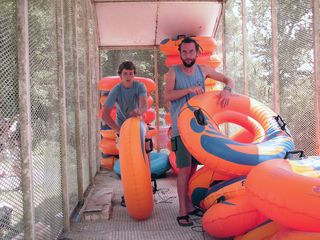 Staff members unload tubes from the trailer for our use.
---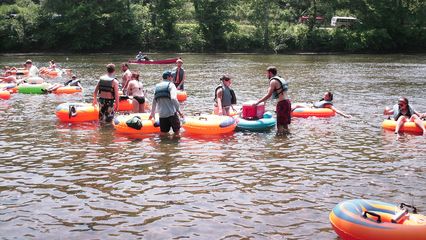 Getting in the river, getting in the tubes, and getting things situated.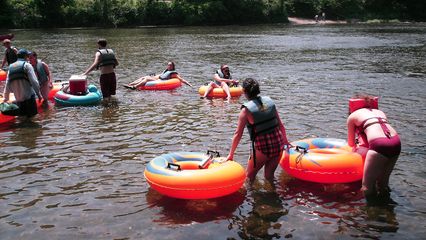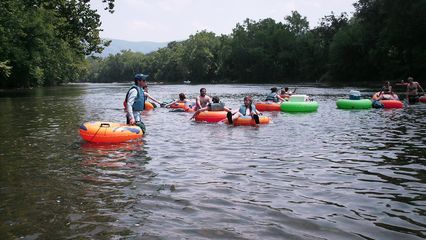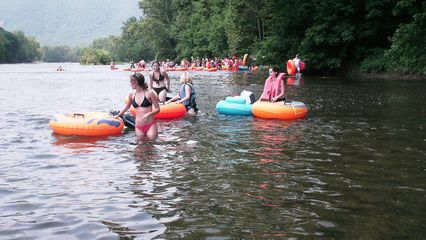 ---
But nonetheless, we were officially underway.  We quickly figured out how to handle the tubes, tied the cooler tubes to other tubes, and a few people broke out the beer.  I didn't drink – I was driving that day, and even though one or two beers early on would likely have gone completely through my system well before it was time to hit the road, I wasn't about to chance it.
Once on the river, people got settled.  The beer started flowing, and some people broke out their lunches.  Finger food was highly recommended, since we would indeed be eating our lunch in a tube.
---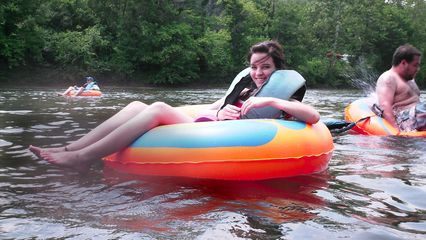 Caitlin is all smiles as we begin our tubing adventure.
---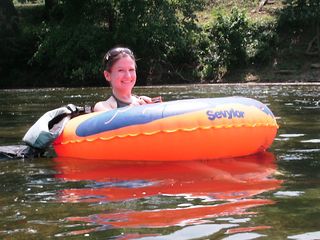 Christina got settled into her tube, with her own waterproof camera at the ready.
---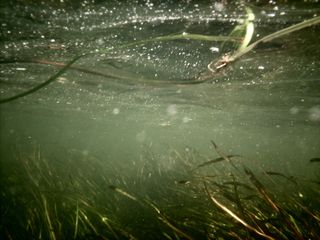 Underneath the water at this point, the river was not only shallow, but had a lot of grasses growing on the bottom. The grasses were only present in the first part of the course.
---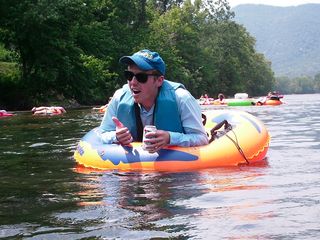 Tim gives the thumbs-up while enjoying a Pabst Blue Ribbon.
---
Quite a few people enjoyed beers on the river, as Renee (top left), Mary (top right), Joe (bottom left), and Meredith (bottom right) demonstrate.  Renee and Mary both had Pabst, Joe had Red Stripe, and Meredith had Peak Organic.
---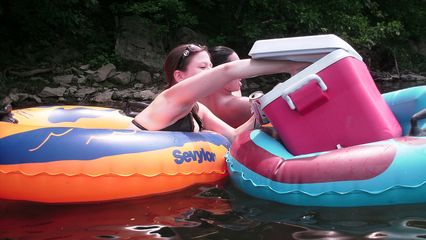 Christina reaches into one of the coolers in order to fish out her lunch.
---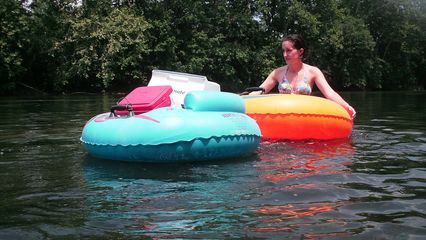 Bethany was one of the keepers of the coolers.  A few coolers, including my own, were in the cooler tube, which was lashed to her regular tube.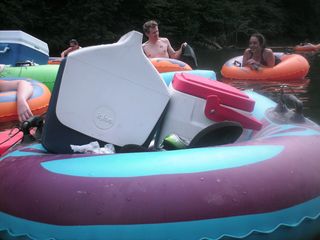 ---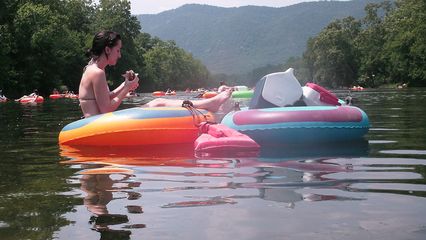 Bethany has lunch while floating in her tube.
---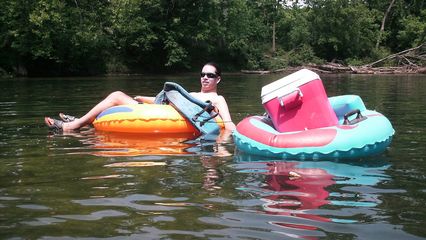 Jorge was another one of our designated cooler-tube carriers.
---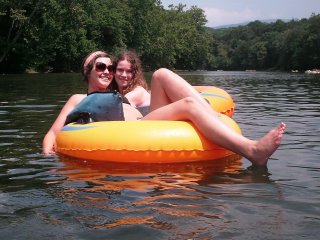 Hanna and Emily smile for a photo.
---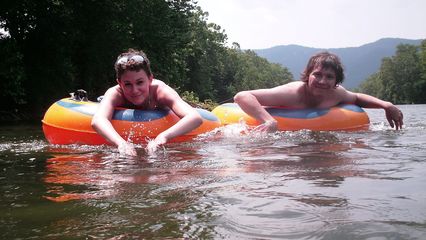 Becca and Jordan paddle along in the water.
---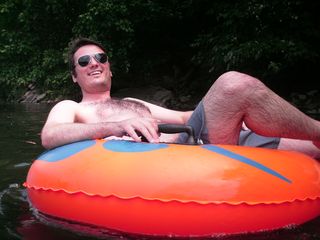 Beauchamp is definitely in relaxation mode, as seen here.
---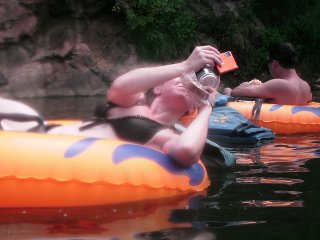 Christina multitasks, holding her sandwich, her beer, and her digital camera as she lines up a shot.
---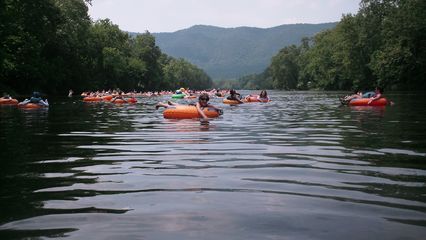 Relaxing on the river…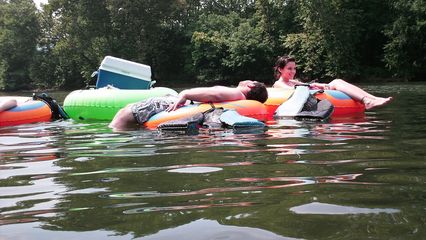 ---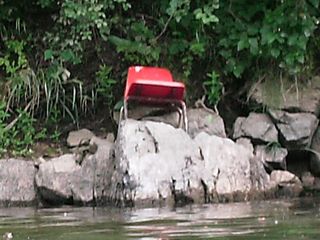 A chair sits discarded along the river.  That was one of a few what-the-crap kind of moments, just wondering how such a thing might have managed to get there.
---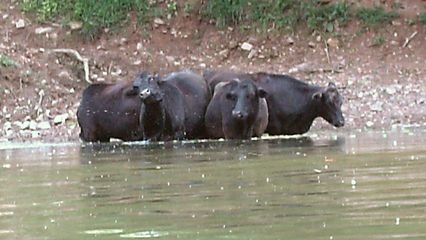 Cattle in the water – another what-the-crap moment.  I was somewhat concerned that the cattle would try to come over and check us out, but thankfully, they stayed over there.
---
Becca enjoys a Bud Light Lime, and later demonstrates that she has finished it.
---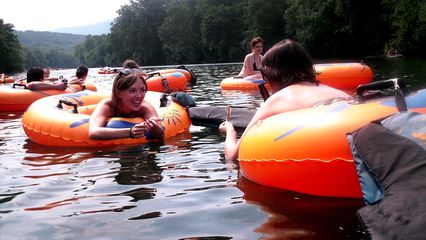 Justine and Erica converse on the river.
---
We hit some rapids fairly early on, and due to the shallow depth of the river, I managed to get hung up on a rock.  Figures.  A little pushing, however, and I was off the rock and underway again.
---
Hung up on a rock, and trying to get myself free.
---
Later, the water got deep on us.  This, of course, would be the time when I finally lost my balance and fell out of my tube.  Splash.  And all of a sudden, I realized that I couldn't touch bottom.  Yikes – it was really deep.  But not to worry.  I can swim.  I kind of hung onto my tube for a bit, while making occasional attempts to get back on.  I eventually succeeded, though, and I was back up and kicking.  In my attempts to get back on the tube, I managed to lose one of my Crocs.  This is when I was glad I ended up going with the Crocs.  You see, Crocs float.  Thus I was able to easily retrieve it and put it back on.
---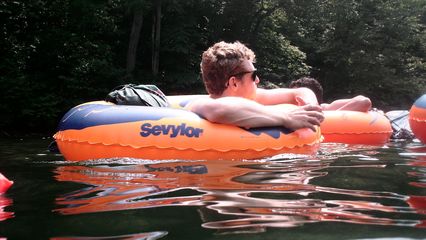 As the river got deeper, people positioned themselves to take advantage of it, as Tim demonstrates here.
---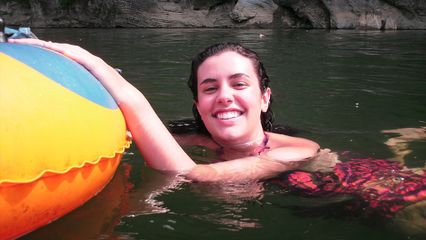 Cristina floats alongside her tube.
---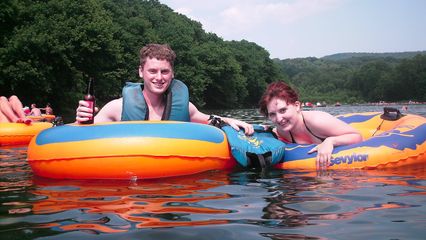 And of course, the beer kept flowing, as people enjoyed different kinds of beverages…
---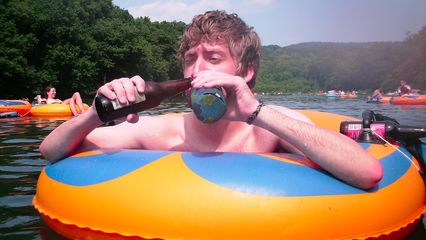 …sometimes two at a time.
---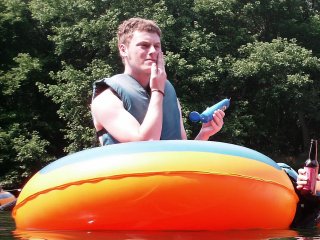 Joe takes a moment to reapply some sunscreen.  We were admittedly a very white group, with all of us having spent much of the summer inside an office building and out of the sun.  Staying on top of the sunscreen helped keep the skin cancer fairy away.
---
At one point along our route, there was a rope hung from a tree that people swung from.  Here, Alex takes a swing and then jumps into the water.
---
Once I got all settled again, I paddled over to the tube where my cooler was riding and retrieved my lunch.  I had gone to Subway the night before, and got a 6″ turkey sub, and then I got a Vanilla Coke to go with it in the morning.  Maybe it's the tubing atmosphere, but that sub really hit the spot there on the river.
And the floating continued, over water of a comfortable depth.  It wasn't as deep as earlier, but it wasn't as shallow as earlier, either.  All in all, we had a good time, as everyone kind of got settled into a spot on the river.
---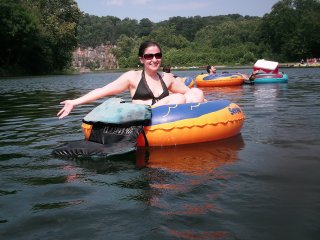 Christina poses for the camera.
---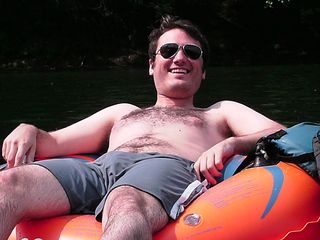 And Beauchamp is still striking that relaxed pose.
---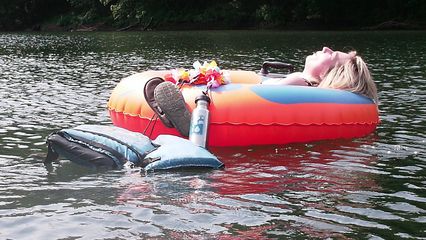 Meanwhile, Renee relaxes in her own way, before getting out of her tube to take a quick swim.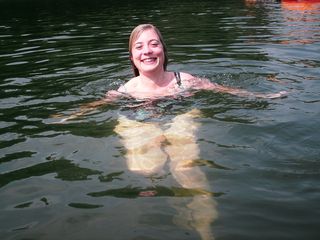 ---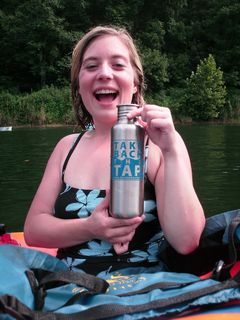 Getting back into her tube, Renee showed off her reusable Take Back The Tap bottle.
---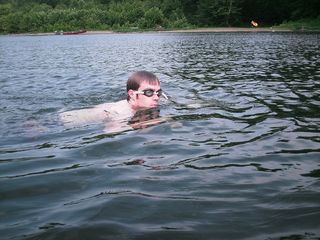 Alex took a moment to swim around and see exactly how deep the river was at this point.  It was still fairly deep.
---
Then we hit the area of rapids that the bus driver had described to us.  It was definitely a swiftly-flowing area, though not quite as bad as he described it.  I don't think anyone in our group had to practice the maneuver as described for losing the tube, floating feet first through the area and then recovering the tube afterwards.
---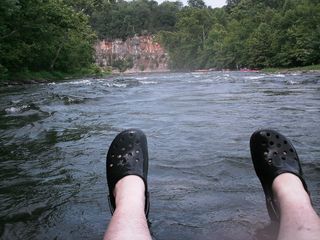 Approaching the rapids…
---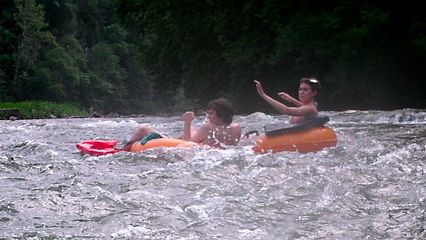 Becca and Jordan ride through the rapids.
---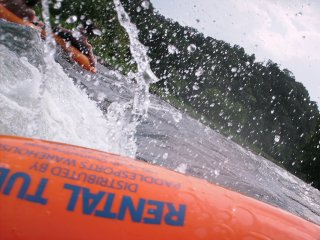 Splash!
---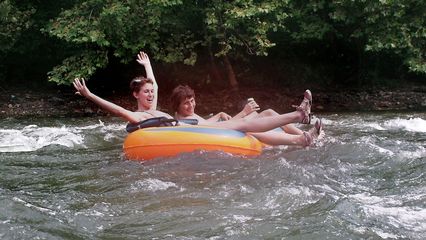 Becca and Jordan complete their path through the rapids.
---
Once we cleared the rapids, we immediately entered into an area with very high cliffs all around.  The scenery was absolutely beautiful, and educational – many lessons from various geology courses that I had taken came back into play, though for the life of me, I couldn't tell you what I was looking at.  But I recognized the various rock formations as something I had learned about in school, so you've got to give me credit for that.  However, as we passed the cliffs, we began to hear thunder, and dark clouds were starting to build in the distance.
---
Rock formations along the river.  I am pretty certain that I am looking at sedimentary rock, but I'm not so sure about what the curves in the layers, particularly noticeable in the upper left photo, are called.
---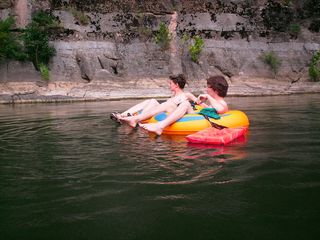 Becca and Jordan pass by the cliffs.
---
I ask how things are going in one of my classic "stupid videos", and Adam takes the opportunity to criticize my driving.  Hey, I got everyone and the car there in one piece…
---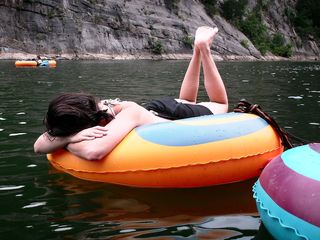 Meanwhile, Bethany takes a quiet moment on this calm stretch of river.
---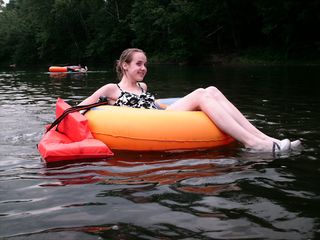 Mary is all smiles on this section of river as well.
---
After passing by the cliffs, the water got really shallow – the shallowest yet seen on our trip.  A number of tubes were starting to drag along the bottom, making forward progress difficult, since the water was generally less than six inches deep in places.  Tyler actually got up out of his tube, believe it or not, and pulled a number of us along for a bit.
---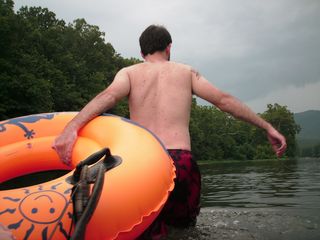 Tyler pulls the group along.  Note the clouds building in the distance.
---
Once we cleared the shallow areas, we were fully underway again with slightly deeper water.  It was enough so as not to drag the bottom, but not much more than that.  By this point, our group was really spread out along the river.  We had gone about a mile and a half by this point, I believe.
---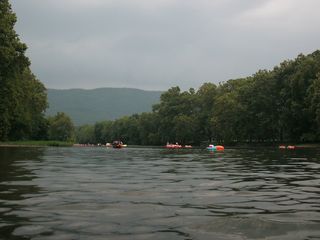 Spread out along the river.  Again, note the darker sky compared to earlier in the day.
---
Then the storm that had been gathering made its presence known.  The thunder became more intense, it began to rain, and the wind started to pick up.  What a time to be on the river, as a full-blown thunderstorm came up.  There wasn't much we could do about it, but various folks determined various ways to handle the matter.  Some people got out of the river to ride the storm out on land.  One idea that had been floated was to abandon the river there, and locate the road that ran alongside the river and catch one of the buses back to Shenandoah River Outfitters' building.  As there was no easy way back to the road, since that area was not one of the designated end-points for tubing trips, the idea was quickly discarded.  Others simply kept going along the river.  After all, who knew how long the storm would last – it could last a few minutes, or it could go for hours.  Either way, you had to complete the course in order to get off the river, so the best way to escape the storm was to just continue on, and finish the course.
---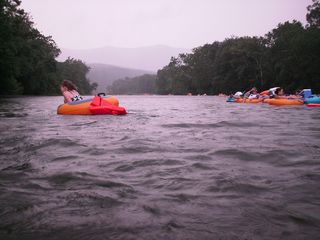 The rain begins…
---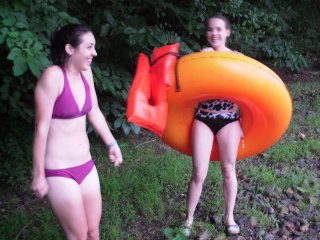 Carrie and Mary, along with a few others, abandoned the water entirely for a time to wait out the storm.
---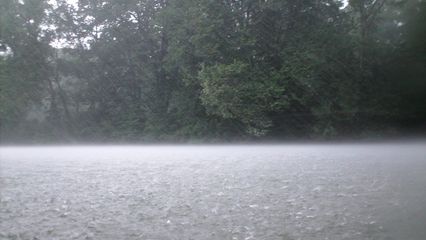 The rain was coming down hard, and the wind was really blowing – note the angle of the rainfall!
---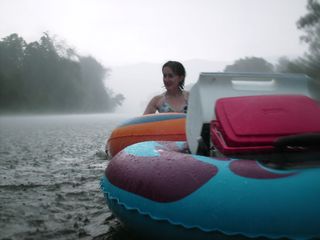 Bethany maneuvers with the tubes during the storm.
---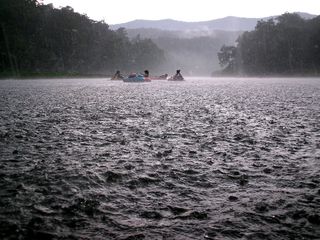 The rain is still falling hard, but the sky is lighter – will the rain end soon?
---
Thankfully, the storm was short-lived, and though the clouds never cleared, the wind and rain subsided.  There, we passed milepost 18.  Two miles down, and one to go.  Thankfully, though, the final mile was uneventful, as we floated down the river, really spread out by this point.
---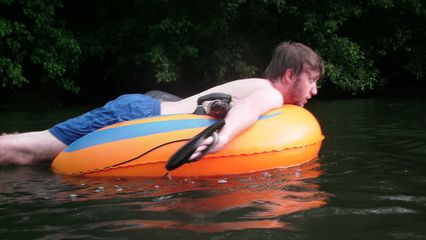 Adam uses a pair of flip flops as paddles to propel himself through the water.
---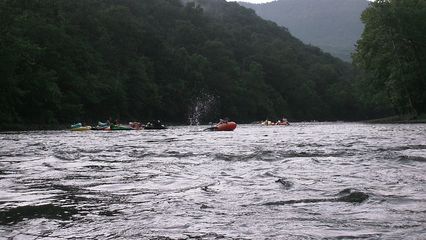 Continuing down the river…
---
Milepost 19 was the end of the course, and a large wooden stop sign was attached to a tree near the mile marker itself to indicate this.  Everyone got out of their tubes, and walked up a concrete ramp to the area where the buses loaded.  We were late – we were supposed to have been off the river by 5:00, but we didn't get off the river until around 6:30, I'd say.  But everyone else was late, too, so it worked out, since it wasn't just us being late.  While we slowly regrouped as people finished the river, Shenandoah River Outfitters got tubes back to the starting point for the next day.  They just loaded them onto the buses, and trucked them down the road.
---
Milepost 19: STOP!
---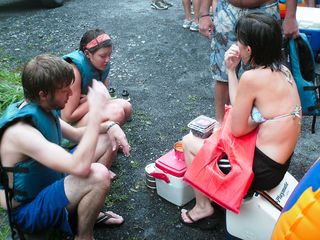 Waiting for everyone else to arrive.
---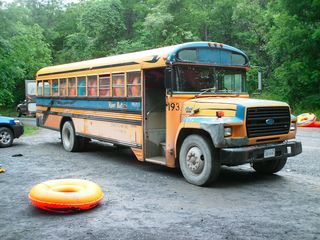 Turns out that the buses do more than just transport people.  Here, the River Rat is being used to transport tubes back to the starting point.
---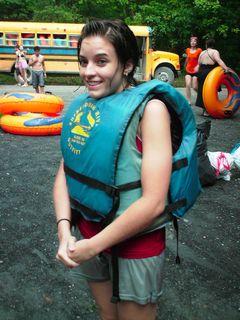 Caitlin got really cold soon after getting out of the river.  Here, she uses two life jackets to try to stay warm.
---
While we were waiting, a few people stopped to use the restroom at a nearby facility.  The group quickly learned that the restroom at the end of the course is disgusting.  Don't even think about using it if you value your sense of smell.
And finally, once we had all gotten back together, we boarded a bus, taking Snapper once again.  The ride was a rainy one, as the rain had returned, and looked like it would stay for a while.  Returning to the Shenandoah River Outfitters building, I quickly went back down to where we parked, and brought the car up front.  Here, I learned that I would have a different passenger group for the return trip.  Hanna had expressed an interest in bypassing downtown Washington entirely, and so she took people going towards College Park in her car in order to take the Beltway.  Thus Caitlin, Adam, and Ryan went with Hanna for the return trip.  Meredith stayed in the car with me, and Jorge joined me for the return trip.
The return trip was pretty exciting.  The stormy weather that had first gathered while we were on the river was apparently here to stay for a while, and while the rain soon subsided, we were treated to a spectacular lightning display along Route 211 after we cleared Thornton Gap.  This was not just cloud-to-cloud lightning where the clouds just twinkle.  This was major cloud-to-ground lightning.  The most spectacular lightning we saw the whole way back was a case where yellow lightning went up from the ground, and then spread laterally through the clouds.
But eventually, we made it back.  Meredith had suggested we take Route 17 from Warrenton to I-66 instead of Route 29, but later abandoned this suggestion.  The alternate route was a shade longer, but it might have been interesting, and would have avoided the heavier traffic on 29.  So we took 211 to 29 to I-66 as we did on the way down, and then got off 66 at Rosslyn, where we took the Key Bridge and the Whitehurst Freeway to reach downtown Washington.  From there, it was a simple matter of dropping Jorge and Meredith off at their respective homes, and then all I had left to do was get myself back home.  I think all would agree that we had an amazing trip, and hopefully we'll do this again next year.