September 24 Protests
Part 1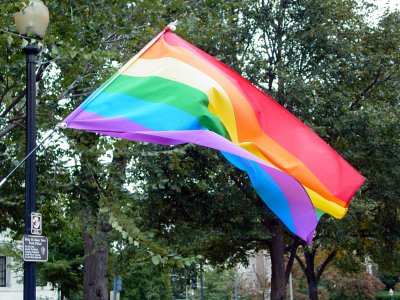 From start to finish, September 24, 2005 was a big day.  Washington DC was packed with activists and book enthusiasts as ANSWER Coalition and United for Peace and Justice jointly sponsored a march against the war in Iraq, other groups sponsored feeder marches into the main ANSWER/UFPJ march, and, unrelated to the protest, the Library of Congress was holding the National Book Festival on the National Mall on the same day.
My day started out at 4:00 AM, when I got up with my alarm clock.  I was going to Washington for the protest, and wanted to get an early start.  Interestingly enough, Mom also was going to Washington, for the National Book Festival.  Mom wanted to get an even earlier start than I did, but I stopped her before she got going, as Metro doesn't open until 7 AM on the weekends.  Me to Mom: "Stay a while."  Mom ended up leaving around 4:45 or so, which, assuming normal conditions, would get Mom to Vienna a little after 7:00.  I left at 5:15, and made all my usual stops, and got to Vienna around 8:30.  We would meet up later on in the day at Pentagon City.
I have to say, though, that on the way up to Vienna, I was wondering whether or not I'd actually make it up there.  All morning, I was excited, nervous, and anxious about the protest.  So much so that I nearly had an episode of becoming physically sick a couple of times on the way up.  And it was definitely anxiety that caused it, because once I got on the Metro and became sufficiently distracted, I was fine.
The Metro was crowded, resembling rush hour, which would be the case for much of the day.  On the train from Vienna, where I rode Rohr 1098 to Rosslyn, I ran into a man who had painted his entire head to resemble a flag with a yellow ribbon on it.  On the train, we spoke about what we were doing at the protest.  He indicated that he was going to the main ANSWER/UFPJ anti-war rally on the Ellipse.
Meanwhile, I was going to the feeder march sponsored by the Mobilization for Global Justice, which was a demonstration against the World Bank and International Monetary Fund (IMF), which would march from Dupont Circle to the World Bank, which was holding its semi-annual meetings this same weekend, and then join the main march.
By the way, I found it quite interesting that the Mobilization for Global Justice decided to start their feeder march from Dupont Circle.  You may recall that the A16 march earlier in the year ended at Dupont Circle, and so to me it felt like we were starting up again right where we left off before.
---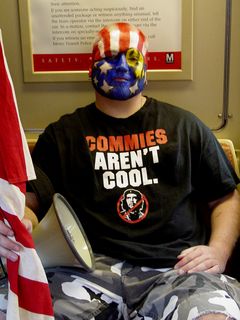 On the Metro, I ran into this gentleman, who had painted his entire head in the colors of the flag.
---
Since he was from the DC area, and I visit the area regularly and am trying to move up there, we talked about how the Metro was so busy this particular weekend, and something amusing about the Metro.  He was with friends one night, and one of them imitated the doors-closing voice.  But instead of saying "Doors closing!" they said "George Clooney!"  I asked which version of the door chime he was referring to – the Rohr/Breda one, or the CAF/Breda rehab one.  The Rohr/Breda version was what he was referring to, though he said the CAF/Breda rehab one would have fit even better.
I departed our train at Rosslyn, which was full to standing room by the time we got that far, and took a quick break.  I was a little later than I'd wanted to be, so I didn't get to really break at Rosslyn.  All I really got to do was stop off, use the restroom, and rearrange my stuff.  Regular shirt and tied-around-the-waist jacket went in the bag, and black shirt went on, and black hooded sweatshirt got tied around the waist.  Thus we made the change from mild mannered young adult to raving black bloc activist (somewhat – I'll complete the outfit later).  While the Rosslyn Metro station was quite busy, the neighborhood above the station was pretty quiet.  Rosslyn Center was practically a ghost town, which is to be expected on the weekend.
But before doing anything black bloc-ish, I first had to get there, descending back into the Rosslyn Metro station.
---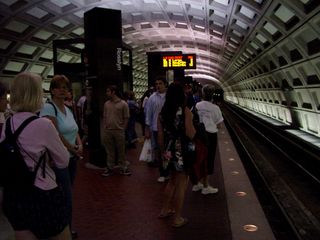 Rosslyn station had a larger crowd as well, with many people heading into Washington for the protest.
---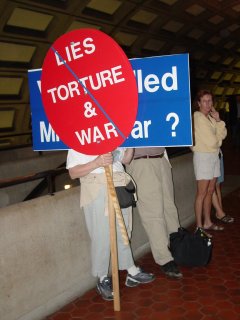 At Rosslyn, I also got my first look at protest signs for this demonstration, as this couple was holding up their signs in the station while waiting for the train.
---
From Rosslyn, I took a Blue Line train to Metro Center.  That train was filled to where it was standing room only, and in fact, it was so full that it was questionable whether or not we would be able to fit any more people on there.  At Metro Center, after wading through a sea of people on the lower level, I found the escalators to the Shady Grove platform, and boarded a Red Line train to take me to Dupont Circle.  Unlike the inbound trains I rode on the Blue and Orange Lines, this outbound Red Line train was not crowded, like I would expect a Red Line train to be on a normal Saturday.
At Dupont Circle station, I exited via the Q Street entrance, crossed the traffic circle, and proceeded directly into Dupont Circle, where a group of people dressed in black were kind of hanging around.  After checking out the area, I sat down for a while along the inner ring of benches, near the fountain.  I ended up striking up a conversation with a gentleman from Olympia, Washington for a while, while I got fixed up for the protest.  Turns out that he flew into Dulles Airport that morning on a flight from Washington State, and took a bus and the Metro from the airport into Washington DC.  It also turned out we have a bit in common.  We both are recent college graduates still looking for real jobs – just on different coasts.
---
At this point, the crowd was still fairly thin, but lots of people were still coming in.  There was already evidence of a dedicated black bloc in the making, too.
---
While we were talking, some of the people who would form the Black Bloc had masked up, and were sitting in a circle, stretching before the march.  And this wasn't a simple up and down a couple of times.  They went the whole nine yards, stretching as if getting ready for an exercise workout.
---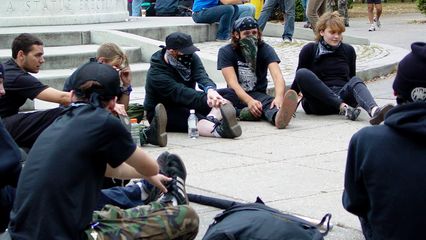 Black bloc participants take a moment to stretch before the march.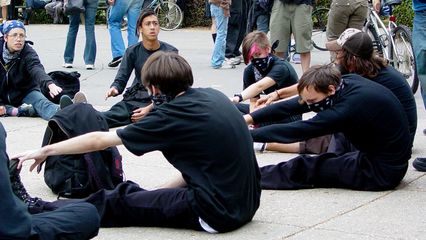 ---
Later, two uniformed officers from the Metropolitan Police showed up to explain what was going on to this group, which was turning out to be far more Black Bloc than mainstream protesters.  All of a sudden, everyone's cameras and other recording devices were out.  Basically, the word from the officers was not to "start breaking things" because then they'd have to take action.  Reasonable enough, I thought.  Many were skeptical about whether the police would stick to this.  We would see, I suppose.
---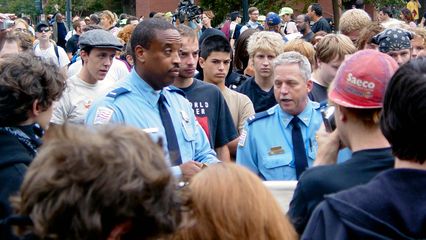 The two uniformed officers, primarily the officer to the right in this photo, explain what's going on.
---
The two police officers finish up their talk with the group.
---
In the crowd, I saw a number of people, some familiar, and some not so familiar.  I also carried a notepad with me this time, which I've been doing since the beginning of August to record the numbers of any transit vehicles (trains, buses) that I ride when I go out (it's a transit-buff thing – just go with it).  This also was handy for giving out my Web site address to a number of people.  Among other people, I saw the blond girl from the Million Worker March, whom I'd also met at A16, and I saw a number of people I'd gotten to know at the Infoshop.  I also got to speak with members of the New York-based Rude Mechanical Orchestra, whom you may remember from A16.  I personally gave my URL to Becca, their flag waver who had green hair for A16.
---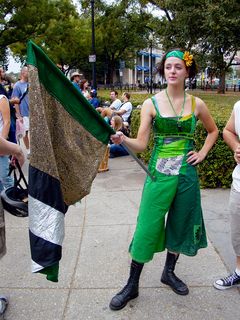 Becca from the Rude Mechanical Orchestra poses with her flag.
---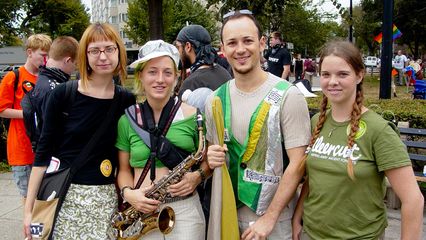 Other Rude Mechanical Orchestra members pose for a photo.
---
As I continued to explore around Dupont Circle, various people started giving speeches from the area right next to the fountain.  As this was the World Bank/IMF feeder demonstration, the speeches had much to do with global justice, as well as about ending the war in Iraq.
---
"1, 2, 3, 4, stop the war!  Stop the war!  5, 6, 7, 8, global justice cannot wait!"
---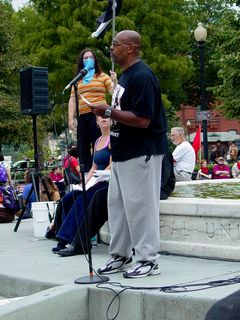 Another gentleman gives a speech from the fountain.
---
I also continued exploring around the circle, looking to see if I saw anyone else that I knew, and getting photos of interesting costumes, signs, and banners.
---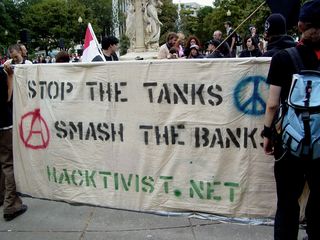 A group of people carried a banner with the URL for hacktivist.net, while also flying the Iraqi flag, as well as the red-and-black anarcho-syndicalist flag.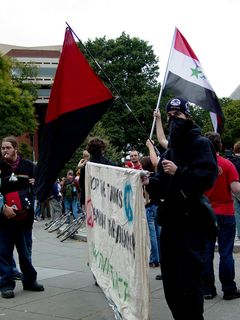 ---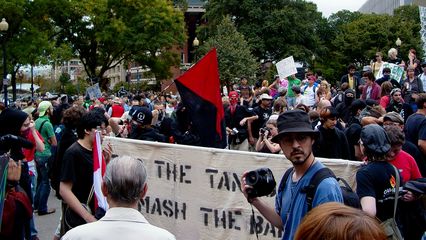 The crowd at Dupont Circle became increasingly larger as time went by.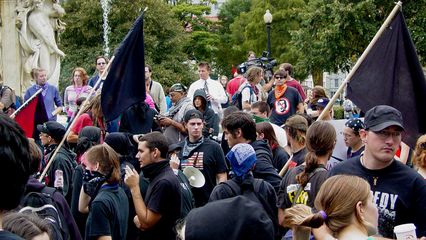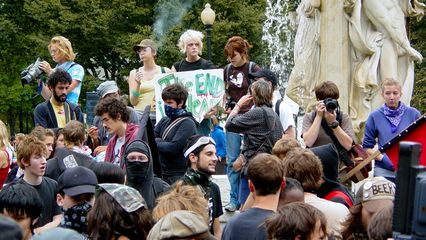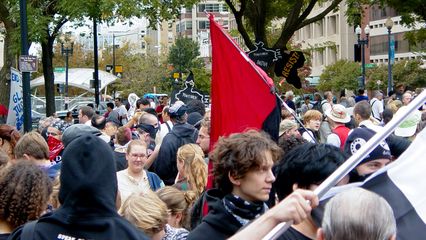 ---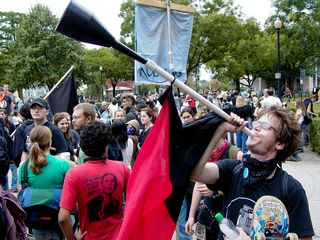 A man blows on a horn with the anarcho-syndicalist flag hanging from its shaft.
---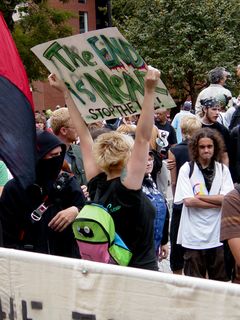 A woman holds her sign high from behind the Hacktivist banner.
---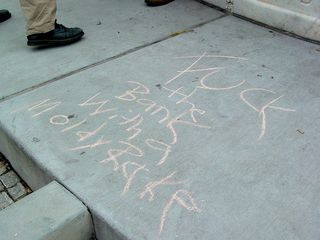 Someone wrote a slightly uncouth message about the World Bank in chalk next to the fountain.
---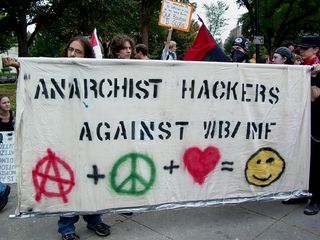 Another group carries a banner similar to that of the Hacktivist group.
---
As this was a march against the World Bank and IMF that was feeding into the larger anti-war march downtown, many participants' signs reflected both topics on the two sides of their posters.
---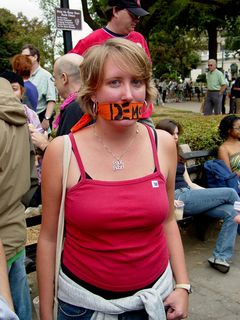 A woman is symbolically gagged (with "democracy" written on the orange cloth) while also wearing a necklace with a less-than-flattering message about George W. Bush on it.
---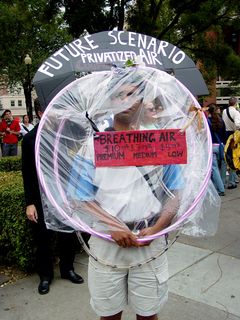 This gentleman, contemplating a future scenario where air is privatized, compares it to gas prices.
---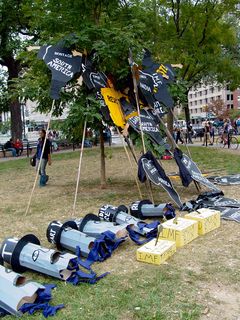 The Mobilization for Global Justice brought their own props with them as well.  You may recall the large heads from A16, while the signs, representing various regions weighted down by debt, are new, combining a cutout of the region in question with the famous photo of the prisoner at Abu Ghraib.
---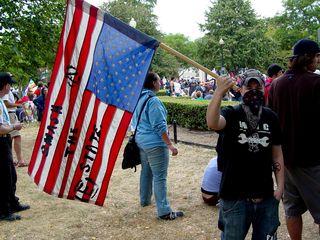 Black bloc demonstrators' statements took various forms.  The gentleman on the left carries a flag, flown upside down (an international distress signal), with "smash the state" written on it.  Another gentleman is dressed for battle, wearing a helmet, goggles, padding on both arms, and carrying an anarchist flag.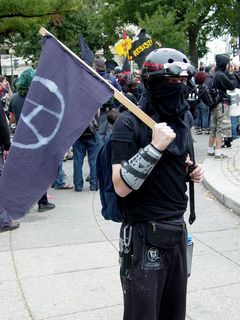 ---
Panning back and forth across Dupont Circle from atop the inner circle of benches to give an overview of the crowd present.
---
One thing at this point that bothered me is when I was about to get a photo, an unidentified individual remarked, "Don't let him take your picture, he's with the cops!"  (We ignored them, though, and I still got the photo.)  I consider that kind of belief that anyone with a camera at a demonstration is in cahoots with the police to be somewhat narrow-minded.  Yes, we have seen instances in the past of police making their own home movies at demonstrations.  I documented a uniformed police officer filming at Dupont Circle during A16.  But to accuse anyone toting a camera of being affiliated with police without any information to support that claim is quite careless, in my opinion, and creates division in what should be a unified group.
---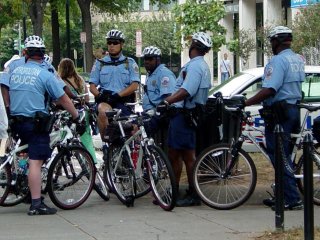 Meanwhile, the police were waiting around at the southwest edge of Dupont Circle, near the 1300 block of New Hampshire Avenue NW.
---
While speeches were going on, another feeder march fed into our rally.  This one was protesting the School of the Americas located in Fort Benning, Georgia.  They brought their own music, banners, and crowd, and advertised a demonstration in November in Fort Benning.
---
The feeder march demonstrating against the School of the Americas makes a noisy entrance into Dupont Circle.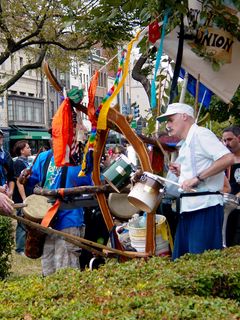 ---
With the addition of the group from the anti-School of the Americas feeder march, Dupont Circle was absolutely filled with people.
---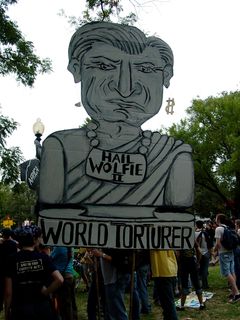 One of the largest signs depicted Paul Wolfowitz, president of the World Bank, as an emperor, and world torturer.
---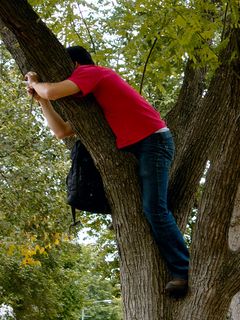 A person stands in a tree in order to get the perfect photography angle.
---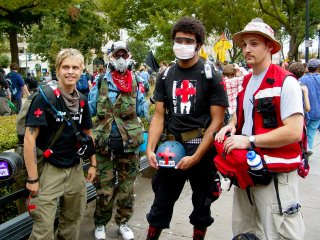 Street medics are a must at large protests, and these dedicated people are ready to step in to help in the event pepper spray or other crowd control agents are used, to help if anyone gets hurt, etc.
---
Just before the march to the World Bank and the White House stepped off, I met a tall gentleman wearing a red bandanna carrying a Sony video camera and also a still camera.  Turns out we both were very interested in photographing the march – he specialized in video, while I specialized in stills.  And each also had the capacity to shoot in the other's medium – he had a separate still camera, and Big Mavica can shoot video.  We agreed to stick together for the march, which ended up working out quite well.
The march itself, as announced from the makeshift speaker's area, was unpermitted, meaning that we did not have a formal march permit from the DC government.  The original plan, as announced on the Web site was to march from Dupont Circle to "some international financial target and then join up with the anti-war march."
And then we were off!  In photographing the event, the two of us would certainly be getting our exercise, running between different sections of the march, walking alongside the march on the sidewalks at times, and all in all trying to get a good overall view of things.
---
The march is underway!
---
In the march, there were all kinds of signs, banners, and flags being carried.  All sorts of slogans were being shouted by the crowd – some were standard fare for protests, while others were ones that I'd not heard before.  Additionally, the Rude Mechanical Orchestra took up their instruments, with music and flag waving.
---
---
One of the many times that the march group would be shouting, "Whose streets?  Our streets!"
---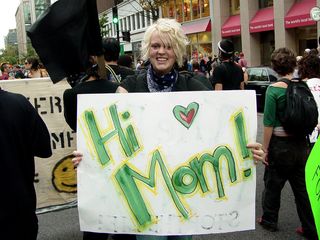 In what I would consider the lighter side of protests, this woman carries a message of "Hi, Mom!" on the back of her sign.
---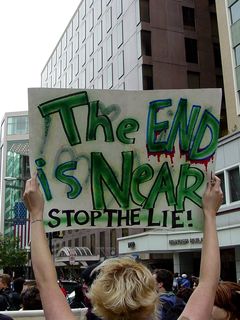 The serious message on the other side of the sign said, "The end is near, stop the lie!"
---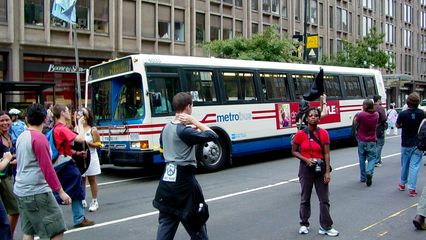 Our march stopped a Metrobus Flxible running on the 42 dead in its tracks, causing it to pull over while we passed.
---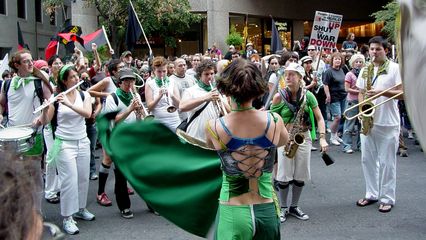 The Rude Mechanical Orchestra takes up their instruments while Becca flies her flag.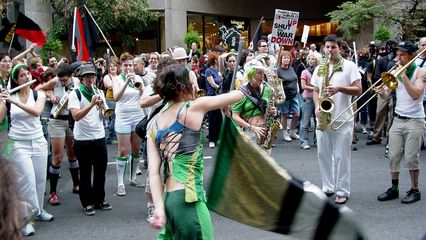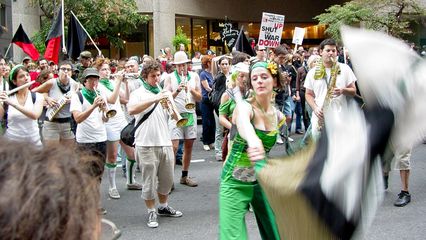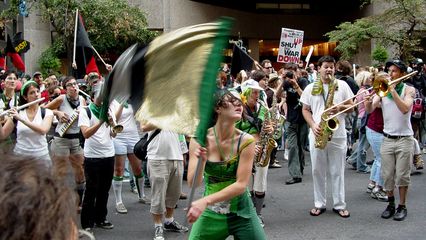 ---
Becca and another member of the Rude Mechanical Orchestra perform with their flags along Connecticut Avenue NW.
---
The march route took us southeast down Connecticut Avenue NW to Farragut Square.  From there, we headed south on 17th Street NW as far as H Street NW.  This took us to within a block of the World Bank.  We walked across Murrow Park, and onto Pennsylvania Avenue in front of the World Bank, as marchers shouted slogans such as "F— the World Bank!"
---
Arriving at the World Bank, and crossing through Murrow Park.
---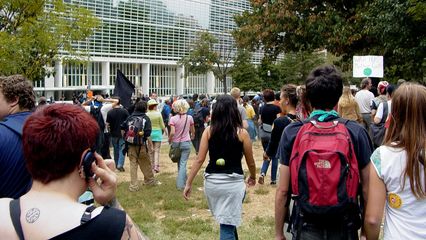 Arriving at the World Bank…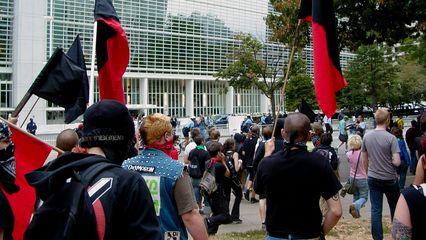 ---
"F— THE WORLD BANK!  F— THE WORLD BANK!"
---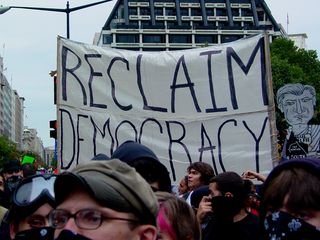 Perhaps the largest and most noticeable banner was this large, white one, reading "Reclaim Democracy".
---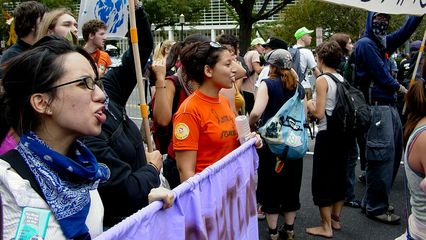 Demonstrating in front of the World Bank, at the corner of 19th Street and Pennsylvania Avenue NW.
---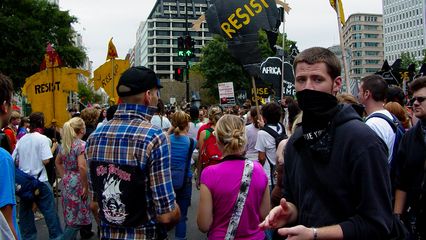 At this point, as the march reached 19th Street NW, it was announced that we would be turning around and marching back on H Street NW towards the White House.  Many people did just that.
Part 1