September 24 Protests
Part 2
While those that were not in the large black bloc may have followed this directive, the black bloc itself attempted to continue north on 19th Street NW until encountering police barricading us off, preventing further passage.  Additionally, further westward progress on H Street NW was also blocked, and southward movement on 19th Street NW had been prevented ahead of time due to barricades in place for the meetings of the World Bank and IMF.
---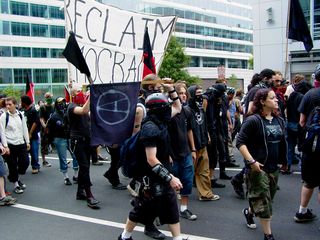 The black bloc, now by itself, attempts to continue on.
---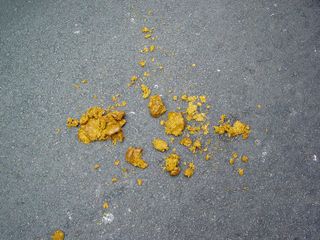 Shortly before the black bloc headed in, one of the police officers' horses took a moment to relieve itself in the street.
---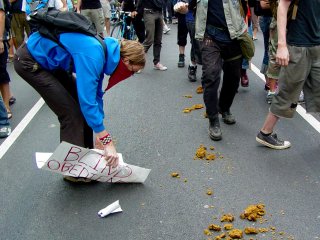 One person took their protest sign and actually scooped up some of the horse's droppings!  I don't know what they ever ended up doing with it, but I think I can safely say that it probably wasn't pretty.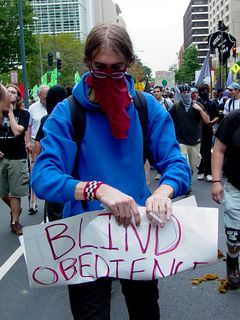 ---
With all roads blocked, this left only one way to go, and that was back the way we came, going east on H Street NW.  This began the black bloc's separate march, following a very circuitous path through downtown Washington.  I have attempted to reconstruct the route as well as I could here, based on photos from the event, and various online maps.
---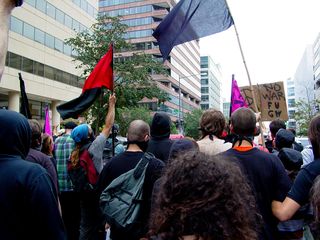 The black bloc continues…
---
The chant changes from "Whose streets?  Our streets!" to "No justice, no peace, no pigs on our streets!"
---
At 17th and H Streets NW, the march paused for a moment.  Two dump trucks parked as a barricade at this intersection were spray-painted with anarchist symbols.
---
Two dump trucks were spray painted with anarchist symbols at 17th and H Streets NW.
---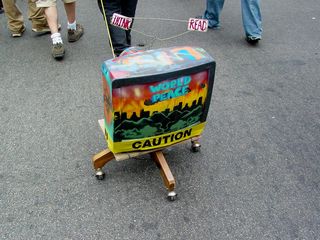 Meanwhile, a person drags a television on wheels, creatively painted up and wrapped in caution tape.
---
At this point, I was also starting to show some fatigue.  So I pulled out one of the bottled waters that I brought with me, and also shared it with my photographer friend.  I also took the opportunity to replace my by now sweat-soaked black bandanna with a red one that I had in my bag.  Thus I remained masked up, but now in red, and dry is definitely better than wet.
---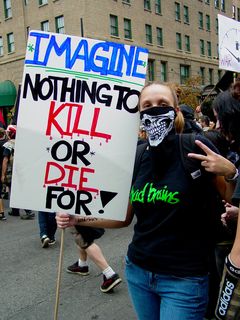 A woman wearing a bandanna with part of a skull printed on it carries a sign saying, "Imagine nothing to kill or die for!"
---
From this intersection, we marched north on 17th Street NW past Farragut Square, going as far as K Street.  At K Street, we marched east to 16th Street NW, and then headed south.  This took us past St. John's Episcopal Church, and then right into Lafayette Square.
---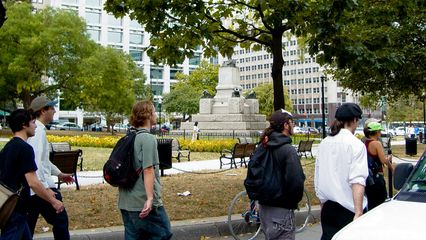 Passing by Farragut Square once again…
---
While once again shouting, "Whose streets?  Our streets!" people start shouting for the march to slow down.
---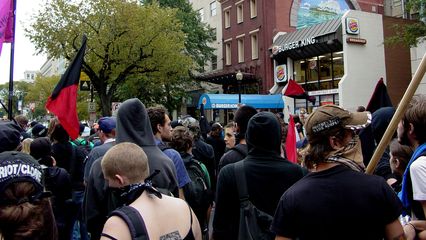 Marching east along K Street NW…
---
The chant of "Politicians, we can't trust, revolution is a must!" degrades into "Whose streets?  Our streets!" once again.
---
Marching straight down 16th Street from K Street NW, past St. John's Episcopal Church, and into Lafayette Square, across the street from the White House.
---
In Lafayette Square, the black bloc temporarily joined the rest of the protesters gathered.  The black bloc went straight through the park to Pennsylvania Avenue, and then turned west.  We then attempted to continue north on Jackson Place NW on the west side of Lafayette Square until we encountered a wall of Park Police in riot gear.  At this point, a call was made for all the street medics to basically get ready for action, as it was believed that things might turn ugly.  I kept my distance, just in case something did happen.  Thankfully, the black bloc veered to the right, and continued through Lafayette Square and back to H Street NW.
---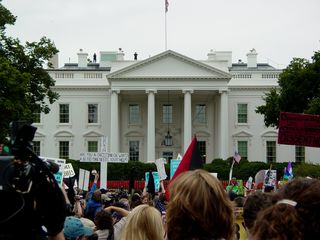 A sea of protesters stands in front of the White House!
---
Panning across Lafayette Square to show the size of the crowd gathered.
---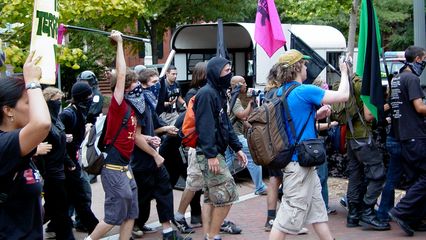 The black bloc marches past a row of Park Police officers in riot gear.
---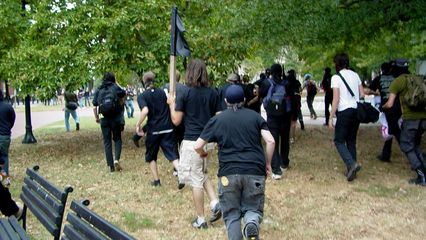 After the brief brush with Park Police, the black bloc heads north and exits Lafayette Square.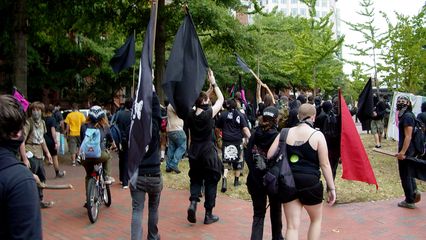 ---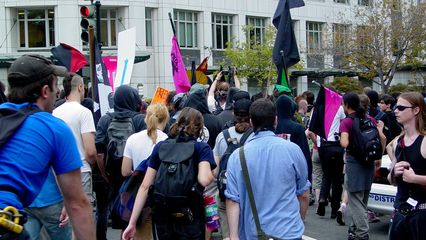 The black bloc is underway again!
---
From here, my photographer friend and I determined that we were going to split from the black bloc.  We both agreed that the black bloc seemed to have lost its focus, and now seemed to be marching haphazardly through the streets, for the sake of trying to one-up the police.  And we both agreed that when these things happen, the police always win, and that it usually is not pretty when it does finally come to an end.  The inauguration was a good instance of this, where a black bloc broke off from the main march to head towards Logan Circle.  The crowd was pepper sprayed en route.
According to an article on DC Indymedia that I found the day after the march, after we split from the group, the black bloc ended up heading towards "the nearest recruitment center" (a military recruitment center exists at approximately 14th and L Streets NW) when police on motorcycles began backfiring their motors.  This mostly scattered the bloc, and events following this "saw many protesters scattering newspaper boxes, dumpsters, etc. to slow the police, saw more protesters scattering for independent actions, saw the main bloc reduced to 60 people, and concluded with the cops charging through and knocking down several protesters at 11th & K.  One was taken prisoner."
So as the black bloc continued, the two of us split from that group and joined the main ANSWER/UFPJ anti-war march at H Street NW.  This march, as expected, was far more sedate than the earlier black bloc march, and we were ready for a change, because while the black bloc march was exciting, it was also tiring.
---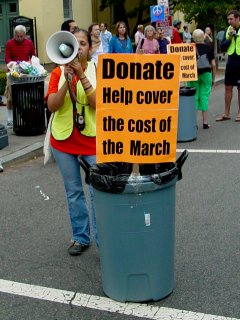 The more "mass market" style of the larger demonstration was also evident, with representatives from ANSWER and UFPJ's holding large buckets out in the street, asking demonstrators for money.
---
The ANSWER/UFPJ march took us east on H Street NW as far as 14th Street, then we took 14th Street NW south to Pennsylvania Avenue, past Freedom Plaza.
---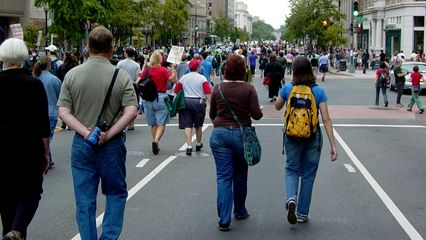 The ANSWER/UFPJ march was definitely more laid-back than the Mobilization for Global Justice march, and the later black bloc breakaway march.
---
While two people hold large religious signs and another holds a Bible, the gentleman in the green jacket speaks over a bullhorn.
---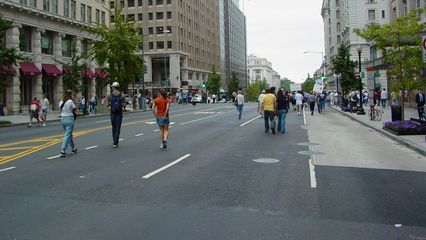 At times, the march seemed downright sparsely populated.
---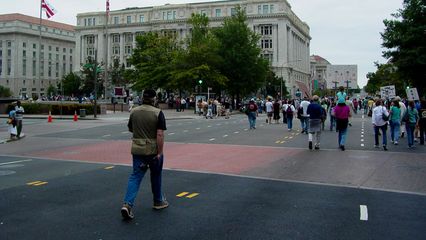 Passing the west side of Freedom Plaza, preparing to make a turn onto Pennsylvania Avenue.
---
We marched east on Pennsylvania Avenue NW as far as 9th Street NW, then turned south again, and followed 9th Street NW to its intersection with Constitution Avenue NW.  On Constitution Avenue NW, we marched westward, to the march's end at 15th Street NW.
Along this route, we encountered counter-protesters at two locations.  The largest group of counter-protesters was sponsored by the DC Chapter of the Free Republic (otherwise known as "Freepers"), in front of the FBI Building between 9th and 10th Streets NW along Pennsylvania Avenue.  I had previously encountered Freepers counter-protesting at the June 5, 2004 ANSWER march, and also at the anti-war funeral-style procession (part of my Day of Activism photo set).  On this particular day, we got movies of the Freepers making fools of themselves, as they incorrectly referred to those of us in black bloc as "communists" (black blocs are more closely aligned to anarchism than communism).
---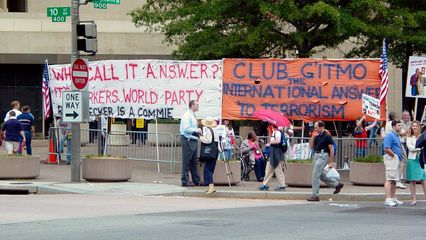 The Freepers lined the block in front of the FBI Building, counter-protesting.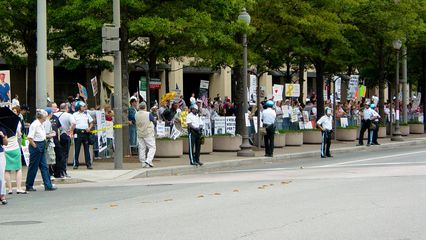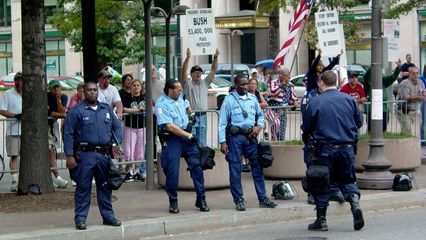 ---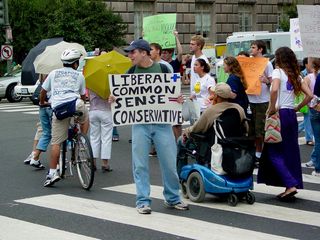 The Freepers weren't the only ones counter-protesting, however.  Another group of counter-protesters unrelated to the Freepers was located at 14th and Constitution.
---
At 14th and Constitution, we paused.  We needed a break from the march, and were of the understanding that the black bloc from earlier would pass by.  While the black bloc ended up heading towards the recruitment center, we did get to see a lot of other demonstrators and their signs regarding the war in Iraq.
---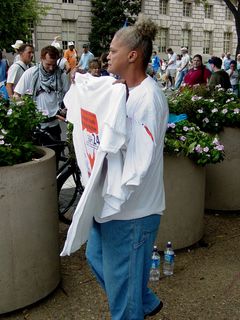 This woman was standing at the same street corner as we were, selling commemorative September 24 t-shirts.  When she commented that she only had two left, I jokingly commented to the person I was with, "If we buy them, do you think she'll go away?"
---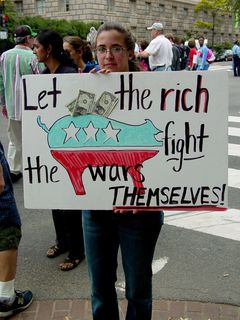 Using money taped to a poster, this person advocates letting the rich fight their own wars.
---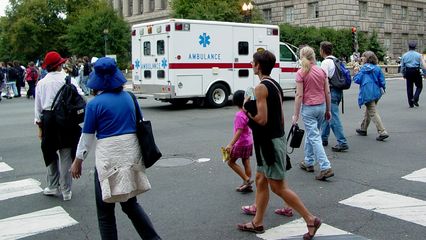 The march parted momentarily to allow an ambulance to continue north on 14th Street NW.
---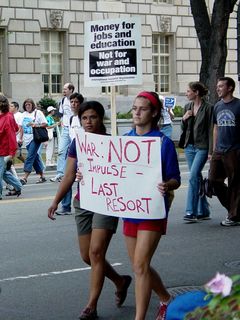 Another woman carries a sign stating that war should not be an impulse, but rather a last resort.
---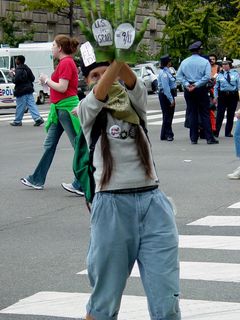 This person, wearing a green bandanna, wears gloves stating that the U.S. in Israel equals 9/11.
---
After this, my photographer friend and I parted ways, after exchanging contact information and hopes that we would get together to do this again.  He was headed to the concert after the march.  I was headed for the Metro in order to get a moment to relax before meeting up with Mom later on.
---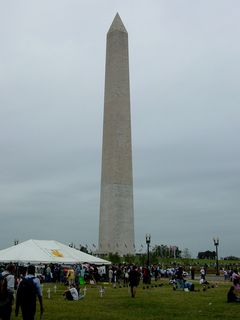 The Washington Monument was the focal point for activities after the march.
---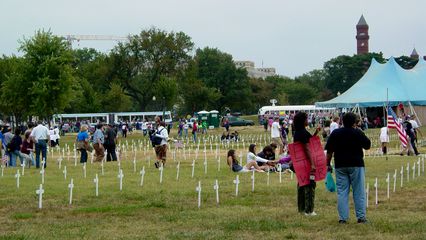 Small wooden crosses in the ground near the Washington Monument represent those who have died in this war.
---
Heading back, I encountered a group of women with missiles strapped to their outfits in a certain way leading cheers in the street.  On 15th Street, I encountered even more marchers heading north.
---
The outfits of the women wearing the missiles definitely make a statement…
---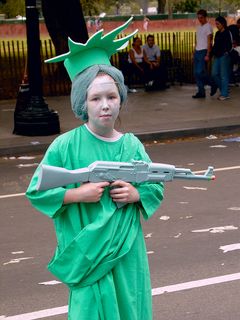 A girl dressed as the Statue of Liberty carries a toy machine gun.
---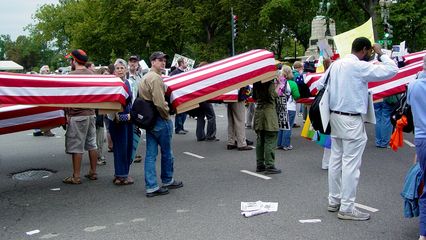 Since the October 2, 2004 march (Day of Activism photography set), cardboard coffins, either black-draped or flag-draped, have been a staple at anti-war demonstrations.
---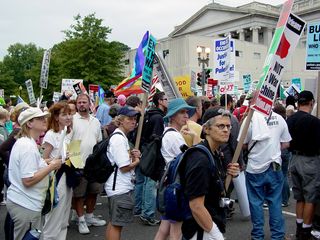 Even as many had already completed the march, still more were just beginning!  This was a huge march – larger than any I had yet seen.
---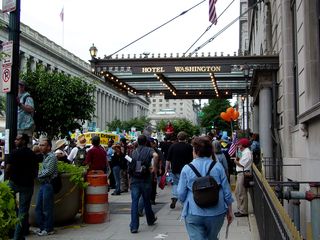 The march took the people right past the Hotel Washington, which itself had been the target of demonstrators at the Million Worker March nearly a year before.
---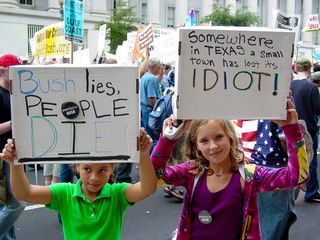 Here, two young participants display their signs disapproving of George W. Bush for the camera.
---
Though it may be hard to understand in this clip, the group is shouting, "What do we want?  PEACE!  When do we want it?  NOW!"
---
I eventually found my way to the corner of 14th and G Streets, which was the location of the Hotel Washington.  I ended up getting in a conversation with one of their security guards about the Million Worker March and our breakaway march to the Hotel Washington.  The security guard was quite enthusiastic about that, and you could tell he was pleased to hear from a participant in that event.
---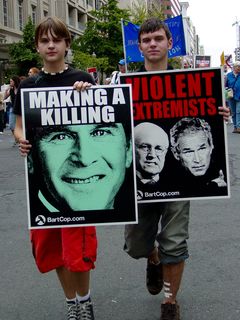 Two people hold up signs indicating who they perceive the real terrorists to be…
---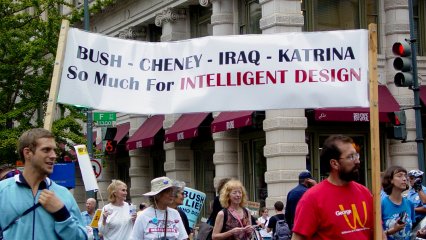 These people put forth four disasters – George Bush, Dick Cheney, the Iraq War, and Hurricane Katrina, as proof that "intelligent design" is a fallacy.
---
Outside Metro Center station, trash cans were overflowing with all sorts of stuff, including protest signs that had been hastily discarded.
---
I quickly found Metro Center's 12th and F Street entrance.  There, I made a quick outfit change, peeling off my sweat-drenched shirt and pulling out a fresher, dry shirt.  From there, I was done with the protest, and I descended into the Metro.  My goal was to go to L'Enfant Plaza for some quick refreshment at L'Enfant Deli before meeting up with Mom.  So I took the Red Line from Metro Center to Gallery Pl-Chinatown.  At Gallery Pl-Chinatown, the crowds were so thick on the platform that I attempted to beat the crowds somewhat by going up to go down.  Thus I caught a Green Line train signed for Fort Totten, and rode one station up, to Mt. Vernon Square.
---
At Mt. Vernon Square station, this woman was holding two signs while waiting for the train.  One about getting the troops out of Iraq, and another reminding us all about the 2006 midterm elections.
---
From there, I caught a Green Line train to Branch Avenue and rode to L'Enfant Plaza.  Unfortunately, L'Enfant Deli had closed for the day, and it was starting to rain outside, where the seating was.  Drat.
I ended up going back to the Metro and taking a Yellow Line train to Pentagon City.  Due to single tracking for track maintenance, this train actually terminated at Pentagon City, to the dismay of many.  The train's destination code (thus what showed on the station displays) was Huntington.  The destination signs on the train itself read "SPECIAL".  Thus some didn't realize that the train was only going as far as Pentagon City until it arrived in the station, even though the operator announced, "Yellow Line to Pentagon City."
Of course, I still find it curious that Metro conducted track work that required single-tracking on three out of the system's five lines (Blue, Yellow, and Green) on a weekend where there would be huge crowds on the Metro – equivalent in size to rush hour.  And on top of that, a rush hour-sized crowd that was largely unfamiliar with the system.  My assumption is that Metro's track work schedule was determined well before the protest was scheduled and that schedule was simply never changed after it was determined.  Still, considering the size of the events, and the fact that Metro knew about the events well in advance, one would think that they would be able to shuffle their track maintenance around, or at the very least, arrange for a "bustitution" (i.e. run a bus route equivalent to the rail line, stopping at the rail stations) along the affected portions of the Blue/Yellow and Green Lines in order to get people through more quickly.  Just looking at the crowds at some of the Blue and Yellow Line stations where the single-tracking was happening would convince a person that a bustitution would be wise.  In this case, a "Yellow Line" bus would run between Huntington and Pentagon stations, and a "Blue Line" bus would run between Franconia-Springfield and Pentagon stations, stopping at all the stops on their respective lines.
Regardless, arriving at Pentagon City, the platform was crowded.  Very crowded.  Consider this, after all: You have a rush hour-sized crowd for both directions packed onto a platform designed to serve riders for only one direction.  In order to exit the station, I had to walk along the granite edge of the platform, beyond the bumpy tile.  Any further, and I'd be walking in the track bed.  But at least I was there.  As the Metro was so crowded as to make it start to get a touch aggravating, I was glad I had made it so that I could get away, recharge, and then return later.
At Pentagon City Mall, I finally had something cold to drink.  I found a vending machine, and I bought myself a Coke.  That hit the spot.  And then I called Mom, who was getting ready to go to Pentagon City herself to meet me.  I re-confirmed my directions to her (Blue or Orange from Smithsonian to L'Enfant Plaza, then Yellow Line towards Huntington to Pentagon City), and then she was off!  Meanwhile, I took the time to clean my glasses and kind of freshen up – of course, to even walk over to do that felt like a challenge, as I was dead tired from the march.
Mom arrived, and we went down to the food court to get dinner.  We both got Chinese food from Panda Express, and I also got my usual favorite from Mr. Smoothie.  The people at Mr. Smoothie accidentally watered my smoothie down, though.
After dinner, Mom and I went to the Swatch store in the mall.  Mom has a large selection of watches, and was looking around with the possibility of adding another to her collection.  I "took myself out of play" at the store for the employees, as I said that I have one watch, and wear it until it breaks.  And that's true.  As for Mom, we didn't find anything she wanted to buy, but we did see an interesting watch with a green and red flower on it, and various other icons like a paper, an "N/A", etc.  Mom didn't know what it was, but I did.  I mentioned that it was an ICQ watch.  I had one word for Mom: "Uh-oh!"  She understood that, as there were a number of occasions in the past where I unintentionally woke her up late at night ICQ-ing, with the "Uh-oh!" being the waker-upper.
---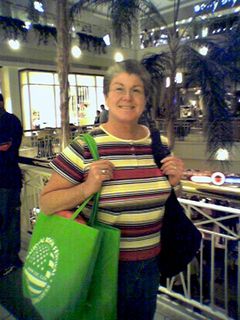 Mom poses for a photo at Pentagon City, carrying a bunch of stuff that she got from the National Book Festival.
---
After the Swatch store, Mom and I parted ways.  She went back to the Metro station, with the intention of going back to Vienna and then back home.  I stayed behind at Pentagon City for a while longer, for it was still too early for me to leave.  I ended up going out behind the mall to a small seating area that I like to visit to read the newspaper, weather permitting.  There, I got on my cell phone, and gave Sis a call.  I let her know what happened that day, and what I saw.  Particularly of interest to her was that I saw the Rude Mechanical Orchestra again, as she was quite impressed by that group during A16.
Finishing up with Sis on the phone, I headed out.  I was going to be a rail geek now, and head directly into an area affected by single tracking.  I was riding to Huntington and back up.  Arriving back at Pentagon City station, it was no less crowded than it was when I arrived a few hours before, and people were still carrying protest signs from earlier in the day.  However, the station manager was helping direct traffic from his kiosk, making continued station announcements regarding the color and destination of upcoming trains, to help people catch the right trains.  As I was arriving in the station, the next three trains would be an Orange Line to New Carrollton, a Yellow Line to Mt. Vernon Square and then a Blue Line to Largo Town Center.  And yes, you read that correctly – an Orange Line train to New Carrollton came through Pentagon City.  Eight cars, too (I would see eight-car trains running on the Blue, Orange, and Green Lines through the course of the day).  My assumption is that this Orange Line train was a put-in from Alexandria Yard, making its way up using the Blue Line's route on its way to the Orange Line's regular route.  I eventually caught a Yellow Line train to Huntington (all Rohrs, which is unusual for the Yellow Line), and rode straight through all the single tracking, all the way to Huntington.
---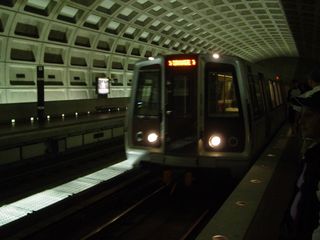 Yes, that is an Orange Line train at Pentagon City!
---
At Huntington, I was unsure how long it would be until the train would leave.  Considering the single tracking, my best guess was that the train would be leaving fairly quickly, so I walked along the platform to another car in the set.  I ended up moving from what was the lead car of the train to one near the middle when an interesting sign caught my eye, with bones on it and reading "War is" on one side, and "BU__ SH__!" on the other.
---
"War is… BU__ SH__!"
---
I ended up talking with that group about the protest for a while, and then the doors closed and we were off again, heading back into Washington, towards Mt. Vernon Square station.  This is when we found out that they didn't intend to be traveling inbound again.  They wanted to get off at Huntington, and the person in charge had been under the mistaken impression that they were sitting at Eisenhower Avenue, not Huntington.  I suggested that they wait for the next train back to Huntington at King Street, since that's where I would be switching to a Blue Line train, and thus could keep them company while they waited.  They agreed to that.
At King Street, we ran into a woman smoking on the platform.  I reminded her that smoking was illegal on Metro, but she politely brushed it off, saying that she was out of the range of the security cameras.  She also mentioned that she had heard that Cindy Sheehan and Jesse Jackson had been arrested in at the protest.  I made a note of this to verify later by dictating a note to myself into Big Mavica.  The camera doesn't do notes directly, so what I do is I set it to movie mode, and record a movie while speaking directly into the camera's on-board microphone.
---
My note to myself about verifying the rumor, spoken into my camera's microphone while recording a movie.
---
It turns out that the rumors of the arrests of Cindy Sheehan and Jesse Jackson on Saturday were false.  However, Cindy Sheehan would be arrested in Washington a few days later.
At King Street, I took a break for a while, taking a short walk around the area around the station.  Then I caught a Blue Line train to Rosslyn, and then at Rosslyn, an Orange Line train was waiting in the station when I arrived.  And it was off to Vienna, and from there, back home.
---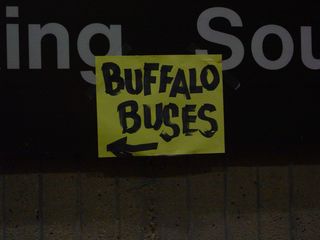 Maybe it was due to the long, strenuous day, but I found this "Buffalo Buses" sign posted at the entrance to the Vienna Metro station to be extremely funny.
---
And that was my day!  This was perhaps the most fun I've had all year, and I definitely had a great time while doing something that I enjoy.  All in all, while organizers expected 100,000 to attend, it was estimated that in fact 300,000 were in attendance.  What a day!
Part 2