If These Streets Could Talk
Part 1
Sometimes it amazes me what kinds of things I get into in Washington DC.  And over the course of traveling to Washington with a Mavica in tow, be it small or big, over the course of nearly four years, I've managed to create a lot of memories for myself.  On March 30, 2005, I set out in an attempt to relive all of those wonderful memories, of, as a song from Today's Special once said, "Those magical moments that are filled with love".  And with my adventures on this day, I relived past ones through photo sets that I've done on the site.  It's fun to reminisce.
---
March 30 started out like a normal day.  I got up, I got out of the house on the way to Washington DC very early in the morning, and made my regular stops.  I arrived at Vienna at my regular time, and hopped on the train.  At Rosslyn, which is my usual jumping-off spot for photo sets and the like, Metro had been doing station enhancement work.  They had painted everything that needed painting, they replaced worn and broken tiles, they power washed the whole station, and now…
---
Metro's refinishing the street pylons!  How strange it is to see this pylon completely bare and gleaming in the sunlight.  But this bronze color is what the pylons naturally look like, underneath a coat or two of stain that the pylons normally wear.  Not long after this photo was taken, a Metro employee showed up to apply the first coat of stain.
---
After taking in that which is the Express, I took a walk around Rosslyn.  The last time I'd walked around Rosslyn was in February, and it was quite noticeable that changes were happening on Rosslyn's skyline, when I did a Photography set called Urban Demolition…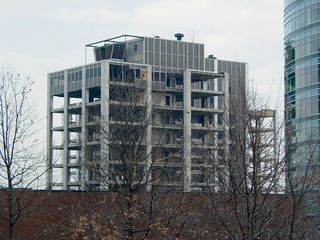 And now, on February 9, 2005, most of the exterior curtain wall is gone, and the interior has been removed.
---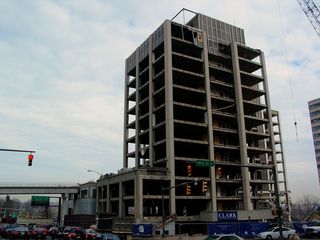 Approaching the intersection of 19th and Lynn Streets, we find a concrete skeleton surrounded by fences.
---
The exterior curtain wall is nearly gone, with only a few fragments remaining.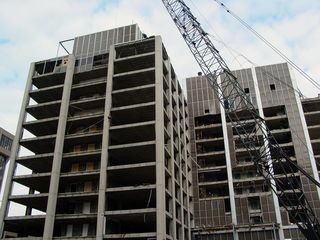 Now, 1117 North 19th Street is completely gone, having been replaced with a hole in the ground that will eventually become Waterview, Rosslyn's newest shopping, hotel, and office complex.
---
In these views from the street as well as from the parking garage of the RCA Building next door, the building has been totally wiped off the map in the name of progress, to make way for something bigger.  Even the skywalk leading to the building was cut back to the bare steel, and would itself eventually be demolished as well.
---
After that, I headed across the Rosslyn skywalk network to Fort Myer Drive, approximately two stories off the ground.  Whenever I cross over this section of skywalk, it reminds me of April 12, 2003, when I was shooting material for A Protest Against the War, which was also the first big demonstration I'd ever attended.  These movies ended up being used as outtakes during that day.
On an open-air skywalk over Fort Myer Drive in Rosslyn.  A number of movies were made while I was essentially killing time waiting for the protesters to get somewhere on their march.
---
"It's not shorts weather.  I'm wearing jeans, as you can see.  Don't I look sexy?"
I still love the line, "Don't I look sexy?"  It's a classic, indeed.  I did another man-on-the-street narrative in the here and now, though on this particular day, I was recovering from a cold, and so I sound a touch hoarse from that.  Not a whole lot, but it's enough to be noticeable.
---
"Once again, we are over Fort Myer Drive…"
---
After this, I dipped back into the Metro station, and it was off to downtown Washington DC for me via the Eye Street tunnel on the Blue and Orange Lines.  I ended up getting off at Federal Triangle, where I finally got to visit a spot that I'd been meaning to visit for a long time – the Old Post Office Pavilion.
---
The Old Post Office is an interesting building that quickly fell out of favor initially, with attempts to tear it down being made in the 1930s and 1970s, before the building was finally saved in 1973 and restored to good repair, reopening to the public in 1983.
---
I was surprised to find that before entering the Old Post Office, you were subject to x-ray security at the door.  Lay your stuff on the x-ray belt, and walk through the metal detector.  But it seems such is the case anymore, that if you want to go somewhere, you must go through security.
Beyond the security checkpoint, though, the biggest thing was a huge atrium with shops and restaurants waiting for your business.  As I arrived right at lunchtime, there were swarms of tourists all waiting in long lines for food at the various restaurants on the bottom level.  Families, school groups… you name it.  All were waiting in the chow line.  Me, I skip lunch when I'm in Washington, opting instead to eat a good, solid breakfast, since lunch is a bit of a hassle to do.  Besides, I had bigger fish to fry at the Old Post Office.  I quickly found the line for the tower tour, and slipped right into place.  That was what felt like about a ten-minute wait or so.  Not bad.
Then, in groups of eight, we rose up the glass elevator to the ninth floor, where we went through a corridor to a second elevator.  This second elevator was the reason for going up in groups of eight.  While the glass elevator was nice and roomy, this second elevator, which takes you to the observation deck itself, was considerably smaller, and only could hold about eight people.
---
The tower itself was gorgeous, with all the same architectural details from the outside also found on the inside.  Safety of the occupants was ensured by thin wires running vertically across the openings on three sides, and glass panels on the fourth side.  There were also three tiers of viewing platforms in the middle of the room, allowing more people to get good views on those really crowded days.
---
A peek through the wires allowed a full 360º view of Washington DC and beyond, allowing a view of the Capitol, the White House, the Washington Monument, Freedom Plaza, the Pentagon, the George Washington Masonic Memorial, and so much more.
---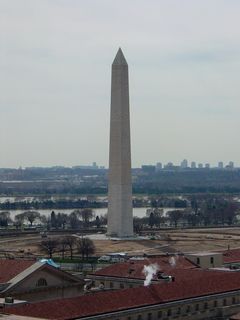 The Washington Monument is still the tallest structure in Washington, offering an even higher view than that at the Old Post Office.  The grounds of the Washington Monument are torn up as part of a construction project that has been going on for more than a year at this point, in order to "enhance security".
---
The last time I was at the Washington Monument up close was back on July 7, 2001, when I first did "The Schumin Web Salutes America".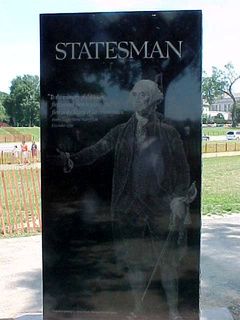 George Washington… statesman, soldier, and the father of our country.
---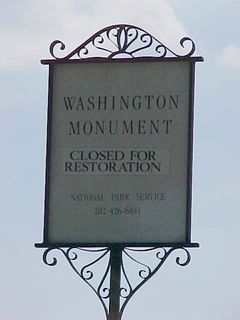 And our nation's formal tribute to him is closed for repairs.  Drat… I wanted to go up.
---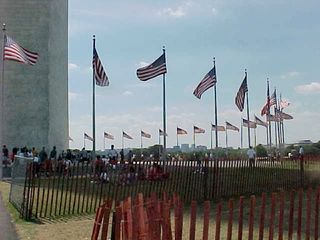 Surrounding the Washington Monument is a circle of flags.  Fifty flags for fifty states.
---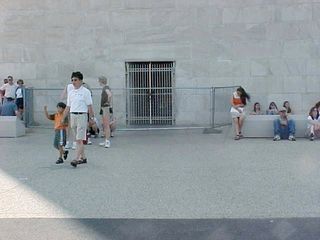 As if the gates' being closed isn't enough proof that the monument is not open, they also have a fence around the entrance.
Some things never change… even back in the summer of 2001, before our nation went off the deep end on "security", the Washington Monument was again closed for work.  Also, since then, the area where that fence is located is now home to a small building, presumably to house a security checkpoint.
In looking around, it also surprised me about how different things look when you're viewing them from above vs. how they look on the ground.  I took a look at Freedom Plaza from above, and it looked pretty different.  Freedom Plaza, for those of you who are unfamiliar, is a favorite spot of mine in Northwest DC.  It's an open plaza, with a surface of stone and grass, with text from various documents and floor plans of various buildings set in the stone.  The plaza is also raised above the street level, which makes it a little haven from all that is otherwise a busy part of downtown Washington DC.
The first time I visited Freedom Plaza was on April 12, 2003, when I went to a demonstration put on by ANSWER Coalition, which became my A Protest Against the War Photography set.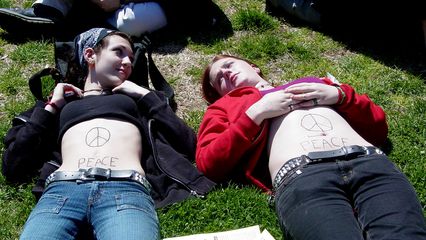 Creativity! These two women used their own natural canvas to draw peace signs on themselves.
---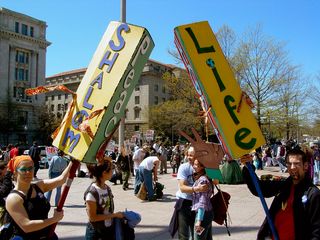 These two protesters made three-sided signs. The left sign said "Shalom", "Peace", and "Salaam", and the right sign said, "Life", "Peace", and "Hope".
---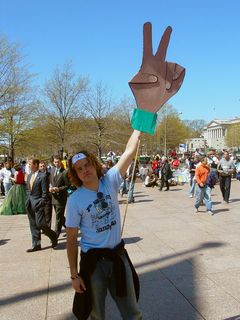 A simple sentiment, in giant size…
About four months later, I revisited Freedom Plaza with my mother and sister on another Saturday, working on what became A Day in DC, which was my first new Life and Times photo set after the section was created in July 2003.  What a difference it was, to find the area completely deserted, and eerily quiet.
This is Freedom Plaza. Look familiar? No? Understandable. This is what it looks like on a normal day. Very open, with an almost empty feeling to it. This, if you recall, is where the protest started out.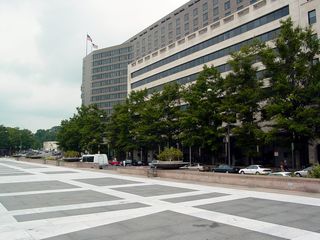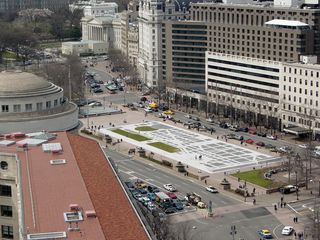 From above, this area definitely looks different.  Freedom Plaza looks small and flat.  The angle also de-emphasizes the fact that the plaza is raised above street level.  It really surprised me how small Freedom Plaza looked, considering that it's nearly right across the street.  It was neat to get the whole area in one eyeful, though.
---
Another thing that surprised me was the amount of rooftop terraces and gardens on the buildings in downtown Washington.  On so many buildings downtown, it seems that if it was feasible to make it accessible, it was done.  And it's not just a little open space.  There are tables, chairs, benches, planters, fancy paving stones, gardens, and even trees!  And from street level, these spaces are not visible at all.
---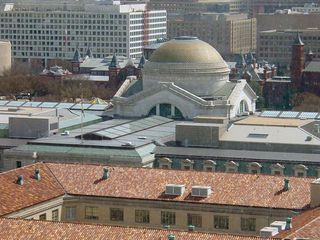 The National Mall's also not far from here, as evidenced by the Natural History Museum's dome poking up amongst a sea of rooftops.
---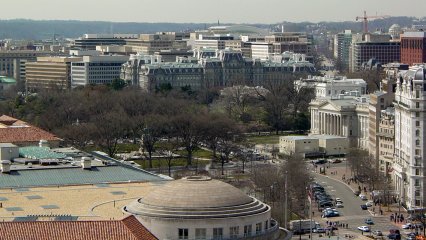 Looking past Freedom Plaza, one can get a glimpse of the Treasury Department, the White House, and the Old Executive Office Building.  What struck me most about this picture was the massive size of the Old Executive Office Building, which is not easily noticed from the street.
---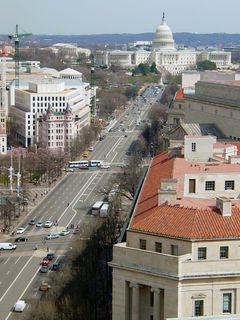 Looking the other way, one can follow Pennsylvania Avenue all the way to the Capitol.
---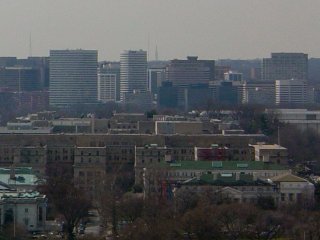 Off in the distance, the high rises of Rosslyn can be seen.
---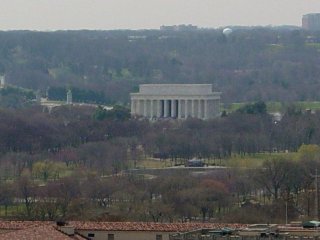 The Lincoln Memorial can be seen in the distance as well.
Part 1