March on the Pentagon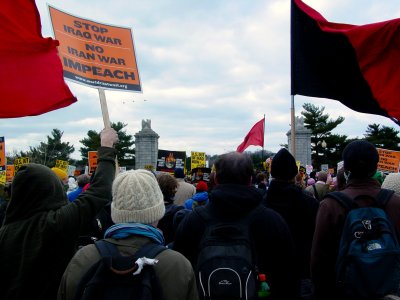 On March 17, 2007, thousands traveled to Washington DC to demonstrate against the Iraq War, which would have its fourth anniversary in three days.  The march, as organized by ANSWER, would start at 23rd Street and Constitution Avenue NW near the Lincoln Memorial, go over Memorial Bridge, and then go to the north parking lot of the Pentagon.  There, a rally would be held.  I was on scene for the event, and ultimately joined the black bloc that the various chapters of Students for a Democratic Society (SDS) had formed.  This was also the first time in the experience of many present where a march would leave the District of Columbia, and march over the Potomac River into Virginia.  In Virginia, the laws and police forces are different than in Washington DC, and therefore the rules of engagement are different.
This particular demonstration also drew more interest than usual from my parents due to fallout from my site being mentioned a few days before the march on Michelle Malkin's blog (I discuss it here).  Due to the numerous threatening Emails sent to me after this, they were concerned for my safety.  But I wasn't about to let Michelle Malkin's followers keep me away.  So here's how "M17" went down, as seen by my own eyes, and Big Mavica's eye…
---
The nice thing about DC trips where I go to big protests is that it's not that much different as far as execution goes than a regular DC trip.  About the only major difference is the timing of things in the morning, and what I carry with me in DC.  On the morning of March 17, I got up early, got ready, and left the house to begin my 90th DC trip.  The trip up was uneventful.  No rain, no snow, no bad traffic, no problems whatsoever.  Just right in and into Vienna.  The fourth level of the North Garage, however, was still a mess from the snow that had fallen the day before.  I parked on the third level, out of concern that the mess on the top level would freeze, making my exit that night difficult, if not impossible.  Interestingly enough, it was in this same parking spot on the third level, right next to the elevator, where I parked to let the Previa dry out after I soaked the undercarriage in a large puddle on the off-ramp from I-66.  That was the DC trip on June 5, 2004, where I went to my second anti-war protest, and participated in my first black bloc.
I entered the Metro at 9:28 AM by my watch, giving me about an hour's lead time compared to a normal DC trip.  Breda 2003 took me to Rosslyn.  Emerging from Rosslyn station and entering Rosslyn Center, I discovered what was basically a ghost town.  Now I admit that on weekends, and even after hours on weekdays, the Rosslyn neighborhood is not exactly a hotbed of activity.  But this time, even for a weekend, the place was quieter than usual.  The food court was closed completely, vs. the normal case on weekends where at least one restaurant is open.  Bank of America's two ATMs were both out of service, and recommending other nearby locations.  The restrooms were also locked.  On that last point, I took a cue from my Rosslyn experience before the Million Worker March, where the regular restrooms were closed for emergency repairs, and the service restrooms were open.  I remembered the door by the bank where those service restrooms were located, and went through.  I found the restrooms again, and discovered, to my dismay, that they were locked!  I ended up finally finding a restroom at the McDonald's across the street.  I also discovered en route to McDonald's that at Rosslyn Center, the activity was all on the bottom level, as Tivoli was open, as was Rite Aid.
Returning from McDonald's, I returned to the second floor of Rosslyn Center, and found a quiet corner to make the pre-protest outfit change.  Off with the green shirt I was wearing, and on with my black mock-turtleneck and black hoodie.  This would mark the only time in the day that I wasn't wearing anything green.  It was St. Patrick's Day, after all, so green was important.
Then from there, I returned to the Metro, and rode into DC on the Orange Line, getting off at Foggy Bottom-GWU station.  Two words: It's showtime!
Now prior to the march, we'd had a bit of confusion about where the black bloc contingent would meet for this event.  A message on Infoshop.org advertised a meeting of an SDS contingent at the Lincoln Memorial.  Meanwhile, another message on DC Indymedia issued a call for a black bloc, meeting at the Foggy Bottom Metro station.  Then, a third message posted on the 14th attempted to promote unity by merging these two calls into one at the northeast corner of 23rd Street and Constitution Avenue NW, taking into account the fact that the call for the Lincoln Memorial had already gone out, and the desire to show solidarity with DC and the easier logistics that came with the Foggy Bottom location.  The third location ended up being the one that ultimately happened, though a lot of work had to go into making sure that anyone who missed that last memo got where they were supposed to go.
Having gotten all the different messages ahead of time, I planned it like this, with the intention of finding the bloc as quickly as possible.  I would join the black bloc that was called to meet at Foggy Bottom Metro.  If I found no black bloc at Foggy Bottom, then I would go to the 23rd and Constitution location.  And if that failed, I'd proceed to the Lincoln Memorial.  Coming out of Foggy Bottom, I quickly found a group of people dressed like I was expecting.  I took my glasses off and put them away, and pulled out my little black hat and put that on.  So we were almost in "full black bloc" as far as outfits went.  Outside Foggy Bottom Metro, someone quickly took a headcount, and we headed towards the 23rd and Constitution site, more or less as a group.
Arriving, I quickly checked out the scene.  I knew where SDS was, and it was likely that they would be there for a while.  I continued down 23rd a bit, and first saw this group of masked individuals with signs stating "Radical queers against the war", and "Hey W!  Real men know when to pull out."  Continuing along, the crowd moving along the sidewalk in both directions was thick between Constitution Avenue and Lincoln Memorial Circle.  Due to fencing in place, people could only use the sidewalk, and not spill over onto the grass.  There were also quite a few large men that looked like "biker types" in leather jackets with all kinds of patches on them, but generally matching.  My assumption was that these folks were amongst the folks who read Michelle Malkin's blog, some of whom had recently made contact with me to send hate mail.
Reaching Lincoln Memorial Circle, we found the counter-protest group.  There were all kinds of people there, with all kinds of messages.  One person's sign caught my eye, saying, "Peace sucks".  With that one, I was just kind of like, mmkay…
---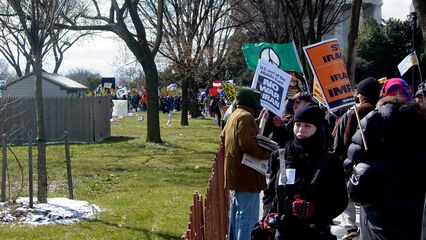 This was the scene along 23rd Street NW near the Lincoln Memorial.  The sidewalk was jammed with people, and due to the fence, the field next to the sidewalk was practically empty.
---
The "radical queers" group had staked out their space along 23rd Street, and stood to the side.
---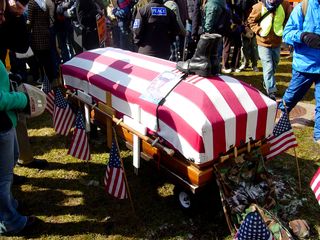 One group had a flag-draped coffin, topped by the boots and photo of what is presumably a fallen serviceman.
---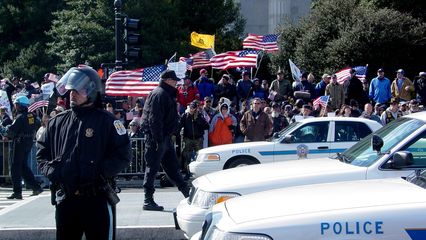 The counter-protesters were out in force, separated from the anti-war group by barriers and caution tape.  Additionally, a row of Park Police officers enforced something of a no man's land between the two groups.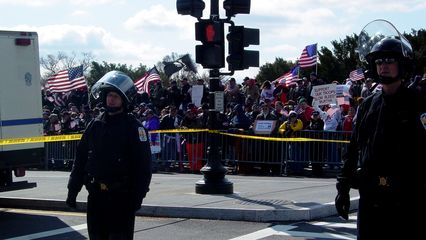 ---
After reaching the counter-protesters, I wasn't going any further, and so I turned around, and returned to the SDS camp.  There, I masked up in the proper style of black blocs, with a little twist this time.  Instead of my usual black or red, I used a green bandanna.  This was not to represent any political movement, but rather a simple nod to the day we were marching.  After all, it was St. Patrick's Day.  Got to wear green on St. Patrick's Day, you know.
---
The various SDS chapters had their banners displayed, as they repeated various anti-war chants.
---
"What do we want?  Troops out!  When do we want it?  Now!"
---
"Stop the war, yes we can!  SDS is back again!"
---
"That's bulls—!  Get off it!  This war is for profit!  War and occupation will never bring liberation!"
---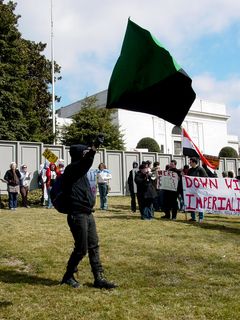 A gentleman in the middle of the area flew a green and black flag.
---
Initially, meeting up at the SDS site was like a reunion of sorts.  It comprised a lot of the same people who formed the black bloc on J27, so there were lots of hellos and catch-ups to be passed around.  But then we quickly got down to business, as we had to determine what the black bloc for M17 would do.  We had a lot of things to consider, both legal and practical.  Many of us were well aware of the fact that the mainstream march would be crossing state lines, and that everything we knew about demonstrating as a black bloc in DC went out the window as soon as we crossed Memorial Bridge, thereby entering Virginia.  It was a different state, with different police forces, and different laws.
---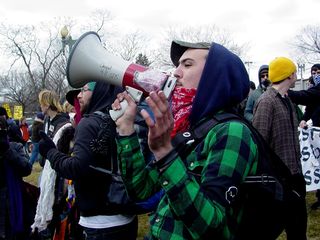 A person works the bullhorn to get the attention of the SDS crowd, so we could determine what we were going to do.
---
The first question was, do we want to follow the mainstream march at all, or do we want to go out on our own entirely?  There, our considerations were primarily legal.  Our understanding was that DC cannot mass-arrest demonstrators, but there is no such restriction in Virginia.  Thus there was the possibility that we could all end up in jail if we went to the Pentagon.  We questioned whether our numbers were sufficient to pull it off.  That also logically led to the question of what would we do if we stayed in DC?  Due to the march's location, we would be marching away from the mainstream group in almost any direction we went in if we stayed in DC.  Thus we would be on our own entirely.  If we took this course of action, there would be no rendezvous with the mainstream group, as happened on September 24 and J27.  The recruitment center, which had become the target of the black bloc on J27, was suggested as a target for our march.  The World Bank was another place that came up.  Various targets in Virginia came up as well, including Pentagon City – demonstrating at Pentagon City Mall, as a symbol of capitalism.  One person who heard that said that if they decided to do that, he had information on the layout of the area and of the mall.
Another idea tossed out there was for our group to go somewhere remote using the Metro.  That idea – using the Metro for the demonstration – was one that I personally got rejected quickly.  My exact words were, "Are you nuts?"  My rationale was that it would be a quick way for our protest to get scattered, as it's not likely our bloc would be able to board the same car, or even the same train, plus everyone would have to have a farecard, and not everyone took the Metro to get there, so it would necessitate going to the farecard machines to buy farecards.  That or everyone could jump the faregates and just storm the system, but that wasn't a good idea, either, since it would be too easy to get trapped, and slapped with a charge of fare evasion.  Besides that, can you really see a group of people in a black bloc configuration standing around on a Metro station platform?  I consider it somewhat ridiculous.  Bottom line was that it was a bad idea, and I quickly got that idea dismissed.
My other concern about involving Metro in the event itself was that after the event, many of us would need Metro to get back home when it was all over.  I wasn't about to endorse disrupting Metro.  We would be shooting ourselves in the foot.  I wasn't about to walk back to Vienna, for one.  I think the argument for leaving Metro untouched was best said in jest at the Infoshop later on: "When the revolution comes, Metro will run on time."
However, the biggest obstacle was to get everyone to be quiet long enough for all of the various options to be fleshed out.  I was right in the center, where I could see and hear everything.  But every time any idea was presented, the crowd started reacting to it, and then the crowd had to be quieted down again.  A moderator was appointed to lead the discussion, but they refused to use the bullhorn, and so no one could hear him.  Thus he was drowned out by "We can't hear you!"  So that effort fell through.
We eventually did get enough order to facilitate a vote-with-your-feet proposition.  Everyone who wanted the group to go to the Pentagon with the mainstream group stood on one side.  Everyone who wanted the group to break off on its own and head further into Washington DC stood on the other.  With that, marching with the mainstream group to the Pentagon ultimately won out, and so we determined that we would go to the Pentagon, and then figure out what to do from there.
And so we were off, marching as a bloc to the location where the mainstream march was taking off on Lincoln Memorial Circle.  To get the proper positioning, we went off the sidewalk and into the street, and even took out some orange construction fencing.
---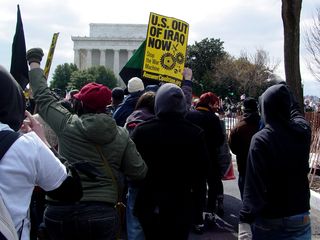 Getting off of the sidewalk and into the street, we are underway to get positioned to join the mainstream march.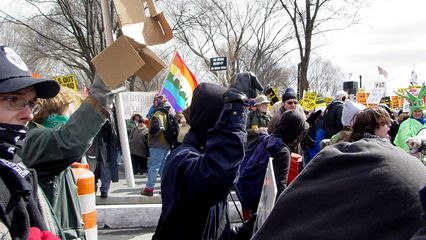 ---
"WHOSE STREETS?  OUR STREETS!"
---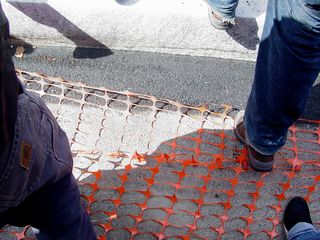 And that's the end of the orange construction fencing, as it got stomped down and out of the way.
---
Now, we were waiting to let the anti-war veterans' groups take the lead of the march.  It was simply the right thing to do.  During this interlude, people took the time to pass out the number for legal help, should anyone need it, as well as a Sharpie for people to write that number directly on their arms.  This was also the opportunity to get photos of the shields, while we were waiting.
---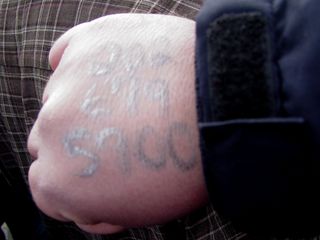 I wrote the number for legal assistance for M17 on my hand with a silver Sharpie.  This number allegedly went to the National Lawyers Guild.  I don't know if it really does or not – I never had a need to use it.  Normally one would write the number on one's inner forearm, but due to my wearing my hoodie and my winter coat, it made the rest of my arm quite inaccessible.  Thus the hand.  And that was hard enough.
---
And just like on J27, the shields led the black bloc.  We not only had the green "US OUT OF EVERYWHERE" shields from before, but we also had a new set of shields made out of construction barrels painted red and black in the style of the anarcho-syndicalist flag.
---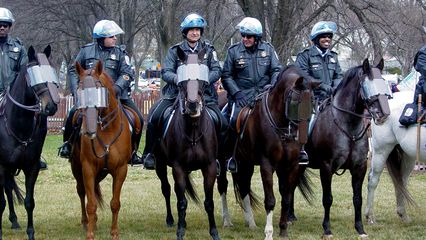 The Park Police officers were on horses.
---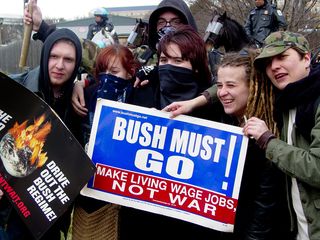 Meanwhile, some of the black bloc-ers posed for a photo…
---
Once the veterans' groups passed, we all locked arms and wedged our way into the mainstream march.  We passed the line of counter-protesters "guarding" the Lincoln Memorial, and continued onto Memorial Bridge.  It took a long time to cross the bridge, for a few reasons.  First of all, Memorial Bridge is a long bridge.  It takes a while to clear it by car, let alone on foot.  Add to that the fact that we were in a relatively slow-moving herd of people, with arms locked.  Therefore, if one moves, all must move, and that takes a level of coordination that comes with a penalty on speed.  Compare to J27, where our black bloc, which marched more freely, covered a far larger amount of ground in a similar period of time.  Additionally, there were occasions where counter-protesters attempted to block our path.  Per our own rules of engagement, we had no intention of getting into a direct conflict with counter-protesters.
---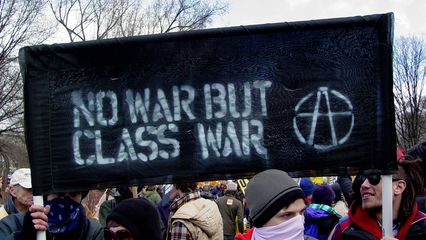 This "No war but class war" banner was one of the black bloc's larger banners.
---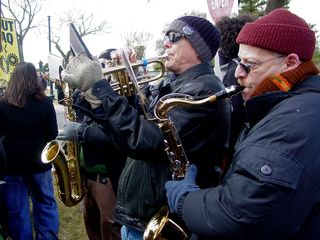 A few people in the anti-war crowd played musical instruments.
---
Wedging our way into the main march, we first had to march past the line of counter-protesters.
---
While we were on the bridge, I got two text messages on my cell phone.  It was a friend of mine.  The first message said, "You were just on TV," and the second said, "Fox News".  I was surprised by this.  I knew that Fox News is national television.  This would be my first appearance on national television.  I said to the person with whom my left arm was locked with, "I've just been told that I was on Fox News!"  I was in a bit of a daze about this for a few minutes before snapping out of it and getting back on task.
---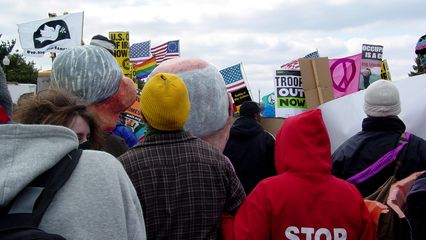 While we marched along the bridge, it was nice to see that George W. Bush and Dick Cheney decided to join us in our march (see the heads?).
---
The tune to The Ants Go Marching One By One seems to be the unofficial theme song for black blocs in 2007, as its tune is again heard at this march.
---
And over the bridge we go…
---
Clearing Memorial Bridge, we were now in Arlington County, in the Commonwealth of Virginia.  And the first thing that our black bloc did upon arriving in Virginia was make a wrong turn at the traffic circle.  When you enter Virginia via Memorial Bridge, there are three ways to go.  Going straight takes you to the Arlington Cemetery station and eventually Arlington National Cemetery.  A right turn takes you north heading towards Rosslyn.  A left turn takes you south to Route 27 and on to the Pentagon.  We made a right turn, which took us off the route to the Pentagon and pointed us towards Rosslyn.  Once we realized that we were going the wrong way, we made a major course correction.  To indicate that we were making a big U-turn, we started shouting, "WHICH WAY?  THIS WAY!" which is a take on the usual back-and-forth of "Whose streets?  Our streets!"
---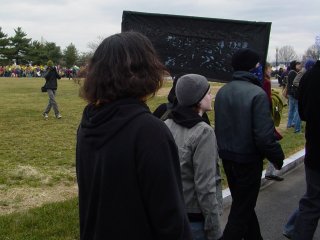 Oops!  We've made a wrong turn!
---
Recovering from the wrong turn, we first had to let everyone know that we were making a course correction, by shouting, "Which way? This way!" and then after that, getting the shields back up in front where they belonged.
---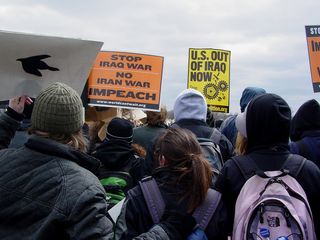 However, after we made the correction, we were back on track.
---
Having returned to the correct course, we continued on to the Pentagon, marching alongside the mainstream group, slightly to their right, still maintaining our tight formation.  We crossed the Boundary Channel, and continued south on Route 27.  We separated from the mainstream group when they marched down a highway ramp to the Pentagon's north parking lot, where they would have their rally.  We continued south on Route 27.  We crossed the bridge over Route 110, and there in front of us was a line of police officers from the Pentagon Police and the Virginia State Police.
We spotted the line of police officers, who were determined to stop our forward progress.  We engaged them.  The shields in the lead position of our black bloc pressed right up against the riot shields held by the line of police.  And we used our greater numbers to put pressure on the police's riot shields, as we tightened even further, and pressed on the line of police.  We initially seemed to be overwhelming the police, but they ultimately stopped our forward movement when they set off a stun grenade in front of us, which momentarily disoriented us.  We're pressing forward on the police, and all of a sudden, I see a flash, hear a loud bang, and see and smell smoke.  The bloc loosened, as I think we were all a bit surprised by that blast.
Then the police started putting on gas masks.  For me, that could only mean one thing.  Pepper spray or some other chemical agent was going to be used relatively soon.  A lot of people in the bloc had quick decisions to make.  Some people sat down in the street, right where they were.  Others backed up to get out of the direct path of any pepper spray.
Personally, I backed up.  I couldn't afford to be pepper sprayed due to the way I run my DC trips.  I have no accommodations in the DC area.  On my DC trips, my bed is 150 or so miles away, in Stuarts Draft.  If I had been sprayed by an irritant at close range, I couldn't imagine being able to ride the Metro, take a bus, or even take a cab to get back to Vienna if I reeked of pepper spray.  I'd have to ditch everything on the spot.  That would mean ditching my winter coat, ditching my entire black bloc setup (hoodie, hat, and bandanna), ditching the backpack and possibly a lot of its contents, and possibly even more.  I'd possibly even have to ditch Big Mavica.
The mood was tense.  We knew that at any given moment, pepper spray or tear gas could go flying.  A number of people were seated directly in front of the helmeted, shielded, and gas-masked police, and another large number of people were gathered behind them.  The police were giving warnings that they would spray, and the seated bloc was determined to stand firm.  One person from the black bloc warned the gathered crowd that anyone with children or respiratory conditions would be best served to leave before things got ugly.
---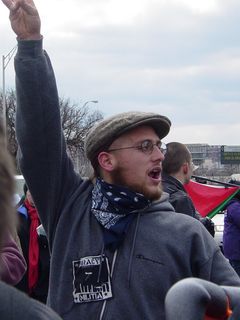 A man advises those with children or respiratory conditions to leave before things got ugly.
---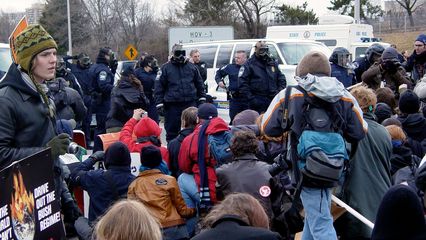 Meanwhile, we were basically at an impasse with the police.  Neither side was about to back down.  The seated black bloc stood their ground, and the gas-masked cops held theirs.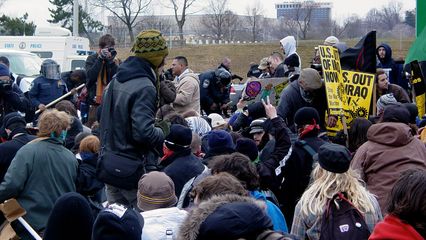 ---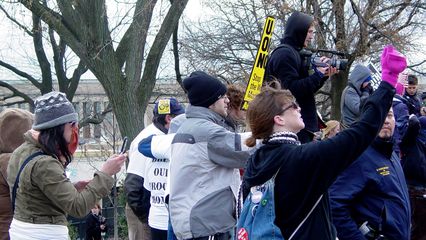 Meanwhile, a lot of people were taking pictures of the standoff to document for posterity.
---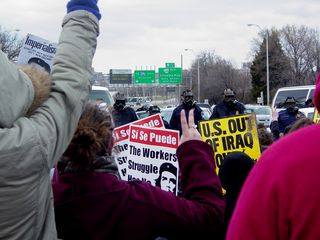 A number of people also gave the peace sign to the police officers.
---
Shouting at the gas-masked officers, "Who do you serve?  Who do you protect?"
---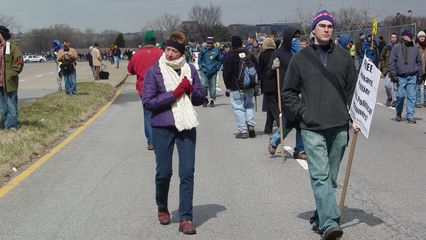 And all the while, people were still arriving.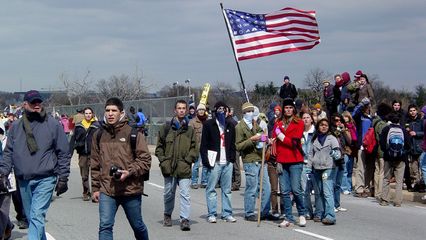 ---
At one point, the police gave a two-minute warning.  This sparked a bit of group consensus-building as everyone determined what to do, as tear gas or pepper spray seemed imminent.  I was at what I considered a safe distance away, and so I just watched.  Ultimately, the group determined that they were going to stay put.  Two minutes passed, and no pepper spray was released.  However, many of us were ready to record it should it happen.
---
Taking a panoramic view of the scene on Route 27.
---
While waiting to see what happened, I ended up striking up a conversation with a girl in a blue hoodie and bandanna from Florida.  Turned out she was from Tampa, and had graduated from the University of South Florida.  We took a while to get acquainted.  She mentioned that the cold weather on this particular day was something she was not used to, as it was in the 70s down in Florida.  She also helped me up onto the guardrail, so I could get some bird's-eye views of the action.  All in all, we had a good conversation.  Maybe we'll meet again one day, perhaps at another protest.
---
A bird's-eye view of the impasse…
---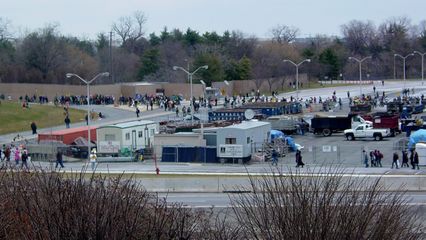 All the while, the mainstream march group was continuing to arrive at the Pentagon's north parking lot.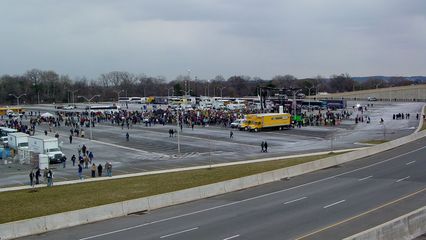 ---
And the standoff continued…
---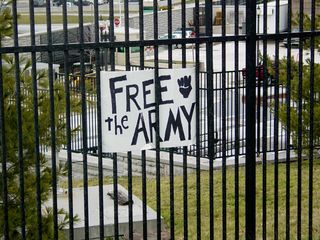 One person stuck a sign saying "Free the Army" in a nearby fence.
---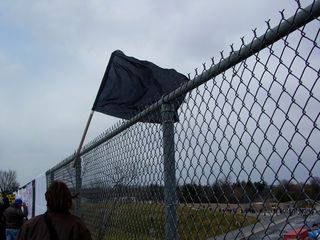 A black flag flew from another fence.
---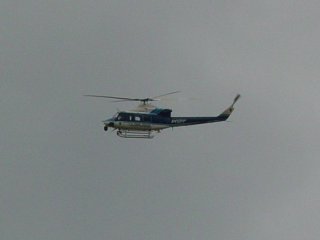 And Park Police helicopters were flying overhead.
---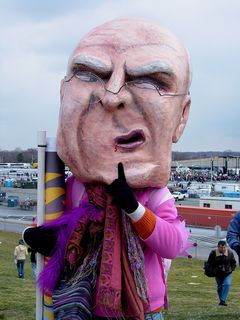 Meanwhile, I got a photo of Dick Cheney's head again.  The last time I'd seen that head was in September, when I visited Camp Democracy.  I also have a photo of myself posing with that head from the No Armageddon For Bush rally.
---
Rumors were also flying a bit, most notably that there was another group of police on the other side some distance away, meaning that we were penned in.  Thankfully, this was not the case, as the way appeared clear.  Meanwhile, three journalists were arrested during the standoff.
---
I believe that this was related to the arrests of the three journalists.  As you can see, I couldn't see a thing.
---
Eventually, one of the more vocal members of SDS, who had helped facilitate discussions back at 23rd and Constitution in DC back in what seemed so long ago, announced that a group would be returning to Washington to head to the recruitment center at 14th and L Streets NW.  That group left the site of the standoff, and returned to DC.  The main rationale for returning to Washington was that it was more protester-friendly.  They couldn't mass arrest in DC, and we had better knowledge about how DC cops operated in protest situations than for police forces in Virginia.
---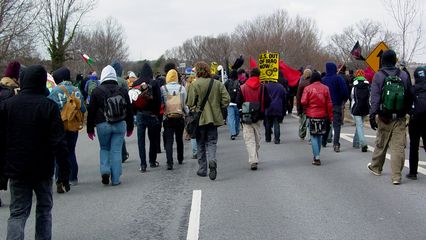 Departing, to return to Washington…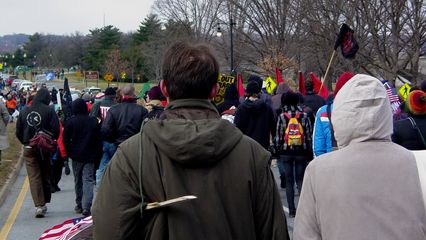 ---
I determined that whatever we were going to say had likely been said.  I knew where I was in relation to the Metro, and decided that it was time to go.  I found out later that the police never pepper sprayed, and the standoff continued until they brought in the paddy wagons, at which time the sit-in finally dispersed on its own.  In regards to the group that was returning to Washington, I found out that they were quickly broken up by police forces as soon as they got back over the bridge, which by then had been reopened to traffic.  My understanding is that two were arrested – for what, I don't know.
So I was headed north towards Arlington Cemetery station.  I also helped a number of people find Arlington Cemetery station, since I seemed to be one of the few people present that knew the area fairly well.  All those DC trips paid off.  A number of people wondered why we were going to Arlington Cemetery station rather than what would appear more logical on paper: Pentagon station.  I explained.  Pentagon station was all the way around on the south side of the Pentagon.  We were a bit north of the Pentagon.  Thus to get to Pentagon station, we'd have to go all the way around the Pentagon.  And the Pentagon is a lot bigger than it looks.  Plus we'd have to go through the line of riot cops.  Bad idea.
---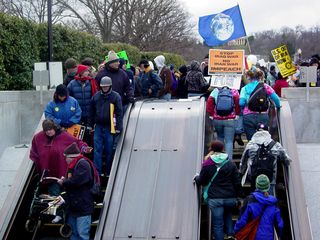 After the march was over, everyone entered the Metro at Arlington Cemetery station.
---
Arriving at Arlington Cemetery station, I quickly changed back into my original green shirt, and packed the black.  I also put on my glasses again, and fixed my hair.  And ta-daa!  We were back in DC trip configuration.  Right about then, I got a text message from Dad: "Are you alive?"  I called him back, and let him know that yes, I made it through just fine, and that counter-protesters were as I expected – a bunch of hot air.  Going down into the station, at the farecard machines, the lines were obscenely long, as many people had to buy farecards to get back home.  I had the day pass, so I was fine.  I just went on up to the inbound platform to catch a Blue Line train: Breda 3047.
---
Due to the protest, it was a much bigger crowd on the platforms than Arlington Cemetery usually sees!
---
Catching the Metro at the end of a protest.
---
On the Metro, I ended up spending some time having a conversation with some people who got on at Foggy Bottom.  They'd been in the black bloc, and we discussed how the march back to DC went.  It turned out that those who returned to DC to head to the recruitment center got nailed upon their arrival in Washington DC, and never made it to the recruitment center.  I rode on the Blue Line with this group to Metro Center, where we all transferred to a Silver Spring-bound Red Line train.  They were going to Silver Spring, and I was going to Union Station.  Arriving at Union Station, I bid them farewell, and exited the Metro.  I needed to sit down.
At Union Station, I first found a restroom, and then later bought some lemonade.  I also sucked down the contents of one of my two water bottles very quickly.  Meanwhile, I ended up striking up a conversation with a gentleman from Illinois.  He was a solid Democrat, and really excited with his politics.  He was in DC for a family event.
After we finished our discussion, I headed to the Infoshop.  I especially like going to the Infoshop right after protests, because there are often people over there who had been to the protest as well, and so we can compare experiences and share stories.  This time did not disappoint.  I also got to meet David Rovics, and wrote a quick Journal entry about the protest as that little way of telling everyone that I made it through just fine, along with a quick note about how it went.
Then from the Infoshop, I returned to the Metro, and rode the Yellow Line down to Pentagon City.  By now it was evening, and I was thinking about dinner, and I was thinking about going to Champps.  It turned out that with it being St. Patrick's Day and a weekend to boot, Champps was hopping.  There were a lot of people waiting to get into Champps, as every table was full.  I decided the heck with it, and developed a Plan B.  That other plan was to go to the IHOP restaurant in Ballston.  So I took the Metro and rode over to Ballston.  There, I had dinner.  And then it was back to Vienna for me.
---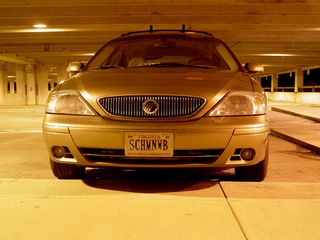 The Sable flashes a big smile for the camera upon my return to the North Garage at Vienna.
---
Arriving at Vienna, I was homeward bound.  All I have to say is that this was a wonderful trip, and an awesome protest.  Counter-protesters be damned.  A few hate mail letters can't keep a good activist down.