Virginia Beach
On August 7 and 8, 2000, my friend Andrea and I went to Virginia Beach. One of the things that I brought along was my Sony Mavica (the original Mavica), in order to get pictures of the trip. As it turned out, this ended up being a great idea. So, from start to finish, here's Virginia Beach…
---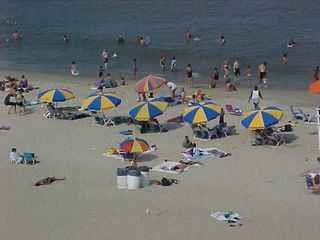 "Where's Waldo?"
(My guess is that he's out somewhere behind a tree taking a whiz…)
---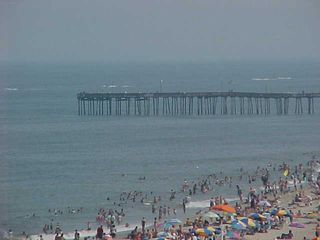 "Now find Waldo!"
(You fool! He's still behind the tree!)
---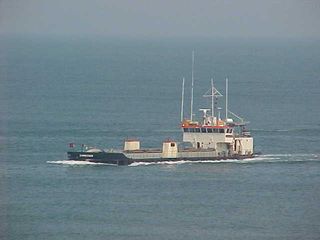 As you may have seen while going through Schumin Web, I find ships, particularly ocean liners, fascinating. Though this wasn't exactly a passenger ship, it was still neat to see.
---
Now, she turned to face the beach, and showed off her antifouling paint on her bottom. This also provided for an opportunity to find out that she was the Currituck.
---
And just as soon as she came out, she sailed back from whence she came. Wonder what she was up to…
---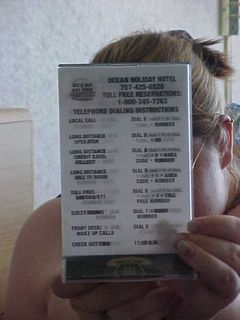 "So this is how you dial out of the Ocean Holiday!"
---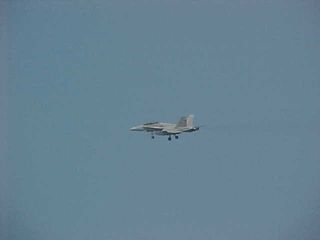 Military planes are the norm here rather than the exception. Every few minutes or so, a noisy plane would fly overhead.
---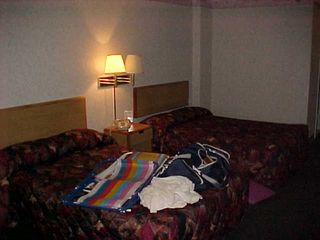 Our trip was kind of like Survivor on CBS in a sense. The first half of our trip, we were in two camps. Like Pagong and Tagi. Note that only one of the two lamps is on, which I turned on for the purpose of taking this picture and the one below it. The other one didn't work.
---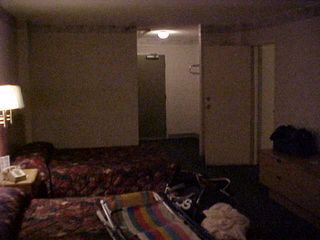 This is the rest of the room. By the way, I was not too impressed with the Ocean Holiday in 2000… not only didn't the one lamp work, but the one on the dresser didn't, either. Furthermore, there was a very ugly sprinkler pipe curling around the wall, visible in the back of this picture. They also had a refrigerator which was just like mine at JMU in the room. While that was nice, it was, however, missing two parts: the little plastic drawer at the bottom and the glass piece over the drawer. When getting the light in Andrea's bathroom fixed, the guy left the bulb in the room (VERY stupid), and when I asked him about the refrigerator, he gave no offer to replace the missing parts, but instead gave an excuse as to why they were missing. The reason was that the guest before me broke the glass piece, and so they took both things out! Dumb…
---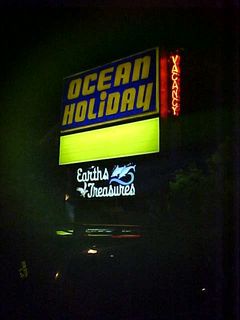 Note to travelers: ALWAYS be wary of a place with a neon "Vacancy" sign. You don't see the Plaza Hotel in New York showing a neon "Vacancy" sign, do you? This should have tipped me. And speaking of the front of the hotel, let's talk about the front desk. They have an ice machine in the hallway, as any hotel should. However, I had no ice bucket. Andrea had one. I go down to the front desk, and mention that I didn't have one. Okay. They should provide me a bucket. When I politely ask, do I get one? NO! I got a very lame response. He said that he couldn't get at them because he didn't have the key. Again, be wary of any place that has a "Vacancy" sign on it, folks.
---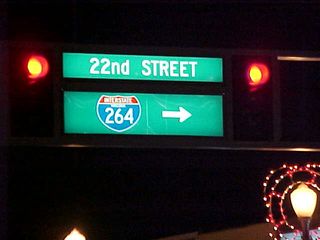 "Are you sure you're going the right way?"
Andrea asked me that a few times, when our trip over ended up being particularly long due to missing the exit. We ended up winding around the whole shore area to where I-64 splits into I-264 and I-664. I chose 664, since I was undoubtedly lost at this point (I knew how to get back from whence I came, but still obviously missed something). We ended up stopping at a gas station, and got directions. Ends up the road had changed its designation! Last year, it was Virginia Route 44 that took us to the beach. Now, the same route had become Interstate 264. So… we ended up going through a second tunnel, and eventually wound up at the beach. Andrea said she would have made it anyway, even with the route change, because she looks at the city names, not the highway number. It goes to show we all turn into our parents eventually, as my father always looks for road numbers rather than names.
---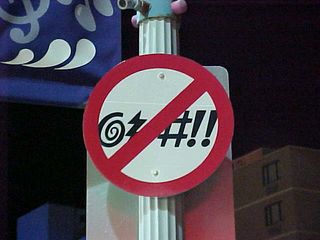 "Do you kiss your mother with that mouth?"
This quote actually was a quote article on The Schumin Web in August, which discussed the no-swearing signs that were prevalent all around the resort area.
---
The next day, after the sunrise and some television, it was time to rock and roll. But Andrea still wanted to sleep. So in the meantime, I took a shower and got dressed. I then took some pictures, as well as bought those Titanic life preserver wall hangings that you saw in my room at Potomac Hall…
---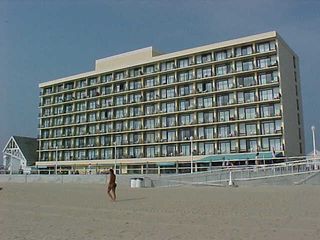 This is the Ocean Holiday as seen from the beach. I wasn't all that impressed with the Ocean Holiday in 2000, but they did a much better job in 2004. The facility is now a Days Inn.
---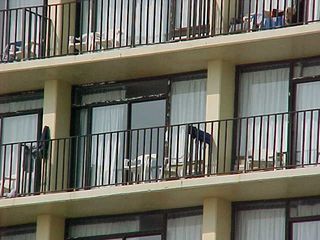 And here's my balcony (in the middle), the source of all those sunrise photos!
---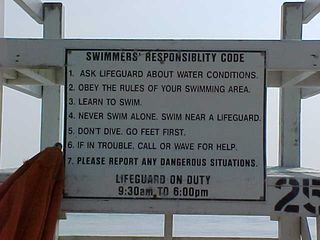 Okay… you're already at the beach, and read number three on the Swimmer's Responsibility Code. "Learn to swim". It seems a little bit late if you're already at the beach, but still a good idea.
---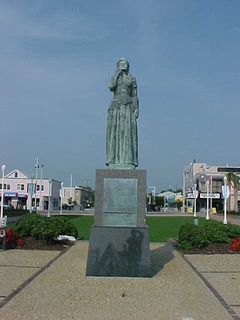 They don't call this "Norwegian Lady Plaza" for nothing! There she is! You can see me taking a picture of it in the reflection on the base.
---
After Andrea woke up, we checked out of the hotel and drove to a Texaco station, where we met Renee, a friend who used to live in Stuarts Draft, but who had since moved to Virginia Beach. We also met her then-boyfriend. We spent most of this second day with them.
---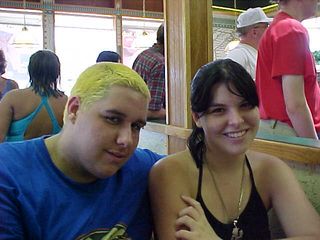 And here's Renee and her boyfriend, as Andrea and I have lunch at Subway (they had already eaten).
---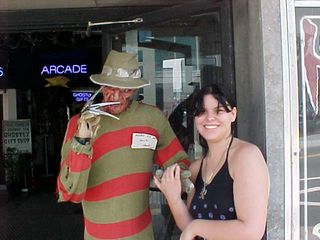 Renee poses with Freddy Krueger in front of a store.
---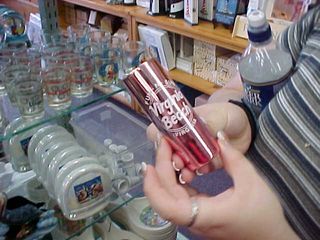 "Do I really want to get this?"
Andrea muses over whether or not she really wants this neat little metal shot glass at the same store that I got my Titanic stuff. She eventually got it.
---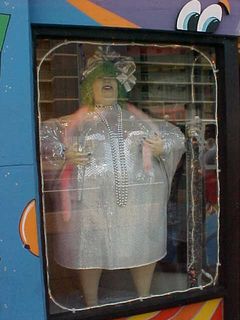 If this isn't scary, NOTHING is!
---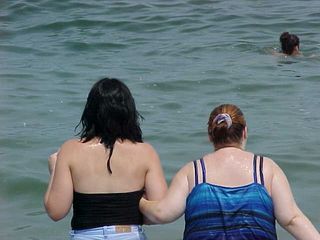 After we visited the strip, we all went to the beach. I had been in yesterday for some time, so I didn't go in, and instead enjoyed the sun, and took pictures with the Mavica. Here's Renee and Andrea getting into the water.
---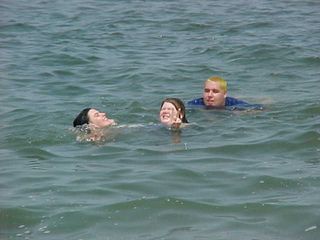 Say cheese!
---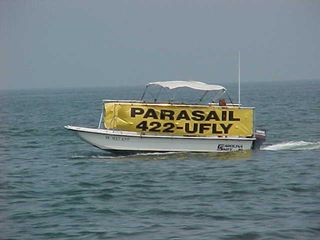 Parasailing… oh, how I wanted to go parasailing… I actually called these people up the day before, and found out why parasailing was not going to be happening in this trip. Parasailing was over $500 for a short time up in the air!
---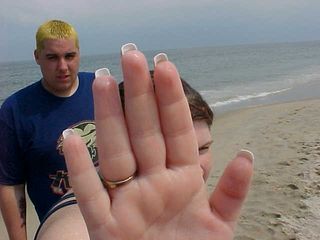 "DON'T TAKE MY PICTURE!"
---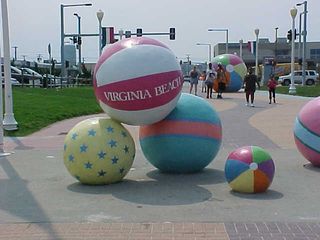 As Virginia Beach is a tourist city (at least in this part), they have some very touristy things around. This is one of them. Large beach balls as a sculpture.
---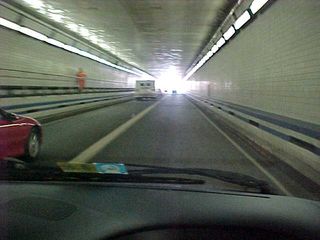 And now we're on our way back to Stuarts Draft… going under some water as we start to exit the Hampton Roads Bridge-Tunnel.
---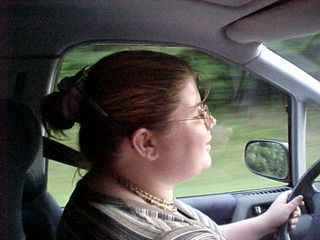 We switched places just west of Richmond, because I had been up WAY longer than she had, and I didn't want to drive the whole way back as a result. We agreed that we should switch places more often.
---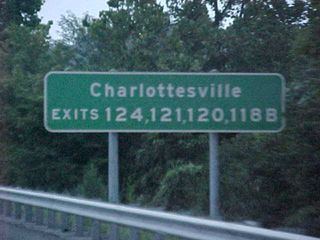 Almost home… only around 45 more minutes to go if non-stop (but we ended up eating dinner at Chi-Chi's in Charlottesville).