New York City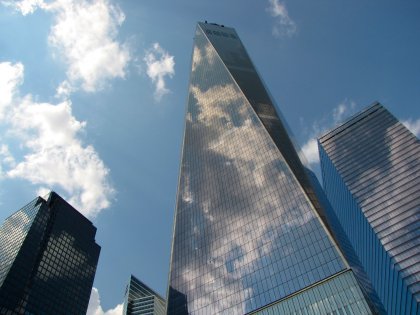 On Tuesday, June 9, 2015, I finally made my first visit to New York City.  This was the resolution to an issue that was a major contributing factor to my birthday's being ruined ten days prior.  Recall in that instance that I had decided on a whim to go to New York City on my birthday.  I left for that trip, but realized by the time I got to the end of my street that such a trip was a really bad idea, owing to the fact that this was a single day off and not my regular weekend, and the following day was my early day at work.  It served as a reminder that I do best when I plan things.  I'm not good at being spontaneous.
So after I finished being miserable about my ruined birthday, I got to planning a trip.  After all, the seed had been planted, and now I needed to make it so.  I had already made plans to get together with my friend Doreen on June 9, originally presumably to do something local (but as yet unplanned at that point), and so I pitched New York to her.  I received an emphatic yes (she'd never been, either), and so the planning began.  We threw out various ideas for things to do and see in New York, mostly landmarks and such, and planned a trip around those different targets.  Recognizing that we both worked late at night and both had the day off from our respective jobs the next day, we agreed that we would have a later start to our trip, and set a return time as "whenever we get done".
I picked Doreen up from her house just after 10:00, and we were off.  And like all trips up north, there are tolls.  Governor Hogan announced lower tolls on various Maryland roads to take effect July 1, but for us, it wouldn't be soon enough.  Thus the Fort McHenry Tunnel was still $4.00, and the Tydings Bridge was still $8.00.  My comment to Doreen about the Tydings Bridge was, "This is an $8.00 bridge.  Make sure that you get at least eight bucks' worth of enjoyment out of this bridge."  Thankfully, she absolutely loved the view, so I think that she definitely got our eight bucks' worth out of it.  We stopped to eat at Delaware House, and then headed up into New Jersey on the Turnpike.  Doreen really enjoyed taking in the scenery, as this was her first time in New Jersey.
The plan was to park at Journal Square and then take PATH into the city.  To do this, we got off on Exit 15E, and then followed Route 9 to Sip Avenue in Jersey City.  Along Route 9, Doreen made a comment about all of the out-of-state drivers on the road, which amused me slightly.  She was referring to all of the New Jersey plates, forgetting for a moment that we were the out-of-state drivers with our Maryland tags.  Reaching Sip Avenue, owing to poor signage, we initially missed our turn, which gave Doreen her first experience of a very "New Jersey" kind of feature: the jughandle (specifically, this one).  For those not familiar, jughandles are short roadways designed to eliminate turns across opposing traffic.  Therefore, all turns are made from the right lane, and the left lane is just for through traffic.  Doubling back to get to Sip Avenue, we went through a number of narrow streets in Jersey City, and finally found our parking garage at Journal Square.
---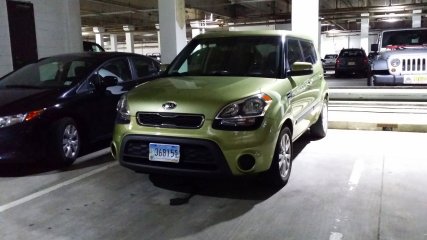 Not a bad parking job, if I do say so myself.
---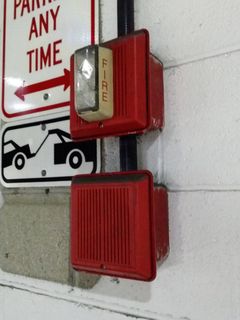 A surprise in the parking garage: double Edwards Integrity!  I wasn't sure exactly what was going on here.  I don't know if this was a double horn, or if the bottom one was a speaker and the top was a horn/strobe and using only the strobe.  I have no idea.
---
From here, we took the PATH train into the city, and soon we arrived at World Trade Center station.  That was a gorgeous station, with bright lighting and hiny surfaces.  We had arrived in New York, but it didn't seem real to me just yet.  Coming out of the PATH station onto the street, however, it soon became real, as we saw One World Trade Center before us.  That was quite a sight.
---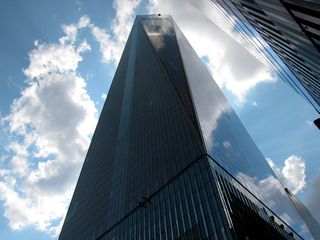 1 World Trade Center, viewed from across Vesey Street.
---
The first thing we did was explore a bit around the World Trade Center.  I got tons of photos of One World Trade Center, and we also explored the outdoor parts of the 9/11 Memorial.
---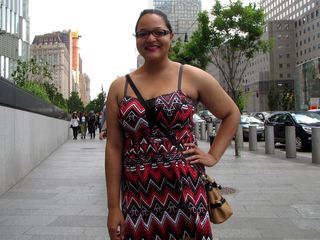 Doreen stands on the sidewalk along West Street, next to One World Trade Center.
---
I found One World Trade Center to be a bit difficult to photograph from the street.  This is the tallest building that I've ever photographed, and its interlocking-triangles shape, while it looks gorgeous from a distance, does not lend itself well to elegant photography up close.  I've done better with this angle on other buildings, especially the Hancock Center in Chicago.
---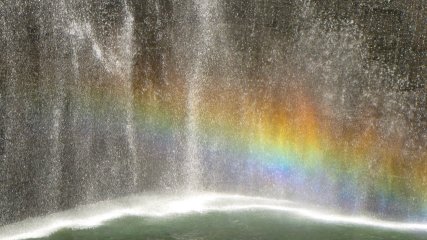 The footprints of both of the old Twin Towers were made into fountains.  On this sunny day, I used the polarizing filter on my camera to bring out a rainbow in the spray from the North Tower's fountain.  I thought it seemed quite fitting.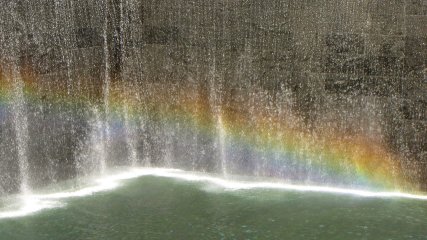 ---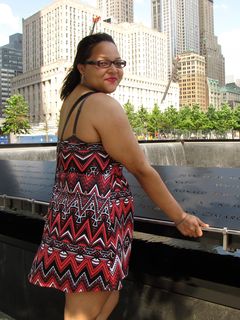 Doreen stands next to the North Tower fountain.  The names of the victims of the September 11 attacks are inscribed on bronze plates ringing both fountains.
---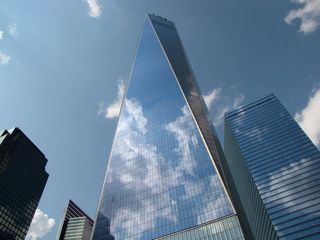 The beauty of One World Trade Center's design became more evident the further away that we moved from it.
---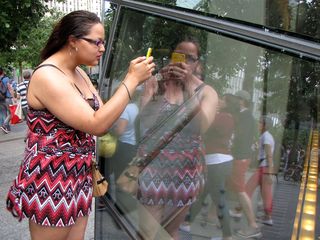 Doreen takes a photo of the museum from above.  We didn't visit the museum due to time considerations, but it certainly seems like a worthwhile place to visit in the future.
---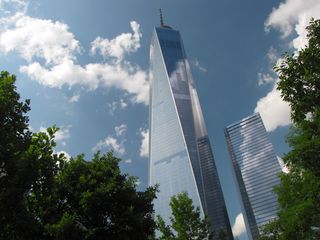 The more distance between us and One World Trade Center, the more the full beauty of the interlocking triangles design became evident.
---
Finishing at the World Trade Center, we had other places to go, so we went looking for a subway station.
---
In our hunt for a subway station, Doreen found this little alcove in a building wall, and posed with it.  The first pose was with a smile, and then the second one was sort of a "trapped" pose.
---
Our next destination was the house from The Cosby Show, which, according to my research beforehand, was relatively close to the Houston Street station, on the 1 and 2 lines (yes, the Cosby Show house is in Manhattan, even though the show was set in Brooklyn).  We ended up finding Fulton Street station, and walked through the Lexington Avenue Line IRT platform, a bunch of various passageways, down the Fulton Street IND platform, before reaching the IRT Broadway-Seventh Avenue Line platform.  From there, we were on our way, riding car 6977, an R142.  However, I didn't realize that the 2 only served Houston Street during late night hours.  We sailed right past Houston Street on the uptown express tracks and had to double back, getting off at 14th Street, and having to go back downtown on a 1 train to get to Houston Street.
---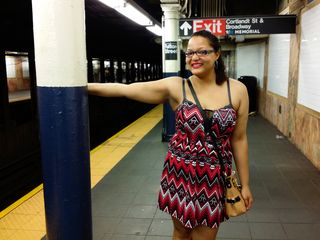 Doreen poses for a photo on the Lexington Avenue Line platform at Fulton Street.
---
We spotted our first subway train on the Lexington Avenue Line, with this 5 train consisting of R142 cars.
---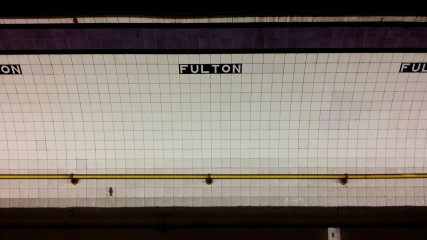 Wall tile on the IND Eighth Avenue Line platform.  As I understand it, this is typical Independent Subway styling.
---
This, by the way, is when you start to appreciate the relative simplicity of the Washington Metro.  There are only six lines on Metro, and you can get anywhere with one transfer at most.  However, I'm not going to lie to you: navigating this massive underground train system was fun.  And this is where I took a page from my mother's book.  She always told me that New Yorkers, contrary to stereotypes, are some of the most polite and helpful people around.  So I tested this.  We needed to get to the other side of the station, and I wasn't quite sure how to do that.  So I approached a random person and asked.  Mom's experience held true: they were extremely nice and helpful, and their directions got us exactly where we wanted to go.  Awesome.  We got our train, taking car 2253, an R62A, from 14th to Houston Street.
---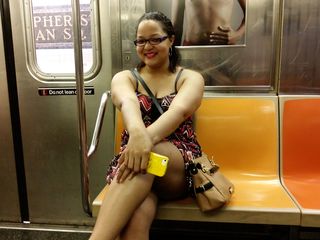 Doreen rides on car 2253.  The Christopher Street-Sheridan Square station is visible in the background.
---
Our train departs Houston Street station.
---
Coming out of Houston Street station, we were in Greenwich Village.  We stopped at a nearby McDonald's, where Doreen got a quick snack.  While she was eating, I spotted a mural on the building across the street, showing Redbird subway cars being consumed by fire, among other things.
---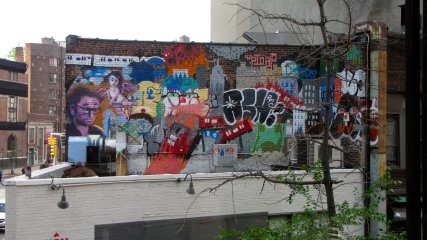 The mural, as viewed from the upper level of the McDonald's.
---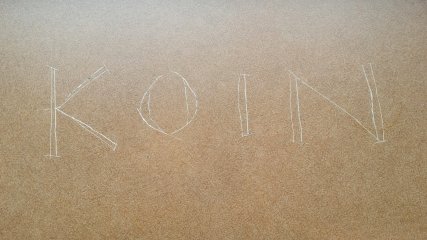 "Scratchitti" on one of the tables at the McDonald's.
---
Then it was time to go to the Cosby Show house.  I fired up Google Maps on my phone, looked up 10 Leroy Street, and we were off.  A funny thing happened while we were on our way over.  We were talking about The Cosby Show, and I recalled one scene that took place partly on the steps.  Theo and Cockroach were being pelted by snowballs by neighborhood kids, and accidentally dropped a Shakespeare record outside that they had to retrieve.  Cliff got the record, but first after shouting at the snowball throwers, "THIS IS DR. HUXTABLE!  I DELIVERED SOME OF YOU!  I'M A PARENT, AND A TAXPAYER!  AND I'M PROBABLY THE ONLY ADULT WHO WILL SUE LITTLE CHILDREN!"  This lady was walking up the street a few steps in front of Doreen and me, and heard me quoting the line about suing little children, and gave us this what's-wrong-with-you look before walking off.  Apparently she didn't understand the reference.
Continuing to follow the directions that Google gave us, we ended up here, just before the intersection of Leroy and Bleecker Streets.  We found 12 Leroy Street, but no 10 Leroy Street.  Plus the stoops along the whole block were too low to be the Huxtables' house.  Something was clearly wrong here.
---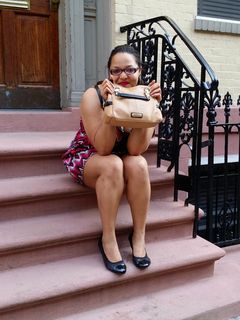 Doreen posed for a photo on the front stoop of one of the houses on Leroy Street.
---
I hit Google again to confirm the address.  I knew I was close by, because I had located the house earlier on Street View, but I was clearly wrong with my current position.  That's when I was reminded of a naming issue with part of Leroy Street.  Part of Leroy Street had also acquired the name "St. Luke's Place", and that was why we were sent up the wrong block.  Putting in 10 St. Luke's Place got us back on track, sending us across 7th Avenue and straight to the Huxtables' house.  For those wondering, the address of "10 Stigwood Avenue" that was given in the show is entirely fictional.
Arriving, I played the theme song on my phone from YouTube to kind of set the mood, and we looked at and photographed the house.  Turns out that the Cosby Show house is an apartment building in real life, which makes enough sense.  I was also a bit disappointed to find out that renovations were underway on the house next door, and that work blocked some of the shots that I wanted to get.  But we still had fun seeing this bit of television history in real life.
---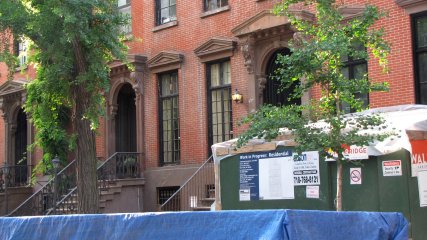 This is the usual angle that we saw the Huxtables' house on television.  Today, however, this angle was temporarily blocked by the construction going on next door.
---
Here is the Cosby Show house from a few different angles, which we didn't see in the establishing shots.  Note that the front doors have clear glass windows in real life, rather than the frosted glass shown on the show.  Likewise, the doors lead to a small, nondescript vestibule space, rather than a large, ornate living room as shown on the show.
---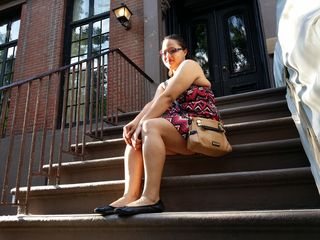 Doreen poses for a photo on the front steps of the Cosby Show house.  I commented that it reminded me of Margo Farnsworth, the person that Vanessa was pretending to be while sitting on the front steps in the episode "Theo's Holiday", where the family gave Theo a taste of the real world.
However, that scene, as well as any other scene showing the actors in front of the house, despite the show's being filmed in New York, was not filmed on location at the actual house.  Rather, they duplicated the front of the house on a soundstage for those scenes.
---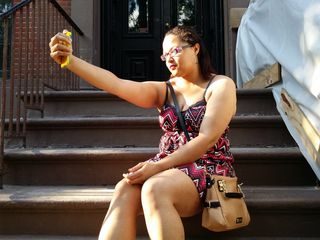 Doreen gets a selfie in front of the Cosby Show house.  Afterwards, we realized that the background was not as she intended: rather than the house, she got the plastic sheeting covering the renovation work on the house next door.  Wonder if, in the show's universe, this would have been Jeffrey Engels' house?
---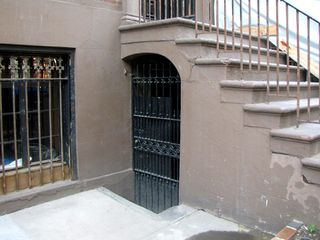 I specifically looked to see if there was a basement entrance that might represent the entrance to Cliff's office, and I found one.  This is under the front stairs.
---
And before we left, we got photos of each other in front of this famous house.
---
Finishing up at the Huxtables' house, we headed back to the subway.  And on the subject of nice New Yorkers, a woman helped us out without any prompting, after overhearing our discussion about finding the subway entrance, and told us which entrance to use.  We thanked her for this unsolicited assistance.
---
On our way back to the subway, I spotted a New York fire and police call box.  I was expecting a system similar to that which I saw in Boston, i.e. Gamewell telegraph boxes, so this was a surprise.  Apparently, you lift the cover for the service that you need, press a button, and then speak into the box after someone answers.
---
We took the 1 train from Houston Street to 14th again, and then we took the 2 train to 42nd/Times Square.  There, we transferred from the 2 train to the C train through some long and relatively steep passageways, and headed uptown on the IND Eighth Avenue Line on car 8595, an R160A, to 81st Street-Museum of Natural History.
---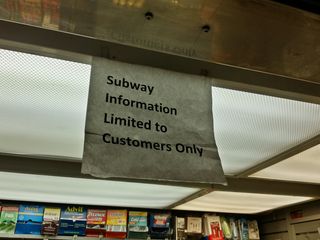 As we made a transfer, we spotted this sign on a vendor's stand in the subway system: "Subway information limited to customers only".  I guess, with his being located in a very busy (and complex) part of the subway system, a lot of questions about the subway come with the territory.
---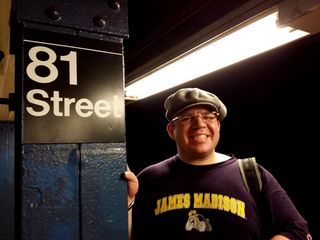 When we got to 81st Street, Doreen got a photo of me with one of the signs on the columns.  Unlike DC Metro pylons, these are much easier to pose with.
---
On our way out of 81st Street station, I grabbed a movie of a B train arriving.
---
Coming out of the subway, I experienced a feeling that I hadn't felt in quite some time in DC: subway disorientation.  This would be where you come out of an underground station and don't know which way you're pointing because the various turns of the train and station have gotten you all turned around.  I used to get that at Metro station in DC, but now that I've been in the DC area for eight years, I know my way around.
Thankfully, however, Google Maps' walking directions came to the rescue.  Our next target was the Central Park Obelisk, also known as Cleopatra's Needle.  I had seen this obelisk's counterpart in London in 1998, and this would mean that I would have seen both halves of this pair.  Going through Central Park, we both commented on how you really wouldn't think that this was New York City, but it was.  It actually reminded me a lot of parts of DC near the National Mall.
---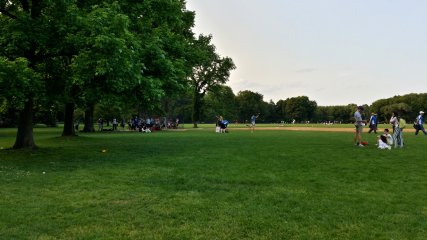 Central Park!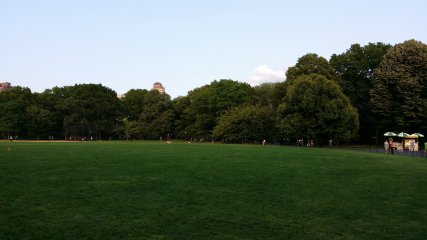 ---
Arriving at Cleopatra's Needle, I got photos of the obelisk itself, as well as of a tree with many carvings in it, plus a few artistic-looking photos of Doreen.
---
The Cleopatra's Needle obelisk in Central Park.
---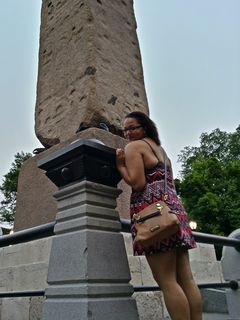 Doreen poses for a photo with the obelisk.
---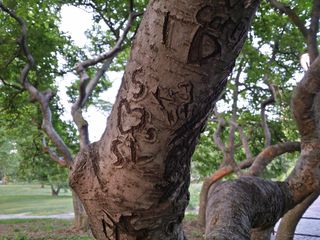 This tree contained many carvings on its limbs.  I have no idea how old these are, but based on past experiences in DC, these sorts of carvings can last for decades.
---
Two photos of Doreen with the tree.  She was watching a squirrel move around the tree.
---
Then I got down on the ground to get some low shots of Cleopatra's Needle, and once I was on the ground, it actually felt kind of comfortable.  I stayed on the ground for a little bit, and that led to some silly photos.
---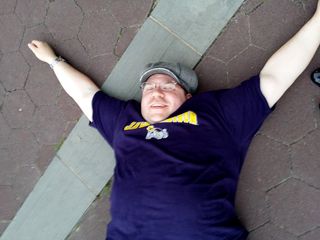 Just kinda laying on the ground.
---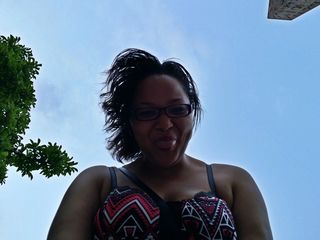 Doreen makes a face at me.
---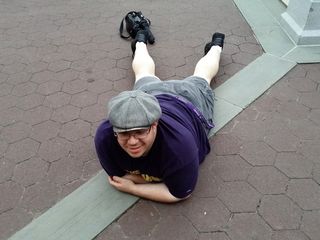 Laying on the ground in front of Cleopatra's Needle.
---
Posing in what I called "that girl pose".
---
After I got up from the ground, it was just a few steps to the Metropolitan Museum of Art.  We arrived as they were about to close, so we didn't get to see much other than admire the lobby architecture, and very briefly view an exhibit that was just off of the lobby.  We did, however, get plenty of photos of outside.
---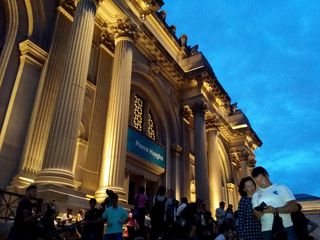 The Met, right after closing.
---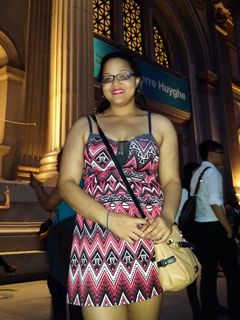 Doreen is all smiles outside of the Met.
---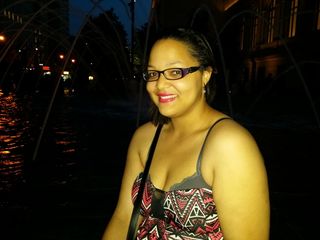 Doreen, sitting next to the fountain in front of the Met.
---
I'll be the first to admit – we really didn't give the Met the time that we needed to thoroughly appreciate it.  One could easily spend all day at the Met, but we didn't have the time to do that on this whirlwind trip.  That's something to plan for a future, longer trip, I suppose.
Leaving the Met, we headed to a nearby Starbucks.  We both needed a little pick-me-up by then, and we also needed to charge our phones.  We each ended up getting a Starbucks Refresher, which hit the spot quite nicely.  A little caffeine, a nice flavor, plus it was cold.  Perfect.
---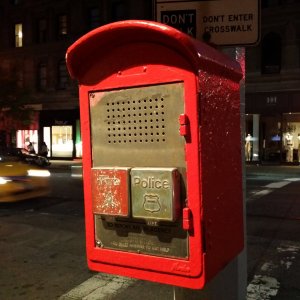 Near Starbucks, we spotted another fire and police call box.  Unlike the one that we spotted in Greenwich Village, this one had a rounded top.
---
Following this, we headed back towards the subway.  Our next target was the Empire State Building.  For that, we took the 6 train from 86th Street to 33rd Street, riding car 1736, another R62A.
---
Our train arrives at 86th Street.
---
As we exited the train, I asked the conductor about if it's possible to ride around the City Hall loop.  If you're not familiar, this loop is how the 6 train turns around in Lower Manhattan, and contains a unique but now disused subway station.  It turned out that yes, we could ride around the loop.  That was good news for me, because I kind of wanted to see City Hall station.  However, Doreen wasn't so hot on the idea, and so I filed that under things to do on a future trip.  I figure that a ride around the City Hall loop could happen on a future visit where I also go to the Transit Museum, which got nixed in the planning process for this trip because of our later start time and relative distance from everything else that we were doing.
---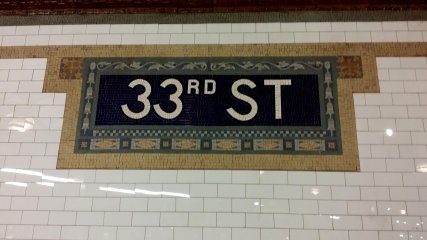 Decorative elements at 33rd Street station, on the downtown platform.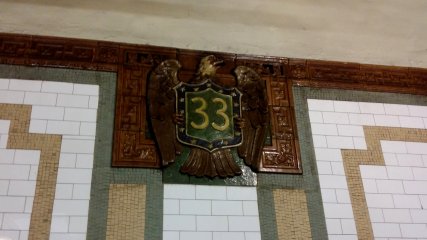 ---
Coming out of the station at 33rd, we made our way to the Empire State Building.  This was also when I really came to appreciate something interesting about New York: people and businesses just put their trash in bags out on the sidewalk for pickup.  No trash containers, just loose bags.  I first noticed it when we were near the Met on our way to Starbucks, but it really caught my attention when I saw a large pile of trash bags in front of a Hilton Garden Inn.  The way I saw it, residential trash out on the sidewalk is one thing, but seeing it in front of a business just struck me as odd – especially for a hotel.  But it was everywhere.  I read an article about it later on, and it seems to have come about out of necessity.
---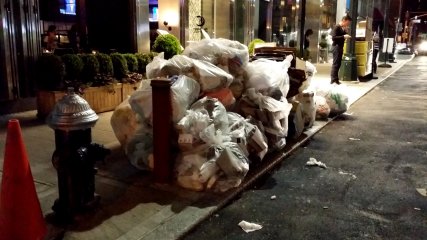 Bagged trash piled up in front of the aforementioned Hilton Garden Inn.
---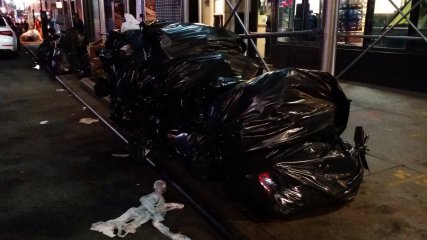 Bagged trash in front of another business.
---
In any case, it caught me completely by surprise, because I've never seen such a thing in any other major city that I've been to.
Arriving at the Empire State Building, I noticed two things that you don't usually think about when you imagine it.  First off, you really don't expect for there to be a Walgreens at street level.  I don't quite know what I expected the Empire State Building to look like at street level, but I'm pretty sure that a Walgreens wasn't it.  But there it was, clear as day.  You also, for that matter, don't imagine a rather unsexy-looking Wendy's to be across the street.  But I suppose it makes enough sense.  People have to eat, after all.
---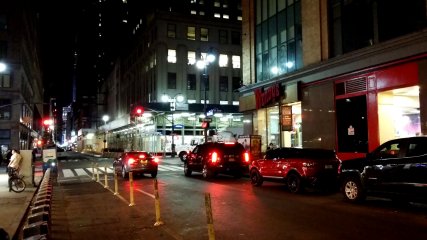 A Wendy's, directly across Fifth Avenue from the Empire State Building.
---
The original plan for the Empire State Building was to go up to the observation deck, and view the city at night.  We ended up nixing that after considering how much this one-day trip had already cost, and that observation deck tickets cost in the $30 range – each.  So the Empire State Building ended up being a walk-by.  I suppose it made enough sense in the end.  Neither of us had ever been to New York before, and I suppose that before you see a city lit up at night from above, you should probably see it from above in daylight first, so that you have a decent idea of what you're looking at when it's dark.
---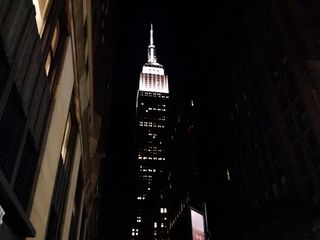 Approaching the Empire State Building.
---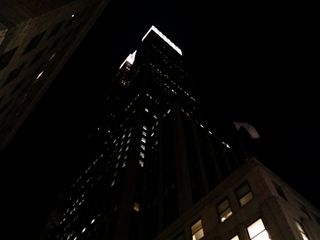 The Empire State Building from below, diagonal from the building and across from the Wendy's.
---
So instead of going up the Empire State Building, we decided to go see Times Square.  We asked a passerby for directions to Times Square, and we were told it was "two long blocks" over, and then "nine short blocks" up.  Awesome.  Before we left the area around the Empire State Building, we checked out a nearby gift shop, which had a surprising dearth of "Bort" license plates.
---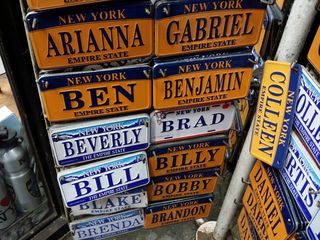 New York license plates.  "Ben" and "Benjamin" were there, but I didn't buy either one.
---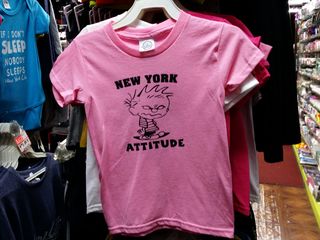 A bootleg Calvin and Hobbes shirt in the same gift shop.  Realize that if you're buying Calvin and Hobbes merchandise that's not a book, it is bootleg, owing to Bill Watterson's stance on licensing.
---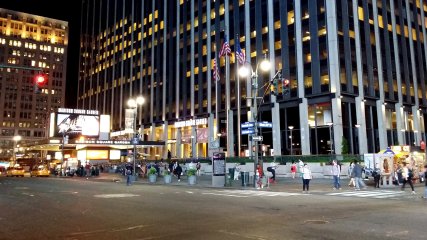 At the end of the two long blocks was Madison Square Garden.  Here, we turned north to do those nine short blocks to reach Times Square.
---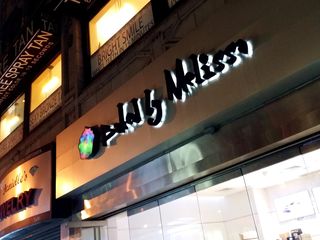 On our way up 7th Avenue, we spotted a store called "Baked by Melissa", a chain of cupcake bakeries in the New York area.  We both were amused about this, because the reason that Doreen and I know each other in the first place is because of our friend Melissa.
---
Arriving at Times Square just after 11 PM, we both commented on how it looked a lot smaller in real life than it did on television.  One of the first things that we did when we got to Times Square was look at ourselves on television.  There was a digital billboard for Revlon that had a camera attached to it, and we stood with the crowd, mugging for the camera.
---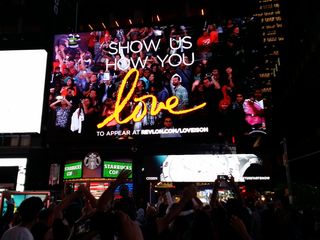 Can you see us?  We're at the very top of the screen, near the "W" in "SHOW".
---
Then we sort of looked around Times Square a little bit.  We were both surprised to find that the big "2015" numbers were still up and lit at One Times Square, what with its being June and all.  I suppose we both assumed that the year and such would be removed not long after the celebration was over.  Guess not.
---
One Times Square, with "2015" in lights at the top of the building.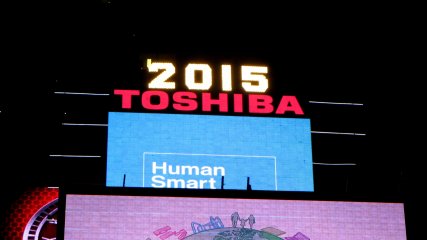 ---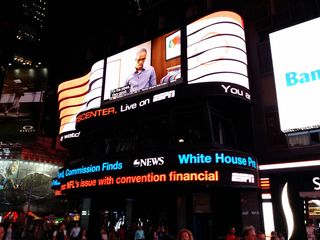 Disney's Times Square Studios.
---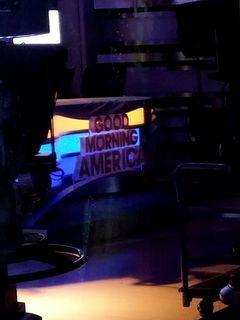 Good Morning America desk on the first floor of Times Square Studios.
---
Our visit to Times Square also really drove home the point of what they say about New York's being "the city that never sleeps".  In DC, after all, it's pretty quiet around 11 PM.  Times Square was still busy at that late hour.  It really played with our conception of how late it actually was, since we were not used to things being this busy this late on an average Tuesday.
After we finished seeing Times Square, we were done, and started heading back towards the car.  We found 42nd/Times Square after asking a police officer for directions, and his seeking clarification, determining if we were referring to Subway the restaurant, or the New York Subway.  That caught me a tad off-guard, but it was a perfectly valid question.
After reloading our MetroCards for our last subway ride of the day, we headed down to the downtown platform for the BMT Broadway Line.  The plan was to take an R train to Cortlandt Street, and then head over to the World Trade Center from there.  After sitting out two N trains and a Q train, I came to the realization: the R train might not be running right now.  Some quick research on my phone confirmed that R trains don't run late nights, and I also found out that the N train would get us where we wanted to go.  Excellent.
---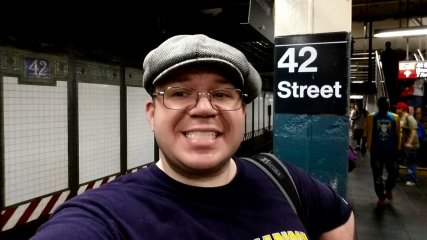 Selfie at 42nd/Times Square.
---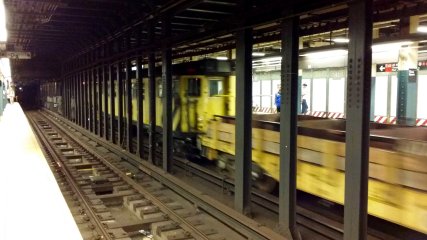 I spotted a work train going through on the uptown express track.  I want to say that the yellow subway car that's part of this train is a former Redbird.
---
A Q train departs the station.
---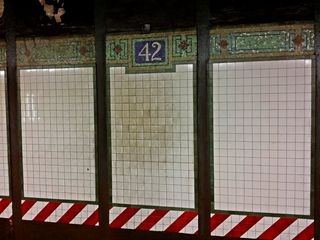 Tilework on the trackside wall at 42nd/Times Square.
---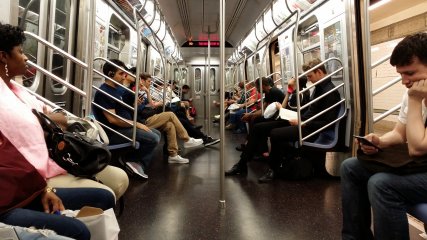 We ended up getting car 9104, an R160B.
---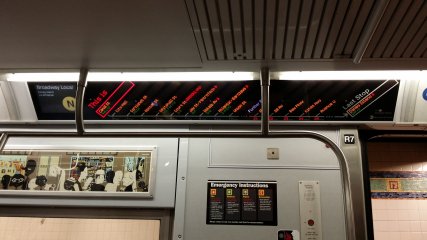 Electronic strip map on car 9104.  The 7000-Series railcars on Metro have a near-identical setup.
---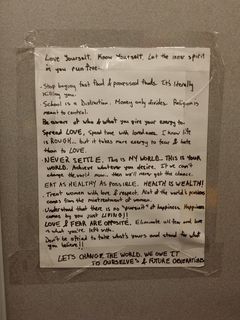 Spotted this message taped to the wall of car 9104.
---
Our train departs Cortlandt Street station.
---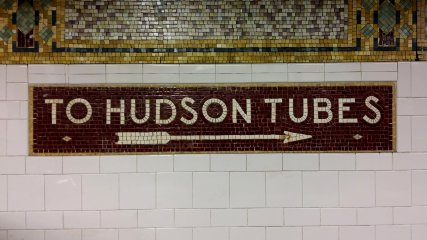 "TO HUDSON TUBES" sign on the wall at Cortlandt Street, directing passengers to the PATH trains.
---
Leaving the platform at Cortlandt Street, we ended up getting a little disoriented in a relatively recently-built set of underground passages, i.e. "where do we need to go to get where we're going".  We found our way out with the help of a security guard, and we were on our way.  We went past One World Trade Center again, and then we went into the PATH station.
---
One World Trade Center at night.  The difference in lighting between the upper and lower floors struck me as interesting.  The reason for the difference is because the lower floors appear to have had buildouts for tenants, while the upper floors are completely empty, having not yet been built out for tenants.
---
Going into the PATH station, we tried to purchase our fare media to go back to New Jersey, but apparently there was a system issue preventing us from doing so.  The security guard eventually just waved us, as well as a few others, into the station.  So we ended up getting a free ride, which I'm not about to complain about.  We missed the 12:30 train by a few minutes, and so we ended up waiting about 30 minutes for the 1:05 train.
---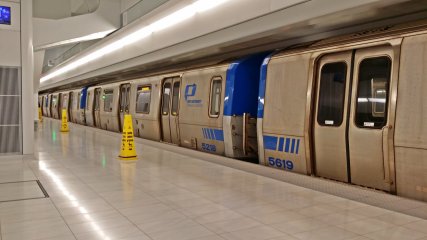 A train laid up on one of the tracks.
---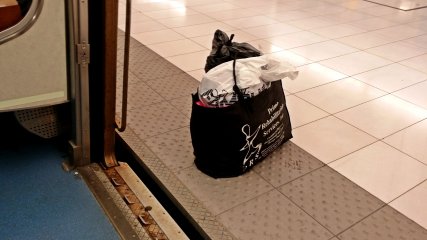 After our train rolled into the station, someone noticed an unattended bag.  Rather than notify someone about it as the ad campaigns encourage us to do, the person just shoved it out onto the platform.  Let someone in the station deal with it, I suppose, and get us on our way.  The idea was that if someone reported it as being on the train, they would hold our train, making us all late.  In any case, problem solved, or, at least, buck passed.
---
Arriving at Journal Square, it was just a matter of getting the car and heading out.  We needed to get some gas on the way out, and with this being Doreen's first time in New Jersey, she also got to experience something that you can only find in New Jersey (and Oregon): mandatory full-service gasoline.  After all, mere morals like ourselves are not considered competent enough to pump our own gas.  I already knew the drill, so down with the window, pass the charge card, and "fill 'er up with regular".
And then from there, well after 1 AM, it was time to hit the turnpike and go home.  The trip home was pretty straightforward – literally.  I never realized how long, straight, and flat the New Jersey Turnpike was before this trip.  Then once we got out of New Jersey, we made a stop at Delaware House again, and from there, it was more or less a straight shot to Doreen's house.  We ended up getting into morning rush hour traffic as we approached Baltimore, but while traffic got heavier, things thankfully never slowed down.  The sun came up as we were driving through Baltimore, and then I got Doreen home around 6 AM.  Not bad.  From there, I took myself home, and that was that.
All in all, I'd say that we had a fun trip.  I would definitely love to do New York again, and Doreen was a great travel partner.