Boston Megaraid
Part 1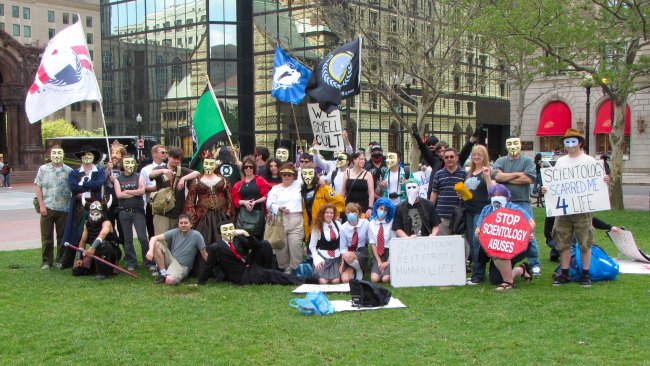 On Memorial Day weekend 2010, the Anonymous cell in Boston invited all the other Anon cells from across the land to come to Boston to protest the abuses of the Church of Scientology, and have a great time doing it.  Anonymous DC planned on attending, and so after considerable planning, including choosing a mode of transportation, choosing a hotel, booking rooms, determining sleeping arrangements, putting people in cars, and determining how to spread the cost around, we were on our way.
The way things ended up working out is that I would carry 3rdman and Itsonlyme in my car, and we would leave the DC area from Glenmont, Maryland at roughly 11:00 AM on Friday.  HT, Purple Hair Anon, Cruci, and Cruci's girlfriend would ride in HT's car, leaving the DC area from Virginia at 5:00 PM.  Thus rather than the caravan that we did to Philadelphia and Richmond, where the various cars mostly stayed in visual and/or voice contact with each other the whole time, this time the travel would be done independently, with each driver planning their own route and determining their own rest breaks.  And considering the way the two cars ended up making their respective trips, this was for the better.
---
So on Friday, May 28, I got packed and ready to go.  I packed a few outfits, the zentai, a Guy Fawkes mask, the Lappy, and my camera equipment.  Then the waiting began.  I was picking up from Glenmont station, and so my pickup point was less than five minutes away.  So I was waiting until either Itsonlyme or 3rdman called me to indicate that they were almost to Glenmont before leaving the house.  I heard from Itsonlyme, and so I made my way to the West Kiss and Ride at Glenmont.  There we met, and then 3rdman showed up a few minutes later.  We then made a couple of quick local stops – one for gas and supplies, and another for money.  With that out of the way, we got going in earnest around noon.  That was acceptable, and we'd still get there WAY ahead of HT's group.
In researching the roads around where I live, I discovered that Norbeck Road (as Sandy Spring Road) connects with Interstate 95.  So rather than go down Georgia Avenue to the Beltway and back up, it seemed to make more sense to just take Norbeck across to I-95 and skip Wheaton and the Beltway entirely.
Before going, I had mentally prepared myself for the trip.  I knew that traffic would be rough, and that we would likely be spending a good amount of time sitting in traffic.  I also knew that we would encounter tolls.  I planned for the Fort McHenry Tunnel ($2.00 both ways), the Millard E. Tydings Memorial Bridge ($5.00 northbound), the Delaware Turnpike ($4.00 both ways), the Delaware Memorial Bridge ($3.00 southbound), and the New Jersey Turnpike ($9.05 both ways).  Google also indicated some potential further tolls north of New Jersey.
In traveling I-95, we made a number of stops.  We first stopped at Maryland House, so that 3rdman could grab a bite to eat.  If Delaware House was open, we would have also hit there for a planned potty break, but Delaware House was still closed for its reconstruction (though it appeared nearly finished).  No worries, though, since the Maryland House stop kind of negated the need for it.  Then once we got onto the New Jersey Turnpike, we stopped at the James Fenimore Cooper Service Plaza for a break.
So far we hadn't hit traffic.  Traffic on Interstate 95 in Maryland and Delaware was moving at full speed, and New Jersey was pretty good, too.  We just zipped along the Turnpike, and noted our good fortune in having good driving conditions, considering that the southbound Turnpike was crawling along.  We also got to take in the view of Manhattan from the Turnpike.  I got to see the Empire State Building in person for the first time on this trip, albeit from New Jersey.
After paying our toll at the barrier toll at the north end of the Turnpike, we stopped at the Vince Lombardi Service Plaza.  I needed to mentally prepare myself for New York and points north, plus everyone needed a rest stop by then.  Afterwards, my GPS did something unexpected, sending us off I-95 and onto US 1-9 in Bergen County.  Since we were down to about half a tank, this was also a good time to top up, and the prices were comparable to what's near my house.  On Bergen Boulevard in Fort Lee, I pulled into a Lukoil station to fill up, deliberately passing the BP station next door (not wanting to associate with the company responsible for the big Deepwater Horizon oil spill).  Turns out I would have probably been better off at the BP station, though, since the Lukoil station was having technical difficulties with the register, which knocked out all the pumps.  After what felt like eternity, they eventually got the pumps going again.
Every time I travel in New Jersey and need to fill up, I always forget that I'm in New Jersey, and that you can't pump your own gas.  I pull up and hop out, even going so far as to get the gas cap off on one occasion, and here comes the attendant to take care of it for me.  My usual reaction is, "Oh, right, this is New Jersey."  I'd just as soon pump it myself like we do in 48 other states plus DC, but New Jersey isn't likely to allow me to do that any time soon.
Once gas was finished, we hit the road again, ending up on I-95 again in time to cross the George Washington Bridge.  Here, we paid what would be our final toll going north: an $8.00 northbound-only toll to cross the bridge.  I guess they figure that tolling the traffic going into New York was best, because I suppose some people will pay anything to get out of New Jersey (by the way, I'm originally from New Jersey, so I'm allowed to make that joke).
Crossing the lower level of the George Washington Bridge, we arrived in New York City.  This actually marked my first time ever being in the New York City limits.  Seriously – I'd never been before, but I don't count this as an "official" visit, because I spent the entire time on freeways and never got out of the car.  Spending 15 minutes driving through parts of the Bronx does not count.
In New York City, due to the time (we hit New York around 5:00), my GPS sent me off of I-95 and onto I-87, and eventually onto the Merritt Parkway when we reached Connecticut.  This section was the closest we ever got to rush hour traffic, with some slowing down, and maybe one or two brief stopped-in-traffic moments.  Along this route while crossing a bridge, we saw a helicopter making a very low turn over a river.  That was certainly a treat to see.  According to my GPS's routing at that time, we were done with I-95 for the day, as it was telling me to take the Merritt to I-91 to I-84 and I-90 into Massachusetts and to the hotel in Quincy.
We also heard from HT's car around this time.  They were just leaving Virginia, and were originally planning a more westerly route via I-83 and I-78, which would take them across Pennsylvania and New Jersey, bypassing Baltimore, Delaware, South Jersey, and New York City.  However, favorable traffic conditions on the Capital Beltway led them to decide to forgo the westerly route and follow our route, taking I-95 the whole way.
Meanwhile, let me tell you – the Merritt Parkway was dull.  You're basically going through wooded areas, and the traffic was starting to get a bit unnerving.  Two lanes each way, and the movement wasn't smooth.  We were getting hungry, though, and so we ended up getting off the Merritt in Fairfield.  In getting off at Fairfield, I commented that it was a shame we couldn't stop and say hello to my Uncle Johnny and Aunt Beth, who live in Fairfield, while we were there, but that would have been a big detour.  We ended up stopping at a Subway on Black Rock Turnpike in Fairfield, where we had dinner.  Heading back to the Merritt, we noticed a sign about littering in Connecticut.  The reason the sign was so notable is because it was so specific.  The fine for littering was $219.  Not $220, not $200, not $250, but $219.  And by its appearance, it had been modified for updates to the fine amount over the years.  Seriously, take a look: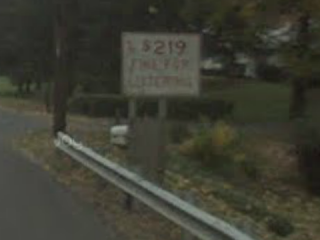 Image: Google Street View
View on Google Maps

Rejoining the Merritt, the GPS had replanned our route.  While the GPS was originally going to send us up into Massachusetts directly from Connecticut via a more northerly route, now it decided that our best course of action was to return to I-95.  So a short distance later on the Merritt, we rejoined I-95, heading east.
Let me tell you… Connecticut is not exactly an exciting state in its eastern sections.  I-95 drops down to two lanes in each direction, which, going northbound, is a configuration that I-95 had not been in since its junction with the northern terminus of I-85 south of Richmond, Virginia.
After going through Connecticut, we entered Rhode Island, and prepared to make our final intermediate stop of the northbound trip.  So we pulled into a rest area at roughly milepost 8 on I-95.  The sign for that rest area had some fine print on it, which I couldn't totally make out while driving and paying attention to where I was going.  We soon found out that it was to indicate that the restrooms closed at 6 PM.  As it was after 9 PM at this point, the restrooms were closed.  Drat.  So we piled back in, and headed to a nearby truck stop in West Greenwich.  Getting there was kind of exciting, though.  I misread the sign for the truck stop as being Exit 5A, but it was actually 5B.  So after going for a mile or so and coming to the end of the road without seeing it or any signage about where to go to continue, we determined that we were going the wrong way, and so I started looking for a spot to turn around.  I ended up doing a check to make sure that there was no traffic coming in either direction, as well as no other witnesses (since I was contemplating a potentially illegal turn), and then made a giant U-turn right in the middle of the four-lane road we were on.  Going back and passing the Interstate, we found the truck stop, and made our final potty break.
Leaving the truck stop, we set our sights on the final destination: Boston!  Well, almost – the Quincy Marriott Hotel, where we would be staying.  Either way, it's certainly a nice feeling to know that you've made your final planned intermediate stop, and will now be heading straight to your final destination.  Rhode Island was a quick, easy drive, with the biggest thing being Providence.  Most surprising was that the speed limit dropped down to 40 MPH in Providence.  Yes, 40 MPH on an Interstate!  I don't think anyone was actually going 40 or anywhere near it, however, and so for that, neither did I.  If everyone else is going 50, then you go 50.  If you're actually going the speed limit, then you are impeding traffic.
After clearing Providence, we soon entered Massachusetts, and made the final approach to the Quincy Marriott, arriving around 11:00.  Upon arriving, we unloaded the luggage, checked into both rooms, and got the cot situation settled.  Each room had one cot, in order that no one would have to sleep with anyone that they didn't necessarily want to.  Downstairs, a high school prom was going on.
Getting settled in the room, I set the Lappy up.  That's when I quickly found out that Internet was not complimentary at this hotel.  It cost $12.00 per day.  Outrageous!  After thinking about what to do about this, I ultimately decided to tether my phone and use it for Internet.  That worked quite well, and I actually got a high-speed connection from my phone, much to my surprise.  That ended up being the way I did Internet for the weekend.
We also gave HT a buzz, and found out that her group had just cleared New York.  They had a ways to go, and finally arrived around 4:00 in the morning.  My group went to sleep around midnight.  I vaguely remember HT's group arriving in the middle of the night.
---
The next day, we were up and at it early.  We were meeting up with other Anon cells at 10 AM in order to raid Scientology at the Boston Org.  So in order to make it, we had to leave at 9 AM.  Everyone was up in time, and got their showers, shaves, etc. to be ready to go.
Going down to the hotel lobby, we used the hotel's shuttle to make the short ride to Quincy Adams station, on the Red Line.  We bought our "CharlieTicket" cards, and soon we were through the gates and on the platform.
---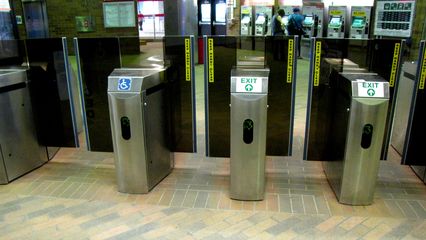 MBTA faregates.  When opening after processing your CharlieCard or CharlieTicket, the gates move up and to the side to allow passage.
---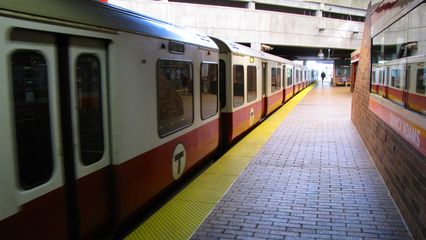 An inbound (to Alewife) train prepares to depart.
---
This was a fun time for me that only comes every so often – getting to ride a new transit system!  I had never ridden transit in Boston before, and this was fun!  I got a whole bunch of pictures and videos of car 1864, manufactured by Bombardier.
---
Riding the T for the first time, and taking it all in…
---
---
Then I went to sit down… and the seat turned out to be wet.  Not fun.  I couldn't tell right away due to the fact that the seat was cloth-covered, but once I felt it, I was up in no time at all.
---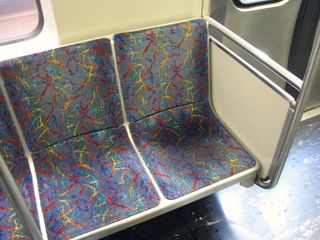 The wet seat (rightmost seat).
---
Later, another gentleman tried to sit in the same seat, and he didn't listen despite my telling him that the seat was wet multiple times.  He sat down… and was up in a second.  Me: "Told you."  Some people have to learn the hard way…
We took the Red Line from Quincy Adams to Park Street.  There, we boarded a Green Line train to Copley.  Unlike in DC, where all the rolling stock can run on all the lines, in Boston, the rolling stock can only run on one line.  The Green Line is a perfect example of this, as the Green Line is light rail, and powered by overhead wires.  Compare that to the Red Line, which is a rapid transit line, which receives its power via third rail.
---
Our Red Line train departs Park Street station.  Note the sound of the motors.  Where have we heard that kind of sound before?
---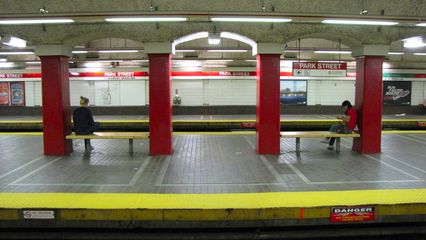 Park Street's Red Line platforms.
---
A train of Green Line LRVs arrives at Park Street station.  The lead set in this train is a Breda Type 8 LRV, while the second set is a Kinki-Sharyo Type 7 LRV.
---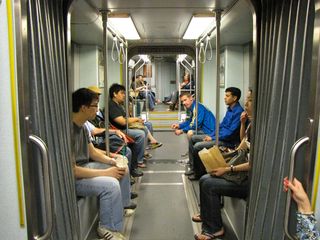 Riding a Type 8 LRV, Breda 3859.
---
Our train departs Copley station.
---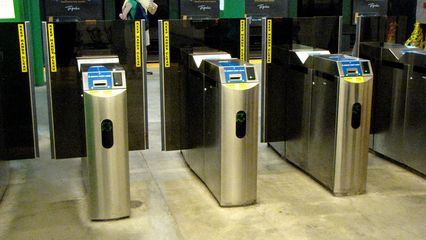 Faregates at Copley.  When exiting a T station, since the MBTA charges a flat fare for rail travel, you simply walk through the gates, and the gate pops open when it detects someone heading towards it.
---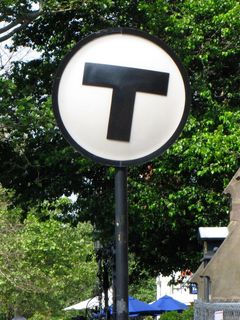 "T" sign at Copley.  This is the MBTA equivalent of WMATA's street pylons.
---
Exiting Copley station, we headed to Copley Square.  This was where the raid was meeting up, and upon arriving, we quickly found our Anons.
---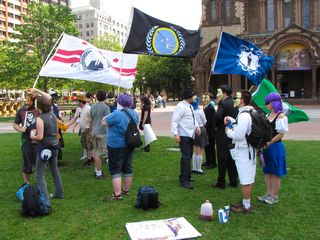 We met the rest of the Anons at Copley Square, and we made sure that our Anonymous DC flag was flying high.
---
Once we figured out what was going on, and that we had about 30 minutes to kill before we headed over to the Boston Org, a few of us took some time to do a few things.  I went over to a nearby hotel to change from my regular clothes into my zentai.  Meanwhile, Cruci and his girlfriend went over to a nearby Burger King.  Cruci's normal raid mask at that time was a Burger King mask, and so he wanted to see what the reactions would be.  As it turned out, I'm told, all the employees applauded when he came in wearing the Burger King mask, but they wouldn't give him a free Whopper for it (darn!).
Once it was time to head over, Blue Wig Girl from Boston gave everyone the rundown (thankfully not a Scientology Rundown) on what to expect when raiding – specifically, those rules particular to Boston when raiding Scientology.  Specifically:
We were allowed to do our raid from three out of the four corners of the intersection.  We would not be permitted to raid on the same corner as the Org.
Shout at the building all you want, but you can't shout at individual Scientologists.
Don't block the sidewalk.
---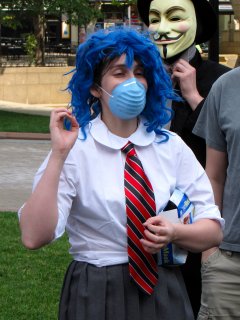 Blue Wig Girl explains how things work when raiding in Boston.
---
Then from there, we walked as a group from Copley Square to the Org, at 448 Beacon Street (corner of Beacon and Hereford Streets, and about a block away from the Charles River).  Upon arriving, everyone put their stuff down and got going.  However, the Boston Police were quick to take some of the fun out of our raid.  No shouting of any kind, and no crossing Beacon and Hereford Streets in such a way to take us past the Org's corner.  And the police brought a paddywagon along, too.  Really?  A paddywagon?  Seriously?  Many people thought that was a bit over the top, but there you go, I suppose.
---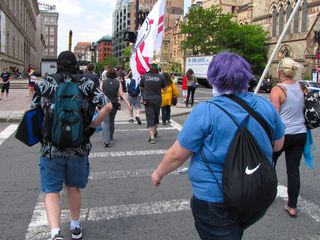 Walking down to the Boston Org.
---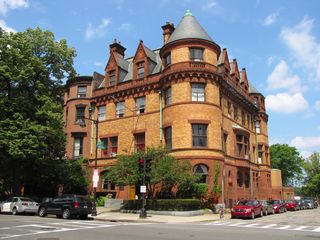 Welcome to the Boston Org!
---
Additionally, the way we raid in DC, which is more conversational with the public, was thwarted by the Org's location.  Scientology in Boston is located in a residential area, and there was very little foot traffic.  Compare that to their location in Dupont Circle in Washington DC, where there are plenty of people passing by just about all the time.  For that, we do a lot more education and outreach.  Not so in Boston.
Another thing we noted – the Boston Org, housed in what was historically the Hooper Mansion, is rather decrepit-looking.  It looks old, and appears to have either never undergone a renovation, or had not undergone a renovation in a very long time.  The building also was apparently not air conditioned, as we noted the presence of three window air conditioner units.  Even the sign out front was in a state of disrepair, with pieces making up some of the lettering and symbols having fallen off.  I'm told that the inside of the building is also in rather poor condition.
---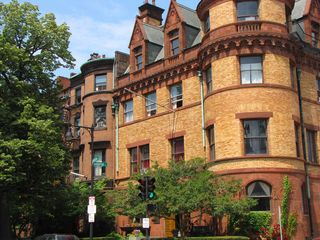 The Boston Org was definitely an old building, that's for sure.  It was built in the late 1800s from what I could tell from research, but it appeared to have not undergone a renovation in quite a long time.
---
The "Church of Scientology" sign, in a surprisingly poor condition.
---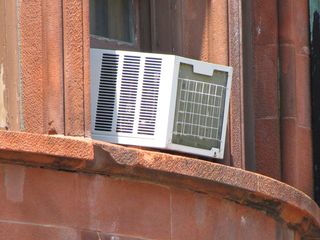 Window air conditioning unit – one of several that we could see.
---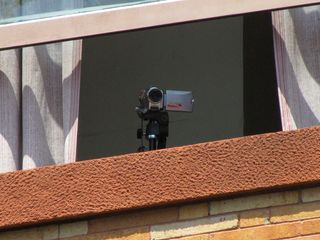 Video camera set up in an upper level window, most likely recording our raid.  What they expected to get out of this, I'm not sure.
---
And the Scientologists were amazingly fail at this raid.  In DC, we're used to handlers coming out to talk to us.  In Boston, the Org was pretty much dead, and those Scientologists that we did see had absolutely no confront.  They just stuck to themselves the entire time and didn't bother to try to explain to us why they think we're wrong.
But despite the lack of handlers, and the seemingly arbitrary restrictions placed on our raid by the police, we still managed to have fun.
---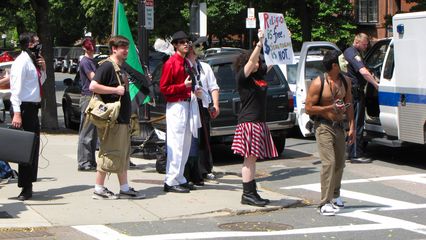 The raid is underway!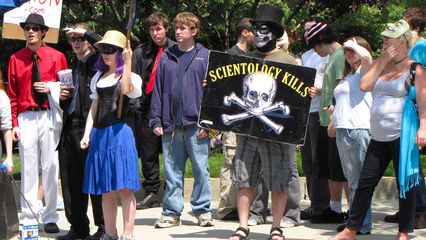 ---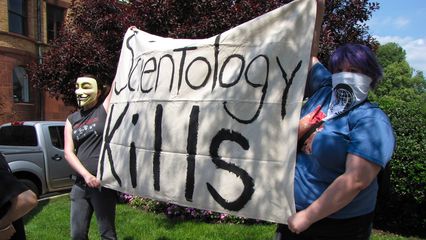 Anonymous DC represents in Boston…
---
---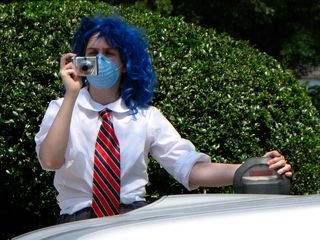 Blue Wig Girl gets a photo of the raid from a distance.
---
Pinstripe made a couple of on-the-spot signs noting the quiet nature of our raid.
---
Cake!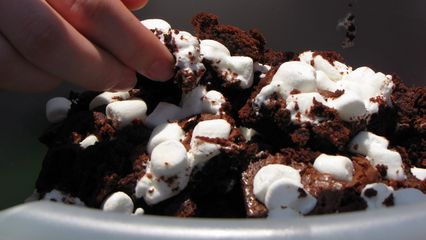 ---
---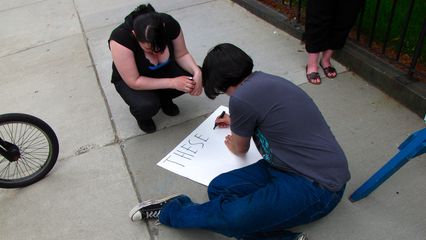 Pinstripe and Ron Jeremy work on a sign.
---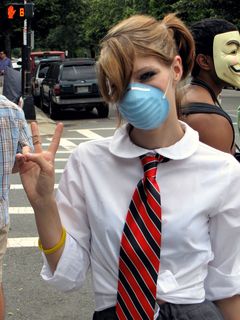 An Anon gives the peace sign for the camera…
---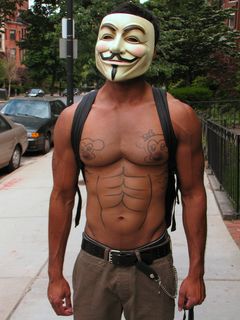 ThetanBait, a particularly well-muscled Anon, let a few others doodle on his chest, and this was the result.
---
One Anon had managed to score a "Volunteer Minister" jacket at some point, and wore that to the raid.
---
About halfway through the raid, a few of us went in search of something to drink.  We ended up settling at a nearby Subway restaurant.  I also took the opportunity to change out of the zentai.  With the lack of foot traffic, the zentai didn't work so well, and so I decided to change out of it.  A Guy Fawkes mask would work just fine for this raid.  After changing out of the suit and consuming our beverages, we returned to the raid.
One group had an authentic E-meter in their possession, and they began "auditing" some of the Anons.  That was amusing, particularly when one Anon told the Aristocrats joke while holding the cans.  Even funnier about it was that he told it in Gilbert Gottfried's style.  I got the tail end of it on video, but it was hilarious nonetheless.
---
The E-meter.  This is indeed the real McCoy…
---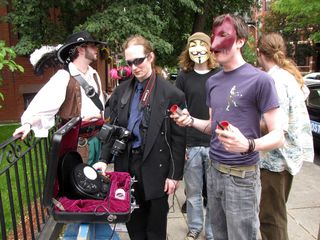 Telling the "Aristocrats" joke…
---

(Viewer discretion advised)
---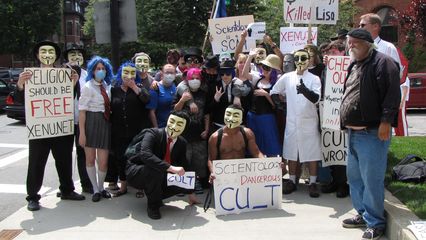 Group photo of everyone outside the Org, just before heading out.
---
Eventually, the raid came to an end, and it was time to head out for the zombie walk.  So everyone gathered up their stuff, and we headed to Hynes Convention Center station.  There, we caught a Green Line train to Park Street, and then from there, a Red Line train to South Station.  A lot of the Anons had zombified along the way, and so we went from a group of masked anti-Scientology protesters to a group of masked zombies.  You would have thought that a killing had happened, considering the amount of fake blood.
---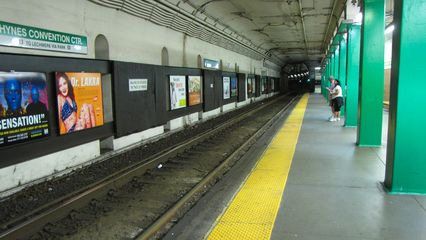 Waiting for the Green Line at Hynes Convention Center station.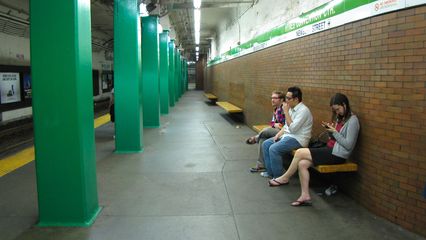 ---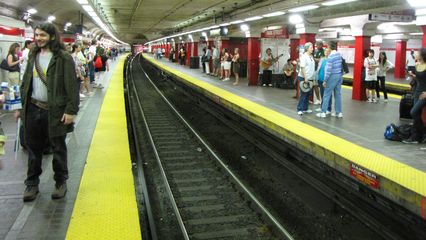 Waiting for a Red Line train at Park Street station, on our way to South Station.
---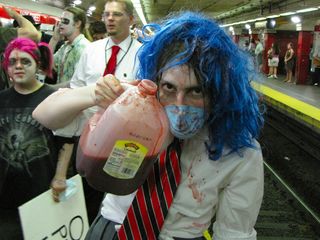 Blue Wig Girl, having made herself sufficiently bloody, holds up a milk jug containing more fake blood.
---
Our train arrives at Park Street station.
---
When we got to South Station, we had some time to kill.  The zombie walk was not supposed to start until 4:00, and so people got nice and bloody in the meantime.  I was just going to photograph the festivities, and so I didn't get into the act.  No zombie makeup or blood for me.  Unfortunately, though, that also meant that I was the only clean one around, and so I ended up carrying the DC Anon flag.  However, the flag managed to get blood on it anyway, since someone had inadvertently placed it on a part of the sidewalk that had blood on it earlier.  No worries, though – we could get it out.
---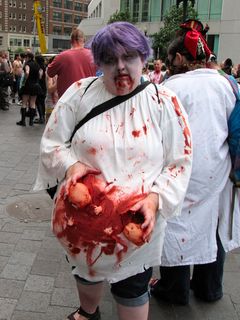 Purple Hair Anon pulled out her classic "Xenu Baby Mama" costume from the Ideal Org opening in DC the previous October.
---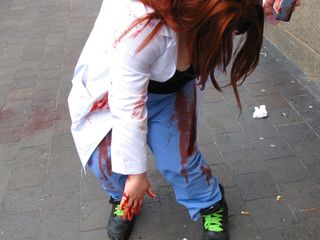 A soon-to-be zombie applies blood on her clothing.
---
Outfit completed, and now properly zombified.
---
Zombies…
---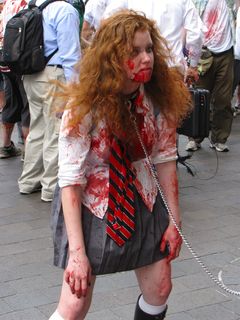 Zombie led around on a leash…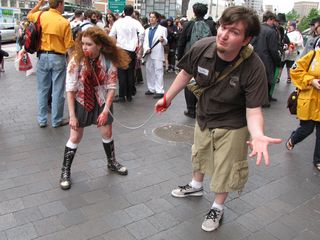 ---
One thing this crazy group of zombies did before it was time to get going was have fun with the tour buses that passed by.  Whenever a tour bus stopped in front of South Station, the zombies "attacked" the bus, coming up to the side of it and acting like zombies.  On one occasion, the people on a tour bus all moved to the other side of the bus!  Hilarious…
The weather was starting to look a little questionable by this time, and the weather forecast of isolated thunderstorms soon began to come true.  Right as everyone was getting ready to go, the rain began.  I quickly went into my rain plan, stashing the Canon and pulling Duckie out.  It wasn't optimal, but it would work.
And then the zombie walk began.  Due to the rain, it was easy to follow the zombies – just follow the trail of blood through the city.  I was walking with Itsonlyme, who was also carrying stuff for DC Anon.  We quickly got far behind the rest of the zombies due to the stuff we were carrying, and the fact that we were having a rough time with our shoes.  I was wearing flip flops, and Itsonlyme was wearing sandals.  I was slipping and sliding in my flip flops due to the rain, and that necessitated a slower speed.  But we managed to follow the march (from a distance) through Boston Common, the Boston Public Garden, and a few city streets.  Near Macy's, we heard thunder, but fortunately, that would be the only thunder we would hear the whole day.
---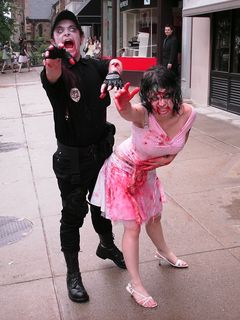 Other zombies who were a bit behind in the march, in the streets of Boston.
---
We didn't get caught up with the rest of the group until they got to the Prudential Center, and the march held to allow everyone to catch up.  There, we also handed off our stuff, and some of the other DC Anons took care of it, since we were at that point a little annoyed about kind of being dumped with all the stuff.  Considering that the sky had cleared up by this point, I took advantage of the break to switch cameras again, putting Duckie away and pulling out the Canon.
---
Zombies outside the Prudential Center…
---
Then the next move surprised me.  The zombie walk entered the Shops at Prudential Center and walked right through the mall!  Considering my experience with protests, I was sure that someone was going to throw this zombie group out en masse, but the zombie walk proceeded through the mall.  I found out later that it was planned, and the mall was "in" on it.  What a strange thing to see, though, with zombies in the mall…
---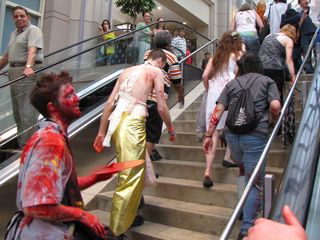 The zombies enter the mall…
---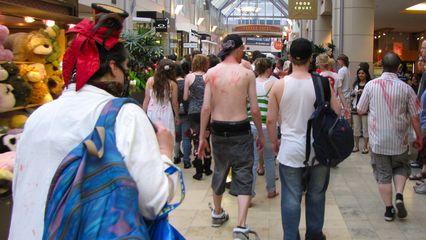 Zombies in the mall…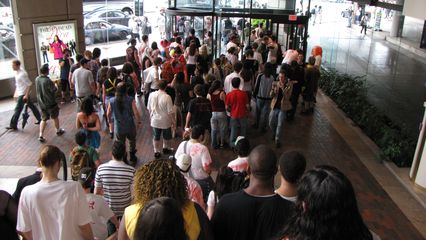 ---
When we got to Copley Square, Anonymous dropped out of the march.  We had logistics to discuss.  Tomorrow's raid would take place at Boston Common, and would consist of speeches by ex-Scientologists and other festivities.
---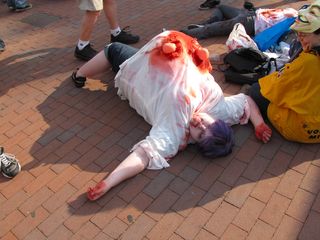 Anons in Copley Square.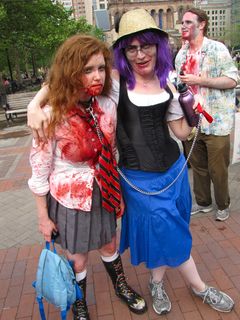 ---
Then DC Anon had to decide what to do with the rest of the evening.  We ended up going into the T at Copley and heading back to Quincy Adams via Park Street, and then taking the hotel shuttle back to the hotel.  After all, most of the group was still covered with fake blood, and people needed to clean up and look presentable for dinner.
---
Riding a Type 7 LRV, Kinki-Sharyo 3698, from Copley to Park Street.
---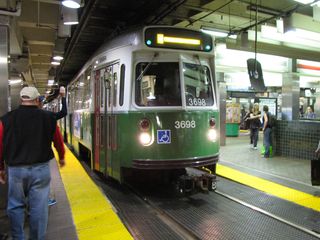 Saying goodbye to our Green Line LRV at Park Street before transferring to the Red Line to head back to Quincy.
---
Zombies, post-march, on the platform at Park Street.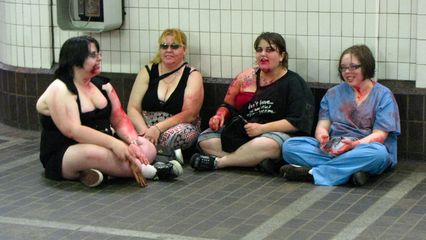 ---
After everyone showered, I got the list of nearby restaurants from the front desk, and we discussed what we wanted to do for dinner.  We ended up going for Japanese food at a place called Kagawa in Quincy.  Not a bad place.  No free refills on drinks, though.  I got pretty decent street parking about half a block from the restaurant, but HT had to search a bit more.
We had a great dinner, and that was basically the first day.  From there, we headed back to the hotel, and soon headed to bed.  Thankfully, we didn't have to get going nearly as early on Sunday as we did on Saturday.
Part 1