March on Crystal City
Part 1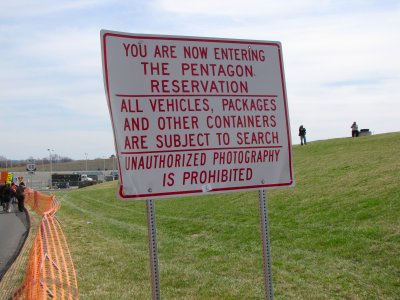 At noon on March 21, 2009, ANSWER Coalition held a "March on the Pentagon".  The demonstration, expressing opposition to the wars in Iraq and Afghanistan, gathered at the Lincoln Memorial in Washington DC.
The march route took demonstrators over Arlington Memorial Bridge into Arlington, Virginia, and then turned south, heading down Route 27, down a ramp into the Pentagon Reservation, through the Pentagon's north parking lot along the Pentagon Access Road and Boundary Channel Drive, and then exited the Pentagon Reservation where Boundary Channel Drive meets I-395 and Old Jefferson Davis Highway.  The march then followed Old Jefferson Davis Highway to Crystal Drive in Crystal City, and finally ended at 2345 Crystal Drive (formerly Crystal Park 4).
Due to the similar March on the Pentagon in 2007, comparisons between the two were inevitable.  The 2007 march was a relatively short march, going from the Lincoln Memorial to the Pentagon's north parking lot, where a rally was held following the march.  In 2009, the rally was held at the Lincoln Memorial before the march stepped off, and the route was more than twice as long – roughly 3½ miles, compared to roughly 1½ miles in 2007.  However, in 2007, the way the march was promoted and the way the march was executed were more in sync, as the Pentagon was the final destination.  In 2009, while the march went onto Pentagon property, the march passed the Pentagon without stopping, and then followed an isolated road to Crystal City, home of various defense contractors.  Thus ANSWER really only used the Pentagon routing as a shortcut to Crystal City, to save from having to go around the massive property and through Pentagon City.  Crystal City is where most of the energy of the march was spent, and thus why I feel it most accurate to refer to this event as the "March on Crystal City", rather than what ANSWER intended it to be, because it was anything but a march on the Pentagon.  With it being ANSWER, I had low expectations for the march from the outset, but the strange routing that they sent us on blew me, and likely many others, away.
Meanwhile, as announced at Funk the War 7 two days earlier, a black bloc consisting of self-described anarchists planned to meet at Farragut Square at 10 AM, and do a feeder march into the ANSWER demonstration.  As you might expect, this was my core group for much of the day.  And thus my story begins…
---
In preparation for what I expected to be an exciting day of anti-war protesting, I arrived at Glenmont, and rode Breda 4009 to Farragut North, arriving right around 9:30.  Excellent!  I was on time.  Heading into Farragut Square, I played the waiting game for a bit, in the cold (no worries – I had my coat, and a hoodie).  I was early, so I fully expected to wait.  The wait was just long enough for me to start getting nervous about my digital camera's performance.  After all, this was the Canon's first protest, and on top of that, I'd only taken it for a spin three times before this.  Once for acceptance testing around the house, and twice railfanning on Metro.  Then as far as protests go, it rained at the most recent Scientology raid, meaning I ended up shooting with Duckie, and then I was afraid it would rain during Funk the War as it had earlier that day, and so I used Duckie then, too.  So the Canon's performance during a protest was an unknown quantity, but I would hopefully be pleased with the results.  Time, and many, many photos, would tell, I suppose.
Soon enough, though, people started showing up.  One of the questions I fielded was from Missy, a regular protest attendee, who said that she wasn't sure whether they said Farragut West or Farragut North, and so she was wondering which one was correct.  My response was that they said "Farragut Square", and that Farragut West was to the south (pointing at the station entrance, albeit the one that is closed on weekends), and that Farragut North was to the north (pointing towards the open station entrance).  Therefore, "you are in the right place."  That seemed to satisfy.
The scene in Farragut Square soon began giving the appearance of a good-sized black bloc in the making, as black-clad individuals slowly arrived in the square.  Add to that the fact that a large amount of police were congregating around the edge of the square, and you had it covered.  I always find it amusing that the MPDC finds us such a threat that they send such a large group of cops to accompany us – sometimes even outnumbering us.  But such is life in the activist scene, sometimes, I suppose.
Meanwhile, Metropolitan Police Captain Jeff Herold came by to discuss the march with us.  No one would talk to Herold, and so Herold went right into the rules of the game.  The ground rules that Herold was laying down this time were a little stricter than usual.  First, he indicated in no uncertain terms that we had no right to take to the streets, and that we had to stay on the sidewalks.  Further, if we tried to take to the streets, his officers would push us back onto the sidewalks.  Second, if he saw anything at all get thrown, he was going to declare the demonstration unlawful and disperse us (he usually gives three warnings), and arrest the people doing the throwing if the police can identify them.  It was quickly apparent that Herold and the rest of the MPDC were a bit annoyed about Funk the War 7, where paint bombs were thrown at a building, and graffiti was left on the Dupont Circle fountain.  Even though this was a significantly different group of people with not a lot of overlap with the Funk the War group (this was not DC SDS, nor was this march organized by any chapter of SDS), it seemed that we were going to take the rap for actions taken at Funk the War, as Herold, in reading us the riot act, cited having to scrub markings off of the Dupont Circle fountain, remove paint, and replace police uniforms (regarding the uniforms, I was amused).
And the waiting game continued, as more people showed up, including Isis and Jeff.  Meanwhile, Jeff Herold came by to talk to us two more times, giving the same spiel as the first time, and on the last occasion, Park Police Officer Beck also joined him, to tell us that we were over the limit for demonstrations in Farragut Square without a permit, and that we would need to move or disperse.  Herold confirmed, and so we had to figure out what to do, and fairly quickly, because they were making moves to declare us unlawful and disperse us before we ever even marched a single step.
And amazingly enough, they were spot on with that one, though I was disappointed to hear them cite it.  In my experience with Anonymous, I learned quite a bit about demonstrations without a permit, and one thing I learned was that as long as the number of people present does not exceed 25, it is legal to hold a demonstration in the District of Columbia's various park areas without a permit per the Code of Federal Regulations (what I call the "flash raid rule").  McPherson Square and Franklin Square are an exception, as up to 500 people can gather there for a demonstration without a permit.
While Park Police Officer Beck did suggest going to McPherson or Franklin Squares, we decided instead to finally start our march.  I was adamant in saying that for whatever march route we were going to take, that we finish the route.  One only had to think back to November, when a black bloc formed and started an ill-conceived late-night march in Dupont Circle.  On that occasion, the march was so rowdy and out of control that the march was shut down in thirty minutes, before the group even reached its first target.  And in the end, everyone just looked foolish, because in that case there was no message – everyone, cops and demonstrators, left the scene pissed off, and the only result of the demonstration was a bunch of recycling bins tossed into the street.  Pointless, if you ask me.
Meanwhile, I found it strange that one person was getting annoyed with my suggestions about putting a high value on finishing today's march, allegedly because a smaller group had come to consensus the night before about how the feeder march would go.  The thing that these people forget is that if half your group was not even present when you agreed on these things, your consensus doesn't mean much.  Then you're just forcing your views on people.  The paradoxical term "authoritarian anarchists" started getting tossed around about that, as it seemed kind of counter to everything this group stood for.  Eventually, this person calmed down a bit, and we were ready to go.  So we all masked up and stepped off.
Amazingly, this black bloc was fairly calm.  I guess they learned the lessons from November, and figured out how to properly handle the cops.  After all, if one is going to be really anarchist about it, one can assume we're working in the state of nature as described by Thomas Hobbes.  Every man for himself, and the biggest, ugliest vehicle always has the right of way.  In this case, the biggest, ugliest vehicle was the cops, since they're the ones with the guns, after all.  We carry no weapons.  But since we do live in a system of (potentially unjust) laws, and the cops are sworn to uphold them, and we're not, you can kind of work that to your advantage, and if done smartly, you can give the cops an inch one way, and then take a mile the other way, and watch them stand powerless to stop you.  So with that in mind, we did keep to the sidewalks, and only took to the street… to cross the street.  Now we were ready to take a mile… or two… or three…
Our march route started out heading southbound on Connecticut Avenue and down Jackson Place in Lafayette Park, in order to buzz the White House.  We then turned west on Pennsylvania Avenue.  Since Pennsylvania Avenue is permanently closed to traffic in front of the White House and has been renovated to look like open space, there was some question about whether we could take to the street on the 1600 block of Pennsylvania Avenue.  We went on the side of caution, and stayed on the sidewalk.
---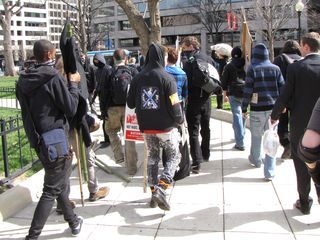 Leaving Farragut Square after being kicked out by the cops.
---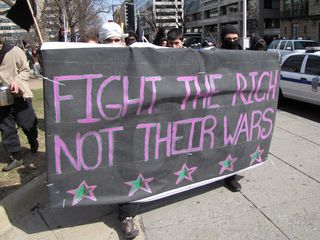 The banner is out in front, and we are on our way!
---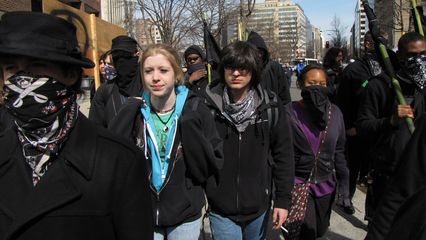 On our way to the White House…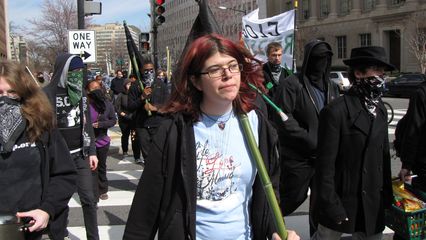 ---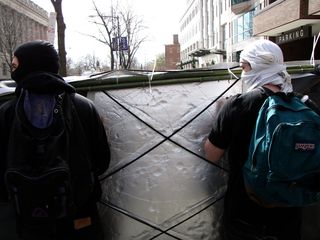 As seen here, our banner was more than just cloth, and was somewhat reinforced.  With this in mind, the banner required extra handling, and if push possibly came to shove, the banner had a greater chance of being destroyed in a scuffle.
---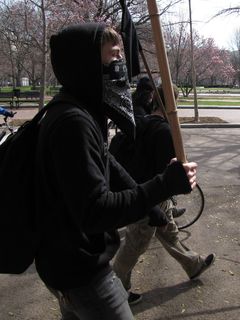 Marching west on Pennsylvania Avenue past the White House.
---
Without a message to chant just yet, though with a noisemaker, we marched past the White House.
---
A chant at last begins, with the group beginning a few rounds of, "Cops here, troops there, US out of everywhere!"
---
Leaving the President's Park area, we headed up Pennsylvania Avenue to Murrow Park, buzzing the World Bank building in the process.  That was more interesting than usual, because unlike most World Bank protests where the demonstration takes place across the street from the World Bank, we passed on the same side of the street this time, with the cops moving quickly to block the doors.
---
Having left the White House, we continued along Pennsylvania Avenue towards the World Bank.
---
Crossing Pennsylvania Avenue at a somewhat random location to reach the World Bank.
---
"World Bank, shut it down, IMF, get out of our town!"
---
Buzzing the World Bank.
---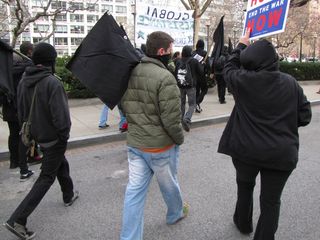 Crossing the street again, to enter the southwestern half of Murrow Park.
---
We stopped in the southwestern part of the park, with the intention of having a picnic with the bread and vegan chili that people had prepared and brought.  Here, the Park and DC Police rained on our fun for the same reason they chased us out of Farragut Square, invoking the "flash raid rule" again.  They suggested that we split into two groups, and half go into the northern part of the park.  However, that would defeat the purpose of why we stopped, and so after some quick discussion of the matter, we continued on our way.
---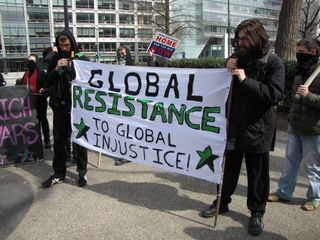 Pausing in the park with one of our other banners.
---
During our stop in the park, we set our foodstuffs down with the intention of having an impromptu picnic.
---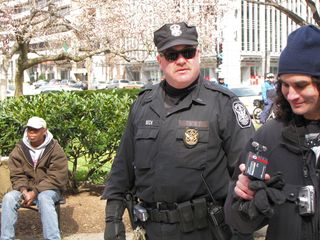 Park Police Officer Beck was not exactly pleased that we were stopping for a picnic.
---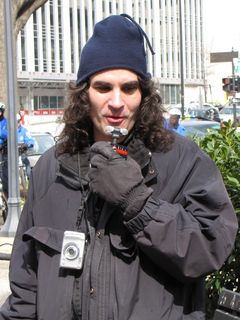 Meanwhile, Luke speaks into a recording device to document what's going on.
---
Milling around in Murrow Park.
---
Park Police Officer Beck and MPDC Captain Jeff Herold try to explain why we can't stay in the park.
---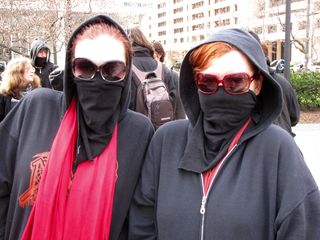 Say "cheese"!  I really did love the big movie star sunglasses that these two were sporting for our march.  With the large-sized shades, their black bloc anonymity was complete.
---
Departing Murrow Park after resigning ourselves to the fact that we absolutely could not remain in the park without significant interference from the police.
---
Leaving Murrow Park, we continued heading northwest on Pennsylvania Avenue, nearing George Washington University.  Here, we did two laps around the headquarters of the International Finance Corporation, which is a part of the World Bank Group, and then continued, crossing Washington Circle.
---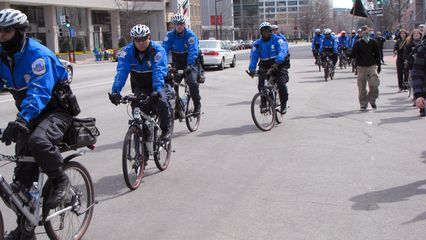 Our police escort for this march.  I believe we may have outnumbered the police in this march, but not by much, unfortunately.
---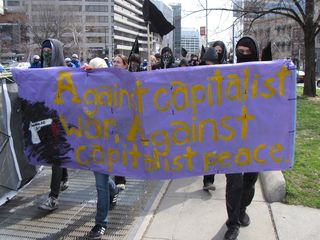 A third banner out in front.
---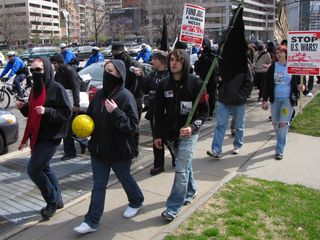 Continuing towards Foggy Bottom…
---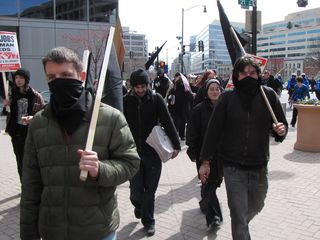 Arriving at the IFC headquarters.
---
At the IFC building, again shouting, "World Bank, shut it down, IMF, get out of our town!"
---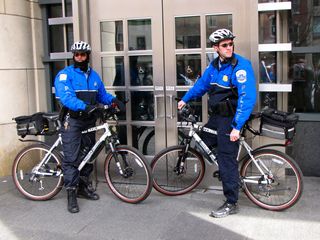 Cops blocking off the doors.
---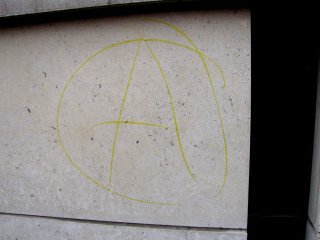 Anarchy sign drawn on the IFC building.  At the time, I believed this to be a chalk marking, but upon later examination of the photo, this was probably ink.
---
Marching around the back side of the building, preparing for our second lap.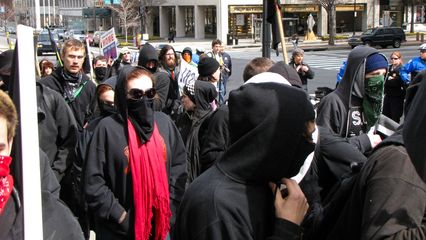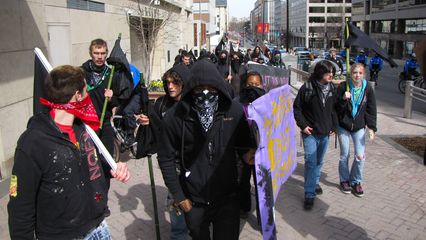 ---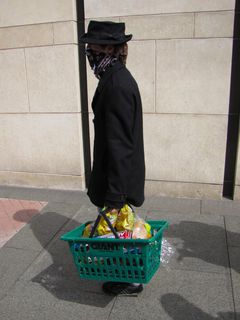 And all the while, still carrying the basket of food for the picnic we never were able to have.
---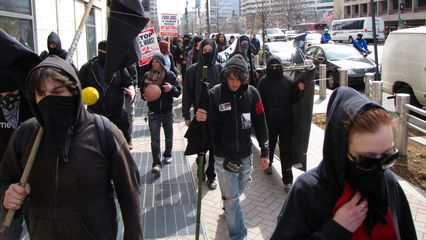 Lap two around the IFC building.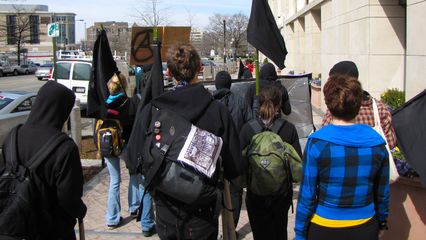 ---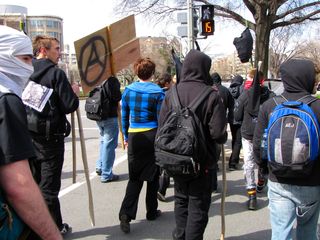 Leaving the IFC building, and preparing to cross into Washington Circle.
---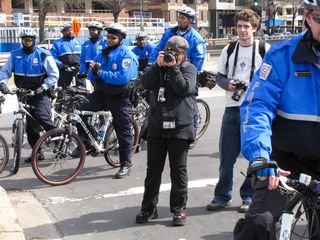 As we entered Washington Circle, Isis took a moment to fire off a photo of the scene.
---
Arriving in Washington Circle.
---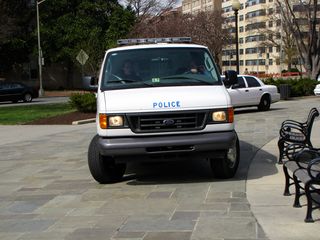 In Washington Circle, several police cars, as well as a police van, were on scene to greet us.
---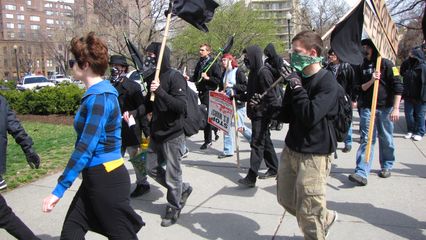 Departing Washington Circle to the west.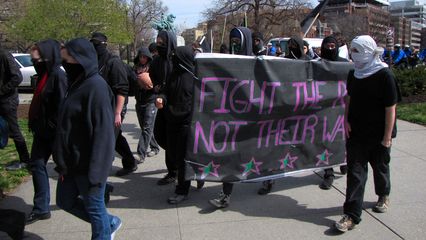 ---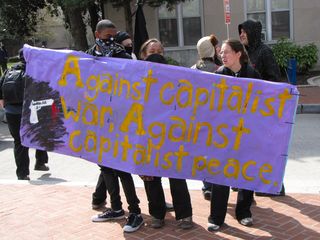 Holding one of the banners on a section of sidewalk to the west of Washington Circle.
---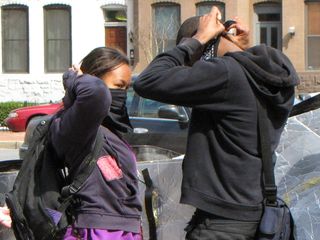 Two demonstrators readjust their masks before continuing.
---
After we crossed Washington Circle, a few participants in our bloc departed from the group to head to the Lincoln Memorial where ANSWER's march was meeting up, as they soon realized that our march was going to be significantly longer and more circuitous than they had expected.  One of the people who planned the route said that our route would be reminiscent of October Rebellion – specifically, the route that the Georgetown march would have taken if it had seen itself to completion as originally planned and had not been dispersed mid-march.  And thus we continued up Pennsylvania Avenue, headed towards Georgetown.
---
On our way to Georgetown…
---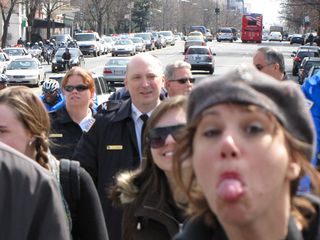 Much to my amusement, Isis got into one of my shots and stuck her tongue out.
---
Just after passing over Rock Creek Parkway, we saw a homeless man sitting on the ground near an entrance ramp.  We stopped, and offered him food.  We gave him bread, as well as some of our vegan chili, served in a makeshift bowl, crafted on the spot from aluminum foil.
---
Feeding the homeless man we found near Rock Creek Parkway.
---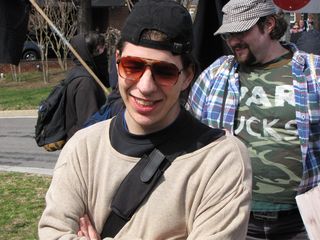 This is also where a few of us noticed Jeff's sunglasses, as I quickly commented, to some laughs, "Jeff, the 80s called.  They want their sunglasses back."  Where he got those, I will never know.
---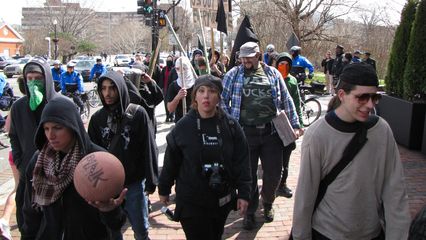 And then, off to Georgetown!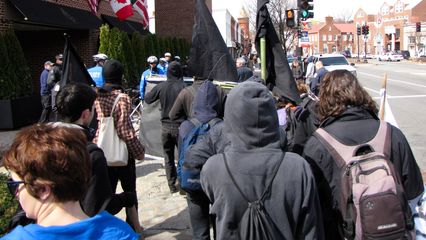 ---
Arriving in Georgetown, we headed west on M Street, taking the sidewalk on the north side of the street.  We continued in this manner as far west as Wisconsin Avenue.  There, as we did during October Rebellion, we turned north on Wisconsin Avenue, staying on the sidewalk as we went.  We then followed Wisconsin Avenue, heading northbound as far as P Street, where we turned east.  Along P Street, we stopped briefly at the home of DC councilman Jack Evans, due to alleged activities in relation to gentrification.  Evans' home had been targeted by demonstrators before, so this was not a new location for protests.  We continued east on P Street until we reached 29th Street, at which point we turned south, which eventually landed us on M Street NW at the east end of Georgetown, about a block and a half away from the Lukoil station that roughly marks the east end of Georgetown, and completing the march through Georgetown originally intended for October Rebellion.  Here, we turned east, shouting, "We'll be back in April!" in reference to the upcoming World Bank and IMF protests, as we left Georgetown. Additionally, by this point, I had removed my winter coat and tied it around my waist, as I did at J27, as it was starting to warm up.
---
Marching along M Street.
---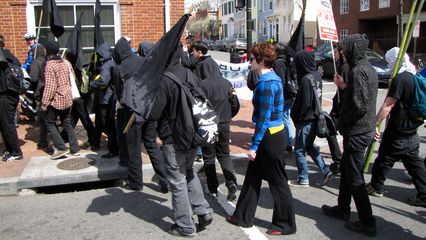 Crossing to the north side of M Street.
---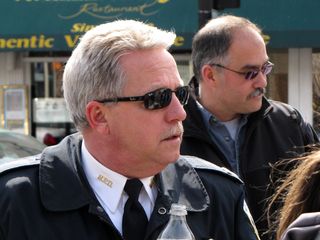 MPDC Captain Jeff Herold takes a moment to survey our march.
---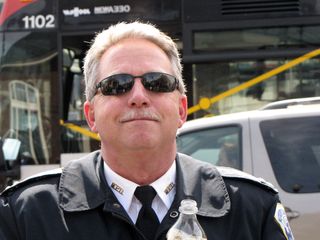 Once Herold spotted me taking his picture, he started mugging for the camera!  Turns out that Herold is quite the camera whore…
---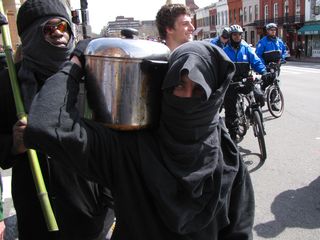 All this way, and still carrying the pot of chili!
---
Continuing our westward march on M Street.
---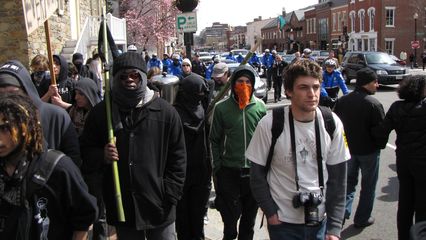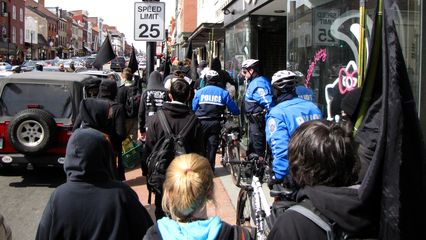 ---
"Capitalism, no thanks!  We'll burn your f—ing banks!"
---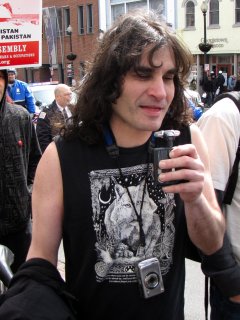 Meanwhile, Luke continues his audio recordings.
Part 1