J20: Counter-Inaugural
Part 1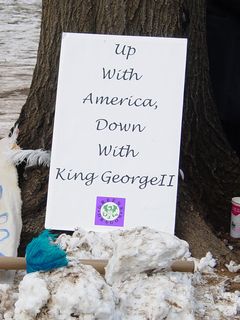 On January 20, 2005, George W. Bush was inaugurated for a second term as President of the United States.  While many were in Washington to cheer Bush on, others were in Washington to demonstrate against the Bush administration.  I was with the latter group.  We did not agree with the Bush administration's policies, and were out there voicing it.
I got up for this event at midnight.  It turned January 20, and I was up and running.  I left the house at 1 AM, and, after having to turn around a few miles out because I forgot some stuff, I was off again for real.  I made it to the Sheetz in Mount Jackson for breakfast at 2 AM, and, when I realized that I was much further ahead than I anticipated, I decided to stay and eat in the restaurant, vs. eating while I drive, as I usually do.  Not bad, but it worked where I was too far ahead of schedule and had to delay slightly.  And then the drive continued!
Next stop: Wal-Mart in Woodstock for some "protest supplies".  Specifically, water.  So I bought a 12-pack of Aquafina for possible later use.  And the trip continues.  Next stop: Vienna.
This leg of the trip is usually when I have the pre-protest mishap.  This time, nothing happened, and it went without a hitch.  I did, however, encounter the remains of recently-fallen snow once I got to Prince William County.  This was from a snowstorm that hit the area the day before, which didn't affect where I lived in Stuarts Draft, but did get Northern Virginia and Washington DC.  It didn't make I-66 that treacherous, but going from I-66 to Saintsbury Drive at Vienna, I met my winter weather. Saintsbury Drive, as well as Vaden Drive, which goes over the Interstate, were both a bit snowy.  Thus I had to navigate with care.  The driveway into the North Garage from Vaden Drive was also quite snowy.
I arrived at Vienna station at 5:00 – sharp. It felt a bit weird for me, since I usually arrive at Vienna at 9:30.  It was still dark outside.  And Vienna's North Garage was practically empty at that hour.  I got my favorite parking space, which is on the top deck, right next to the elevator.  So all was well, aside from the fact that the conditions on the North Garage's top deck were a little questionable due to snow.  But I made it.  Time to hit the Metro, and get my first Breda of the day.  I'd estimate that I rode what was probably the fourth or fifth train to leave Vienna that day.
---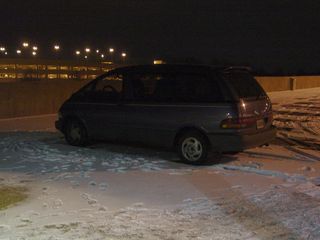 I was truly amazed to find myself arriving right when Metro opened for the day.  This is also the first time I'd ever arrived in the Washington DC area while it was still dark.  And it was still quite snowy on the roof of the North Garage.
---
From there, I went to Rosslyn, my usual warm-up spot.  I got a copy of the Express, and read it in the first floor lobby of Rosslyn Metro Mall.  Rosslyn is great.  It's a place for me to gather all of my thoughts, and set a direction for my day.  I used the time not only to read the Express, but also to review all the literature that I'd printed out earlier (and which I had to go back home early on to retrieve) regarding the various events that I was considering attending.  After making a final determination about what I was going to do, I was off again.
---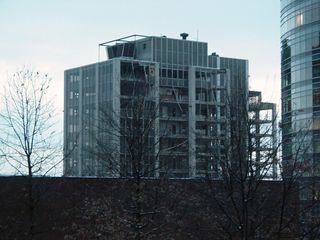 This building at Rosslyn was in the process of being demolished at the time of my visit.  What will replace it?  Who knows.  Let's admit, though – it was not a particularly nice looking building, and I can't say I'll miss it.
(The demolition of this structure is covered in more detail in Urban Demolition in Photography.)
---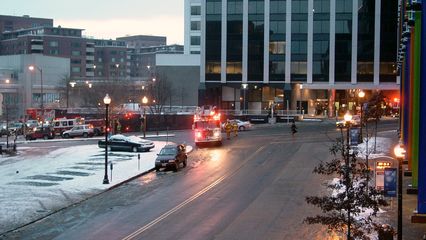 Upon leaving Rosslyn, I noticed fire trucks outside the Boeing building!  No idea what was going on there.
---
I caught a Blue Line train from Rosslyn to go to Metro Center, transferred to a Red Line train to go to Gallery Pl-Chinatown, and then again to a Yellow Line train to Mt. Vernon Square.  At Mt. Vernon Square, where Yellow Line trains go out of service as per usual, I transferred to a Green Line train, and rode up to U Street-Cardozo.  Why did I take four trains, when I could easily accomplish it in two?  Because I was doing well on time, and wanted to catch a ride on all five lines right in the morning (remember I rode Orange from Vienna to Rosslyn).  It's a railfan thing – just go with it.
At U Street-Cardozo, I got my bearings, and got directions from a person walking by on how to get to Malcolm X Park (officially Meridian Hill Park).  I was headed to the upper section of the park, as this is where the DC Anti-War Network (DAWN) counter-inaugural rally and march would be held.
---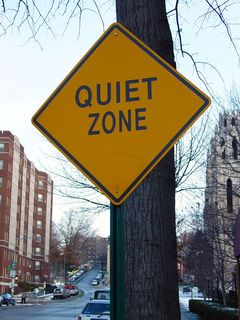 On the way to Malcolm X Park, I encountered this sign, indicating that this was a "Quiet Zone".  I am not quite sure what to make of this sign, since I'm not entirely sure what it's referring to.
---
Now let me clarify for a moment.  There were two major counter-inaugural demonstrations being held.  The one by DAWN, which I attended, was a march through the city from Malcolm X Park straight down 16th Street NW until reaching Eye Street, where the march turned left to head towards McPherson Square (the square itself, not the Metro station).  There was another demonstration by ANSWER Coalition, which met between 3rd and 4th Streets NW at Pennsylvania Avenue.  My perception was that the mainstream media gave the impression that it was all one big demonstration.  In fact, in my local newspapers, The News Virginian in Waynesboro covered our DAWN march, while The News Leader in Staunton covered the ANSWER demonstration.  But these were two demonstrations, and competing for the same participants, no less.
I arrived at Malcolm X Park around 8:30.  The rally started at 9:00.  At that early hour, attendance was light, and people were assembling cardboard coffins, which would be carried by participants from Malcolm X Park to McPherson Square.  Additionally, Fox 5 (WTTG) was on scene.  I first met a group from Washington State who came up for this.  Then I went and mingled around for a bit, to check out what was going on.  I was once again dressed in black bloc style, which has become my preferred style for demonstrations.
---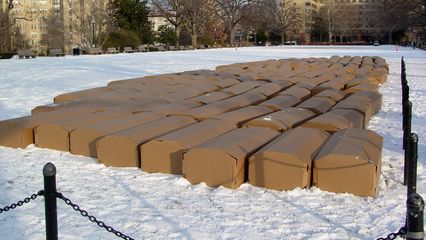 The cardboard coffins were being assembled by volunteers on the side of the rally site.  Some of the coffins were covered with black cloth, and others were covered by American flags.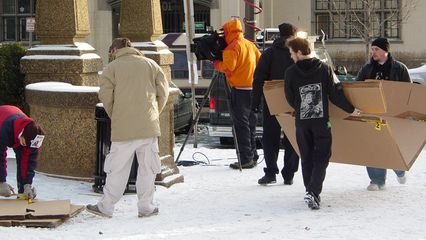 ---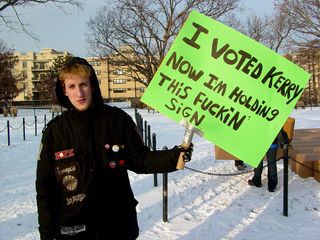 At this early hour, some people were already out carrying their signs.
---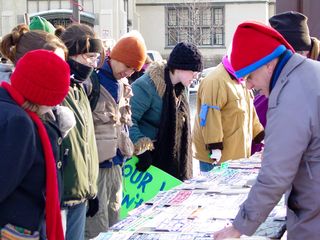 In a section of the park near to the street, a vendor was selling politically-themed bumper stickers.
---
So I mingled around a bit, while the rally's speakers were on the stage, giving impassioned speeches about the war in Iraq and the Bush Administration.  Now usually, once I find someone else in full black bloc, I go ahead and finish the outfit.  I ran into "Becca" from Oakland, California, fully masked up.  I joined her in that, and fixed myself up.  For some reason, I don't like being the only one in full black bloc at a demonstration, and so I will always wait to see someone else similarly dressed before masking up.  After getting all fixed up, Becca and I talked for a bit.  We talked about what we did, where we were from, etc.  Nice girl.
---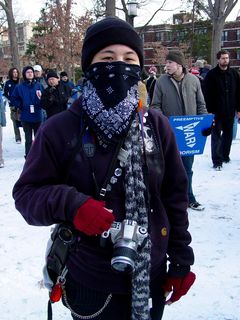 This is Becca from Oakland.  She was a friendly person, and also carried two film cameras to cover the action.
---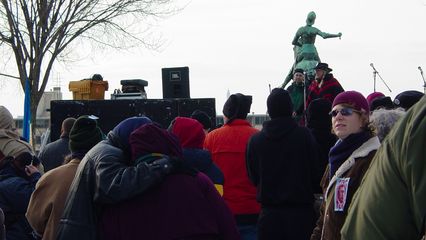 Meanwhile, people were making speeches from on stage.
---
"…that the Iraqi oil belongs to the Iraqi people…"
---
"…we need to spend money on schools, not bombs!"
---
After a while, though, I continued mingling around. It was neat what kinds of signs were being carried by demonstrators.  The DAWN organizers also distributed small orange flags and Sharpies to carry one's own personal message.
A black bloc had gathered towards the back of the rally.  Black and red-and-black flags could be found, as well as lots of masked individuals.  I stayed clear for now, since I was still checking things out.  I would stop in and say hello a few times, but ultimately would not march alongside them.
Now in mingling around, I, and likely most other people, realized pretty quickly that snow getting walked over and stood on would compress.  By walking around and standing on the snow that had recently fallen over Malcolm X Park, we had packed it into some slick ice.  Thus one should always be mindful of where to step.
Still walking around, I had one of those small-world experiences and an unlikely meetup.  I met another former Potomac resident!
So I was all masked up and walking around, and I spotted a familiar face, and I knew it was JMU that I recognized her from.  So I said to her, "Do you go to JMU?"  In a voice that said, it couldn't be!, she replied, "Schumin?"  I pulled my bandanna down to show that yes, it really was me under all that black.  It was just like, "Oh, my gawd!" since we hadn't seen each other in like two years.  Turns out that she was doing the Critical Mass bicycle events, having been at the meetup at Union Station (which I didn't go to), and she was going to Dupont Circle for the 4 PM Critical Mass meetup as well, and invited me to come to Dupont Circle. I said I'd have to see, as I wasn't entirely sure what I would do after the march at that time.
---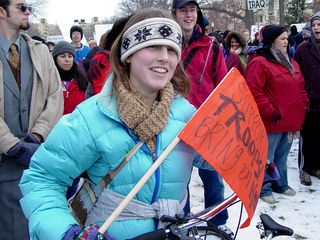 A fellow Potomac-er, Jen Jackson!  What a small world!
---
The rally was interesting.  So many people from so many places, and also so many masked individuals.  It being winter and well below freezing for most of the day, it was hard to tell how many people were masked because of the demonstration, and how many were masked because it was cold.  Usually a bandanna meant masked because of the demonstration, but you never know sometimes.  Even though a bandanna is thin, it really does keep your face warm, though.
---
The crowd was enthusiastic, and took various approaches from statistical to graphic, voicing dissatisfaction with the Bush administration in so many different ways.
---
A black bloc, as mentioned earlier, had gathered around the back of the group, but closer to the stage than the police cars.  This black bloc was definitely more hardcore than I was accustomed to, as a number of them had items for defending against pepper spray and tear gas close by.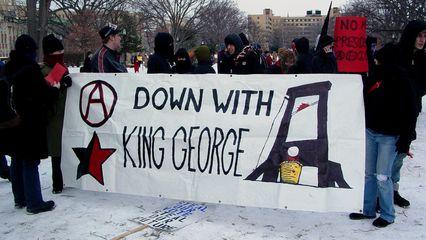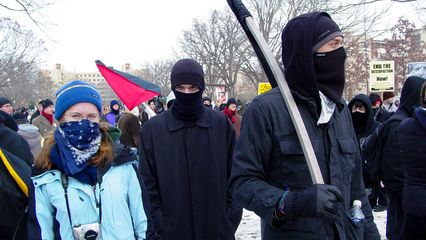 ---
A number of groups carried large banners, putting out their messages.
---
These people take a good look at how the Bush administration treats its opponents and its actions in war.
---
Quite a few people went masked during this demonstration that weren't otherwise dressed in full black bloc.
---
This sign was by far the largest sign raised up in the march, and definitely made its point known by dropping a few F-bombs.
---
I thought it was great to see people getting involved in politics so early on in life.  And even better, these people appear to have created these signs themselves, saying, "Send our troops home NOW!" and "Somewhere in Texas a village is missing its idiot!"
---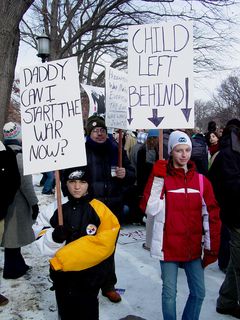 I particularly enjoyed the sign on the right in this photo.  As my mother is a teacher, our family is strongly against "No Child Left Behind" as we find that the program contains some provisions that are beyond educators' control, leaving everyone behind as a result.
---
This masked group had some interesting signs, criticizing the Bush administration by invoking religious figures, nature, and oppressive regimes.
---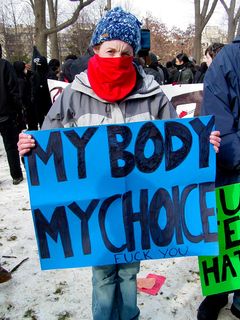 On the back of the "Who Would Jesus Bomb" sign was a pro-choice message, as well as an F-bomb.
---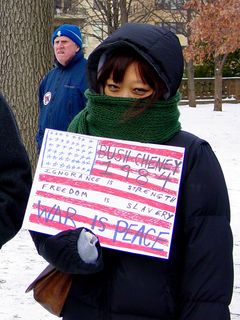 This woman puts it best – it's like George Orwell's Nineteen Eighty-Four.  Ignorance is strength, freedom is slavery, and war is peace.  Which is basically what the Bush administration wants us to think.
---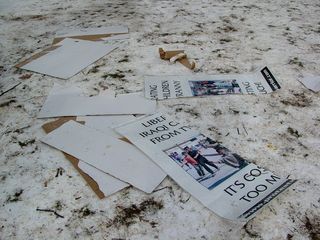 This pile of torn and discarded signs was what remained of the signs from a counter-protest by Protest Warrior.  This counter-protest sparked a confrontation between them and the black bloc demonstrators, and DAWN marshals ultimately had to intervene to restore peace between the two factions.
---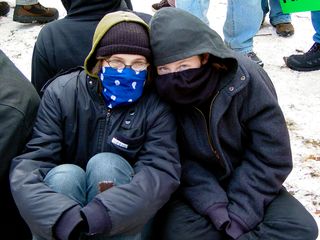 Meanwhile, these two masked women sat on the ground while waiting for the march to get moving.  Interestingly enough, these two remembered me from the Million Worker March.
Part 1