Losing Weight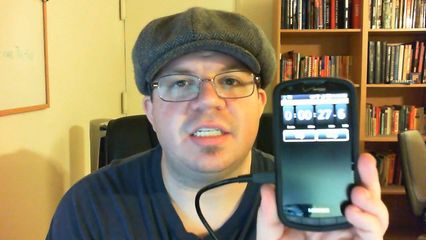 Around the middle of 2010, I really started making an effort to lose much of the extra weight that I had carried for more than a decade.  My first attempt at getting in shape was through the purchase of an exercise bike, but that didn't go as well as hoped, unfortunately.  I didn't use it, because something just seemed unnatural about sitting in my living room and exercising in front of the television set.  Then in March 2011, during a visit to an allergy specialist, I discovered, somewhat to my surprise, that I had high blood pressure, not surprisingly, on account of my weight.  That discovery really kicked me into high gear on getting fit, losing some weight, and generally taking much better care of myself.
As with so many things, such as the conversion of Schumin Web to WordPress, when I set my mind to do something, I will make it happen.  This was no exception, as, over the course of 2011, I went from a high of 384 pounds as measured in March to an even 300 by Christmas, and continuing to lose into 2012.  It's a testament to the fact that if I really put my mind to something, I will make it happen one way or another.
This photo set shows me as I began my journey to fitness in 2011, from January to December.  Watch as my shape gets smaller and changes over the course of the year, as roundness goes away and my actual body structure is revealed for the first time in a very long time.
---
In early 2011, I was still very large in size.  I had started discussing losing weight, but had no clue how to go about it, after my experiment with the exercise bike fell flat.  It was during this early period that I discovered that I had high blood pressure, which, even though I had been wanting to do this before, forced my hand to actually get going and do it.
---
January 13, 2011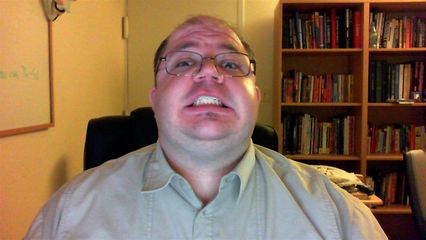 Making a face for the webcam at home.
---
January 19, 2011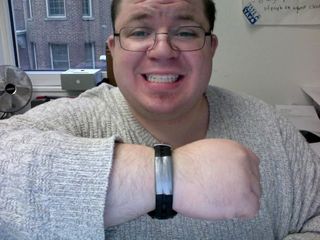 Watchband repair.  Note the size of my wrist in this photo.
---
February 1, 2011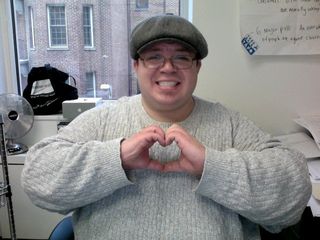 Splash photo for February 2011.
---
February 16, 2011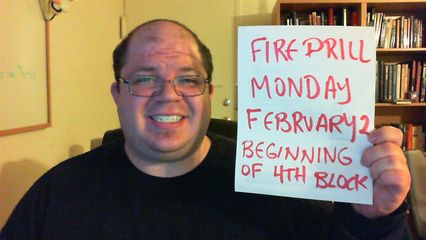 Taken shortly after I finished the "Fire Drills" Video Journal.  I look horrible in this photo.
---
March 23, 2011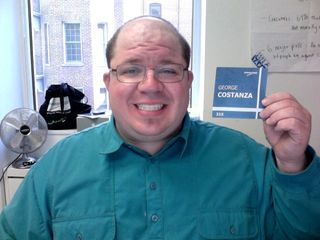 Testing out a new signage design for the office.  I look horrible here, too, with so much extra weight on my frame.
---
March 30, 2011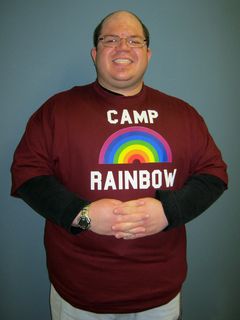 Arrival of my "Camp Rainbow" shirt.  This shirt is a 4X, and it was actually bordering on being a little snug in this photo.
---
The journey begins!  I got some guidance from my doctor on what I needed to do, and then it was up to me to make it happen.  Now it was time to work out, eat better, and wait for the results.
---
April 8, 2011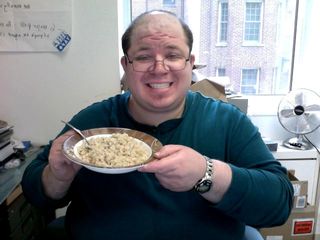 The first bowl of oatmeal, as recommended by the doctor.  No more sugary kiddie cereals for me!
---
April 22, 2011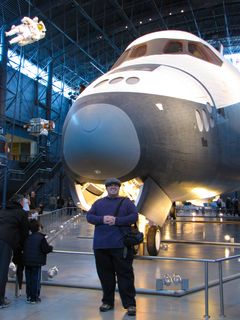 Standing in front of Space Shuttle Enterprise at the Smithsonian Udvar-Hazy Center.
---
May 7, 2011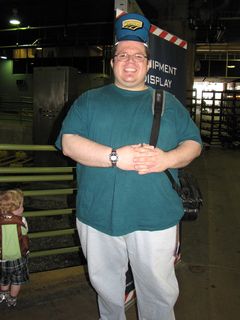 At Union Station for National Train Day.
---
May 20, 2011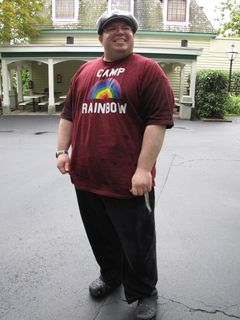 Kings Dominion, just after riding the log flume.  I think I was starting to notice the first results of my efforts (mostly walking at this point, along with one swim) around the time that this photo was taken.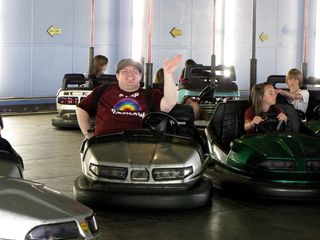 ---
May 30, 2011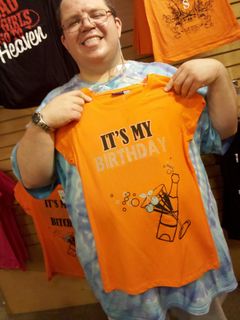 At Lakeforest Mall with Isis and company on my birthday.  I definitely was starting to notice a small difference in my shape in this photo.  I did a Video Journal the same day as this, and some difference is noticeable there compared to previous videos.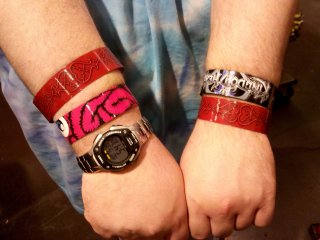 ---
June 13, 2011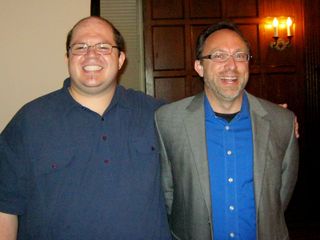 With Wikipedia founder Jimbo Wales at Georgetown.  I was by now very well versed in how this walking thing worked, and was swimming a few times a week.
---
June 15, 2011
From the Funny Faces photo set, I was definitely noticing results by now and feeling a whole lot better, though I still had a lot of mass on me.
---
July 1, 2011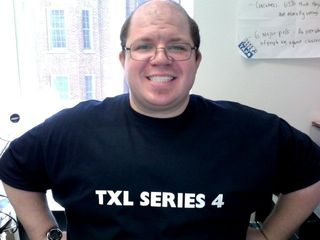 First time wearing my TXL Series 4 shirt.  I was by no means small, but compared to how I looked a few months prior, I looked awesome.
---
July 4, 2011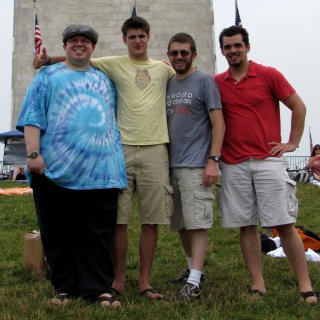 Posing with the guys from Is It A Good Idea To Microwave This? in front of the Washington Monument.  My face was definitely smaller than it used to be, though the rest of me was still fairly large.
---
July 9, 2011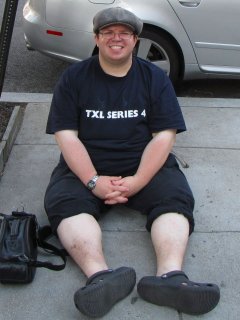 Sitting on the sidewalk in Dupont Circle (top), after having just walked from the White House to Union Station (and then taking the Metro back around).  My pants are rolled up because my heels had become irritated from all the walking (almost two miles!), and both the back straps on my Crocs and my pantlegs were aggravating it.  So I moved both out of the way (below).  I looked ridiculous, but I also didn't care.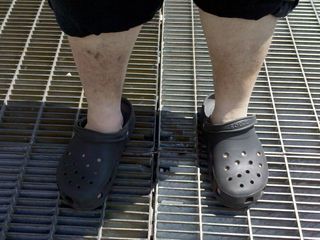 ---
July 13, 2011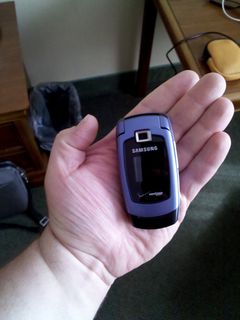 Holding a cell phone in Durham, New Hampshire.  Notice the shape of my wrist.
---
July 20, 2011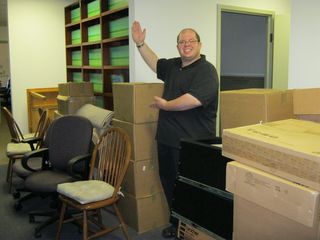 Standing in the office with all of the stuff that we brought back from New Hampshire.  I was still a bit round, but certainly showing improvement compared to where I was before.
---
By August, I was progressing well towards my weight loss goals.  However, I soon discovered that I was sizing out of my existing clothes – in the downward direction.  Yes, my clothes were becoming too big for me.  This was an expensive problem.  It was a good problem to have, but an expensive one nonetheless.
---
August 4, 2011
While we were out in Chicago, Mom soon realized that I desperately needed some new clothes.  This was probably the worst I looked, clothing-wise, as my clothes were comically too large on me.  And yes, I am doing exactly what it looks like I am doing while standing under the Marilyn Monroe statue in the left photo.
---
August 5, 2011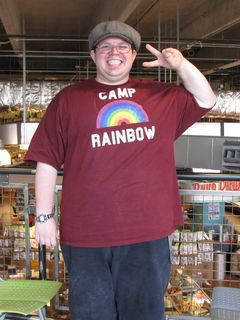 At the Lincoln Park Whole Foods, I really was starting to notice some results.  I looked awesome in this photo!
---
August 6, 2011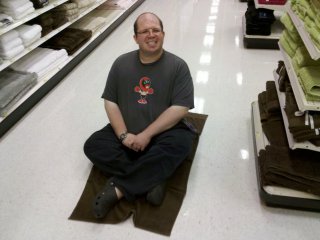 Testing out my towel at the Target in Niles, Illinois before participating in a Theatre Hike.  Look at how different my face looks!
---
August 30, 2011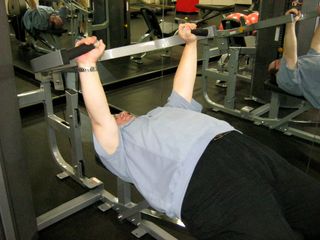 Seeing how much weight I could lift.  I don't remember the exact number, but it was more than I expected, and I beat a few of my coworkers, too!
---
September 2, 2011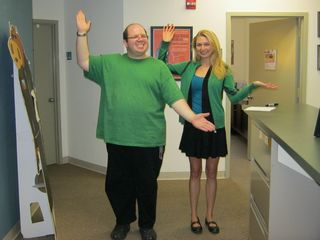 With Sarah, one of our interns at the office, in matching green outfits.  I am wearing newer jeans that fit better than the last ones, and I am definitely improved from earlier in the year.  My face is smaller, and my legs are smaller.
---
September 16, 2011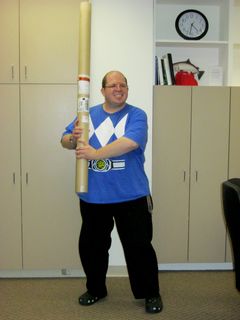 The original photo for the Power Rangers pic, seen as the splash photo in October 2011.
---
September 19, 2011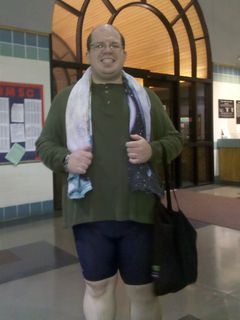 Still in my jammer and getting ready to leave the pool for the night.
---
September 24, 2011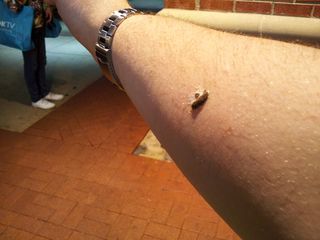 A bird took a dump on my arm from overhead.  Note the shape of my arm and how it tapers toward my wrist.
---
September 25, 2011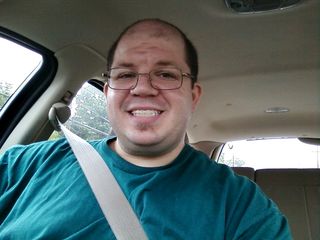 In the Sable with the first photo of me taken from the car with my then-new phone's front-facing camera.
---
In the fourth quarter of 2011, I was still doing very well in the process of losing weight.  My face was noticeably smaller, and various other body parts were changing their shape as well as all of the extra padding around them went away.  I still had clothing issues, but by the end of the year, I would be sporting clothes a size or two smaller than before.
---
October 11, 2011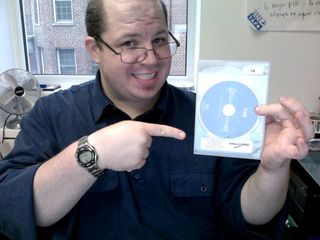 By October, the chin was finally starting to disappear.
---
October 14, 2011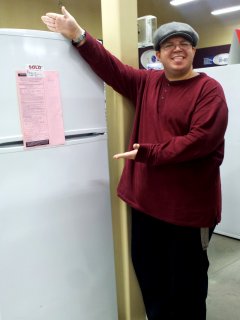 Showing off the new work refrigerator.  This was the trigger for the realization that while I had gotten pants that fit better, my shirts were now also comically too large and needed to be replaced with smaller sizes.
---
October 18, 2011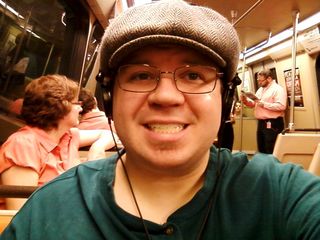 This was my Twitter avatar for about five months, when I took this photo on Breda 4096.  With the change in facial proportions, my nose started to look a little bigger…
---
October 27, 2011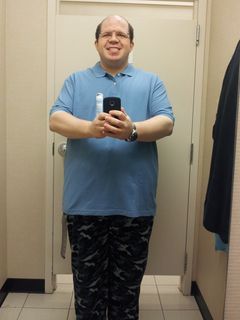 New shirt!  This was my first 2XL shirt, which I bought at JCPenney in Wheaton.  At last, I had sized down out of 3XL clothes, for the first time in a decade.
---
October 27, 2011
Resizing my Metro vest for a wearing.  The photo at left is the Metro vest before I adjusted the size.  The photo at right is the new size, after I brought the "belt" in a little bit.
---
October 28, 2011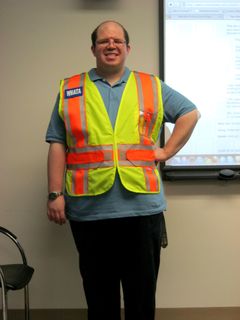 Halloween at the office, where I went as a Metro employee.
---
November 10, 2011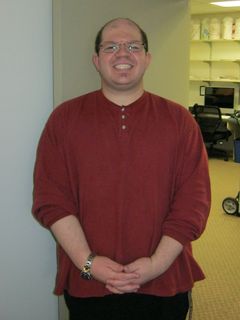 Another shirt that was a bit too large for the body that was wearing it.
---
November 18, 2011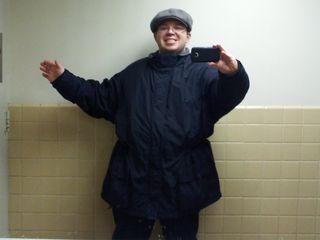 My winter coat.  Yeah.  It has some cinches inside of it, and I had to pull them all the way out to get it to fit somewhat better.  Compare to how it used to fit on the January 2009 splash photo.  I ended up getting another season – the coat's sixth – out of it with the sides cinched way in, but I can't say whether or not I'll be able to get a seventh in.  After seeing this picture, several friends of mine commented that it looked like it was time for a new coat, but I couldn't find a suitable replacement.
---
November 19, 2011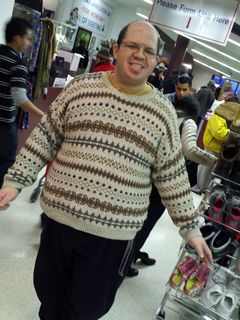 Going thrift store shopping with Isis and crew, buying clothes that actually fit for a change.
---
November 25, 2011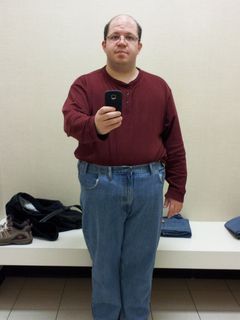 Trying on a pair of size 48 jeans at JCPenney store in Staunton, Virginia.  They fit everywhere except in the crotch.  Back to the drawing board, it seems…
---
November 28, 2011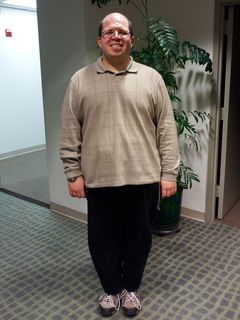 Wearing a shirt that fits properly for the first time in a long time.
---
December 6, 2011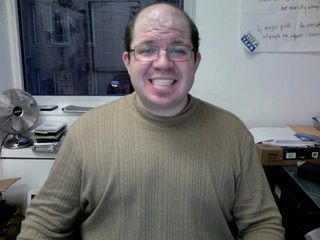 Wearing a mock turtleneck shirt that fits.
---
December 7, 2011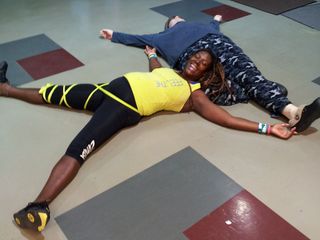 With my friend Tania, who taught Aqua Zumba at Olney Swim Center in the fall of 2011.  We tried to do a very silly pose for the camera and lost our balance in the process, hitting the floor (but laughing about it).  Even after having lost a bunch of weight, I still looked like a beached whale in this picture…
---
December 13, 2011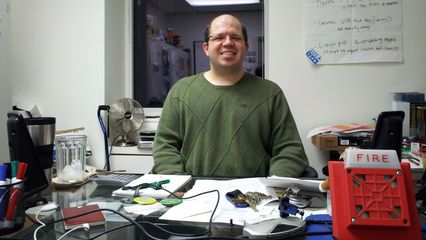 Wearing a sweater that fit and smiling while my office Mac got serviced for a moment.  Interestingly enough, when I posted this photo on Facebook, the discussion quickly centered around fire alarms due to the presence in the photo of the Wheelock 7002T that lives on my desk.  This was much to the surprise of a coworker who commented prior to when the discussion about alarms began.
---
December 14, 2011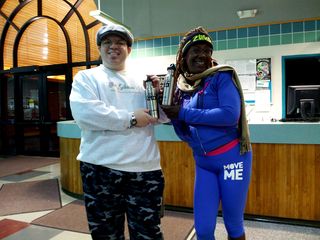 Tania and I at the pool again, this time doing a safer pose with our matching Food & Water Watch stainless steel water bottles.  By this time, I also was able to fit back into my old Schumin Web sweatshirts, which I first got in 2000.  Now, though, I fit with room to spare!
---
December 14, 2011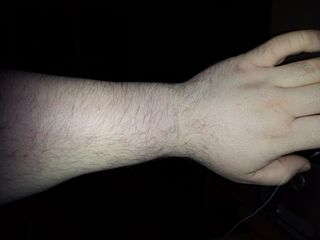 Later that evening, I also noticed how much smaller my wrist had become.  Surprisingly, my arms did not become thinner evenly.  The area around my wrists got a lot smaller really quickly, which led to my characterizing my wrists as "scrawny", and my attempts to deemphasize the perceived scrawniness with jewelry (i.e. the "man bangle").
---
December 18, 2011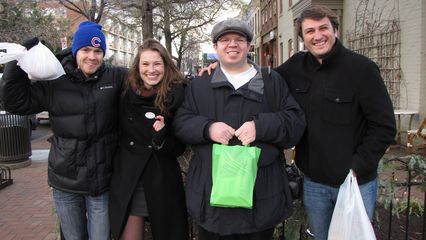 At Eastern Market with Alex Patton, Genna, and Alex Beauchamp.  Compare this to a similar photo taken at Eastern Market in 2010.
---
By the end of 2011, having dropped 84 pounds, I was doing quite well.  I looked better, I felt better, and my body could do many things that it couldn't do before.  The journey towards a smaller shape continued into 2012, as I wasn't done losing by any means…