Year 2007
2007 was a year of change for me. It started just like 2006, where I was living with the parents, working at Wal-Mart, and traveling to Washington DC one day every other week. By the end of the year, I was working in Dupont Circle in Washington DC and living in Silver Spring, Maryland.
As I've done the last three years, this is the "cleanup" set. Lots of stuff that I otherwise didn't cover over the course of the year in the Journal and in the photo sets for whatever reason is getting fleshed out here. So here's what happened in 2007…
---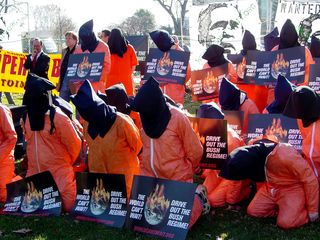 At a World Can't Wait rally on January 4, a number of people dressed in orange jumpsuits and black hoods, intended to symbolize Guantanamo Bay detainees and torture victims.
---
One of the demonstrators in the lineup encourages people to stop torture, and to not pass them by when they see them in the media.
---
A speaker reads a statement from Ehren Watada, a military officer who publicly refused to deploy to Iraq.
---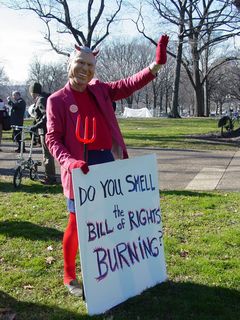 David Barrows showed up to this World Can't Wait rally in his "Devil Bush" costume.  This was my first time seeing David in this outfit.
---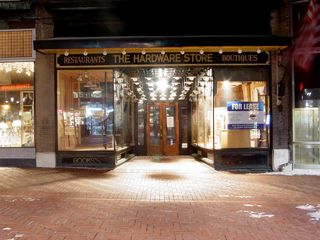 When Katie and I made our first trip to the Downtown Mall in Charlottesville on February 14, I was shocked to see that The Hardware Store, home of a restaurant and shops, had closed!  While we certainly wish the owners a wonderful retirement, I will miss their peanut soup and their awesome sandwiches.
---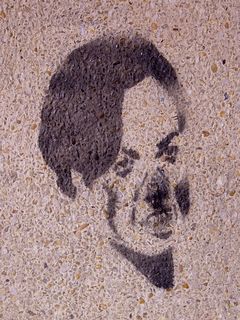 A stenciled graffiti face!  How odd it is to see this in Charlottesville, which is relatively graffiti-free.
---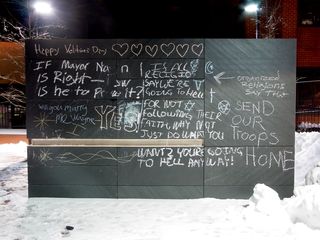 Katie and I got our first glance of Charlottesville's free speech wall, rising out of the snow.
---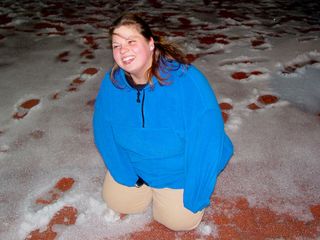 And meanwhile, like any good friend would do, when Katie landed on the ice, I pulled out the camera and captured a memory.
---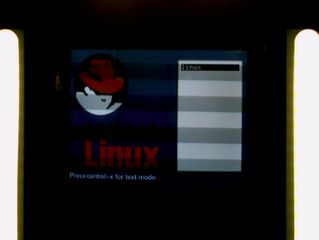 When I went to Potomac Mills on what would turn out to be my final Richmond-to-DC trip on February 20, I was surprised to notice that a photo booth in the mall had crashed!  We're not supposed to know that the booth runs Red Hat…
---
I was far less surprised two days later, however, to see that one of the Fastlanes at the Waynesboro Wal-Mart, which run Windows XP, had crashed.
---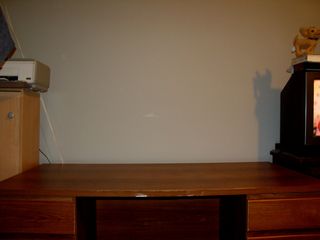 On February 25, it was time to start fresh, as I cleared off my desk in preparation for my new Dell computer.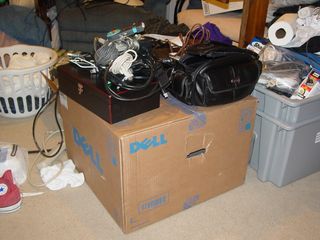 ---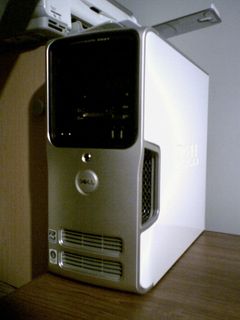 And here it is!  This is my new Dell Dimension E521.
---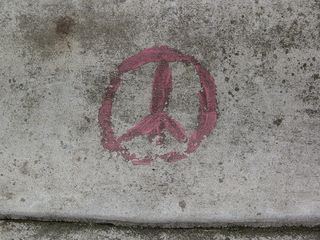 On my DC trip on March 1, I noticed that someone had drawn a peace sign on some concrete in Lafayette Park, and by the looks of it, it had been there for a while…
---
Later on that same day, I discovered that Metro was once again testing new stuff at Gallery Pl-Chinatown station.  In this case, they were testing orange LED lighting at the platform edges on the lower level.  This ended up being a one-off test, as it was not implemented elsewhere.
---
Two weeks later, on my March 17 DC trip (better known for the Pentagon march), I happened upon Metro's first test of the red LED lighting on the upper level of Gallery Pl-Chinatown station.  Unlike its orange counterpart, this ended up being deployed all over the system.  Personally, I can stand the red lighting replacing the earlier white lighting, but I find that the red lighting, when flashing, does not differentiate enough between dark and light.  With the LEDs, to make them most noticeable when flashing, they should go completely to black, rather than just a slightly darker red.
---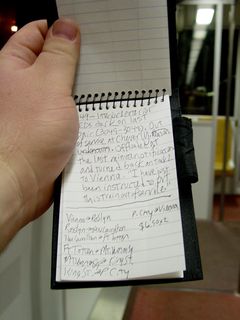 Near the end of my March 27 DC trip, while aboard CAF 5154, I took a moment to photograph the notes page in my transit log.  As you can see, I had taken quite a bit of notes on this particular trip, mostly related to an offloading at Cheverly, and figuring out how much money I had lost by my losing multiple day passes on that particular day.
---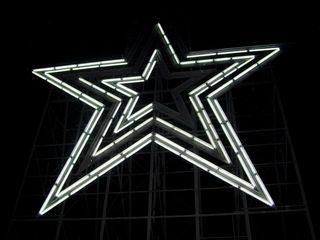 On April 22, after dropping my sister off at Virginia Tech, I stopped by Roanoke on the way back and headed up to the famous Roanoke Star, which is a favorite spot for me in Roanoke.  In memory of the students killed at Virginia Tech earlier that week, the city of Roanoke changed the star's color configuration from red, white, and blue to all-white.  This followed several days where the star was dark due to electrical problems.  On the first night back in operation, a number of parts of the star were not lit, lending the star a somewhat lopsided appearance.
---
While I was at the star, this woman agreed to let me try something artistic by photographing the reflection of the star off her glasses.  It didn't work out the way I wanted, but it was still an interesting concept.
---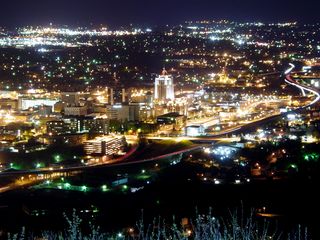 And of course, downtown Roanoke, with the Wachovia Tower in center position, is brightly lit as always.
---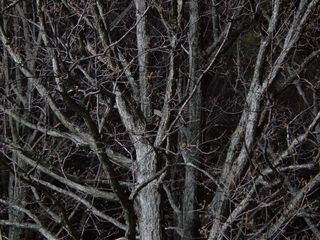 The thing that I found most interesting about the star's all-white configuration was seeing the park surrounding the star bathed in a ghostly white rather than the purplish light we normally see up there.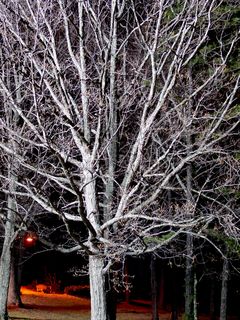 ---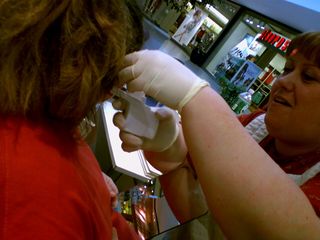 The next day, Katie got additional ear piercings made while we were out and about in Charlottesville.
---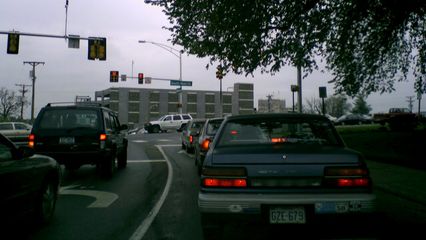 Imagine my surprise during a trip to Harrisonburg on May 3, to see that Canterbury, home of LPCM during my years in the program, had been demolished!  It was completely wiped off the map as JMU redeveloped the south side of South Main Street, replacing a row of older structures with a new performing arts center.
---
On my May 5 DC trip, which I took with Mom, we finally found what would become my home in Silver Spring.  These pictures were from the house-hunting, where we took photos in case we needed to refer back later.  These pictures of an empty apartment all look very strange to me now, as I am very much settled, so I'm used to seeing the place with all of my stuff in it.
---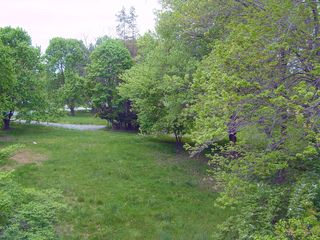 This is the first glimpse I got of the view off of my balcony.  I have an amazing amount of privacy, since the property next to my building is vacant.
---
The management of Staunton Mall threw Goody's out to put in a Gold's Gym?  First of all, what kind of idiot puts a gymnasium in a shopping mall?  And secondly, they're not exactly endearing themselves to the shoppers with that sign.  As I understand it, they have to keep the mall entrance open for fire code compliance.  However, if you don't want people actually using that entrance, why not just wall in the entrance completely and replace it with a simple emergency exit door?  Even more so when you consider that they just put a whole bunch of money in to renovate the space.  That would certainly prevent the customer-turnoff sign that local management made there…
---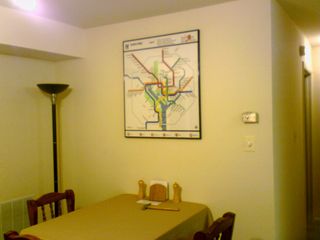 Meanwhile, having moved to Silver Spring, by June 24, I finally got my WMATA map on the wall.  That took a while to arrive, as Mom brought it up when we went to IKEA to go shopping for the bed.  Looks good over the table, doesn't it?  It has turned out to be especially helpful when I have guests over, and I can explain where we're going and how we're getting there.
---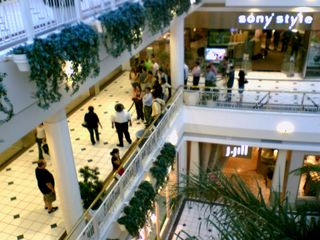 On June 29, I went down to Pentagon City after work.  June 29 was also the day the iPhone was released.  Even into the evening, the Apple store was packed, and there were lines of people waiting to get in, with mall rent-a-cops and real police making sure the store wasn't overwhelmed.
---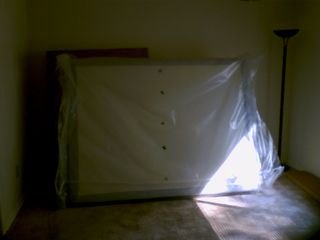 On June 30, my bed arrived!  Now the fun was in having to put that thing together.  Not fun.  I got it mostly put together that day, stopped for the evening, then finished the next morning.
---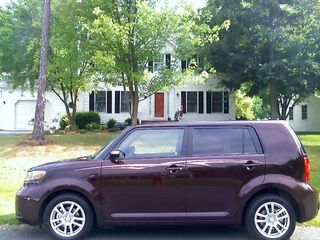 Then while I was dealing with the bed up in Silver Spring, Mom sent me a photo of her new Scion in front of the house in Stuarts Draft.  Note the composition of the photo.  This is one of my pet peeves – people putting the subject of the photo way down in the bottom of the frame.  Upon seeing this photo, I commented, "That's a great picture of the house.  Next time, move the car out of the way first."  That comment ultimately led to this photo, which was framed better.
---
On the morning of July 1, I finished putting the bed together.  By that evening, I had it all fitted out with sheets, pillows, and a comforter.
---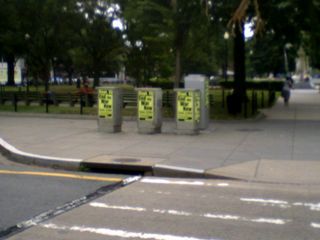 On July 16, ANSWER posters for the September 15 march were placed at Dupont Circle…
---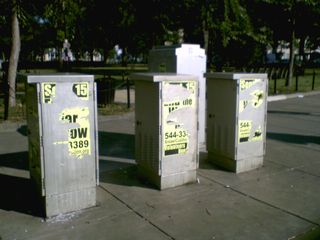 And the next morning, they had been shredded.  Realize that ANSWER does not have the world's greatest reputation in the anti-war movement…
---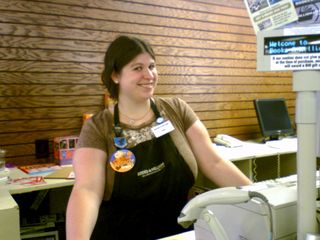 On my August 11-12 trip to Stuarts Draft, look who was behind the counter at the Books-A-Million at Staunton Mall!  Yes, my sister worked for Books-A-Million just prior to moving to Chicago.
---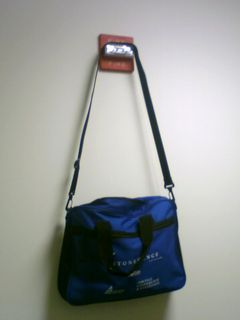 51 different uses for a fire alarm… here, I'm using a Wheelock RSS as a coathook, as I hung my bag here while using a men's room at American University just before radical cheerleading practice ahead of October Rebellion.
---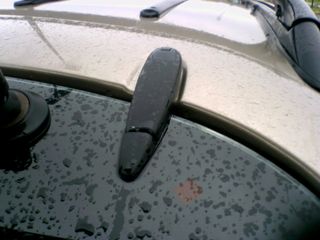 What happened here?  This is one of the hinges on the back window on the Sable, which cracked while on my November trip to Philadelphia.  This photo was one I took and sent to my father to see what he thought.  The now-loose hinge made a terrible rattling sound (very annoying), and so for the return trip, I bought a roll of duct tape and taped it back together in order to stop the sound.  At this I was successful.  It was quiet the entire way back.
---
The weekend after I got back from Philadelphia, Mom came to visit.  We took a walk past the Capitol, where we got to see the Capitol grounds on a typical day, as compared to the protest crowds that are often there when I come to the Capitol.
---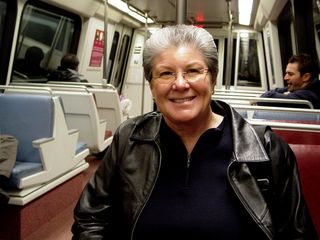 Following our trip to the Capitol, Mom gave a big smile for the camera while on CAF 5167.
---
Meanwhile, speaking of trains, one way to make Mom uptight is to do something geekish.  This is what happened on our trip, when my love of trains and my love of photography converged, and I got down on the floor to take some long-exposure shots of L'Enfant Plaza (left) and Dupont Circle (right) stations.  Metro doesn't allow tripods, you see, so I improvised.
---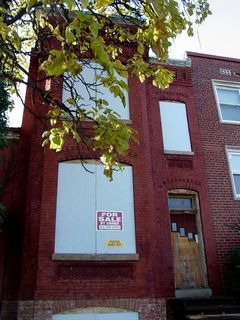 This house, on 8th Street NW in Shaw just north of the Giant Food store and slightly northeast of the Infoshop and convenient to two Metro stations, may look in awful shape with its boarded-over windows, but I see potential.  And it's for sale!  Of course, I also don't see money, which I would need to buy and renovate this little diamond-in-the-rough…
---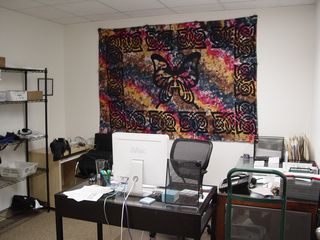 This is my first office at Food & Water Watch.  About a month after this photo was taken, we moved the office to a new space, and so I had to disassemble this setup, and put it together again in a new office…
---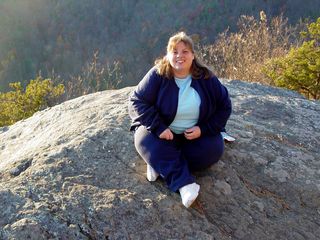 On the day after Thanksgiving, I spent it away from the stores, and out with Katie, where we went up to the Blue Ridge Parkway.  Here, Katie poses on a rock at 20-Minute Cliff.
---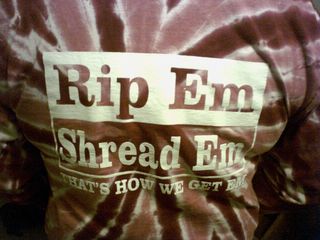 Meanwhile, Mom illustrated about why spelling is so important using this Stuarts Draft Cougars shirt that a school group made.  Notice the spelling of "shred".  Rather than saying "Rip em, shred em", the shirt says "Rip em, shread em".  That doesn't rhyme with "bread".  Oh, no… "shread" rhymes with "read" and "need".  And that's dumb…
---
Then in December, the building where I work decorates the lobby for Christmas.  It looks very nice when it's done, and it went up on the morning of November 30.
---
On December 4, I went down to Pentagon City, and encountered the on-air news team for WZDC, a local Spanish-language station affiliated with the Telemundo network, filming a promo at the skating rink.  I never did get to see the finished product, unfortunately.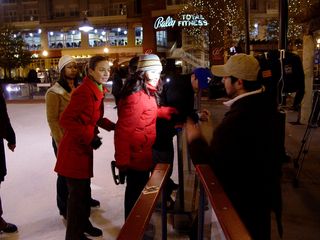 ---
On December 5, I got to experience my first snowfall in DC while living up there.  Prior to moving up there, if it started snowing, I had to get the heck out of Dodge, and fast, in order to get home before the snow got too bad.  Now, I can finally enjoy a fresh snowfall in the DC area, both in Dupont Circle (left), and seeing the Sable with snow on it at my apartment complex.
---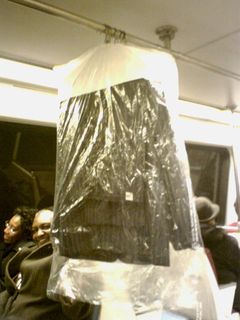 On December 18, I got to see a woman on CAF 5016 make good use of the ceiling grab bars, using it to hang her fresh-from-the-cleaners clothes.
---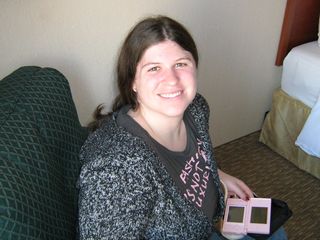 On December 27, with Mom and I having freshly arrived in Chicago that morning, Sis smiled for the camera while we got our junk in order at the hotel.
---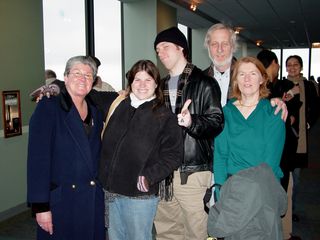 Later that day, we all went up to the observation deck of the Sears Tower.  Left to right, we have Mom, Sis, and the Lysys: Chris, Dan, and Helen.  I enjoyed the Lysys' company.  Very nice people.
---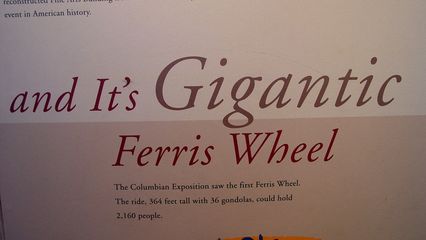 Meanwhile, in the Sears Tower, we discovered a grammatical boo-boo, as a misplaced apostrophe made its way into this sign.  If you look carefully, you will notice that someone before us had tried to cross out the errant punctuation mark.
---
After dinner, we all headed over to Sis and Chris's place, in a neighborhood in the northern part of Chicago.  We first got photos of Sis and Chris…
---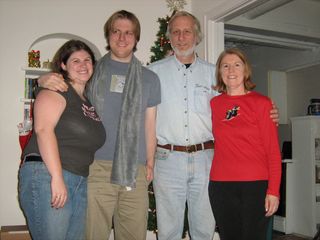 And then the two of them with Chris's parents.  Thus we have Lysy, Lysy, Lysy, and Lysy-to-be.
---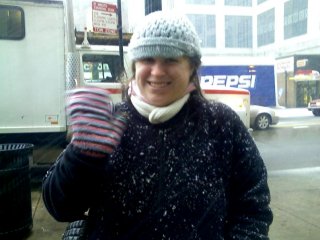 The next day, Mom, Sis, and I went and wandered around the Magnificent Mile.  As Sis demonstrates by what has collected on her coat, it was snowing…
---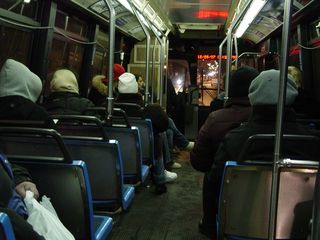 Later that evening, we all went to Target to get various household supplies that Sis and Chris were lacking in their apartment.  So from Bryn Mawr station, we took a Flxible bus (6059) on the 84 to Hoyne.  After riding on all this Chicago rolling stock that looks nothing like what I'm used to, a Flxible was really familiar, because Metro has Flxibles as well, let us not forget…
---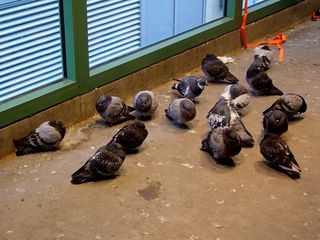 The next day, as we caught the "L" train at Davis station, we noticed that humans aren't the only ones who appreciate the heat lamps in the stations.  The pigeons love them, too…
---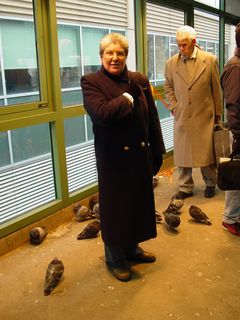 "Love you like a brother."
---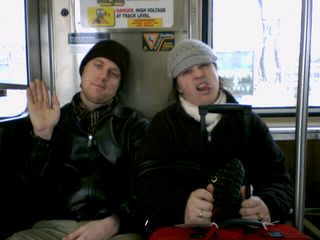 On December 30th, while on the train, Chris acts bored while Sis makes a crazy face for the camera.
---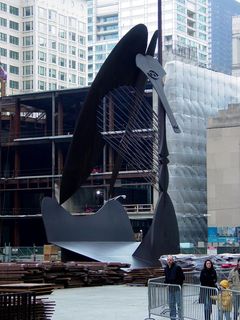 The Picasso sculpture in the Richard J. Daley Plaza.
---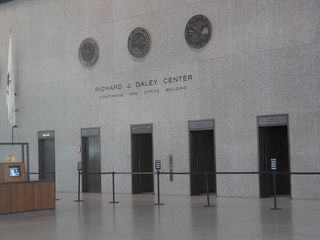 Elevators at the Richard J. Daley Center.  As someone who has seen The Blues Brothers more times than I'd like to admit, this was so cool to see…
---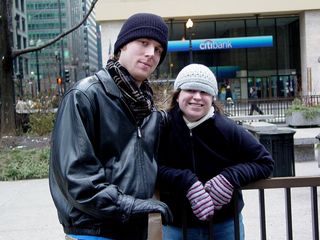 Sis and Chris pose at Daley Plaza.
---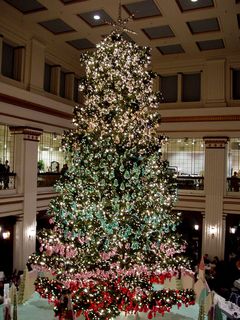 After leaving Daley Plaza, we went to the Macy's on State Street, formerly the flagship store for Marshall Field's.  They had a tremendous Christmas tree in their restaurant.
---
Leaving Macy's, we went to Millennium Park, where we got to see Cloud Gate, also known as "the bean".  We had fun, too, taking photos of the bean, as well as of ourselves in the bean.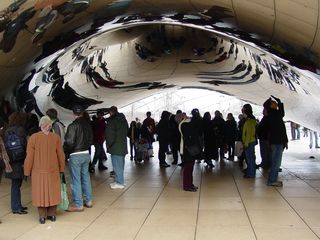 ---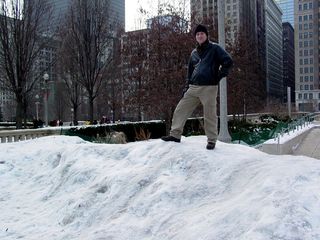 Nearby, Chris is the king of the snow pile, having climbed up to the top.  No way on earth will you ever find me up there…