Million Puppet March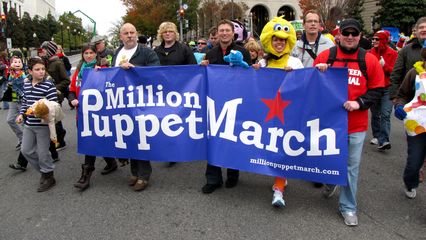 The Million Puppet March was a protest march held in Washington DC on November 3, 2012 – the Saturday before the presidential election.  The event was held in support of PBS and public broadcasting in general and its value to society.  The march stemmed from comments made by then-presidential candidate and former Massachusetts governor Mitt Romney about wanting to stop federal subsidies to PBS during the first presidential debate.
I went to this march to photograph and lend my support.  After all, Today's Special, one of my favorite shows as a child, was produced by TVOntario, which is the Canadian equivalent of PBS.  Today's Special also aired on public television in the United States (though I watched it on Nickelodeon, a commercial network).
This was my first cold-weather political demonstration since I began to lose weight, having lost more than 100 pounds since March 2011.  The weight loss (and lack of insulation as a result), coupled with a jacket that was two or three sizes too large for the body that it was now on, made this one of the coldest demonstrations that I had ever been to.  Staying warm was a true challenge for me this time, and I didn't do that well with it, unfortunately.
I had first heard about the Million Puppet March in the Express.  That was unusual in itself, since Express doesn't usually discuss upcoming demonstrations.  But it was good to know, and sounded like something worth going to.  And in any case, it was a pretty fun demonstration.  The mood was happy and light, and people were really having a good time.
---
My Million Puppet March experience began with a drive down to the office.  My plan was to head into work after the demonstration, so I went down to the office, dropped stuff off, and then took off on the Metro to head to the meeting site for the demonstration.
One thing that struck me about the meeting place for this demonstraton was the unorthodoxness of the location.  It was at Lincoln Park, which is an urban park similar to Farragut or McPherson Squares in downtown, except that Lincoln Park is in the Capitol Hill neighborhood rather than downtown.  The site wasn't very Metro-accessible, either.  For Blue and Orange Line users, the nearest Metro station was Eastern Market.  For Red Line users, it was Union Station.  Since I was coming from Dupont Circle, I took the Red Line to Union Station.  Getting to Eastern Market would have required a transfer to the Blue or Orange Lines, a ride through the downtown core and out, and would still have involved a not-insignificant walk.  For all that trouble, I could just walk it from Union Station.  After all, I'm in good shape now.  The walking wouldn't kill me.
The walk took me from Union Station to East Capitol Street via First Street NE.  From there, turned onto East Capitol Street, and walked east for about a mile to get to Lincoln Park.
But first, however, on the way over, I spotted two things that amused me.
---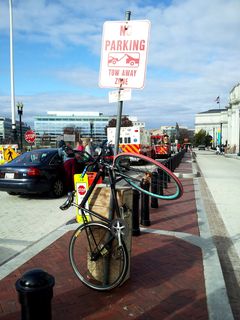 This was a very creative bicycle parking job, no?  It was chained to, of all things, a "no parking" sign.  Security guards were about to remove this bicycle when I came by for the photo.  I managed to talk them into waiting the few seconds for me to take the photo of the amusing lock job before removing it.
---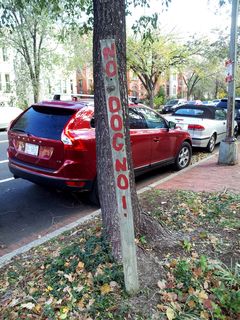 I spotted this sign on East Capitol Street a few blocks west of the meeting site.  The short of it is that I hate these sorts of signs.  I find these kinds of messages highly obnoxious, whether they're like this, like the one I spotted outside Webster House in Dupont Circle, or like the one in Waynesboro.  Basically, you are advertising to the world that you have a problem with people's pets' doing their business on your property, and presumably that irresponsible pet owners don't do their job and clean up after their pets.  But this seems to be far more obnoxious than the occasional dog poop on the ground, no?
---
On the way, I was struck by another oddity about this demonstration: the meeting place was deep within a residential area, and even more so, the march was planned to go through an area that was mostly residential.  This was an area full of two-lane streets and stop signs – not exactly a bustling population center where bystanders and other folks will see the demonstrators.  But that's where people like me come into play.  I was there primarily to photograph, document, and distribute the demonstration to the world – so despite their crappy location, the message would still get out.
However, as odd as the site chosen to meet up was, the people there were great.  There were puppets of all kinds – hand puppets, large street puppets, marionettes, and even people dressed in costumes resembling puppet characters.  You name it, and it was probably there.  There were characters that I'm sure that everyone would remember, like the Muppets (both the Sesame Street and Muppet Show varieties), there were characters from other productions, and there were some characters that I had never seen before but were equally awesome.
---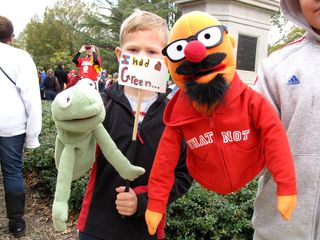 Some of the puppets present were rod puppets, where the puppeteer controls the head with one hand, and controls the puppet's arms via a rod of some sort with their other hand.  To give a Today's Special example, Muffy is a rod puppet.  Not all of the puppets of this style that were present had rods on their arms, mind you, and some also held objects in their hands.
---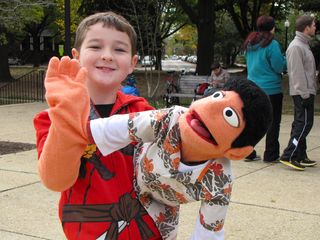 There were also "live hand" puppets, where the head is operated similarly to those of rod puppets, but the puppet's hand is a glove, enabling the puppeteer to insert their hand in order to allow the puppet to manipulate objects.  Sam and Mrs. Pennypacker from Today's Special are live hand puppets.
---
There were also finger puppets.
---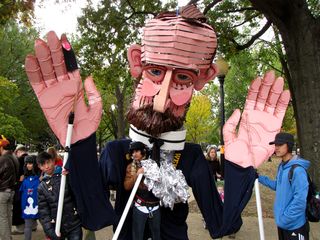 There were also several street puppets around.  This one was based on William R. "Sawney" Webb.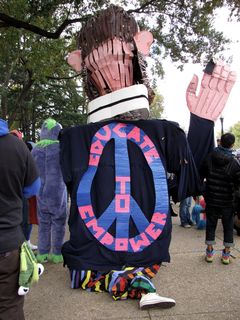 ---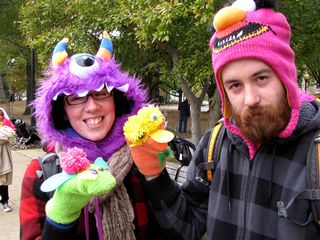 Some people had hand puppets with them.
---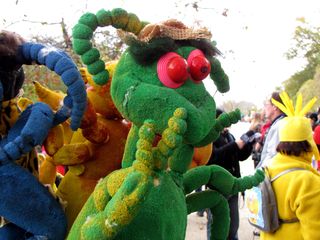 And all sorts of other kinds of puppets.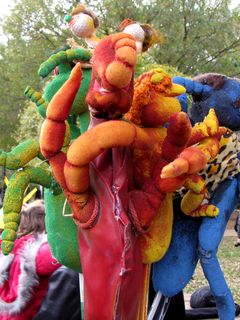 ---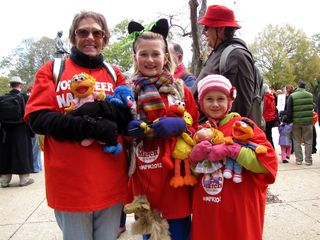 Some people held other representations of puppet characters, such as this family, which carried stuffed animals based on Sesame Street's puppet characters.
---
Some people wore costumes.
---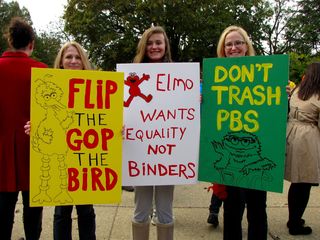 Then there were also plenty of protest signs and messages of that nature.  Considering that this event was held the weekend before the 2012 presidential election, many of the signs were campaign-related.
---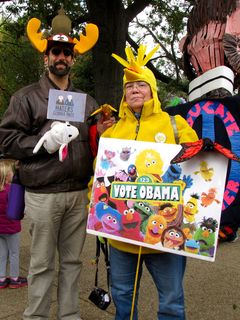 ---
And soon enough, the march began.  The march was going from Lincoln Park to the Capitol Reflecting Pool, which is on the west side of the Capitol, though some distance away from the building itself.  To get there, leaving Lincoln Park, we marched west on East Capitol Street as far as First Street NE.  The original plan was to keep our march on the sidewalk, but there was one problem with that plan: too many people.  We ended up expanding to fill the westbound lane of East Capitol Street as well, and that worked better.
Marching down the street, some of the chants you would expect from a protest came out in a style more suitable for the theme.  For instance, the "Whose streets?  Our streets!" chant came out as "Whose street?  Sesame Street!"  Additionally, the "Mah Nà Mah Nà" song was sung, as was the Grouch Anthem.  I had a lot of fun singing the Grouch Anthem in particular.
---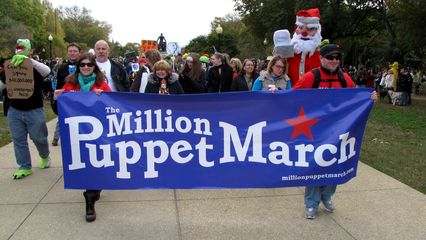 The march steps off from Lincoln Park.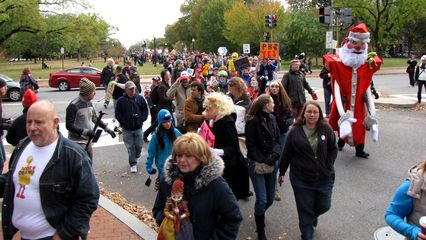 ---
On the march, I saw plenty of puppets and costumes.  Some, like these, were in the style of the Muppets.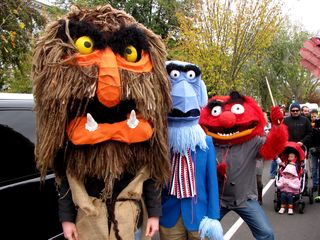 ---
There were also sock puppets.
---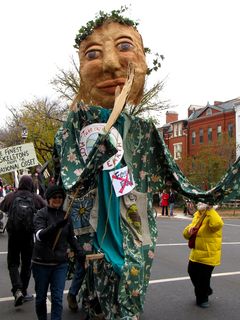 There were big street puppets.
---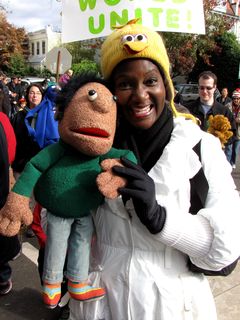 ---
Some of the protest signs played on the PBS logo a bit.
---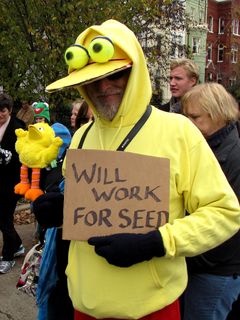 This person's outfit was designed to be somewhat reminiscent of Big Bird. This showed Big Bird as being out of work.
---
This was by far the best one of all as far as I was concerned, showing Big Bird taking out the trash – with Mitt Romney in the can. The person in the outfit was the top half of Mitt Romney (wearing a Mitt Romney mask), and also Big Bird's legs. Pretty neat.
---
Reaching First Street NE, we turned north, going past the Supreme Court building, until we reached Constitution Avenue. From there, we marched a few blocks west, until we reached our destination: the west side of the Capitol Reflecting Pool.
---
The exterior of the Supreme Court Building was under renovation at the time of the demonstration. The scaffolding normally was covered by a picture of the building, but presumably due to Hurricane Sandy, which came through four days prior to this event, this covering was missing.
---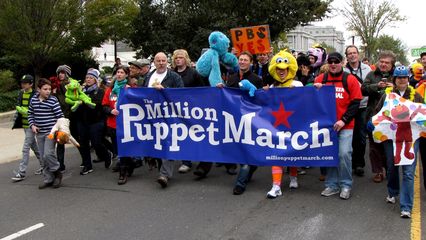 The march heads north on First Street NE.
---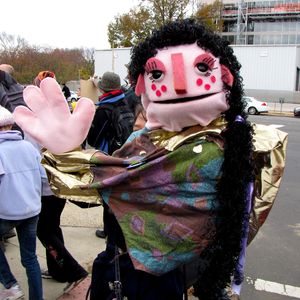 ---
At the Reflecting Pool, a stage was set up, and people began to gather around it, as the program was going to begin soon.
---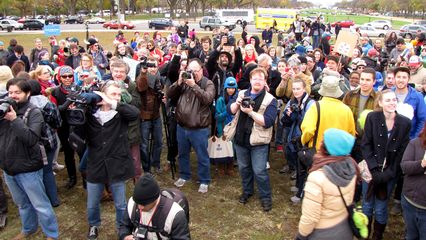 The crowd, assembled at the final rally location.
---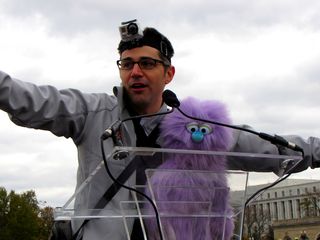 One of the speakers at the podium.
---
And there were more puppets…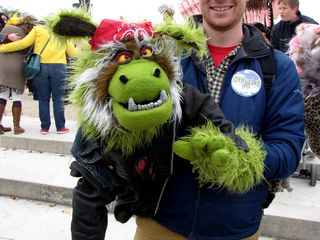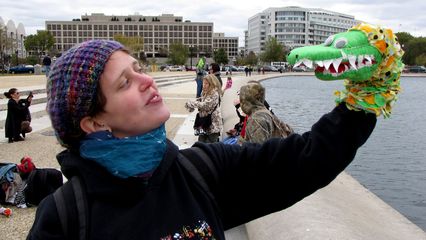 ---
It was at this point, as the march came to an end, and we weren't walking anymore, that I began to realize exactly how cold it was outside, and how cold that it was making me feel. The jacket that I had on wasn't doing anything for me, since it was far too loose. I had owned this particular jacket since 2000, when I was a lot heavier than I now am. As a result, the jacket was too big around the neck, and also too big around the middle, which means that any warmth that the jacket would otherwise trap was going right out the top and being replaced with cold air coming in from underneath. That kept the pockets cold as well, which meant that my hands were freezing.
This made me think about my black bloc days for a while. First of all, I was 100 pounds heavier back in those days, and as such had a layer of insulation on me from that, which I no longer have. Then on top of that, the standard black bloc "uniform" was a black hoodie and a mask, which kept anyone wearing it nice and warm, which was good for a cold-weather demonstration. I don't do black bloc anymore these days, and so I was wearing pretty much whatever I pulled out of my closet that morning. And yeah – I was cold. But it's okay.
Once the speeches got started, I decided to call it a day. I always consider speeches at political rallies akin to preaching to the choir, since the people that you're speaking to more than likely already agree with you. Plus I had photographed most of the people there, and I was cold. So I headed out, back towards Union Station to have a somewhat late lunch (even by my standards, and I usually eat lunch really late) before I headed back over to the office to do some work.
All in all, the Million Puppet March wasn't bad. I did get the feeling, however, that the people who planned the event weren't quite as familiar with the District as I would have liked. It seemed as though they just looked at a map of the city and planned the march that way, sight unseen, since, as someone who is quite familiar with DC, it didn't make sense to me. Putting the meeting place deep in a residential neighborhood east of the Capitol was really bizarre. Picking an area that's not very Metro accessible was equally bizarre, especially when people were strongly encouraged to bring props. Then with the march's being a straight line out of the neighborhood that they were in and then around the Capitol, it seemed that for all of the energy and enthusiasm that the group brought, it was somewhat squandered by there being no one around to see them except for the other marchers, and those photographing the crowd such as myself. On a Saturday such as this one, the lawmakers are not at the Capitol, and the Capitol Reflecting Pool, while a nice place visually, is a poor location for a demonstration because of its remoteness. There's just not much foot traffic through there on a weekend.
I think that this demonstration would have gotten a lot more eyes on it if it had been in a better location. True, downtown Washington isn't as well populated on a weekend as it is during the week, but there's enough foot traffic through there on a weekend that you would have gotten some sympathetic ears and gotten more people on board to your cause. Let's admit – public demonstrations in DC on national issues are not about reaching the people in power directly (demonstrations about matters local to the DC area are a different story entirely). They are about rallying ordinary people to your cause, and places like the Capitol and the White House are good places to use as the backdrop for your demonstration, but the focus needs to be on raising awareness.
That said, if I were the one planning the Million Puppet March, I would have done things a little bit differently. I would have made the official meeting point somewhere more easily reached by Metro, and somewhere that more people would see the meeting point. Dupont Circle is always a good place to start a demonstration, as it's near a Metro station, there are a lot of people in the area, and it's near enough to places that a march of reasonable length can happen to the various important areas of the city. Then I would have had the speeches near the White House, again for the foot traffic matter, since the White House is always crawling with tourists on just about any given day.
Plus, unless you're expecting to get thousands upon thousands of people at your event, the Capitol building and vicinity will make your demonstration look small and insignificant. The large building and wide open spaces around it will do that. The White House is a smaller building, and Lafayette Park across Pennsylvania Avenue from the White House will take a moderately-sized demonstration and make it look bigger because it fills up more of that space as a percentage of the total, and the trees all around it frame a demonstration well to enhance the appearance of size.
I also was disappointed that this demonstration was as partisan as it was. I guess with a presidential election only three days away, it was inevitable, but it was definitely not something I particularly wanted to see. I would much rather see a political demonstration that focused entirely on issues and was candidate-agnostic. This was definitely an Obama love-in, and that made me somewhat uncomfortable, but then again, with only three days before an election, I guess it was inevitable.
So there you have it, I suppose. With Mitt Romney's defeat in the election that occurred a few days later, I believe that PBS's place in the world is safe for a while, and we definitely brought out a good showing of support for the network that exists to educate – not just to entertain.