G20 Economic Summit Protests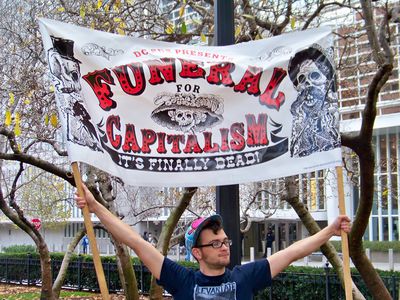 On Saturday, November 15, 2008, the leaders of twenty nations, otherwise known as the G20, were invited to Washington DC by President George W. Bush for an economic summit in order to "discuss the current financial crisis, its causes and efforts to resolve it through more effective regulation and reform" according to a State Department press release.
Meanwhile, the activist community in the nation's capital was ready to go, as the economic crisis was viewed as the failure of our capitalist system.  As such, the people prepared to hold a funeral for capitalism.  A number of various demonstrations were held throughout the weekend.  I personally attended two.  One was a rally and march starting at 10 AM from Murrow Park in front of the World Bank to Luther Place Memorial Church on Thomas Circle, where lunch was served, and a People's Forum was held in order for people to "learn about how the financial crisis happened and how it effects your local community, discuss new ideas and alternatives to capitalism, and come together as a movement to organize," according to an Emailed announcement prior to the march.  The second demonstration was a "G20 Going Away Party" – a "rowdy" march meeting at Dupont Circle at 11:55 PM.
The weather forecast for the day was a really big "if".  The Washington DC area had received rain for several days prior to Saturday, and the weather forecast was calling for a 90% chance of rain, and potentially thunderstorms.  Thankfully, the weather held out for the most part, and things cleared up by nightfall.
---
The first preparations that I made for this protest, aside from deciding I was going to attend, started on the Wednesday prior to the big day, when I attended a radical cheerleading practice at 7 PM.  Unlike all previous radical cheerleading practices that I had attended, this one was being held at Dupont Circle rather than on the campus of American University.  I'm never one to complain about events being held at Dupont Circle, since my office building is three blocks away from the circle itself.  I arrived just ahead of the appointed time, but as it turned out, attendance was light.  Meghan and Rachel, two other RCDC regulars, showed up, and that was all.  Since we already knew most of the cheers, the practice turned into something more closely resembling a strategy session, as we discussed making a cheer sheet, discussed what cheers to do, and what modifications we were going to make to them to fit the demonstration at hand – a protest against an economic summit.  As it turned out, we made a slight modification to 3-6-9, substituting "G20" for "World Bank" in the second line.  Additionally, we took an old chant and gave it a second verse.  The original bit goes like this:
That's bullshit,
Get off it,
The enemy is profit!
Disease and starvation,
Will not be solved by corporations!
Then we added this:
That's bullshit,
Get off it,
Don't socialize your losses!
Foreclosures and gentrification,
Will not be solved by wealthy nations!
As you can see, we took a page from the book of progressive talk show host Randi Rhodes in crafting this, as she has discussed how the banks are privatizing the profits and socializing the losses via the $700 billion bailout that was recently authorized for them.
So with ideas in place for Saturday and no need to practice any cheers, we broke for the evening.  By sheer chance, it happened to be a day that I had taken the car down to the office, and so I ended up taking Rachel back home in the Sable.
---
On the day of the protest, I was prepared.  I had two outfits laid out for the day.  I had my radical cheerleading outfit all laid out, minus the tights, as it was slightly too cold to comfortably wear those.  Then I also had a black bloc outfit all laid out for that evening.  So, I put on my jeans, my Chucks, and the shirt I was going to wear for cheering, and packed the red cheerleading hat, the red shirt with the sleeves cut off, the arm things that I wear with that costume, and a bunch of bandannas, even though the black bandanna is strictly decorative when cheering.  I also got Duckie and the Kodak ready.  Since the weather forecast was calling for "showers and thunderstorms", I considered it likely that I would need Duckie's waterproof design in today's events.
Riding Alstom 6177 from Glenmont to Farragut North, I arrived at Murrow Park just ahead of the 10 AM start time.  That was enough time to get there, say my hellos, and then get with the other radical cheerleaders before things got underway.  I also took the opportunity to put on my radical cheerleading outfit, pulling out the arm things, the hat, the red "RADICAL CHEER" shirt, and the black bandanna for around the neck.  Since the weather was a bit cooler than the last time I wore the cheer outfit (at October Rebellion), I wore jeans this time around, and left the tights at home.
One surprise for this demonstration was that our event was being held in the southwest section of the park (Pennsylvania Avenue splits the park in two), rather than the northeast section that more often hosts World Bank protests.  Either side of Murrow Park is a small space, but I had never ventured into this side of the park before.
And soon the demonstration started.
---
Spray painting a message on a banner.  This banner would ultimately read, "ANTI-CAPITALISTA".
---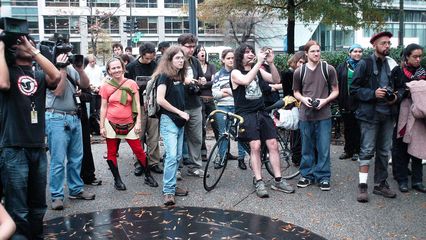 Partial view of the crowd gathered at Murrow Park for the demonstration.
---
Speaking about the closing of the Franklin homeless shelter.
---
As part of the speech, Basav Sen then stepped in, playing the part of the unfeeling businessman.
---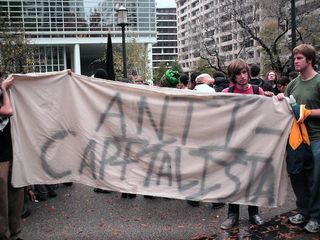 "Anti-Capitalista" banner, completed and displayed.
---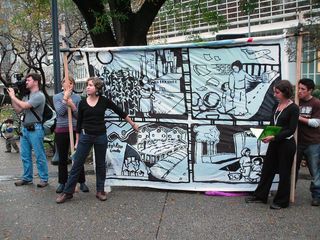 Part of a multipart story about the economy.
---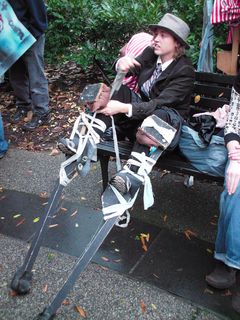 A woman straps on a set of stilts.  A group of people would walk on stilts the entire way from Murrow Park to Luther Place.
---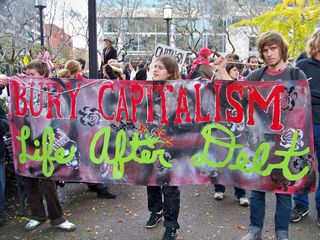 "Bury Capitalism: Life after Debt" banner.
---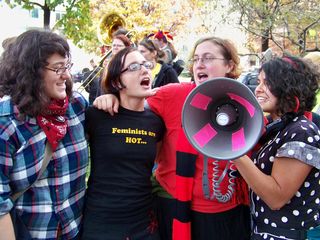 Radical cheerleaders sing a song into the bullhorn.
---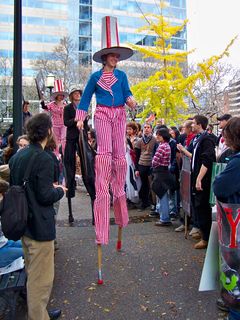 And the people on stilts are up and on their way!
---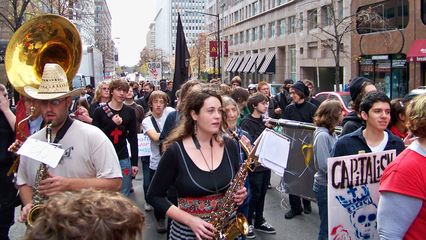 With the people on stilts officially on the move, it was time for everyone to begin the march, and so we were off!
---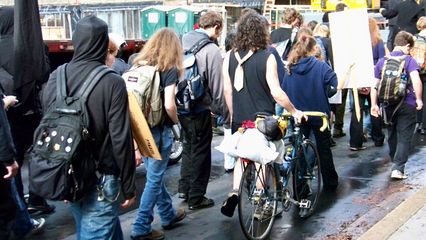 Marching through the streets of downtown Washington, protesting the capitalist system under which we live.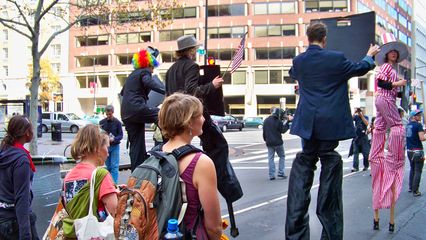 ---
"Let's talk about debt, baby, let's talk about anarchy…"
---
"…don't socialize your losses!  Foreclosures and gentrification will not be solved by wealthy nations!"
---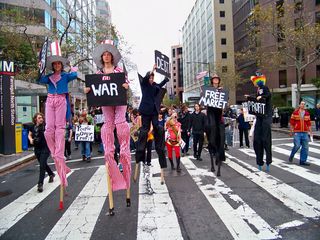 The people on stilts led the way.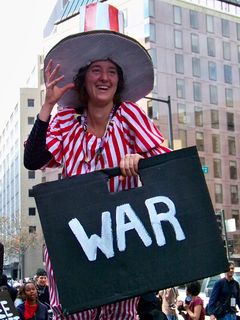 ---
"…I simply remember my favorite things… and then I go F— S— UP!"
---
The march continues, with the radical cheerleaders and a small black bloc taking a spot near the front of the march.
---
Approaching Thomas Circle, with Luther Place coming into view.
---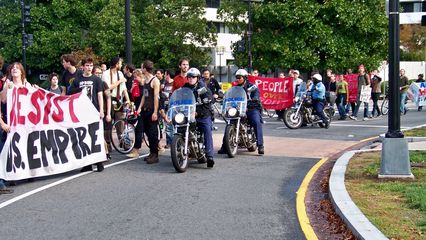 Our protest march looped once around Thomas Circle before entering the park at the circle's center.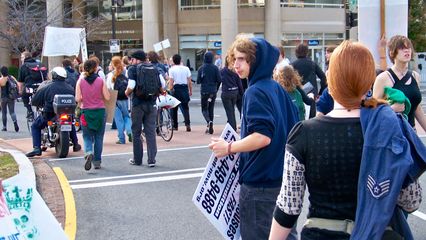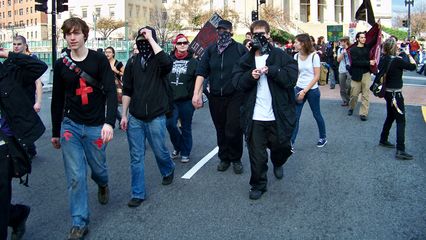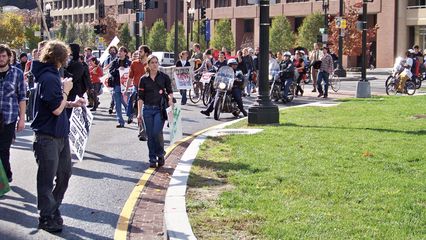 ---
Entering Thomas Circle to the chant of, "Resist, rise up, turn the system over, put the people on top!"
---
Arriving in the park at the center of Thomas Circle, the people on the stilts, whose costumes were designed to somewhat represent capitalism, made their grand finale.  Here, with "encouragement" from the anti-capitalist crowd gathered, the folks on stilts lost their balance and made a dramatic fall to the ground.
---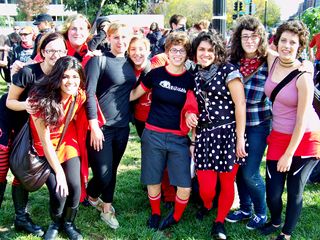 Members of the radical cheerleading group RCDC pose for a photo in Thomas Circle.
---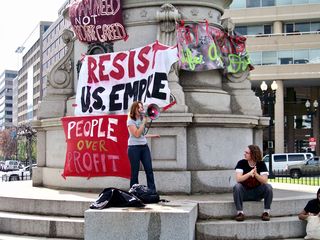 At Thomas Circle, a small rally occurred prior to the final march to Luther Place.
---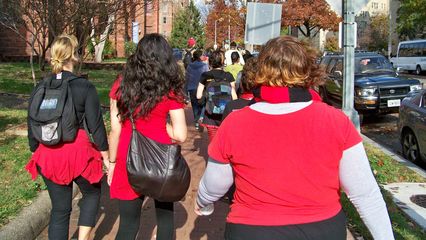 Marching from Thomas Circle into Luther Place for lunch and a People's Forum.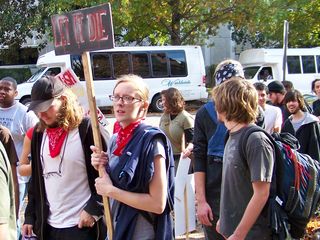 ---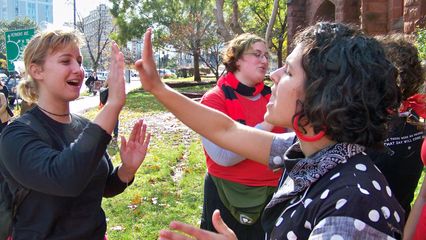 Performing 3-6-9 outside of Luther Place.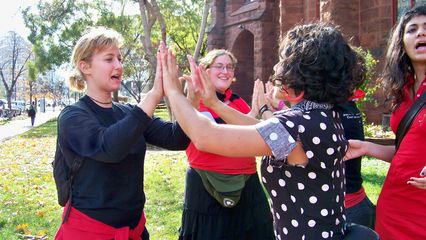 ---
---
Arriving at Luther Place Church, everyone got a chance to relax and take a seat.  Lunch would be served, and a People's Forum would be held in the main sanctuary.  I peeled off my radical cheerleader accessories, and fixed my hair.  For all intents and purposes, I once again looked like I would on a typical day.
---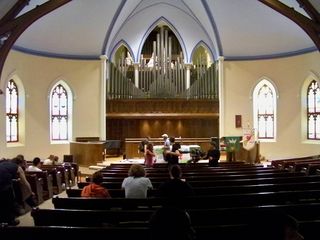 The sanctuary at Luther Place Memorial Church.
---
Lunch took a while to get out, but it turned out to be a bit of a disappointment.  It was never communicated that the organizers were going to be charging for sandwiches, and so many left without having lunch, including myself, for lack of cash.  If I had known, I might have brought some money with me, but as it was, I only had my debit card, so I was out of luck.  Some people took issue with the fact that they were charging at all, but my main issue with it was that it was not communicated beforehand that lunch would cost money.  I had no problem paying for lunch.  After all, the money was likely going to go to a good cause, likely helping to pay for the cost of the food and covering the costs of the march we just completed.  But I wish I'd been informed ahead of time, because otherwise I would have brought cash.  The whole daytime effort was beautifully executed, but this was their one failure, since no one indicated that we should be prepared to pay for lunch.  Thus the lunch didn't raise as much in funds as it otherwise might have.
After the lunchtime disappointment, I went outside to see what others were doing.  I ended up getting into a longer conversation with Delldot from Wikipedia, whom I'd initially said hello to in Thomas Circle, before heading out to catch the Metro home.  If I'd made better preparations, I might have figured out which Metro station was closest to Thomas Circle, but as I didn't do my homework, and since even the police officers at Thomas Circle didn't know which Metro was nearest, I kind of wandered into the main downtown area (by the way, I now know that the nearest Metro is McPherson Square, and Metro Center is the nearest Red Line station).  I stopped at a nearby CVS for a drink, and then continued.  I ultimately ran into Laura and Jordan, two of my radical cheerleader buddies.  We walked and talked for a bit.  They were going back to Murrow Park to pick up their bikes, and with that in mind, I decided to walk to Farragut North and catch the Metro from there.  Was that the closest station to Thomas Circle?  No.  But sometimes, that's just how things work out.
I parted company with Laura and Jordan at roughly Lafayette Park along H Street, where they turned south towards the park to retrieve their bicycles.  Farragut North was north of there, so I continued on my way towards Farragut Square.  I also took a moment to call my mother to tell her how things went.  During our conversation was the big surprise of the afternoon.  All of a sudden, just out of nowhere, the rain started coming down hard and heavy while I was walking through the middle of Farragut Square.  Seriously, one moment it's dry, and the next moment, drenching.  I immediately put the Kodak away and pulled Duckie back out, and picked up the pace to get through the square, across K Street, and to the shelter of the Metro station.  There, I finished my conversation with Mom, where I got to tell her of the protest, the cheering, and the fact that a Quick's bus had just pulled up in front of the station entrance.  For those of you not familiar, Quick's is a bus company based in Staunton, Virginia, near where I used to live, and down there, if you were taking a chartered bus, it was more than likely going to be Quick's.
---
It was raining – HARD!
---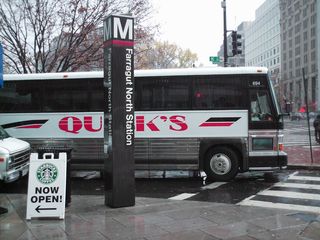 Quick's bus in DC.
---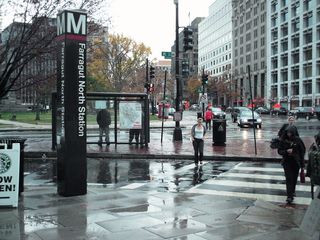 However, while it rained hard, it didn't rain long, and the rain subsided in no time.
---
Finishing my conversation with Mom, I got the Red Line back to Glenmont, riding back on Alstom 6152, and then returned home.
---
Due to the G20 summit's being held at the National Building Museum, Judiciary Square station was closed for much of the day as part of the security arrangements for the meeting.  Here, we are riding Alstom 6152 through the closed station, passing through the station without stopping.
---
Back home, I had some work to do.  For one thing, since there was a second demonstration later on that night, I had to change out some of the contents of my bag.  While the first demonstration involved radical cheerleading, this second demonstration would more than likely be a black bloc, and as such I had to change my setup.
I always carry water with me for protests, and for the earlier march, I used two small Klean Kanteens, which I carried "rocket booster style" (upright and to the sides, like the Space Shuttle) in my bag.  Carrying two small bottles to the sides like that seems to distribute the weight more evenly, and makes a slightly easier carry.  For the later march, I switched to a single larger Klean Kanteen carried horizontally in the center of the bag.  I made the change in order to minimize the amount of individual items in my bag, because in a black bloc, especially one billed as "rowdy" from the outset, anything can happen, and thus if my stuff somehow gets scattered, that's one less item either to lose or have to gather up.  Still, what a change from my earlier protest days, when I used to use bottled water.  Now, I have firmly taken back my tap.
Otherwise, I took out the radical cheerleader garb and set it aside, and changed black hoodies from the zip-front one to my pullover hoodie.  I knew I wouldn't need to remove the hoodie for the evening event, and so I didn't need the zip-front.  I also rearranged the bandannas and camera equipment, downloaded all my photos from the first demonstration, and set the batteries back on the charger.  It was quite a luxury to be able to go all the way home between marches, and quickly turn the equipment around.  Thus I knew that the morning's photo work would be safe regardless of what happened at night, and all the equipment would be running on a full charge once again.
And then, taking advantage of the fact that I was home, I made lunch, wrote a Journal entry, and then took a nap, thus ensuring that I would be fresh as a daisy once again for the evening march.  Waking up from my nap, I basically treated things like a new day.  I showered again, shaved again, got dressed, and then headed out.
---
Since this second march was starting at 11:55 and I had no idea when the march would end, I took no chances – I drove into DC this time rather than take the Metro.  After all, if the march ran past 3 AM, Metro would be closed, and I would then be faced with the prospect of either hanging out in DC until 7 AM when Metro opened Sunday morning, waiting along 16th Street NW for who knows how long for the S bus to get to Silver Spring and then transferring after another wait of unknown duration to a Y bus to get the rest of the way home up Georgia Avenue, or paying an expensive cab fare to get back home.  None of those options were my idea of fun.  So I drove.  Since the march would be taking off from Dupont Circle, parking was a snap – I would park at work, and then walk the three blocks from work to the circle.  Then afterwards, all I'd have to do would be to walk back to my office building to retrieve the car, and I had a guaranteed ride home.  Sounds like a winner to me!
So that's what I did.  I arrived at work around 11:00, and had a quick dinner.  At around 11:30, I put on my black pullover hoodie, and headed down to Dupont Circle.  As was the case in October, the circle was crawling with police, and police cars with their lights on.  Luke was there, as were a few anarchists, and some mainstream demonstrators.  Missy was also there, and we got into a conversation, noting that it was not going to rain despite the heavy rain earlier in the day, because the clouds had started to break up, and you could see the moon and stars.
---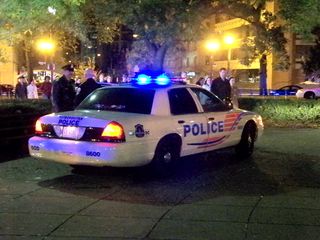 Yes, the cops were out in force in Dupont Circle…
---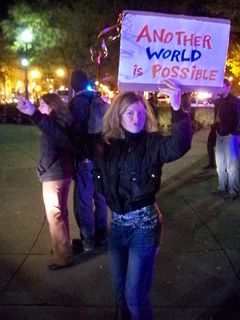 One of a handful of mainstream demonstrators in Dupont Circle for this late-night march.
---
However, Missy and I soon noticed that Luke and the other anarchists had apparently left us.  What happened?  A quick phone call to Luke revealed that there was an alternate staging area that was not publicly announced that had gathered at the intersection of 20th and Q Streets, and that the march would be starting from there rather than from Dupont Circle.
Already I realized that something was definitely up, and I didn't like it.
So Missy and I proceeded to 20th and Q.  Arriving, we realized that the march had already started, and was about a block or so ahead of us.  We had to catch up, and fast, since this was supposed to be a fast-moving march in the first place.  We trailed behind the march for several blocks, and didn't catch up with them until the march had crossed to the east side of Connecticut Avenue.
Joining the march after finally catching up with the rest of the group, we passed through a neighborhood, and one of the first things I saw was a person moving a piece of fence out into the street.  Continuing north going downhill on a street slick with wet leaves, a number of people were throwing recycling bins in the air and into the street from both sides of the street.  The police officers were getting really mad, as they were shouting profanity-laced warnings at the protesters to stop throwing things and that they did not have the proper permits to be in the street.  After passing through this area, the march returned to Connecticut Avenue once again, and we quickly turned west onto Kalorama Road, which would bring us near a number of embassies, and residences of various high-profile individuals.  With this, a car from the Secret Service joined the MPDC in following us.
---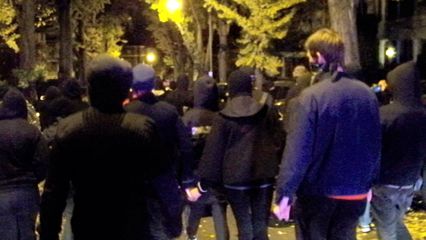 Marching through a neighborhood east of Connecticut Avenue.
---
Marching through the streets, with the police hot on our trail.
---
Police cars at our protest, including an MPDC pickup truck!
---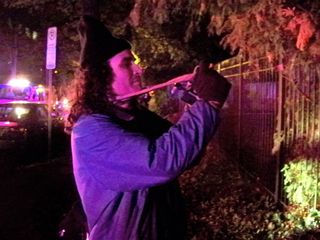 Luke takes a moment to take a photo of the event.
---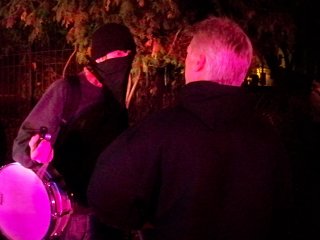 A police officer hassles a black bloc participant.  This photo was taken just before the officer forcibly yanked the demonstrator's mask down.
---
Continuing through the streets, the march finally ended somewhere in the Kalorama neighborhood, when the police declared the unpermitted march disorderly and ordered it stopped, and barring any further forward movement.  It likely helped the police effort that the march had become somewhat strung out by this point, as the head end of the march was still moving swiftly, but other parts of the march had spread out.  MPDC Captain Jeff Herold, who is regularly in attendance leading the police contingent at protest marches, indicated that the march was over, and people would be permitted to leave in groups of ten.
We had been marching for only thirty minutes when the march was stopped.
---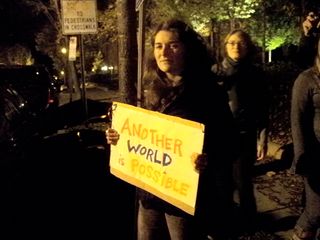 A mainstream demonstrator holds a sign as the march begins to stall.
---
The mainstream demonstrators address their concerns to the police officers regarding their handling of the march.  Sadly, I don't think that these people knew just what they were getting into with this march, and much like the two sisters in June 2007, they made a headfirst dive into a black bloc, knowing nothing of how these things operate.  I've always said that you should never march in a black bloc without first learning about how the tactic works, because it is quite different from mainstream demonstrations.
---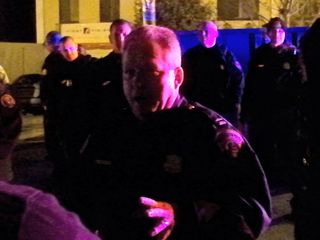 Herold explains that the march is going to be dispersed, and that people would be permitted to leave in groups of ten.
---
Herold explains what's going on, and apparently is feeling somewhat camera shy on this particular night.
---
Leaving the march, the regular DC anarchist crowd quickly regrouped on Kalorama Road, and quickly de-blocked.  Masks came off, and people changed into alternate sets of clothing that they had brought in order to make it appear that they had never been involved in the march, in order to throw off anyone who might have been tailing them while in black bloc configuration.  I personally question the usefulness of that effort compared to other methods of escaping the scene of a wild protest march, but that's what they did.
Ultimately, we decided our best course of action was to return to Dupont Circle and from there, call it a night.  We returned to Connecticut Avenue via Kalorama Road, and after a quick discussion over which direction was northbound and which was southbound, we were on our way.  I think just about anyone can forgive our forgetting which way was which, since some protest marches, especially fast-moving and circuitous marches like this one, have a way of disorienting people due to the many changes in direction.  We eventually figured it out by looking at the street signs for Connecticut Avenue, since in Northwest, block numbering goes up as you go further north.  Once we saw which direction had the lower number, we had it figured out.
---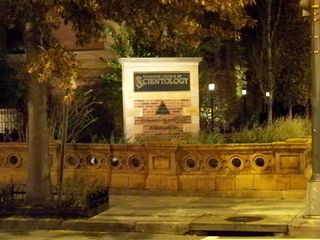 How strange to go past the Founding Church of Scientology with my protest buddies, rather than Anonymous!  It's like when worlds collide…
---
As is usually the case after protest marches, however, we still had a police escort.  But the hell with them.  We were finished demonstrating, and made small talk all the way to Dupont Circle.  When we got to Dupont Circle, the police were still there, as we headed over to the fountain.  There, a bunch of us got into a conversation with Jeff Herold, who, when one person addressed him as "Captain Herold", indicated that he hated the formality of that title, and actually preferred just being called "Jeff" over the more formal title.  Jeff Herold is, as cops go, probably good to have around, because he has developed a rapport with the local activist crowd, and knows most of the regulars.
In the discussion, Herold discussed how he usually handles demonstrations, giving three warnings and then shutting things down if disorderliness persists.  He also agreed with me that it's often times not the local activist crowd that fouls things up, but rather activists coming in from out of town.  After all, even most animals know better than to soil their own bed.  And it also turns out that Anonymous has a great reputation with the police due to their staying within the law at all times.  After all, the government is not really what Anonymous is interested in, and thus views the police neutrally.
Then after a while, everyone broke off and went back to their respective homes, and the police declared their job for the night to be done as well.  Metro was still open, and so people could still use it, obviating the need to caravan up to Silver Spring at the end of the night like we did last time.  I stayed at Dupont Circle, since, in a discussion with Isis before the march, I had agreed to keep an eye on a younger demonstrator and make sure she stayed safe, and with all the chaos during the march, we had become separated.  So I stayed behind, and called to check in.  Since I was driving up to Maryland, I was able to take her home.  She met me at Dupont Circle, and we walked back to my office building where the Sable was, and then rode back to Maryland.
Interestingly enough, on the way back to my office building, the two of us ran into Jim, a friend of mine from my Potomac Hall days at JMU, and we got to briefly say hello before again parting company.  Jim is from New York, and happened to be in DC that weekend, and neither one of us ever thought we'd run into each other in DC, especially this late at night.
In the car, my friend and I got an opportunity to discuss the day's protests.  Both of us agreed that the daytime march went exceptionally well, and was a lot of fun.  We also agreed that the nighttime march was poorly executed, and that, sad to say, it was a waste of everyone's time and efforts, since it accomplished nothing, even by our standards.  Honestly, it was the first time I'd left a protest march not in an upbeat mood.  This protest left me rather annoyed, and slightly angry over what happened.  I had made sacrifices to attend this nighttime march, including skipping a demonstration opposing California's Proposition 8 that was being held at the Capitol that same day that I had wanted to go to.  While I support same-sex marriage and am very disappointed in California's citizens in passing such a vile ballot measure (much the same way I was disappointed in Virginia for passing theirs in 2006), I knew that three protest marches in one day was beyond my limit, and if something had to go, that was it.  Because of that and the way the nighttime march was handled, it left me quite perturbed.
As I saw it, the protest put too much emphasis on the wrong things, and not enough emphasis on the right things, and as a result, came up short, putting too many people at risk for too little of a result.  As I see it, the main focus of every demonstration, regardless of whether the tactic is a black bloc, street theater, civil disobedience, a rally, or what have you, should be the message.  Without a clear message, people don't know what you're demonstrating about, and so you've lost the battle right there, since you're not getting outsiders to understand and sympathize with your cause.  This demonstration put all of its emphasis on tactic – staying one step ahead of the police, and trying to slow down the police at every turn.  This led to my getting the impression that the demonstrators had lost sight of the forest for the trees.  This march had been publicly announced as a going away party for the G20.  However, from the moment it started, I knew something was up, when a secret secondary staging location had been used.  Plus the idea of staying ahead of police officers when you're on foot and they're in Crown Victorias seems particularly ludicrous.  Additionally, while the whole "screw the police" mindset is certainly one to aspire to, in practice it doesn't always work very well.  After all, we are unarmed, and, as put so well in October, "they're the ones with the guns".  You've got to "play the game" to an extent, if nothing else but to placate the police.  Do you have to play it entirely by the cops' rules?  Hell no.  That goes so far as to be undesirable, since then it makes you look like sheep.  But you do have to play the game to an extent to go the distance.  We played the game at the October march against the World Bank and IMF, and we completed the march, got our message across, and had fun doing it.  When you put all of your effort into tactic and playing cat-and-mouse with the police, and put no effort into your message, you end up like this – shut down thirty minutes into your action, without having reached any of the targets of your march.  Plus if you're having a march and making details about that march public, you need to stick to it.  Publicly announcing a fake meeting point and then staging a secret "real" meeting point elsewhere leaves any supporters who aren't "in" on the real details out in the cold, and, in standing these people up, alienates these potential allies, whom you may need in the future.  Additionally, by staging in secret at an alternate location, you're tacitly indicating that you are indeed afraid of the police.  That's a bad message to send out.  I personally have no problem walking through the gauntlet of police to reach a meeting location for a march.  Really – it's not a problem.  I don't fear them.  It's kind of like the Looney Tunes "Wolf and Sheepdog" cartoons.  Each side knows each other, and so it's okay to say hello to the other side before going about your business, even if they will interact, and potentially negatively.  Plus one of the police's biggest tactics is fear, and if you show you aren't afraid of them, you're well on your way to coming out on top.
Eventually, my friend and I crossed into Maryland, and I got her home.  Unlike the first time I went up that way in October, this time I knew where I was going, and so the route was far more straightforward than before.  No detours and U-turns through downtown Washington and Silver Spring this time.  We just drove straight in.  After I dropped my friend off, I headed home.  I finally got home around 2:00, where I promptly fell asleep.
---
Notwithstanding the evening march, the day's events were a great success, hopefully driving home the message that it's not okay to privatize profits while socializing losses.  This economy is a mess, and if the governments of wealthy nations are to reform the system to try to bring us back to prosperity, we want to make sure that they do it the right way this time around, and not slant the system towards big business and away from the people.