September 15 Anti-War March
Photo Set
Look familiar?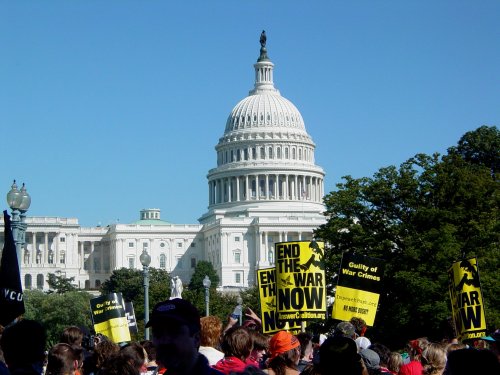 That's right… we're ba-a-a-a-a-a-a-ack! The anti-war movement returned to the Capitol in a march sponsored by ANSWER Coalition. The march started at Lafayette Park in front of the White House, and followed Pennsylvania Avenue to the west front of the Capitol, where a rally and die-in were held.
This time, it seems ANSWER "wised up". Their March on the Pentagon on March 17 was a very strong statement symbolically, marching from the Lincoln Memorial to the headquarters of the war machine, i.e. the Pentagon, and stirring up memories of a similar march that occurred in the 1960s. However, from a visibility standpoint, the march was a poor idea, because it started at the western edge of Washington, marched over a bridge that was completely closed to traffic, stayed clear of any population centers, and ended with a rally in the somewhat-isolated parking lot of an empty office building. Not exactly the greatest impact in the world. All you had were the demonstrators, and the counter-protesters. No real place for bystanders. The only group that tried to take the message further was SDS, and they were repelled by the police.
One of the benefits of living in the DC area is being able to start later.  No more leaving the house at 4 AM and driving to Vienna to make an early rally.  My protest day started at 10 AM.  I left the house, and drove over to Wheaton station. Since I was running a touch late, I walked down the longest escalator in the western hemisphere. I caught Breda 4080 and headed into Washington, ultimately riding around to Tenleytown-AU station. There, I got a call from my friend Maddy, who told me that the radical cheerleading group we were planning to go with, RCDC, was heading back towards the Metro from the American University campus to go downtown. So I waited for them at the station entrance. There they were, and so I got with them, saying hello to Maddy, Olga, and Jeff, and we descended into the Metro station. On the platform, we made it known to everyone that we would be getting off at Metro Center. So in came the train, destination New York Avenue. We boarded Breda 4096, and we were off! A number of people in our group decided to have some snacks on the train. I made the somewhat-humorous comment to Maddy, "Uncle Catoe is watching you," referring to Metro general manager John B. Catoe, Jr. Turned out to be more literal than we thought, as there was an advertisement on Breda 4096 that had a picture of "Uncle Catoe" on it. At Farragut North, one stop before Metro Center, someone determined we should all get off there instead, and so we all piled off the train, regrouped in the station, and then headed up to go to Lafayette Park.
At Lafayette Park, we first took up station in the northeast corner of the park, and did a few cheers. Someone also passed out sheets with the words for the cheers on it, so that we would know what we were supposed to be saying. Meanwhile, I made an adjustment to my outfit – I started out wearing my red Chucks, my black jeans, a black shirt, and my black hoodie. It had gotten to be too warm for the hoodie, so I tied it around my waist. Meanwhile, I also tied a red bandanna around my neck, and took off my glasses. Radical cheerleaders don't normally mask up, but just let it hang down. So there you go.
We later moved to the eastern end of the 1600 block of Pennsylvania Avenue, in front of the Treasury Building. There, we saw Isis, and all of us who were DC protest regulars got our big hugs and hellos with her. Jeff saw the SDS group go past, to take up a spot on the other side of 15th Street, and all of a sudden, he masked up and he was off with them.
---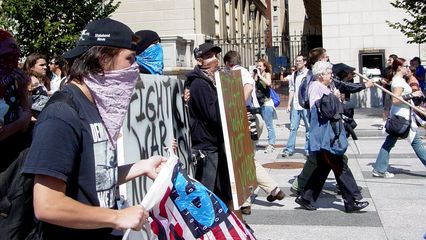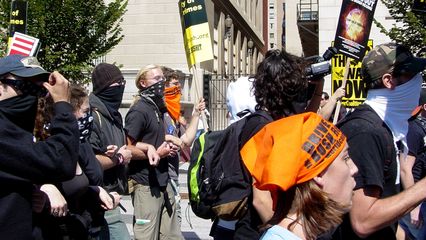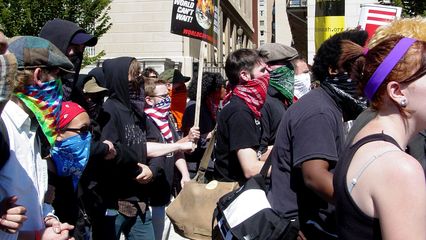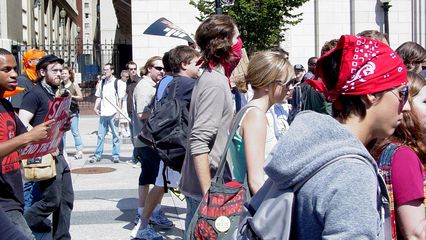 ---
Meanwhile, the rest of us took some time to do a lot of the cheers.  It was so awesome.  And with ANSWER being the group putting on the rally, we had a lot of time to cheer, since ANSWER just about never gets going when it says it will.
---
Initially, the cheer group took up a position in a straight line in front of a barricade.
---
Later, everyone formed a circle in the middle of Pennsylvania Avenue.
---
"The 'F' for feminism waving you 'bye bye'! … Hey, George Bush, can't you see that my body belongs to me!"
---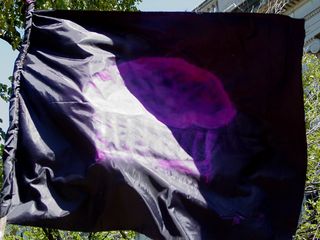 Meanwhile, a black flag with a muffin on it flew nearby.
---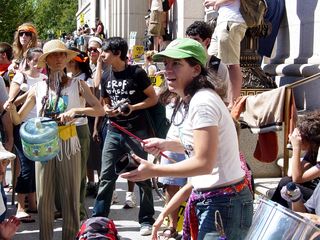 And another group played music.
---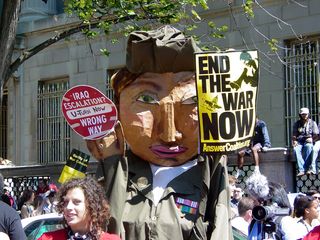 A street puppet, dressed in a military uniform, called for an end to the war.
---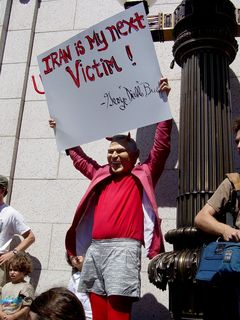 Even David Barrows, in his "Devil Bush" costume, joined in.
---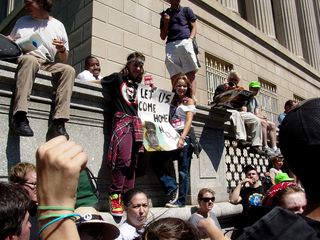 Along a wall, a crowd had gathered to watch.
---
All the while, the radical cheerleaders cheered on…
---
"But what is terror anyway? Nuclear destruction, genetically modified foods, the IMF, the World Bank, it's all bad news!"
---
"You cut down all the trees to regulate the Earth's degrees…"
---
"…and raise up your fist!"
---
Eventually, the radical cheerleading group split into two groups. One group, including Maddy, Olga, and myself, went across 15th Street to join up with SDS. The other group stayed where they were. There, a number of us masked up, including Maddy, Olga, and myself, and we did cheers near the SDS group. There, I was surprised to find out who was there! I heard my name, and it turns out to be a friend that I had previously attended church with at Finley Memorial Presbyterian Church during the 1990s. Turns out it was Garrett, who was now a junior at William and Mary, and active in the SDS chapter there. How cool!
---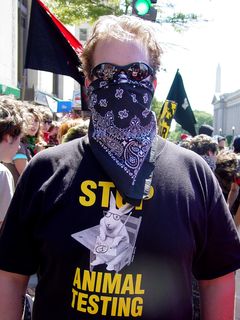 It's Garrett! How cool!
---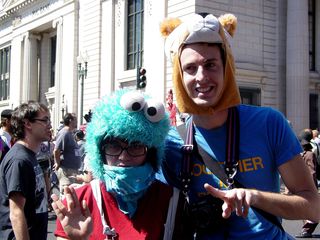 This was perhaps one of the coolest outfits we saw – a Cookie Monster hat!
---
And as it became closer to the time to march, Maddy, Olga, and I all masked up.
---
At one point, one person called all the DC people up for a quick huddle. All of us who actually were from Washington gathered for a quick discussion. We all quickly came to an agreement. We should discourage people in the strongest terms possible from trashing our city, i.e. don't break that window, but not order people around. After all, we live and work in the city, but ordering people around in that regard would smack of authoritarianism, and that would not be a good thing.
After what seemed like forever, the march got moving. Our plan as the SDS contingent was to wedge ourselves into the march just after the veterans. The general feeling was that it was the right thing to do to let the veterans take the lead, and we in fact had several false starts as we realized that the veterans had not yet gotten through. Once we really got moving, though, we locked arms and wedged ourselves in, right behind the veterans. This involved breaking through the "peace police", aka ANSWER "security", who generally wear bright yellow safety vests. In this case, they had joined hands to guide the march onto its southeastern route, and also were holding a rope. Once one girl lost her grip, it was all over for the peace police, and the wedge-in was successful.
And so we were off! As we passed by the southeast corner of Freedom Plaza very early in the march, Maddy, Olga, and I noticed a strange smell: Why would someone be painting their nails during a protest march? We eventually realized that what we were smelling was most likely spray paint, though I have no idea whether or not any tags were left in the vicinity of Freedom Plaza.
---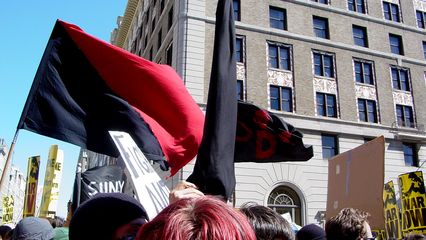 Yes, the march is underway…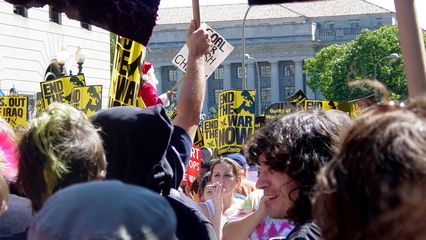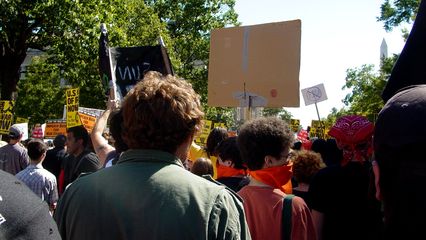 ---
"1, 2, 3, 4, we don't want your f—ing war! 5, 6, 7, 8, organize and smash the state!"
(A few of us had initially mis-heard this chant, and thought they were saying, "organize and masturbate". Oops!)
---
One thing about ANSWER's marches, though, compared to marches organized by other groups, is that ANSWER tends to be very stop-and-go. ANSWER's marches are slow-moving as a result, and when covering a long distance (as this march to the Capitol was), it becomes a little bothersome after a while, with the constant stopping and going. It's not a continuous push to the target. It's very much a slow maneuver. Why does ANSWER do this? I don't know…
---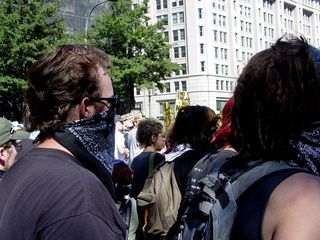 Waiting…
---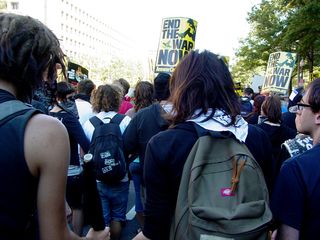 Moving…
---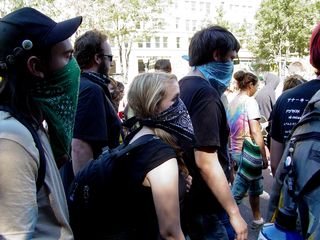 And waiting again…
---
"No war, no way, no fascist USA!"
---
Meanwhile, counter-protesters lined the south side of Pennsylvania Avenue for some distance. This group consisted of your garden-variety counter-protesters, like Free Republic and other right-wing groups. They shouted their own slogans at those marching, taunted those in the march, held their own signs, and filmed.
---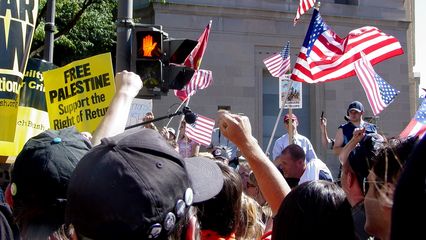 Going past the wackadoodles, er, I mean, counter-protesters…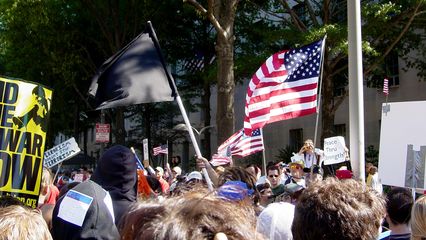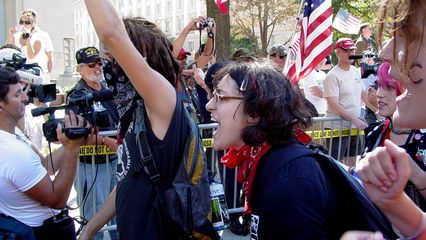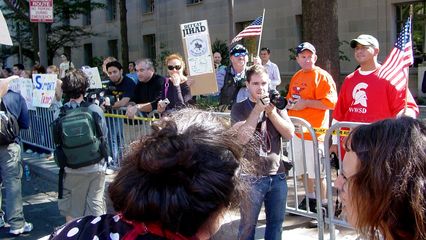 ---
Counter-protesters use an air horn in an unsuccessful attempt to drown out the anti-war crowd.
---
"No war! No way! You racist fascists go away!" The radical cheerleaders later take over with "Get psyched! Get pissed! Shake your booty and raise your fist!"
---
The bloc organized by SDS, meanwhile, became somewhat dispersed. It started out as a large mass, but once the march got going, it spread itself out amongst the mainstream march to an extent, occupying much of the first half or so of the march. There wasn't much we could do to remedy the problem at this point, due to the sheer size of the crowd in this anti-war march, but we would regroup at the Capitol.
---
The Ants Go Marching, jokingly referred to as SDS's unofficial theme song, is sung again. This soon changed to, "Off the sidewalks and into the streets!"
---
As we got closer and closer to the Capitol, I was struck by the similarity of this march to the one on January 27. In January, we marched to the Capitol from the southwest. This time the push came from the northwest, but I still got the very distinct feeling that we were back.
---
The masses return to the Capitol…
---
Finally, we approached the Capitol, and marched up the west lawn, per the plan. The march itself went up onto the Capitol grounds this time, unlike in January, where the official plan was to congregate nearby, and SDS brought much of the march to the Capitol itself through its own separate maneuvering.
---
"Show me what democracy looks like! This is what democracy looks like!"
---
We have arrived!
---
"We want a tour! We want a tour!"
---
"Arrest George Bush! Arrest George Bush!"
---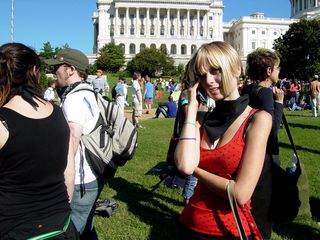 Meanwhile, upon our arrival, Olga took a moment to make a phone call.
---
At the Capitol, there was a rally and die-in. The rally included speakers such as Cindy Sheehan and Ralph Nader. The die-in involved those willing to risk arrest laying down on the sidewalk in front of the Capitol.
---
"U-G-L-Y, corporate hos, you cheat, you lie, you ugly! Yeah, yeah, you ugly!"
---
Meanwhile, SDS, having completed the march, gathered on the lawn to determine just what everyone was going to do next. Basically, the primary objective had been completed, and now we were determining what the next wave would be while still at the protest. Everyone sat in a big circle, and we discussed our options. As it was a bit of a rest period, I pulled out my glasses and put them back on, so I could see what was going on really well. I can get along well enough without my glasses, but it's still better to use them.
After we got some order in the circle, appointing a moderator and speaking one at a time, we discussed various ideas. One was to storm the Capitol. Another was to simply stand back and lend support to those participating in the die-in. Yet another was to stand nearby and a representative from the group would read from a copy of the Constitution. A final solution was to call it a day, and let the SDS bloc "fizzle out". While discussions went on, however, things were already starting to fizzle out. One SDS chapter decided to leave the march in search of food. Another chapter also left on a similar pursuit. This placed some pressure on the remaining group to figure out what it was going to do, and fast, as they were already "fizzling out". Various points were made about all the various issues. Finally, a vote was taken, and it was determined that the group would storm the Capitol, forming a line between those in the die-in, and the Capitol Police. And the group was off, but not before I went back into protest mode – glasses off, and bandanna up.
However, while we were seated in the circle, fatigue finally caught up with me. I was tired. I had lost my momentum. So considering the crowd that we had to wade through, I got a hold of Maddy and Olga as we were starting the charge, and told them that I was heading out, because I had other commitments that evening. And I did. So I headed out, with the intention of heading towards Union Station to rest before meeting up with some friends from my discussion forums.
---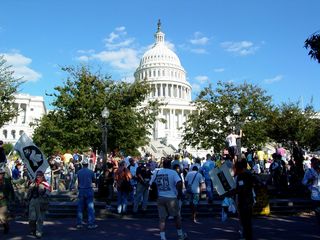 As I headed out, the protest was still quite well-attended.
---
And it turned out to be a good thing. According to an article in The Washington Post, the Capitol Police ultimately used a "chemical spray" (probably pepper spray) to disperse demonstrators, and according to Maddy, the SDS bloc was unsuccessful in its mission, mostly due to the crowds, though SDS thankfully didn't end up on the receiving end of the spray.
So I walked up towards Union Station from the Capitol grounds. I actually got to talk with a member of the "peace police", as we called them, on the way up from the Capitol. This particular individual was from Chicago (where my sister lives!), while I, meanwhile, was local.
Arriving at Union Station, I found a men's room where I changed my shirt from the black one I was wearing to a blue one (i.e. I fully de-blocked), and then went in pursuit of refreshment. I ended up at a Häagen-Dazs on the bottom level, where I got a small cup of ice cream. That hit the spot as something cool and refreshing, while not being something that would spoil dinner.  It was also expensive.  That's what happens when one gets fast food at a train station, I presume.
Afterwards, I made my way up to the main level, and sat down and texted with a different friend from my discussion forums, waiting for the friends that I was meeting to call me. They were coming down the Red Line from Forest Glen station, and were going to call me when they got to Union Station. At last, I got the phone call I was waiting for. They were in the station. I said okay, we'll meet in the mezzanine. However, one important detail that I had forgotten about – which mezzanine? I went into the station via the mezzanine at the center of the platform, while they were in the mezzanine at the end of the platform. Oops. Since I had the day pass, though, I just went through the station for free. No harm done.
And there in the other mezzanine were Mike Bode, Ataan Kurgun, and their friend Andy. We made it! First order of business? Andy needed a smoke. Quickest way outside was through this little side door, and we were out on the sidewalk on First Street NE. While Andy had his cigarette, I told everyone about how the protest went. I also showed them some pictures of the protest right off of Big Mavica, saying, "Remember, you saw it here first!" Very few people have ever gotten their first views of one of my photo sets from directly off of Big Mavica…
After Andy finished smoking, we went back into the station, and went to Pentagon City via Gallery Pl-Chinatown. My all-Breda day continued, as we got Breda 4098 to Gallery Pl-Chinatown, and then Breda 3030 (rehab) to Pentagon City. At Pentagon City, we crossed through to Pentagon Row, which has shown up on Schumin Web a number of times. There, we figured out where we were going to go have dinner. At Pentagon Row, there was Champps, which was nice, but really crowded, then Sine, Lebanese Taverna, Thaiphoon, Asia Bistro, Murali…
Eventually, Ataan decided he wanted to go to a theme restaurant – do we have a Planet Hollywood? Well, there's no Planet Hollywood in DC, but there is a Hard Rock Cafe. It's somewhat near Metro Center. So we got back on the train, and rode back in on the Blue Line, and Breda 3082 (also a rehab). Leaving Metro Center, we noticed a junction box on the wall near the street elevator marked "F/A", and discussed it, since a marking like that indicates "Fire Alarm".
The Hard Rock Cafe was a lot of fun. We discussed everything! We discussed the protest, the forums, Schumin Web, their trip down, as well as all the things to do in DC while they were down there. However, the music was a touch too loud at the Hard Rock Cafe. Every so often, you'd hear one of us saying, "WHAT?" I ordered the chicken fajitas. Mike, Ataan, and Andy ordered various sandwiches, and Mike and Andy also ordered drinks. The chicken fajitas were a bit of a surprise – no one told me that it was a BYOF deal – Build Your Own Fajita. I got a plate with a bag of tortillas, and all the fixings to go on them. I had to work at this! Put the fajita together, and then hope it doesn't fall apart. But I somehow managed.
After we finished at the restaurant, we headed over towards the White House. Everyone figured that if they're going to be in DC, they might as well see the White House, so what the heck. So from the Hard Rock Cafe, we walked west on E Street NW. I correctly figured that much of what they knew about actually being in Washington came from Schumin Web, so I pointed out a few places where I'd photographed or done photo sets along the way. At 13th Street, E Street becomes Pennsylvania Avenue, and we continued as we walked past Freedom Plaza. I told them about how the protest went around the south and west sides of Freedom Plaza. I also reminded them of Freedom Plaza's first appearance – in A Protest Against the War, way back in 2003. Going past Freedom Plaza on the opposite side of the street, I also pointed out the former location of the Sightseeing-DC Style panda from the Pandamania DC photo set. Then turning the corner, there was the awning over the entrance to the Hotel Washington, site of a solidarity rally at the end of the Million Worker March. They didn't recognize it, though, until they were right on top of it, since the view I presented back then was a straight-on view, and not a side view.
And at last, we reached the White House. I jokingly commented, "I feel like I was just here!"
Arriving in the "picture postcard" area directly in front of the North Portico, we stopped for photos. First we photographed Ataan in front of the White House. Then Mike joined the scene. Then finally I joined the scene, and Andy photographed the three of us.
---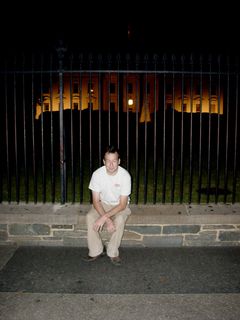 First, Ataan posed alone in front of the White House.
---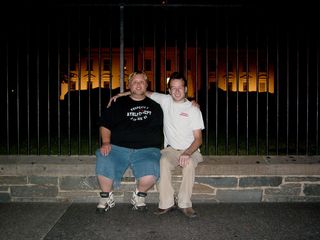 Then Mike joined Ataan in the "picture postcard" area for the photo.
---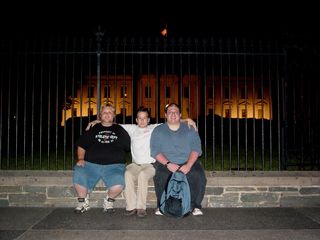 Finally, I joined the group, and Andy used Big Mavica to take a shot of the three of us. Note the big sunburn that I'd gotten at the protest earlier, and the backpack (as compared to Big Mavica's regular bag).
---
Following the visit at the White House, we decided to call it an evening. They were going back to their Silver Spring hotel, and I was going back to my house. Considering our location, I found it worthwhile to go the extra few blocks and skip the transfer at Metro Center. McPherson Square was the closest station, but Farragut North was a Red Line station. Being so close to a Red Line station made the transfer seem counterproductive. We eventually got Breda 3171 for the ride back to Montgomery County.
---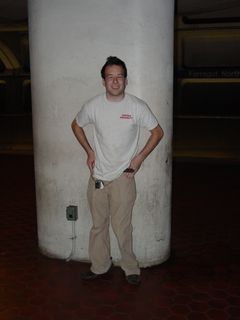 Ataan poses next to a column at Farragut North station.
---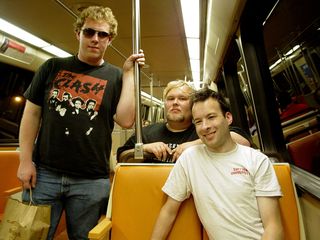 Andy, Mike, and Ataan strike a pose on Breda 3171.
---
Ataan, Mike, and Andy rode as far as Forest Glen, and we all got our goodbyes on the train as we arrived at Forest Glen. Then I rode further down the line to Wheaton, where I met back up with the Sable to go home. Also noticed another "F/A" box at Wheaton, with two obvious clues that it was fire alarm wiring.
---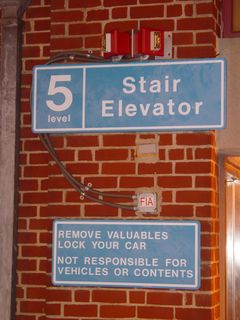 Yeah, two Edwards horns connected to the F/A junction box is an obvious clue…
---
Arriving home, I was completely exhausted, and pretty much went right to sleep. But what a day it was! I joined up with the radical cheerleading squad, spent time with SDS, got to hang out with my local DC activist buddies, and meet some friends from out of town, so all in all, it was an awesome day.
Photo Set