North Carolina and Hampton Roads
Part 1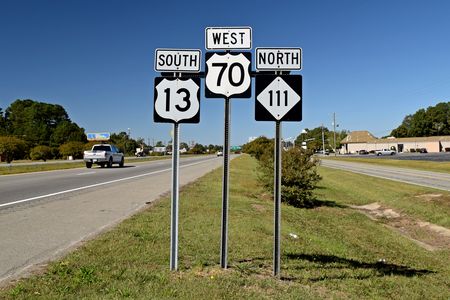 From October 15-21, 2021, Elyse and I took a weeklong trip down south, going to eastern North Carolina and the Hampton Roads region of Virginia.  While Hampton Roads was a familiar place, the parts of North Carolina that we visited were mostly new to both of us.  We drove down to Goldsboro, North Carolina, and made the trip down a part of the adventure.  Then once we got down to North Carolina, we spent a day in and around Goldsboro, and spent a day in and around New Bern.  Then we traveled to Newport News, Virginia by way of Rocky Mount, Roanoke Rapids, and Emporia, and then we spent two days visiting various places in and around Hampton Roads before going back home, and visited Williamsburg, Richmond, Ashland, and Fredericksburg along the way.  While on our adventure, we also visited with friends.  I feel like the theme of the trip was roads, infrastructure, toilets, and Harley-Davidson (yes, you read that right).
We got started just before 10:00 AM on the 15th.  Since the first part of the drive involved going to the other side of the DC area, I felt that there was no point in starting earlier, because we would just spend the extra time sitting in traffic anyway and get the same result.  Our first stop was in Woodbridge, where we visited the PRTC transit hub.  Our goal there was to see the Exeloo self-cleaning restroom facilities at the PRTC facility.  This would be our second Exeloo restroom facility, following the self-cleaning restroom that used to be at Huntington station.  We had been aware of these facilities for a while, and we had attempted to visit them on our Hampton Roads trip the year before, but as that trip was taken during the early weeks of the COVID-19 pandemic, the restrooms were closed at that time.  This time around, we confirmed with a contact ahead of time that yes, they were definitely open, and we stopped by for a look.
---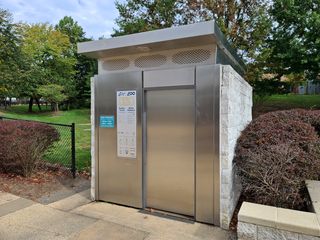 The exterior of the Exeloo at PRTC.
---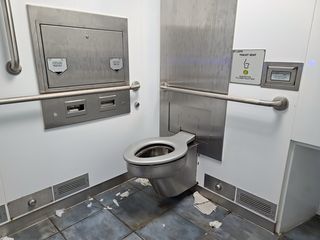 The interior of the Exeloo.
---
Elyse smiles for a photo with the Exeloo.
---
Elyse points at the "Occupied" icon on the outside of the Exeloo with some amusement, because according to her, it the pictogram of the toilet and the person sitting on it appear to be a single unit, which I can see.
---
I wasn't sure what to expect with this unit, seeing that this was more built-in than the Exeloo that used to be at Huntington (the one at Huntington was completely freestanding), and was also a different shape.  As it turned out, this version was larger inside, and had a different layout.  However, I felt like this Exeloo wasn't in the best of condition.  My first reaction upon entering was, "G-R-O-C-E gross".  It wasn't clean, and looked like it had not been cleaned in a while, smelling like various body functions had occurred there.  Additionally, most of the electronics inside didn't work.  For one thing, the toilet seat was already out when I came in.  Normally, the toilet seat is stowed behind a panel in the wall above the commode when you come in, and deploys when you press a button to summon it.  The seat then returns to its storage location behind the wall panel when you exit the restroom, and it is automatically cleaned before the next person uses it.  Its already being down on the commode when I arrived made me wonder how long it had been since the last time it had been cleaned.  Additionally, the sink didn't work very well, as it would dispense some water after some effort, but the soap dispenser was completely dead, so no way to ensure clean hands after using the facilities there.  Not very sanitary at all.
All in all, this Exeloo was pretty disappointing, but I appreciated expanding my knowledge of Exeloo's products beyond the one specimen that I had been familiar with that is no longer there.
After finishing up with the Exeloo, we stopped at a nearby Taco Bell for lunch.  I finally got to properly wash my hands after the Exeloo failed to perform, we each had a burrito, and then we hit the road again.  On the way down, we had WTOP, a DC-area radio station, playing in the background, via their Manassas transmitter (107.7 FM).  As we approached Richmond, WTOP started to fade away, and we started to pick up another radio station, hearing the two stations simultaneously for a time.  We turned it off around Ashland, intending to check on it again after we cleared Richmond.
The way that we planned our southbound trip was to concentrate our activities along parts of the route that we would only see once on the entire trip.  For this, that meant that we would focus our efforts on the area between Richmond and Emporia.  We would see the area above Richmond again on the day that we headed back home, and we would go back through the area south of Emporia on our "transition" day, on Monday.  Functionally, that meant that we would focus our efforts on Colonial Heights and Petersburg on the way down, and keep it moving through the other areas, blowing straight through Richmond without stopping.
In Colonial Heights, we had planned to stop at Colonial Harley-Davidson and Southpark Mall.  The Harley places were for Elyse, as she has taken to collecting the poker chips that each Harley dealership sells that contain a unique design on them.  The road that these places were on was a divided highway, and everything appeared to be on the right.  We knew that the Harley dealership was the furthest thing out, so I wanted to do things in an orderly fashion, doing everything that was on the right side of the road first, on the way to the dealership, in order to avoid having to cross the road more than necessary.  Elyse wanted no part of that, and wanted to go to the Harley dealership first.  This was one of those situations where, as it was said in an episode of Roseanne, "Sometimes it's easier to move Mrs. Conner than it is to argue with her."  So the Harley dealership was done first, and efficiency was sacrificed, as I now had to make left turns that I didn't want to do.  But such is life, I suppose.
---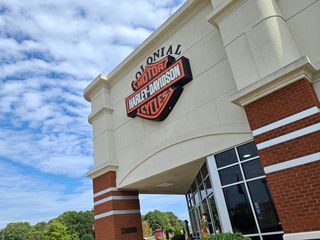 The Harley dealership in Colonial Heights.
---
The Harley place was pretty much like you would expect.  A lot of bikes, a lot of clothes, and the poker chips were sitting next to the cash register.  The way that Elyse typically selects a poker chip is to determine how many different designs are available, and then after settling on the design, she determines what color she wants.  My role in all of this is typically to help settle on a final color.
Leaving the Harley dealership, we stopped at an Arby's restaurant that we had spotted on the way to the Harley place, where there was a vintage sign that I wanted to photograph.  I love to photograph the older Arby's signs, but I don't typically seek them out specifically.  Rather, if I see a vintage Arby's sign, I will stop and photograph it.  This Arby's sign was a less wordy variety, reading "Arby's Roast Beef Sandwich" rather than the full "Arby's Roast Beef Sandwich is Delicious".  I had previously only ever seen that variety at the location in Laurel, Maryland.  And this one was perfect for photography, with lots of clear space all around it, and a blue sky behind it.  So I had a good time photographing it.
---
The vintage Arby's big hat sign in Colonial Heights.
---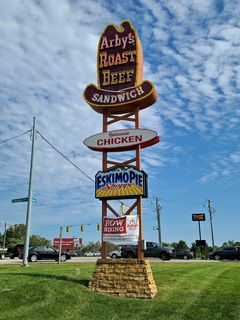 The full sign, with other signs for rotisserie chicken and frozen treats.
---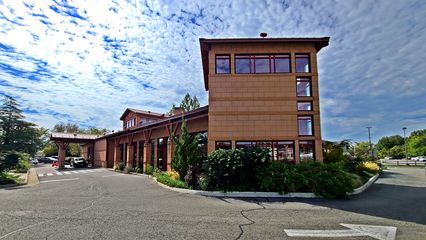 The building, however, was not that remarkable compared to the sign.  It was not vintage, nor was it even a standard Arby's design.  It was a very large building – bigger than a typical fast food restaurant – and according to Elyse (I didn't go in), it resembled a turnpike-style food court more than it did a fast food place.
---
Before leaving Arby's, a quick check of Google Maps let me know that I could get to Southpark Mall without having to get back on Route 144 and make the left turns that I was trying to avoid.  Elyse wanted to film toilets at the mall, and I decided that I would entertain myself for a while with the drone.  After I dropped Elyse off at the mall, I pulled into the parking lot of a nearby Wendy's, and I flew around the Walmart in Colonial Heights, as well as other buildings in the immediate area and a water tower.  On the way over, I also checked on that radio station again, and it was playing Dan Bongino's radio show, i.e. it was right-wing talk radio.  That's a hard pass for me.  I never brought the radio station up to Elyse again, because even if she was curious about it, I didn't want to spend any time listening to right-wing radio.  She never brought it up again, and I was content with that.
The Walmart in Colonial Heights has an interesting history.  On August 6, 1993, the original Walmart store in Colonial Heights was hit by a tornado, which carved a path straight through the building.  I remember reading about this when it happened, and then we saw the destroyed store from Interstate 95 a few weeks later when we traveled to North Carolina for vacation.  A replacement store was constructed nearby, and the original site now contains a Sam's Club.
---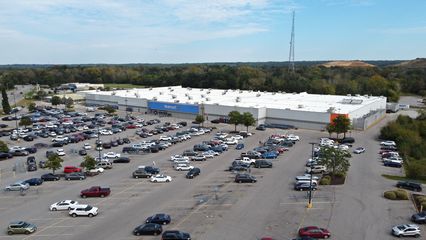 The replacement Walmart store in Colonial Heights.  This store has an unusual design, keeping its pylon-style exterior, and placing one entrance under the sign area, the second entrance is much less obvious, placed well away from the sign area.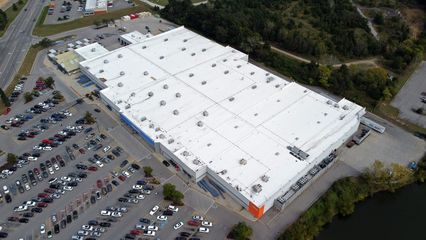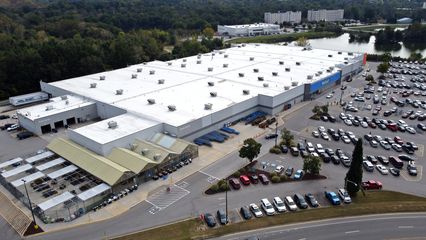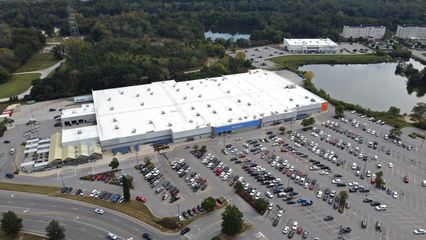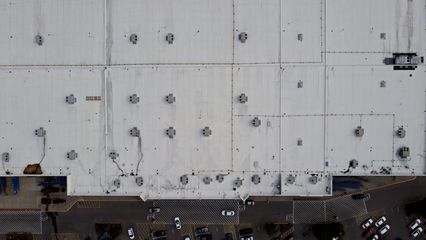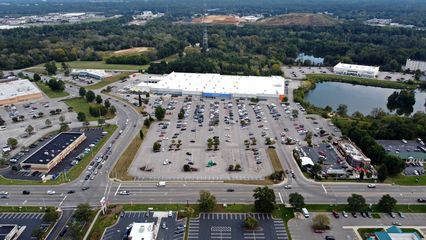 ---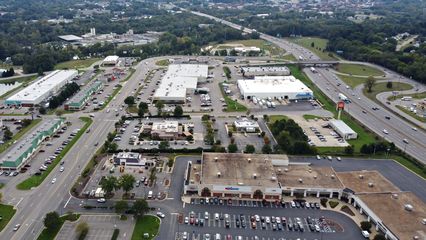 Colonial Heights, viewed from more or less directly above where I was standing, facing approximately south.
---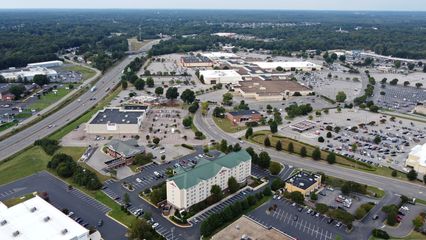 Colonial Heights, viewed from above my location at the Wendy's, facing approximately north. Southpark Mall is visible in the distance.
---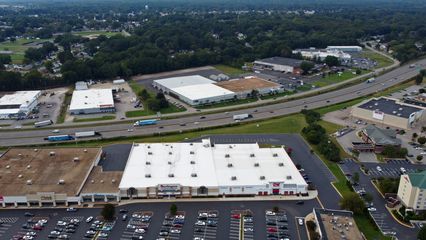 Colonial Heights from my vantage point above the Wendy's, facing approximately west.  Interstate 95 cuts across the middle of the photo.
---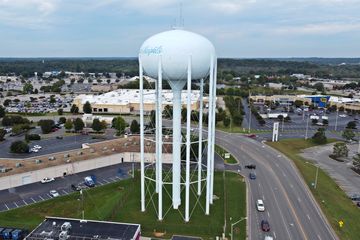 Colonial Heights water tower.
---
After I was finished flying, I put the drone away, and joined Elyse at Southpark Mall.  I suppose that it's a combination of my own changing tastes and shopping malls' dimming luster, but I really wasn't all that interested in going to the shopping malls.  About twenty years ago, I might have been all over this mall, making a special trip to see it, thoroughly exploring it, and seeing all of its various little intricacies.  It was new territory that was ripe to explore.  Nowadays, malls are kind of "meh" to me, and I feel like nothing there impresses me that much.  I'm like, oh, another Bath & Body Works.  Yippee.
---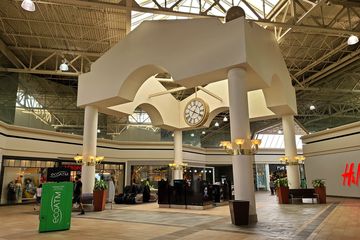 In any case, here's what Southpark Mall looked like.  This thing in the center court was the most interesting feature in the mall, and now that you've seen it, you don't have to go there.
---
A container of protein powder that Elyse found at GNC.  With the way that they wrote "Glazed Donut", you would never be able to guess who they were talking about without actually naming them…
---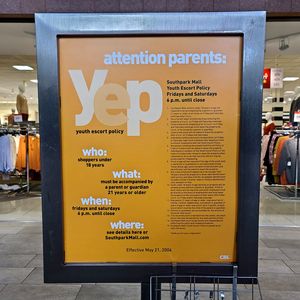 Youth Escort Policy sign in front of the JCPenney, explaining that customers under age 18 are not permitted in the mall unless escorted by a parent or guardian aged 21 or older and carding anyone who looks like they might be under 18, and requiring proof of employment for employees who are underage and requiring that they go directly to their jobs upon arrival and leave immediately upon finishing work.  Yeah, I'll really want to come here for any reason after that sort of shabby treatment.
---
When it comes to discussing why people don't go to shopping malls anymore, I usually point to policies like this.  The idea is that the malls have made their own bed, having invested so much effort into making younger shoppers feel unwelcome in their facilities.  And now that those younger shoppers are of prime shopping age, they're taking their business elsewhere and leaving shopping malls behind.  They like to blame online shopping for their declining fortunes, without ever considering that they may have played a significant role in driving their customers away with hostile policies such as this one.
Finishing up at the mall, we checked out a few converted buildings.  These are former chain businesses that still strongly resemble their original tenant, despite now being occupied by someone else.  Recall that I did a Journal entry about converted buildings in the District of Columbia back in 2014.  We found a former Toys "R" Us and a former Circuit City in a nearby shopping center, and then we also found a former 7-Eleven next to the freeway.
---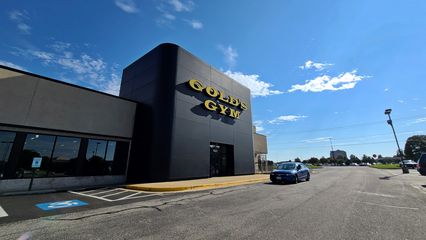 Gold's Gym housed in a former Circuit City.  I couldn't help but think, "Welcome to Gold's Gym, where fitness is state of the art!"
---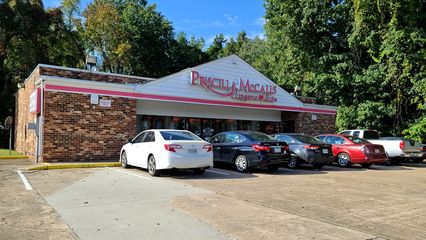 A former 7-Eleven, now a store that sells lingerie and adult novelties.
---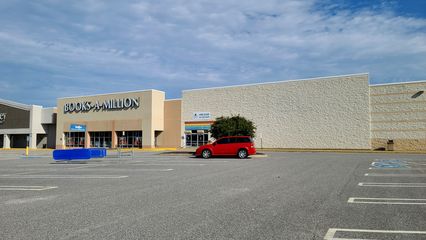 The former Toys "R" Us turned out not to be a conversion.  I thought that the Books-A-Million store used part of the former Toys "R" Us building, but according to Google Maps, the Toys "R" Us always looked like this, and the Books-A-Million store predated the closure of the Toys "R" Us.
---
From there, we got back on 95 and headed a couple of exits south, to Petersburg.  Petersburg was an interesting town.  I wanted to check out an abandoned hotel that I'd read about, but I didn't exactly know where it was.  The good news was that as soon as we got off of the exit, there it was (that was easy!).  The bad news was that we weren't stopping there at that time, which I would later come to regret.
With relatively little time allotted for Petersburg, our main goal was to get a general feel for the town, and determine what might be interesting to do on a future visit.  Petersburg is at the edge of what I would consider doing for a day trip, and so we could do a trip dedicated to exploring Petersburg without much difficulty.  We discovered that Petersburg is generally a run-down place whose glory days are mostly behind it, though it still has a certain charm to it that's worth photographing.  Elyse wanted to do some elevators, while I focused on architecture and such.
---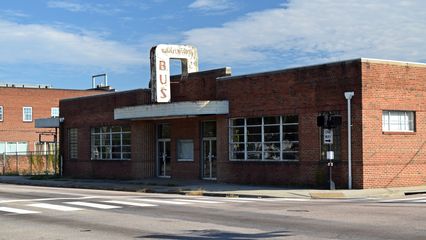 Former Trailways bus station on the southeast corner of East Washington Street and North Adams Street.
---
Globe Department Store building, at 201 North Sycamore Street.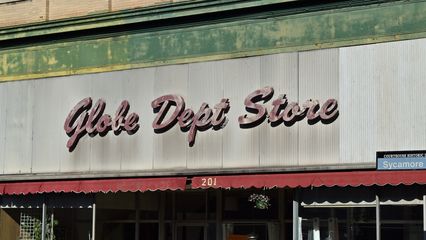 ---
I spent a lot of time photographing the Petersburg Courthouse.  It was by far the most picturesque structure in the downtown area, with a tall cupola and clock, topped off by a white statue of justice.
---
After finishing up with my DSLR, I went back to the car and exchanged the DSLR for the drone, and went for a flight around the courthouse to get some different angles than I could get with my DSLR.  Unfortunately, the drone software wouldn't let me fly on the north side of the building because of the presence of a jail facility in that area, so I did the best with what I could.
---
Some closeups of the statue of justice.  For what it's worth, I never realized that Lady Justice bore such a close resemblance to Bea Arthur.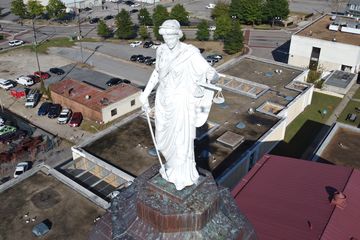 ---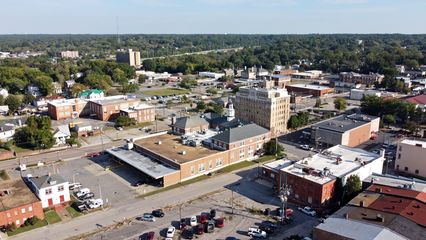 Turning away from the courthouse, and looking across downtown Petersburg.  View facing approximately southeast.  The aforementioned abandoned hotel is in the upper left of the photo, and Interstate 95 is behind that.
---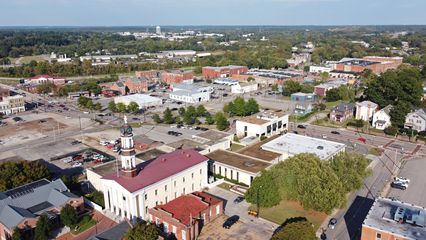 View facing northeast from just southwest of the courthouse.  Colonial Heights is visible in the distance (note the water tower).
---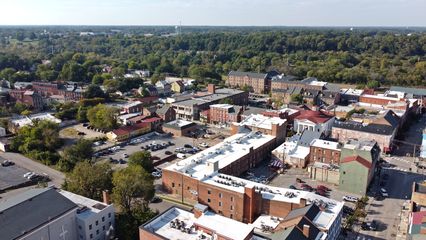 View of Petersburg from roughly above the courthouse, facing northwest.
---
I met back up with Elyse at the Petersburg Transit Center, which is a hub for local transit, as well as the new intercity bus terminal.  After scooping Elyse up, I planned to return to the abandoned hotel for some drone shots of it, and then return to I-95 and continue the journey south.
Our exit from Petersburg was complicated when we saw a horse-drawn carriage go by followed by a hearse and a long trail of vehicles.  The original plan was to go out the way we came, and photograph the abandoned hotel on the way out.  That went out the window once a very long, slow-moving funeral procession began blocking our path.
---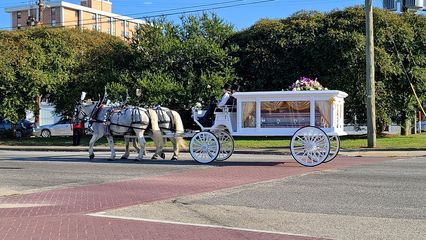 A casket, carried in a horse-drawn carriage, leading the funeral procession traveling eastbound on East Wythe Street in Petersburg.
---
I realize that, at the very least, it is considered quite gauche to cut into a funeral procession, but we had a schedule to maintain.  We also couldn't go the other way and go around it via the back end of it, since it was a one-way street.  We were also on a one-way street, ourselves, so we couldn't back up or otherwise turn around on our street.  Therefore, with no other options, cut into it we did, and once I found an opening, we quickly got to the other side of the procession, and made our way into some neighborhood streets while we figured out how we were going to get back to 95 without using East Wythe Street.  While on neighborhood streets, we photographed Trinity United Methodist Church, so I suppose that it wasn't all bad.
---
Trinity United Methodist Church, at 215 South Sycamore Street in Petersburg.
---
We eventually found our way onto South Jefferson Street and Graham Road, and then onto South Crater Road, where we dipped into a 7-Eleven just north of I-95 for fuel and some drinks.  While we were there, I also got photos of some road signs.
---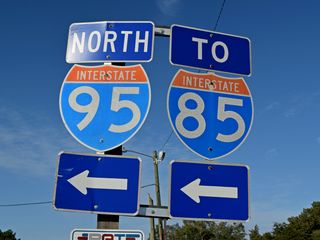 Signage for I-95 and I-85 on South Crater Road, pointing at the northbound ramp for 95.
---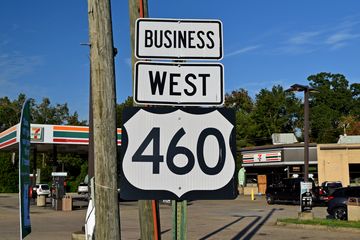 Reassurance marker for westbound US 460 Business in Petersburg.
---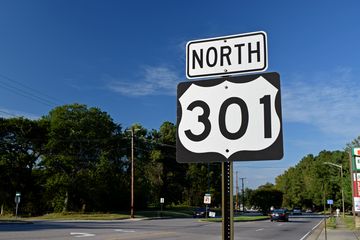 Reassurance marker for northbound US 301, which shares the same roadway as US 460 Business in this area.
---
From there, we got back on 95, and made a beeline for North Carolina.  Our next stop was the North Carolina welcome center for a much needed potty break, since I hadn't been to the bathroom since the Harley dealer in Colonial Heights.  While there, we got some photos with Woomy and David at the welcome center.
---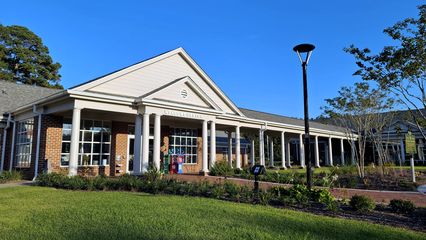 The welcome center.  I was last at this rest area and welcome center in August 1993 on my first trip to North Carolina, and it had been completely rebuilt since then.  Unfortunately, we arrived too late for the welcome center part, as it had already closed for the day.
---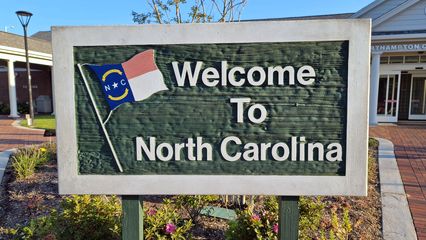 "Welcome to North Carolina" sign at the welcome center.
---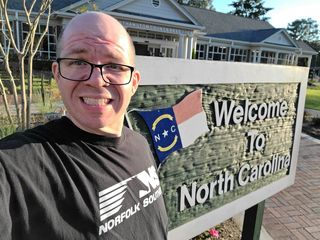 Selfie in front of the North Carolina sign.
---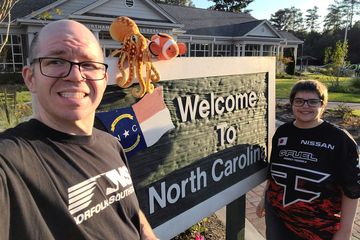 Family portrait!  Me, Woomy, David (the orange clownfish), and Elyse all pose with the North Carolina sign.  As per usual, Woomy didn't like the North Carolina sign, and David was just unimpressed by it all.
---
From there, we made a relatively quick hop and a skip to Robbie's, a Shell station in Enfield, at Elyse's request.  I photographed road signs in the immediate vicinity while Elyse did her thing, taking in those diamond-shaped North Carolina state route shields for the first time in a few years.
---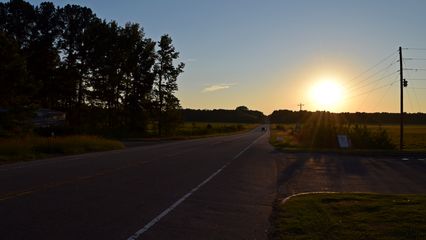 View facing southwest on Route 561 in Enfield.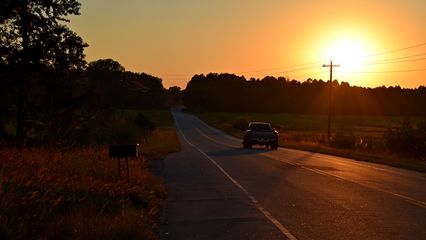 ---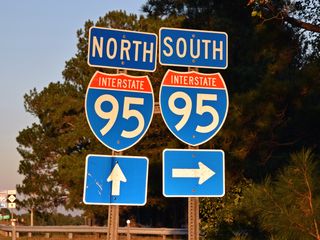 Signage for Interstate 95.
---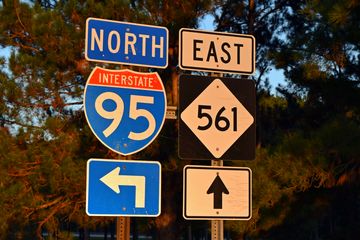 Shields for Interstate 95 northbound and North Carolina Route 561 eastbound.
---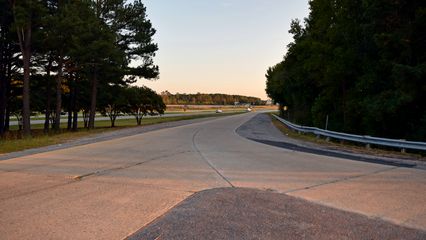 Ramp to I-95 southbound at exit 160.
---
Continuing on, our next stop was at a Sheetz in Rocky Mount.  There, we met up with our friend Brian.  Brian lives in Arlington (i.e. near us), and we see him on a somewhat regular basis.  On this particular day, he was going home after a trip to the Outer Banks, and this is where our paths crossed on our respective travels.
---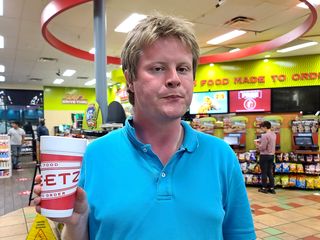 Brian holds up a styrofoam cup at the Sheetz in Rocky Mount.  For Elyse and me, finding out that Sheetz sold drinks in styrofoam cups in North Carolina was a very big surprise.  We've been to Sheetz locations across Virginia, West Virginia, Maryland, and Pennsylvania, and they use plastic cups in all of those states.  I always figured that the plastic cups were the standard, but apparently not.
---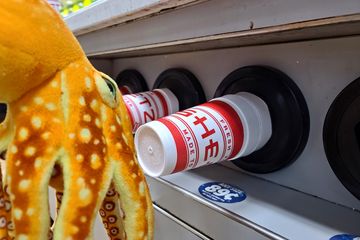 Woomy looks at the styrofoam cups with a look of disapproval.  He commented, "I don't like that!"
---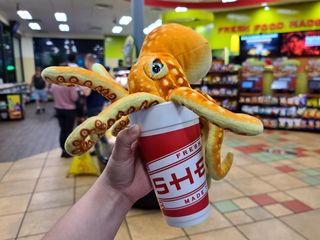 Elyse and Brian also took a moment to stuff Woomy into one of those cups, which he certainly didn't enjoy.
---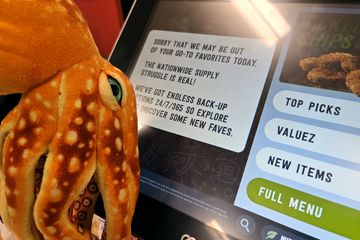 Woomy got ready to order his dinner on the MTO terminal, and didn't like that the item that he wanted might not be available due to supply chain issues.
---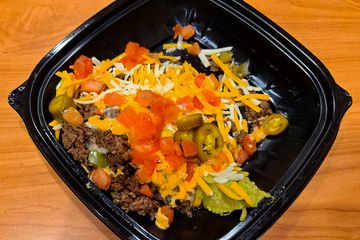 I had a burrito bowl for dinner.  I had half of this now, and the rest a day or so later.
---
Leaving Sheetz, we said goodbye to Brian, and did the final 50-some miles to Goldsboro, where we were staying at a Hampton Inn.  That ride felt like it took forever, going down a bunch of highways with unfamiliar numbers.  That was one thing about this trip that really hit me: we were far enough from home that all of the route numbers were different.  Once we left I-95, it was a whole new world of highways.  The state routes didn't really get to me, because it doesn't take much travel to get all different state routes, plus we were traveling to a different state.  But seeing different US route numbers did get to me.  When it comes to US highways, I'm used to the ones that I see in my little Virginia/Maryland/DC/West Virginia bubble, like 1, 11, 15, 29, 33, 40, 50, 60, 220, 250, 301, 340, and so on.  Seeing different numbers, like 58, 64, 70, and so on with the familiar US shield just felt weird.  This really brought out the roadgeek in me, as I really was starting to dig the new road numbers.
After we got settled at our hotel, we headed out to Wayne Christian School, where my friend Patrick was finishing up the announcing work for a football game being held there.  We got there just as the game was letting out, and we quickly found him.  I hadn't seen Patrick in about eight years, though we chat online regularly, so I appreciated seeing him again.  We've known each other for twenty-some years, though we don't get to see each other as much as we might like, mostly because of distance.  After we said our hellos, we all headed for a nearby Walmart store, as we needed a couple of things from there for us, plus it was a good excuse to hang out for a while.  At Walmart, Elyse and I marveled at how much lower the prices were on everything at the Walmart in Goldsboro, vs. the prices on the same items at the Walmarts that we normally shop at around DC.  Goldsboro has a very low cost of living, and this was proof of that.  This is when I typically comment, "cries in DC region" seeing prices in other areas, considering the high cost of living where I live.
---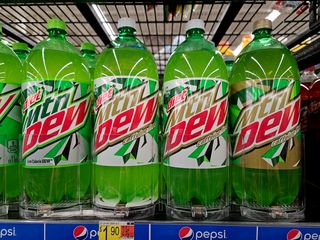 While we were at Walmart, we spotted caffeine free Mountain Dew.  I had not seen this variation since we lived in Arkansas, and figured that it had long been discontinued.
---
After we finished up at Walmart, Elyse and I said goodbye to Patrick for the evening, and headed back to our hotel.  We would reconvene the following day, in the evening, after we did some exploring of our own in the Goldsboro and Mt. Olive areas.
Part 1