North Carolina and Hampton Roads
Part 6
Wednesday, October 20 was our last full day in Hampton Roads, and we were determined to make it a productive one.  We met up with Aaron and Evan at our hotel, and we got breakfast together downstairs.  This time, the breakfast attendant was an older woman, who was quick to tell all of us that we needed gloves in order to serve ourselves.  Needless to say, that didn't happen, and she was smart enough not to press the point.  Nonetheless, it cemented the idea that I did not feel comfortable at this hotel, and it was all the doing of the staff.
Leaving the hotel, after a quick gas stop at a 7-Eleven store, we went to Riptide Car Wash in Newport News.  First of all, the car was filthy from our earlier adventures, and it needed a bath and a vacuum.  But also, Elyse wanted to film the interior of the car wash, which was tunnel-style.  I took stills of it when we went through it last year, but unfortunately, the photos didn't come out very well, so this time around, I just sat back and enjoyed the show while Elyse filmed.  And the car was looking good again at the end of it, so it was money well spent.
When we were done at the car wash, we drove over to the empty lot next door to Riptide, where I took the new drone on its first flight around an AT&T Long Lines tower.  I had photographed this tower from the ground on our Hampton Roads trip the year before, but I never published any of those shots because I didn't like the way that they came out.  This time, I was able to do the tower justice.
---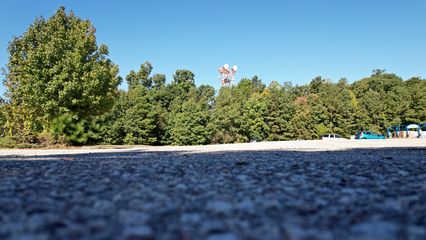 Preparing for takeoff…
---
---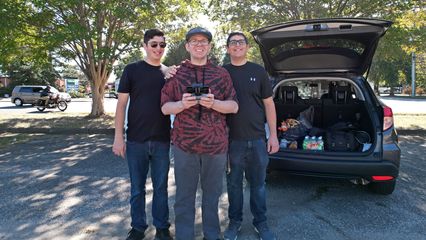 Selfie just before landing.
---
From there, we headed into downtown Hampton, where our visit centered around the 2 Eaton Street office building.  That building was primarily an elevator stop for Elyse, Aaron, and Evan, while I found other things to occupy myself with.  I did ride the elevator, though, and that was fun because it was scenic to a point, and then it went up into an enclosed shaft on the higher floors.
---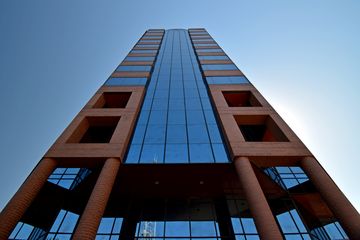 Street-facing facade of 2 Eaton Street.
---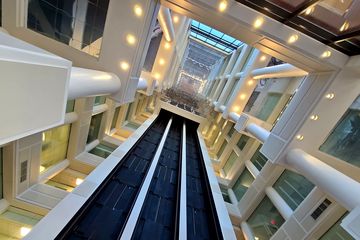 Elevators at 2 Eaton Street, looking upwards.
---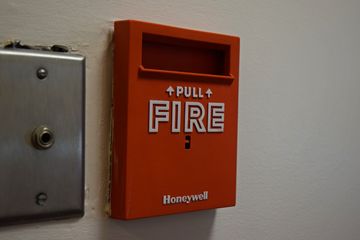 An unusual Honeywell pull station at 2 Eaton Street.  Evan got a great photo of me photographing this thing.
---
We then headed outside, towards a dock in Mill Point Park that floats in the Hampton River.  Before we got to the dock, though, we spotted a heron.  We were a decent distance away from it, and it didn't see us, so I pulled out my big lens and got photos of it.  I was kind of sad when it eventually flew away, because I don't get to photograph wildlife very often, and that heron was fun to shoot.
---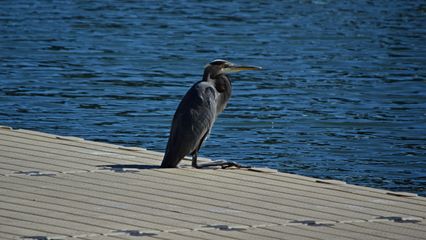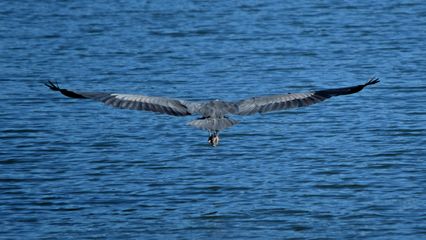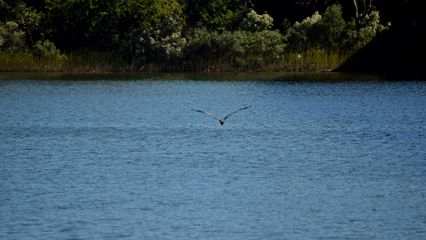 ---
With the heron gone, we went onto the dock.  Out there, I photographed everything around me: an apartment building, some townhouses, the 2 Eaton Street office building, the antenna, and a nearby bridge.
---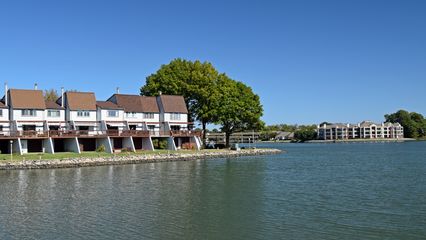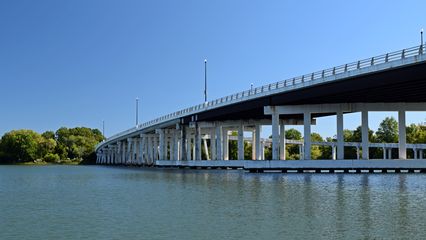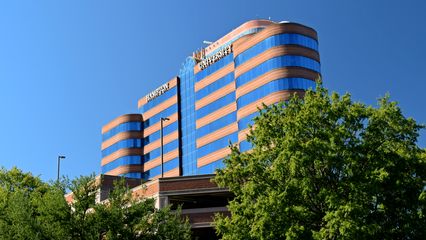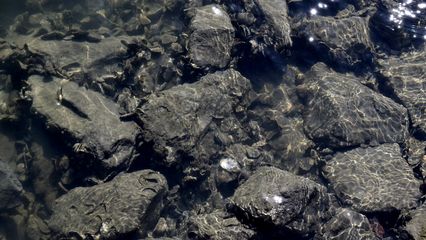 ---
From here, we headed to Virginia Beach via the Hampton Roads Bridge-Tunnel.  For what it's worth, we've taken to pronouncing the bridge-tunnel's initials, HRBT, as if they were a word, which comes out as "herbit".  So we would say, "We're taking the 'herbit' to Virginia Beach."  We do the same for the MMMBT, which we pronounce as "muh-muh-mibbit".  Similarly, we referred to the James River Bridge as the "jerb".
In any case, once in Virginia Beach, Evan wanted to check out a certain bridge on Cleveland Street, where it crossed I-264.  The bridge was heavily under construction, so this was a quick over-and-back without stopping.  After that, we headed over to Southside Harley-Davidson, where Elyse got another poker chip.  This one had a very unique floor, which we discovered after feeling loose gravel beneath our feet.  As it turns out, the floor was made up of tiny pieces of gravel glued together, and what we felt was the bits that had worked their way loose.
---
The Harley-Davidson logo in gravel, embedded in the floor.  It's certainly a neat effect, but I don't know if it's necessarily the most practical.  Considering that the gravel gradually comes loose and flakes away, it makes me wonder what the lifespan of such a floor treatment is supposed to be, i.e. how long it will be before this floor is either refurbished, heavily modified, or replaced with something more durable.
---
After this, we went over to a nearby Wegmans for lunch.  It had been a very long time since I had a meal at Wegmans – since before the pandemic – and so I was glad to do so again.  Wegmans has changed, in that they no longer have the food bar that is sold by the pound.  I tend to do fairly well with the food bars, and so its presence was certainly missed, because the prepackaged stuff almost always is sold in larger sizes than I need, and I end up with leftovers that I don't want because I won't be near a refrigerator for many hours.  With the food bar, I can get exactly what I want – no more, no less.  And I usually could get away for about five bucks and be content.  And considering that Wegmans' competitors have restored their food bars, there's really no excuse for Wegmans to not bring it back as well.
---
We parked the car in the "Corn" aisle.  In the photo at right, Elyse and I are making angry (or at least mildly annoyed) faces in front of the corn sign.  This is in keeping with an Internet meme where you're supposed to leave an "angry" reaction on photos of corn on social media.  Yes, it's dumb, but, hey, it's funny.
---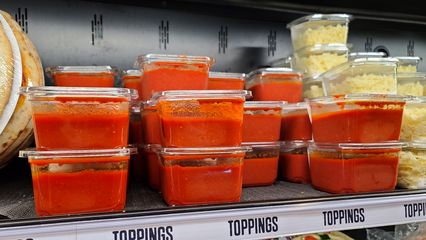 Containers of tomato sauce, intended for pizza.  I looked at these, and I couldn't help but think that it looked like containers of blood.
---
Aaron got pizza for his lunch.
---
After lunch, we dropped Elyse off at an office building to do an elevator, while Aaron, Evan, and I went to a nearby parking garage in order to fly the drone.  My goal was to photograph the Westin Virginia Beach Town Center, which is a combination hotel and apartment building.  However, after taking a few shots of the Westin, I focused my efforts on the Armada Hoffler Tower nearby.  That building was shorter than 400 feet, which meant that I could get above it without going over my altitude limit, and get good detail shots of that spire on the roof.
---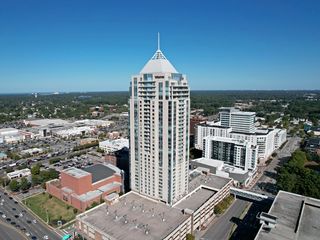 The Westin Virginia Beach Town Center.
---
The Armada Hoffler Tower, which I found a bit more interesting than the Westin.
---
One thing about flying around the Westin was that since it was taller than what I could legally fly, it had the practical effect of being a massive roadblock.  My usual strategy when it comes to returning home is to just raise the altitude to clear all obstructions and then fly directly back, but since the Westin was taller than I could go, I couldn't do that, and instead had to navigate around.
Finishing up with the Westin, we picked up Elyse, and then stopped at an office park so that Elyse could get some elevators, while Aaron, Evan, and I visited a nearby Hyatt House hotel for a restroom stop.  It was a nice place with no safety theater whatsoever, and the staff was very friendly.  Elyse buzzed us when she was ready, and so we headed over to the other end of the office park to scoop her up.  When we found her, we also found a discarded slice of pizza, which I treated as a photo opportunity.
---
The pizza, discarded on the ground.
---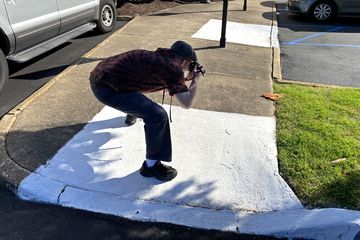 Evan also got a photo of me photographing the pizza.
---
We then started to make our way towards Mount Trashmore Park, but Elyse needed to use the restroom.  We thought that we had found it at an Arby's restaurant on Virginia Beach Boulevard, but the lobby of their building was closed, and they were doing all of their business through the drive-through.  Elyse ultimately found a restroom at a nearby pet store, and Aaron, Evan, and I entertained ourselves photographing the vintage sign of the "is delicious" variety.  I've photographed vintage Arby's signs before, but I don't typically seek them out.  I always stumble upon them in the course of going somewhere else, and take advantage of the opportunity.
---
Another vintage Arby's sign!
---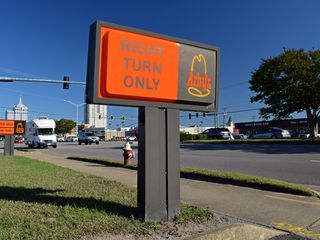 Despite the vintage street sign, though, the drive-through signs were from a later period, using the company's second logo, which was used until the 2010s.
---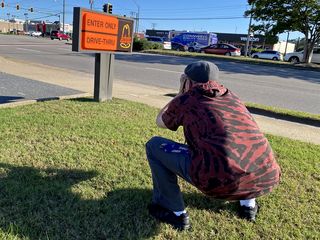 Evan got a photo of me Slav-squatting while photographing the Arby's sign.
---
From there, we headed to Mount Trashmore.  For those not familiar, "Mount Trashmore" is the conversion of a former landfill into a public park, and has existed since the 1970s.  I've driven by it before on previous visits to Virginia Beach, but never visited.  It wasn't bad, but it also wasn't amazing.  I was hoping for some good views from the top of Mount Trashmore, but I was left feeling a little disappointed with the photography there.  I also didn't fly my drone here, because I only had two batteries and no way to charge on the go, and so I was conserving my battery power for other things later on.
---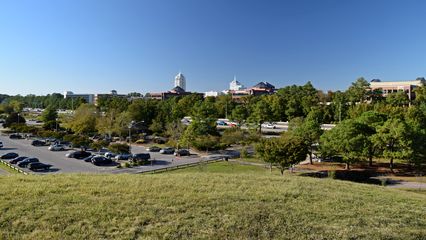 The view from the top of Mount Trashmore.  It's not amazing, but it works well enough, I suppose.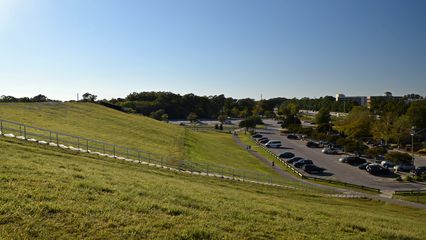 ---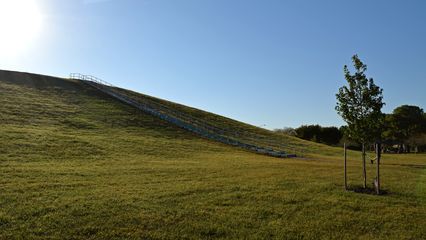 View from the bottom of Mount Trashmore.
---
We did, however, have fun on the playground, as Elyse took the opportunity to play around on some of the equipment, we all used the swings, and everyone got photos of me going down the slide.
---
Elyse crosses a part of the play structure.
---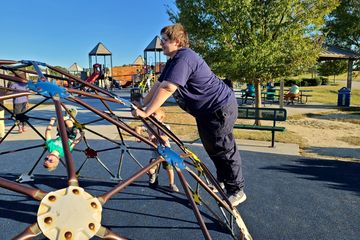 Elyse climbs on a metal dome.  These things always remind me of the "link set" on You Can't Do That On Television.
---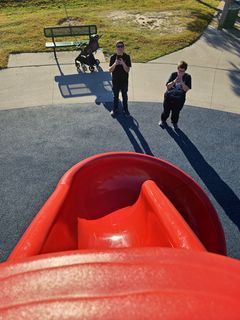 My view from the top of the slide before I went down.  Aaron and Elyse were ready to film my descent.
---
Finishing up at Mount Trashmore, we headed to the oceanfront.  We parked around 19th Street, near the Travelodge, because it's the part of the resort area that I'm most familiar with, having stayed at the Travelodge in 2005 and 2008.
Our first stop at the oceanfront was the Harley place there, which was primarily an apparel store.  We were originally going to skip this place, because we were told the day before by the folks at Bayside that the two Harley places in Virginia Beach were under the same ownership, and therefore the poker chips would be the same.  It just so happened that the Harley place was right next to where we parked, so since we were right there, why not.  And as it turned out, the poker chips were different, so it was good that we stopped, and Elyse added another one to her collection.
The main goal at the oceanfront was to take the drone out for a spin.  I suppose that this made up for my inability to fly my drone on a trip to Ocean City at the end of August due to crowds, because, being off-season, the place was practically deserted, with minimal people to worry about overflying, no airplanes towing banners, and no parasailers.  Perfect conditions for a drone flight, even if the sun was starting to go down.  After getting some quick aerial shots of the Travelodge, my first thought was to see if I could reach the container ships sailing off the shore, which I photographed with the zoom lens on the April 2020 trip.  However, I quickly discovered that they were a lot further away than I had realized, so I stopped heading out after I was about a mile offshore.  I then figured that if I was already that far out, I might as well make some use of it, so I turned the camera towards the beach, and got photos.  I then flew near a boat doing dolphin tours and got some photos, and then flew around the fishing pier.  I wanted to get some nice, detailed shots of the fishing pier at angles that I could not get from land, but considering the amount of people fishing off the pier, I kept my distance.  I wasn't worried about overflying the people, but I didn't want to get anywhere near those fishing lines, made out of clear plastic.  I didn't want to find out what would happen there if I accidentally made contact a fishing line.  I figured that if contact was made, it would either (A) slice through the fishing lines without any damage to my drone, or (B) cause the drone to stop and fall into the ocean, which would spell death for my brand new drone.  Or both could happen, slicing through the lines and killing the drone.  In any case, I didn't want any of it to happen, so I stayed a safe distance away.
---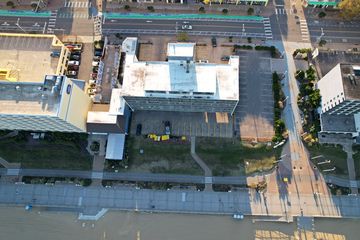 Up in the air over the beach, more or less directly above where I launched.  The Travelodge, where I stayed in 2005 and 2008, is the building in the center of the photo.
---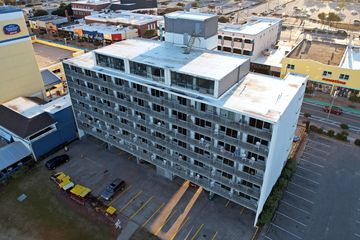 The Travelodge.  This is an all-suite hotel, and all of the rooms face the ocean.  My understanding is that the full-width floors are original to the structure, and the top floor is a later addition.  I always found the design to be a bit odd, as the living room in the suite had nearly full-width windows, while the bedroom was completely windowless.
---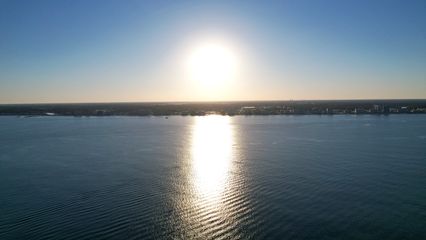 Virginia Beach, looking back from about a mile offshore.
---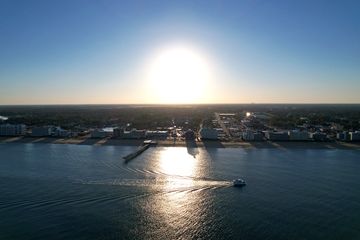 Similar view from a bit closer in.
---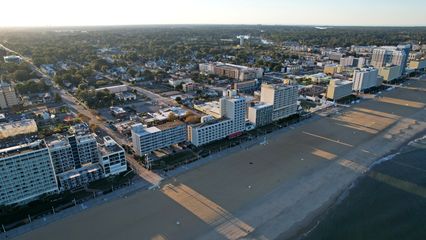 Virginia Beach, at approximately 22nd Street.
---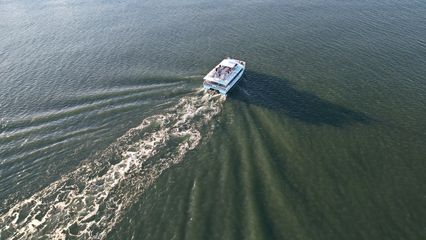 The Rudee Flipper, running a dolphin-watching tour.
---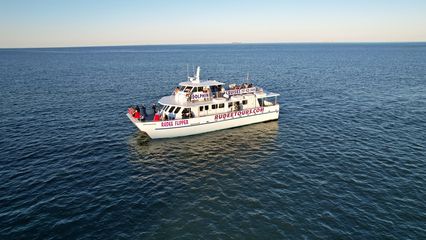 This was about as close as I got to the Rudee Flipper, and from the looks of things, my presence went unnoticed.
---
Evan and Elyse, as captured by the drone before I brought it in for a landing to swap the battery.  Notice how I'm visible in the background of both shots, flying the aircraft.
---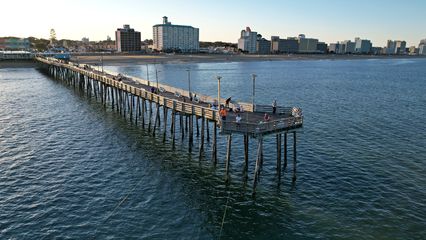 The fishing pier, viewed from the air.  I didn't linger too long at the lower altitude because of all of those fishing lines.  In a lot of instances, it's actually much safer to fly at a higher altitude than it is to linger at lower altitudes, because there is a greater likelihood of things' fouling the drone lower down.
---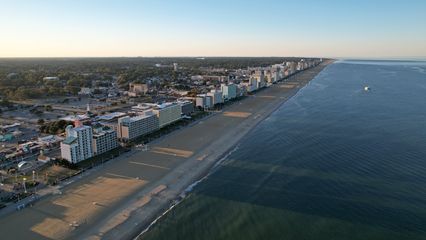 View facing up the beach on the return from the pier.
---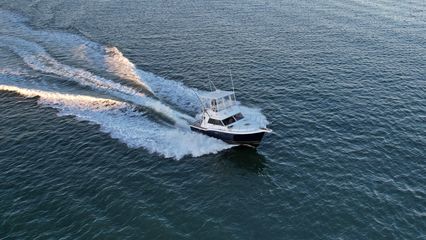 I followed a small powerboat for a little while, getting a few aerials of it from various angles.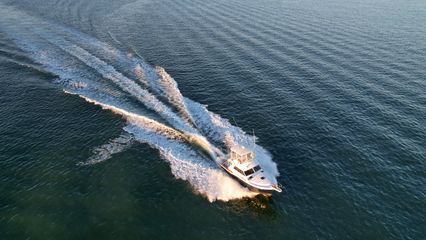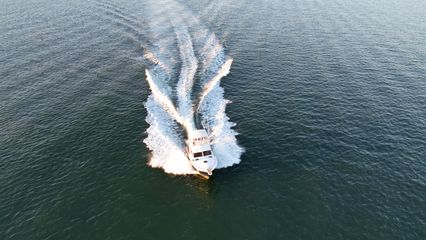 ---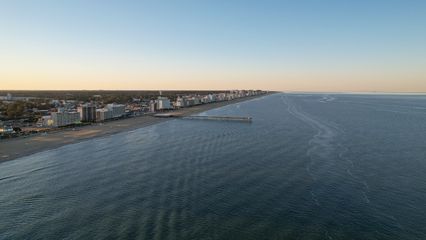 Another view up the beach, from well beyond the fishing pier.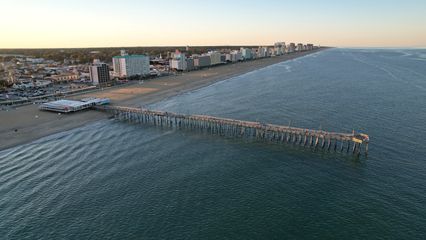 ---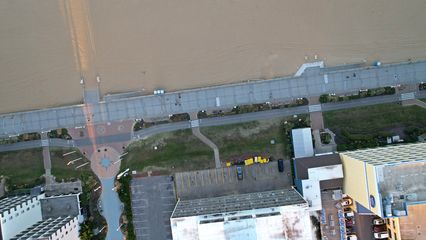 View straight down from directly above us, coming in for a landing.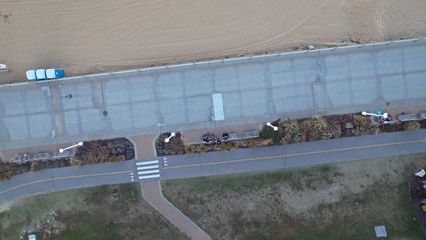 ---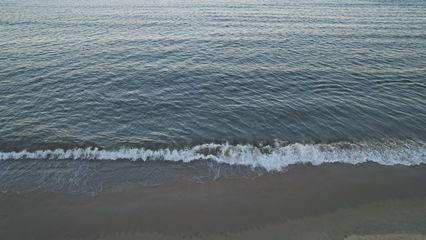 A quick shot of the waves breaking on the beach.
---
I also shot a relatively short video of the waves coming up on the beach, as a way to see how the video quality was.  This video has no sound, so use your imagination to fill in the gaps.
---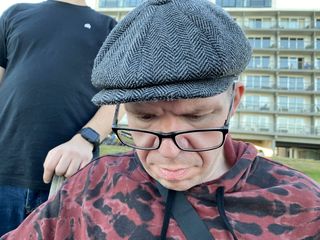 And apparently, this is what I look like while flying the drone, at least based on this photo that Elyse got of me.
---
After landing, I got a couple of quick photos of Evan and myself.
---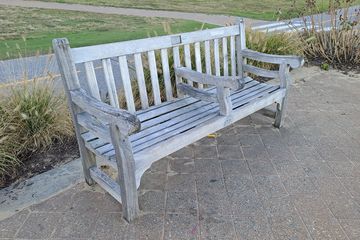 This bench bothered me because a center armrest had been added as a retrofit, presumably to keep the homeless from sleeping on them – a textbook example of hostile design.  I have photos of these same benches from earlier trips, and as recently as my 2008 trip, a center armrest was not present.  The retrofit part is what especially bothers me, because it's not like these were new benches, and that's how they came.  These were deliberately modified after having been in place for a number of years, i.e. someone had to specifically think to do this and then spend money to implement the modification solely to inconvenience people.
---
We then headed north along Atlantic Avenue, as far as 52nd Street.  We were looking for the Harris Teeter store in order to do a restroom stop and get something to eat, and overshot it by a bit.  But Elyse did get an elevator out of our side trip at a random office building, so it wasn't all bad.  We also discovered how expensive the houses were in that area.  A crappy house that we found a listing for was going for a million dollars.  Let's not even talk about what a good house might cost.
After this, it was getting dark, and we were looking to get out of Virginia Beach.  Somehow, though, we got ourselves turned around, and found ourselves at the DoubleTree on Pavilion Drive in Virginia Beach.  Elyse wanted to get the elevator, and so we all went in, using it as a restroom stop, if nothing else.  We ended up spending more time than anticipated there.  They had older Simplex break-glass pull stations, and I had something of a field day photographing those with my phone.
---
Some of the pull stations at the DoubleTree.
---
We then found our way to I-264, and made our way back to downtown Norfolk for some night photography.  We started out back at Nauticus, getting photos of the USS Wisconsin.
---
The USS Wisconsin at night.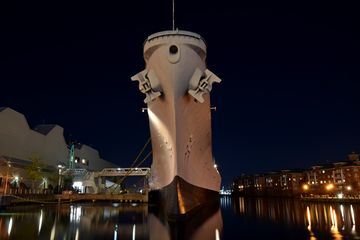 ---
We then broke out into two groups, as Elyse, Aaron, and Evan headed out to a nearby bar, while I went around downtown Norfolk tripod to get some night shots of various buildings.  Most of them didn't come out well, but I did get one winner out of the bunch.
---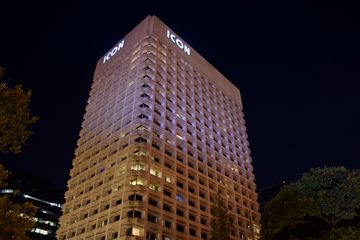 My one decent shot, showing the Icon apartment building.
---
I admit: I felt a bit uninspired when I was shooting these various building photos, and I feel like that lack of inspiration showed through in the results.  I suppose that it was because I was a little bit spent mentally (and partly because I was told to hurry up about it), and so I wasn't able to devote my all to it like I would have wanted because I was distracted.
Finishing up with these buildings, I wanted to photograph a church that I had spotted the day before.  I knew roughly where it was, but I didn't know what it was called, nor did I know how to get there.  The plan was to locate it on Google Maps and then navigate to it.  Unfortunately, I wasn't able to locate it on the map, so I ended up doing it the old fashioned way, driving around in an attempt to find my way towards it.  I've done this with some success before, as this is how Elyse and I found our way to the Brunner Island Steam Electric Station in Pennsylvania back in 2016.  In this case, I found my way to the Education Lot, a parking lot next to the Norfolk City Public Schools building.  I had pinged my location as I was traveling, and so Aaron and Evan eventually joined me on bikeshare scooters, while Elyse remained at the bar.
---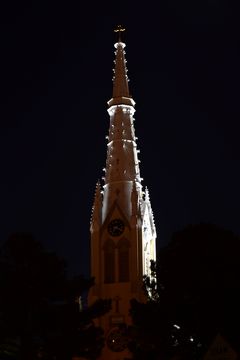 The church – at least as much as I could see of it from my location.
---
I later determined that this church was The Basilica of Saint Mary of the Immaculate Conception, i.e. a Catholic church.  I felt like my photos of the church didn't come out very well, in part because location wasn't particularly great, and also because I felt as though I was running out of steam (i.e. I was starting to feel fatigued).  But now that I know exactly what it is and where it is, I can revisit it next time I'm in Norfolk.
After this, our original plan was to head over to Portsmouth to get some more photos of the Norfolk skyline from across the river like we did the year before, but none of us were really feeling it, so we skipped it.  So we just picked Elyse up from the bar, and headed back to Newport News via the MMMBT.
---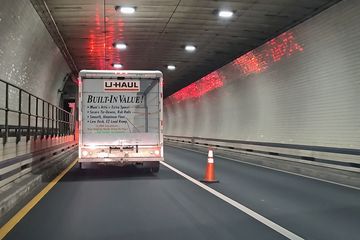 It was slow going through the MMMBT due to road work, with our coming to a stop several times in the tunnel.
---
When we got to the hotel, we said goodbye to Aaron and Evan, and then we went to bed.  All in all, I'd say that we had a pretty good day.
Part 6