I have been to Pennsylvania a lot lately…
August 27, 2016, 6:27 AM
In the span of two weeks, Elyse and I went to Pennsylvania three different times.  We went to Hanover on the 8th, Harrisburg on the 11th, and then Harrisburg again on the 18th.  Two of the trips were to scout out some potential sites for photography, as well as get something out of our system from the earlier bus trip, and then one was to bring the bus back for my friend.
The first trip was to Hanover.  This was one of those "seeing America" kind of trips, about catching a shot of whatever we found interesting, as well as scouting locations for further attention with our SLR cameras when the weather was more accommodating (it was hot and humid out – yuck).  Elyse met me at my house, and then we left for Hanover via Westminster.  On the way up to Westminster, we both knew about a certain street off of Georgia Avenue in Carroll County near Eldersburg and Sykesville (yes, I refer to Route 97 as "Georgia Avenue" all the way up to Gettysburg), and had to get a photo of it with Elyse.  Check it out: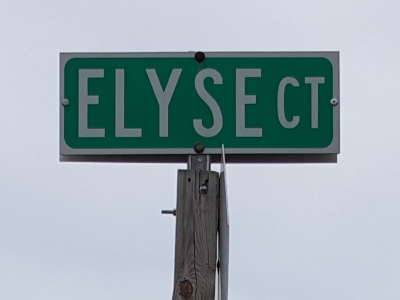 And of course, the obligatory photo of Elyse with the Elyse Court sign: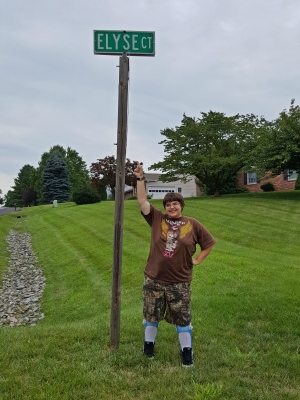 Going to Hanover via Route 97 requires going through Westminster, but rather than go the normal way through, we detoured downtown.  Imagine our surprise to find this: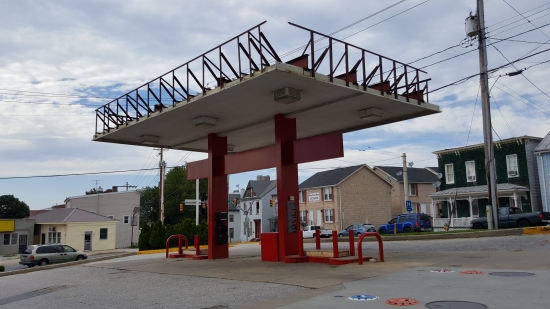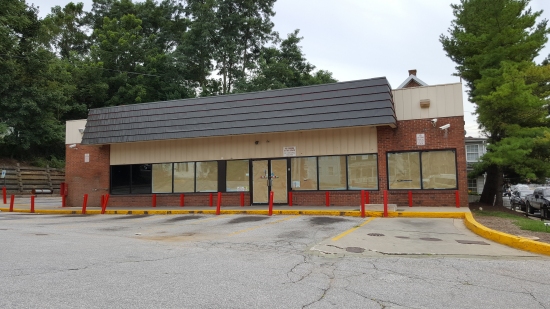 This seedy-looking convenience store building was formerly a Sheetz.  When it was still open, the gas canopy had typical red decor on it, and on the building, the shingles on the front were red, and there was a modestly-sized sign on the front.  This was clearly an older location, and when I visited the store on previous occasions, the store was split between 1990s-era decor on the salesfloor, with 2000s-era decor in the foodservice area.  It says a lot about a location when the company only remodels half of the store, and can't be bothered to update the whole thing.
In any case, from what I could tell digging around online, the store closed on June 30.  There were, at least at one time, plans to build a new Sheetz at the eastern edge of the city on Route 140, but I don't know the current status.  I was along that stretch of road with Elyse back in July when we came back from our York trip, and didn't see any new construction.  So who knows.
When we crossed into Pennsylvania, we saw this sign on Route 94: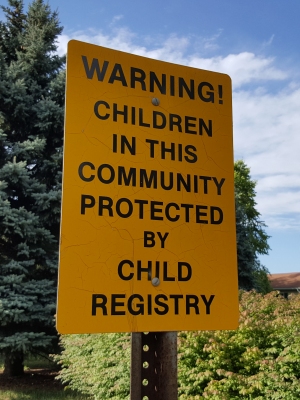 The sign read, "WARNING!  CHILDREN IN THIS COMMUNITY PROTECTED BY CHILD REGISTRY".  This was a new one by me.  I had never seen a sign like this before, and so I found it a bit curious.  And unfortunately, when I went hunting online, I couldn't find anything related to it.  Anyone know what this is about?  The sign is located in Adams County.
As we toured Hanover, we found the Community Aid Thrift Store: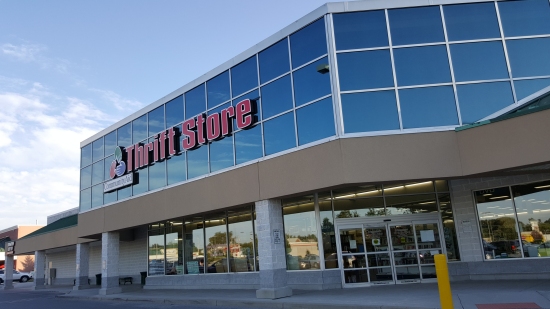 This is a former Giant-PA store.  The Giant store that was formerly housed here moved next door (you can kind of see it in the left edge of the photo), and the thrift store moved in.  Clearly, Giant-PA went for much bigger digs when they moved to their new building next door, because this old store is fairly small as grocery stores go.
Across the street, we found another converted building: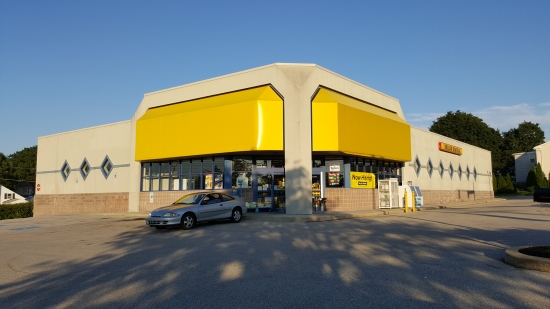 This store, now a Dollar General, was built in the 1990s as a Rite Aid.  This looks like it was a fairly cheap conversion, considering that the only exterior changes were replacement of the blue Rite Aid awnings with yellow ones for Dollar General, and installation of a Dollar General sign.  The rest of the exterior is typical Rite Aid – not even painted a different color.  We didn't go in, but I'd guess that the interior is probably still very much like Rite Aid as well, with Dollar General's fixtures inside.
We saw some potential for photography downtown, and we will revisit that area on a future date (it was hot on this particular day).  Downtown Hanover has some charm to it, but it was also clearly a little on the dumpy side.
We eventually made our way over to the North Hanover Mall.  I think I've found a mall even more pathetic than Staunton Mall.  This mall is smaller and newer than Staunton, but is pretty much the same otherwise – a lot of empty storefronts, very few customers, and a lot of bored employees standing around.  However, the JCPenney in the mall appeared to be new.  It had the most recent version of the logo, concrete floors, and a decidedly modern look compared to most JCPenney stores, which may have had signage changes over the years, but still look quite old.
I also got a photo of Elyse at Penney's, dressed to the nines in a bow tie: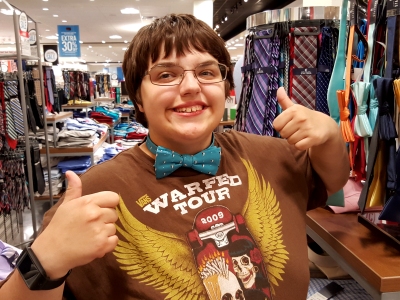 And that was pretty much the end of our Hanover trip.  We went back out through downtown, taking Route 94 and Route 30 back to Ellicott City to return Elyse home.
Now fast forward three days.  It was Thursday, August 11, and Elyse and I were on the road again.  This time, our plan was to go to Harrisburg.  This trip was a byproduct of the school bus test drive that we did with my friend Josh a few weeks prior.  Elyse and I had identified some things that she wanted to see in Harrisburg, and while we did see the lopsided Walmart store on that trip, that was intended to be the destination for the test drive had we not been obligated to take the salesman along.  Otherwise, the trip to test drive the bus wasn't a good time to do other things.  Likewise, a second trip to buy the bus would have similarly been a poor time to see things in Harrisburg.  So we made our own trip to check out the city and see what was going on.
I love these sorts of trips.  These are ones where you have a few goals, but ultimately, you're flying by the seat of your pants, stopping for whatever looks interesting.  After picking up Elyse, we traveled up to Harrisburg via I-83, making a stop in York for lunch.  Leaving York, however, we saw something interesting: a smokestack off in the distance, putting out clouds of steam.  So we got off of the freeway and made a side trip to check it out.  This is a case where I am very thankful for modern technology.  We didn't know what this smokestack was, but we were determined to find out.  We found the location on Google Maps, we dropped a pin on it, and got directions to the site.
At first, we thought that it was Three Mile Island, but as it turned out, our destination was the Brunner Island Steam Electric Station.  We pulled over on the side of the road, and got out for some photos.  We didn't spend much time there owing to the temperature and humidity, though.  But here are some photos from Brunner Island, mostly of the smokestack: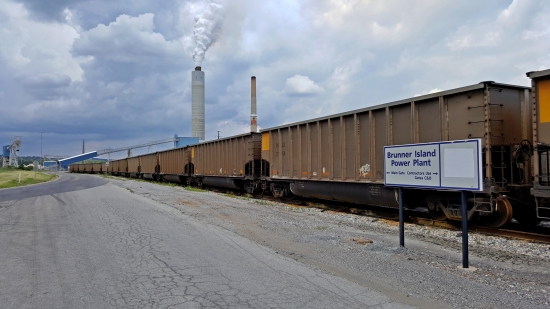 Brunner Island, viewed from near where we parked the car.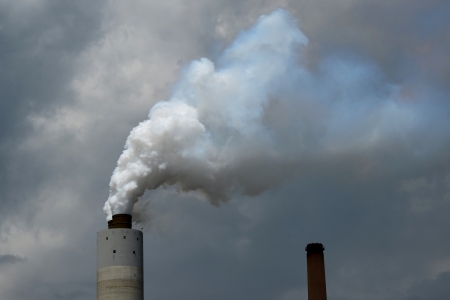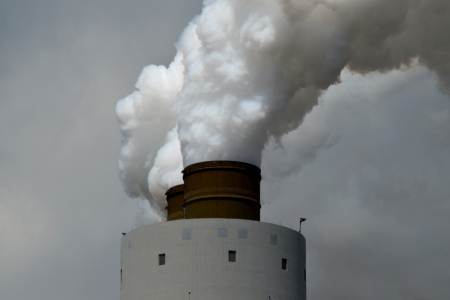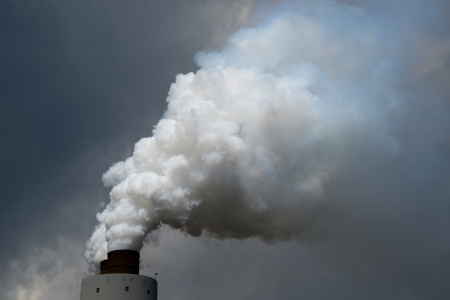 The main smokestack, viewed from south of the plant.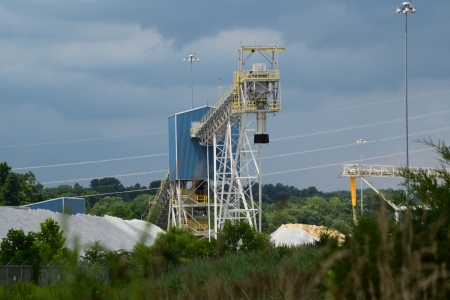 Various infrastructure across the street from the main plant.  I assume that this is for handling some sort of raw materials?  There were also pipes leading across the street.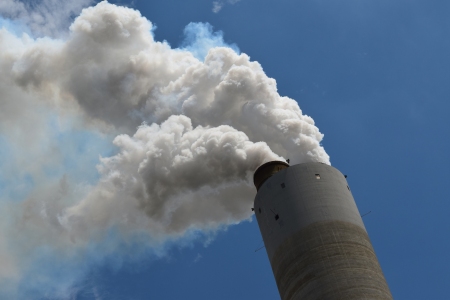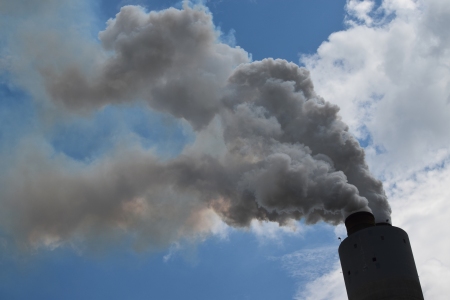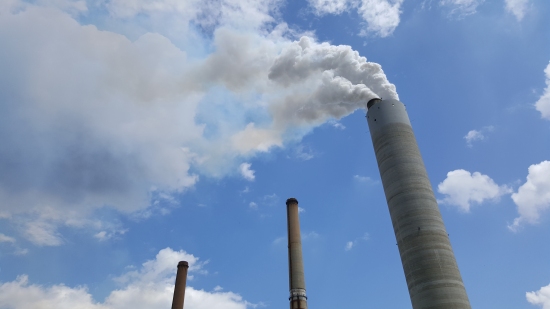 The main smokestack, viewed from fairly close by, north of the first location.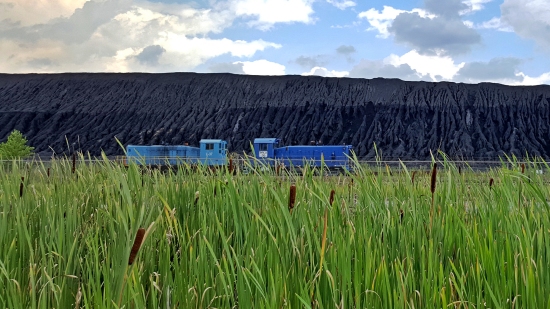 Two road switchers, back to back next to a mountain of coal.
Then on the way back to the freeway, we spotted this sign on a building: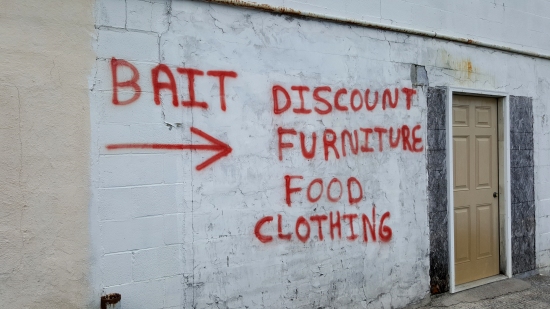 Bait, discount furniture, food, and clothing.  Interesting.  Part of the building appeared to be abandoned, or at least disused, while parts of the building appeared to still be active.  In any case, we didn't stick around to check that out, as we had other things to do.
On the way back, we did get a few glimpses of Three Mile Island, but that was about it.  Elyse wanted to find that, too, but the sky was starting to cloud up, i.e. not good for photography, plus Elyse really was pushing me to get to Hershey's Chocolate World, so I vetoed Three Mile Island (it's not going anywhere, after all), and we were off.
It's funny how Elyse works with these road trips.  When she has a specific destination in mind on an otherwise larger trip, she gets antsy about getting there right away.  Any sort of stop for a meal or a restroom break gets me the stink eye.  But then when I suggest some extensive side trip, it's "Oh, let's go!"  Then I get antsy Elyse again after we finish the side trip.  This happened here, and it also happened in June when we went to Philadelphia.  Go figure.
But in any case, we drove through the rain in Harrisburg, including right past the lopsided Walmart, and got to Hershey's Chocolate World.  There, we quickly found the line for the chocolate tour, which is an Epcot-style dark ride that shows how Hershey's chocolate is made.  Most of my photos from the tour came out blurry, so I'll spare you the sight of a bunch of bad photos, but I did get this cute photo of the animatronic cows at the beginning of the ride: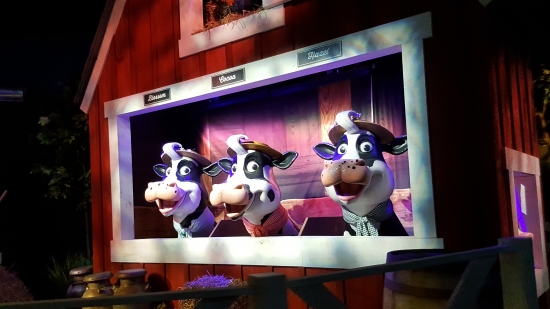 The ride was pretty neat.  They weren't actually manufacturing any chocolate on the dark ride, but rather, everything was simulated and "made for television".  But it was fun, as you learned what goes into making chocolate, and there's a lot to it.  Then as we left the ride, an attendant handed everyone a small chocolate bar.  I assume that most people ate the chocolate right away, as we did, because this is what the nearest trash can looked like: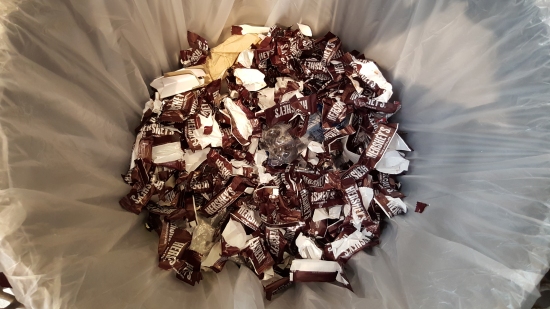 We also checked out the souvenir area, and quickly realized that everything here was overpriced (fitting for a tourist trap), and as far as food products went, we didn't see anything that you couldn't find in a regular store for a lower price.  The only souvenir that we got was a pressed penny: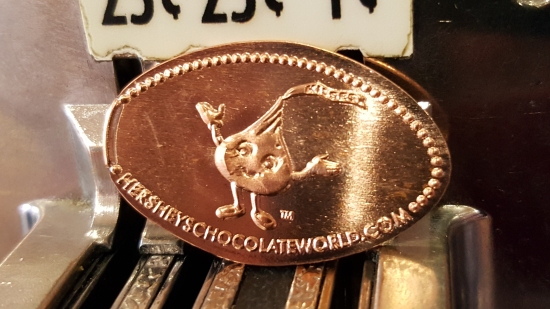 Pretty cute, if you ask me.
From here, we headed back into Harrisburg.  We ended up at the Harrisburg Transportation Center, which is Harrisburg's equivalent of Union Station.  There, we looked at a vintage GG-1 locomotive that was located there, plus watched an Amtrak Keystone train depart.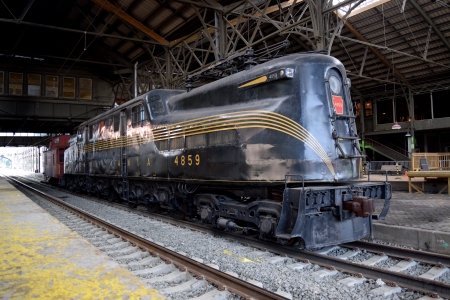 PRR 4859, with vintage caboose attached.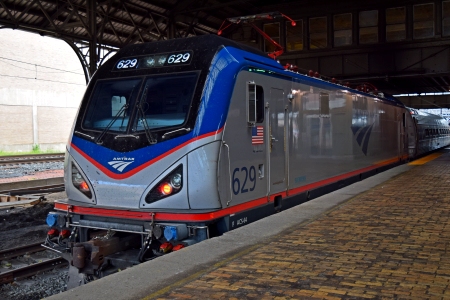 Siemens ACS-64 locomotive, #629.  I love it when the taillights are lit on this locomotive, because coupled with the sleek design, it makes it look evil.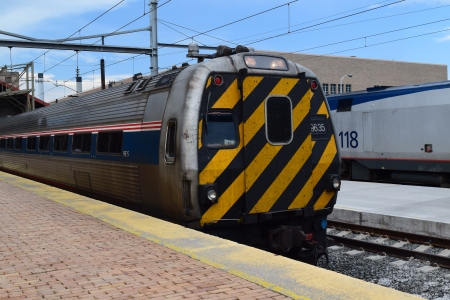 Cab car on the Keystone consist.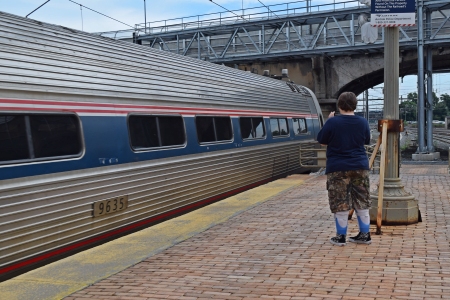 Elyse films the Keystone as it departs.
Then in the convenience store inside the station, we spotted this sticker on a wall: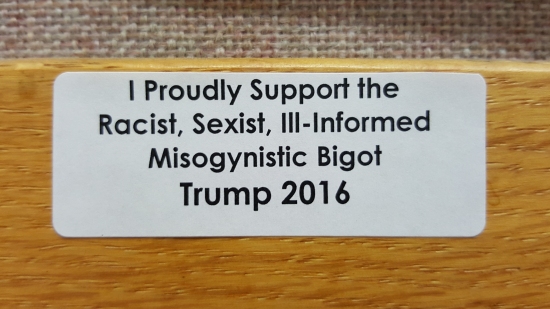 "I proudly support the racist, sexist, ill-informed, misogynistic bigot.  Trump 2016."  First of all, that is a very apt description of Republican presidential nominee Donald Trump.  However, I'm not entirely sure if the person who made this label was trying to be ironic, or if they genuinely do support the racist, sexist, ill-informed, misogynistic bigot.  Considering the anti-intellectual stances of Republican candidates in the last few election cycles (Rick Santorum's "What a snob!" line from the 2012 race comes to mind), and a lot of the things that I've heard from Trump and his supporters about immigration and whatnot, I can't entirely dismiss this as ironic humor.  I'm not convinced that Trump actually ever wanted to be president, though.  Something tells me that his intent was to troll the country for a little bit, and then lose the nomination to one of the grownups in the race early in the primary season.  However, the fact that the Republicans couldn't manage to dig up a candidate to beat an idiot like Donald Trump indicates what a sorry state that the GOP is in.  As much as I disagree with Hillary Clinton, I'll take her any time over Donald Trump.  End of rant, though it is a bit refreshing to talk politics in this space again after quite some time away from it.
Leaving the train station, we made our way over to the river.  There's a park along the north side of the Susquehanna River, and we photographed the Philadelphia & Reading Railroad Bridge: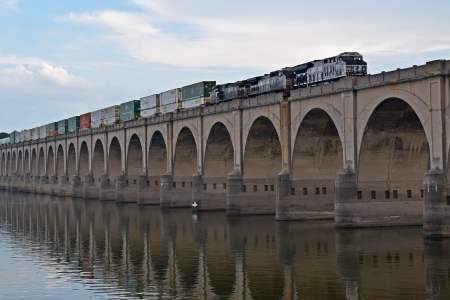 Norfolk Southern train on the bridge, viewed from the east.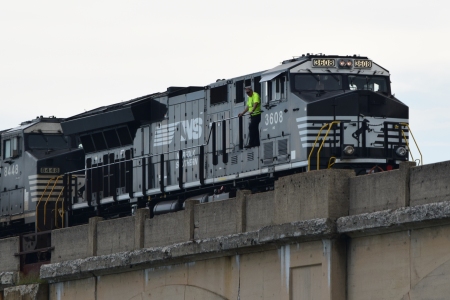 Close-up view of the front locomotive, Norfolk Southern 3608.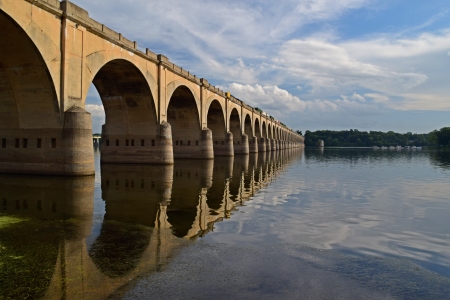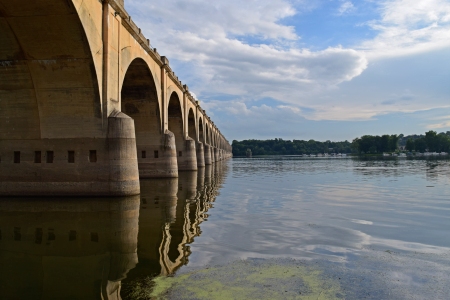 The bridge, viewed from the west.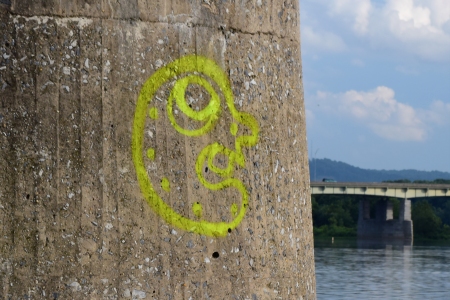 Graffiti face on one of the piers near the shore.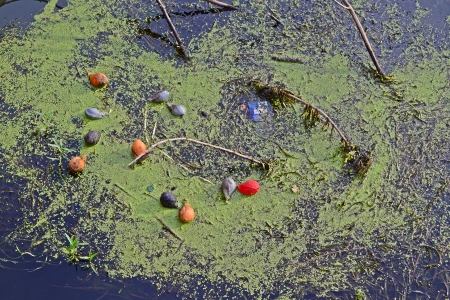 Debris in the water next to the bridge.  No idea how so many balloons collected in this spot.
I also got some photos of Elyse taking photos: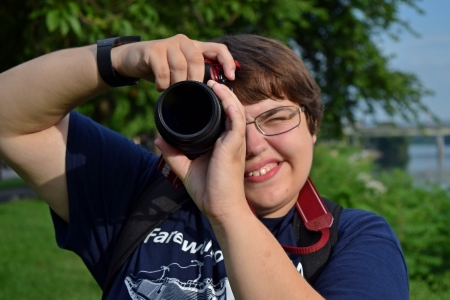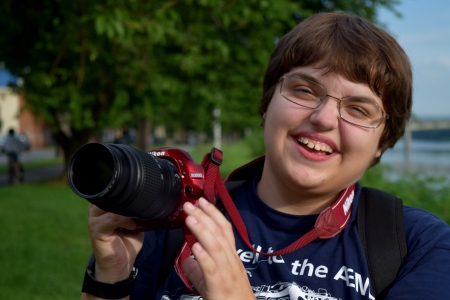 That second one, however, was not as intended.  I intended to shoot this as an alternate to the top one, but my subject moved at the last moment.  Still turned out pretty well, if you ask me.
After this, we headed over to Harrisburg Mall.  This one was a rather sad looking two-story mall.  The mall interior was nothing to write home about, but two stores stuck out in my mind.  The first was 2nd & Charles, which is one of those buy-sell-trade kinds of stores.  They have a lot of various nerdy items there, and if you need proof of nerd cred, these were available for sale: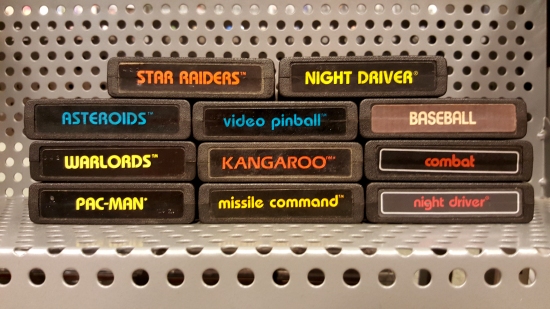 Yes, these are Atari 2600 cartridges.  Oh, yeah.  They had a whole shelf full of them, but I picked out these titles and arranged them as you see because these are the titles that were available that I used to actually own.  The infamous E.T. game wasn't among this lot, however.  And for the record, I liked the E.T. game.  Yes, I am one of a very few who enjoyed the game.
Then at Bass Pro Shops (a two-story Bass Pro Shops – how unusual), I got this photo of Elyse on an ATV: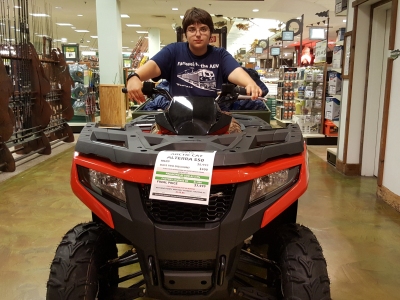 And then from there, we hurried back across the mall before they closed, and headed back.  Not a bad time.
Then a week later, we were up in the Harrisburg area again.  This time, we were with my friend Josh, who was going up to buy the bus that we test drove a few weeks prior.  Here's Josh with his bus, a Thomas Built HDX: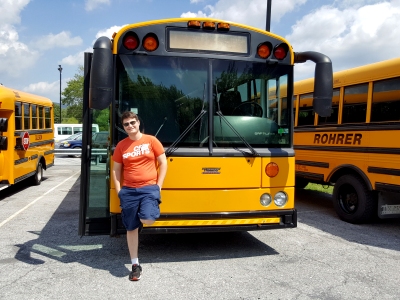 I got a photo with the bus as well, and got photobombed by a certain someone: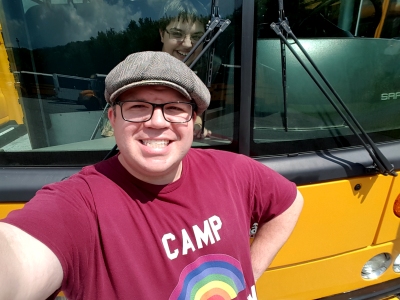 And here I am in the seat: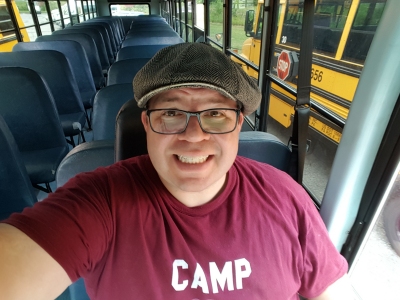 At 100 miles, this was my longest route yet.  Elyse and I jokingly referred to it as the J81, since we went up 270 on our way up.  The way we figured, the J9 route in Montgomery County goes up 270 as far as Gaithersburg, so let's raise the number a bit to reflect the increased distance.  Though as far as mileage goes, it's comparable to some of the runs that I did on the bus.  Last summer, I worked a run that did roughly 85 miles on Sundays.  So I was used to 100 miles, though not all on the freeway.  Though I certainly appreciated a right-side entrance ramp.  I used to do a deadhead on a regular basis that brought me onto the Beltway via a left entrance ramp.  I then had to cut across four lanes of traffic to get to the curb lane.  I got good at making those lane changes at freeway speeds, utilizing all of my space, and looking at my right convex mirror and my overhead mirror.
The first stop was a Sheetz, for a quick pit stop and water break: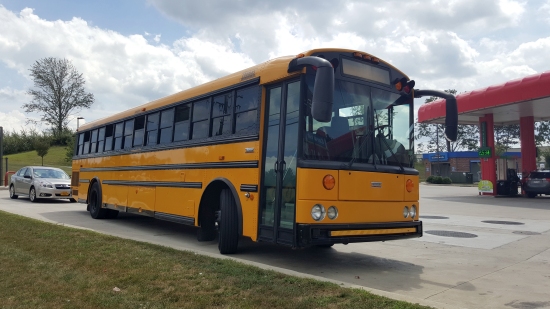 The traffic pattern at this Sheetz was less than conducive for a bus, but it worked.  If you look at the map, we came in via the entrance on Wayne Road.  That was a nice, big entrance – perfect for a bus.  However, you couldn't get back out that way, as the exit was right turn only, and we had to make a left.  So we went out the other exit, which would have been easy except for there is a low median there.  Josh got to see firsthand about how to use your overhang (the space forward of the front wheels and aft of the rear wheels) and all of your space.  First I had to let a few cars go by, and then I put the overhang over that median to get around.  I cleared the curb by about 12 inches.
Oh, and by the way, here's something that I never thought I'd see: cookies with caffeine.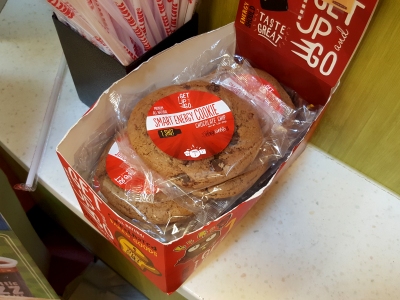 Yes, cookies with caffeine.  Wooooooooow.
When we got to Martinsburg, which is where Josh was going to keep the bus, we went over to the Target parking lot, where Josh got his first lesson on how to drive a bus.  He did quite well, learning how to set up turns (i.e. turning inward slightly before flaring out to get around a tight corner), and get around a few traffic islands in the parking lot.  Like everyone does when they drive a bus for the first time, Josh went over a curb.  We're not even going to talk about how many curbs that I clobbered while learning how to do the bus.  Just know that if you hear any bus driver say that they have never gone over a curb, they are lying to you.  Everyone does that at least once, and most go over quite a few curbs.
Then we went over to a public school on the other side of town, and Josh operated the bus some more in the parking lot.  Elyse also got to operate the bus in the lot.  This was not her first time driving a bus (the first vehicle that she ever drove was a Gillig Low Floor, if that tells you anything), but it was her first school bus.  And she went over the curb, too.  No one gets away without killing a curb.
This was Elyse's bus stop: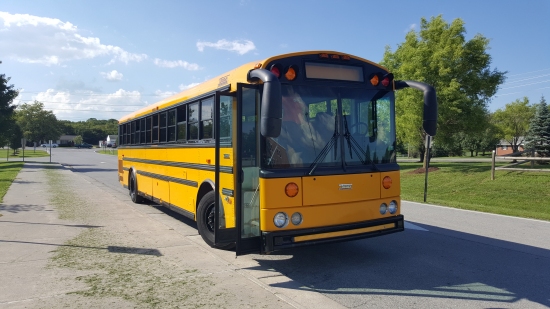 Elyse made a transit-style bus stop in a school bus.  Not too shabby, if you ask me.  Only difference is that you have to pop the brake on a school bus, because they have no door interlock.  Transit buses typically have an interlock that prevents you from moving the bus with any of the doors open.  You can drive a school bus all day with the door open, though we would hope that you would know better than to actually do that.
Then after this, we dropped the bus where Josh wanted it, and he took us back to our car, and we went back home.  I'd say that we did pretty well there.  I believe that the conversion of this bus to an RV will be a long-term project, but I'll let you know what it all looks like when it's done.
And meanwhile, I think I need to give Pennsylvania a break.  I enjoy going on little road trips to these cities and towns in Pennsylvania, but three times in two weeks seems like a bit much, though we had tons of fun on all three trips.
Categories: Amtrak, Companies, Driving, Elyse, Food and drink, Friends, Hanover, Harrisburg, National politics, Pennsylvania, West Virginia, Westminster