October 19, 2017, 11:17 PM
This past Saturday, Elyse and I got together with our friend Dave, and we went to the Public Safety Open House held at the new Montgomery County Public Safety Training Academy on Snouffer School Road near Montgomery Village.  Then we went out to Middletown and visited South Mountain Creamery, which is a dairy farm that sells products on site.
The Public Safety Open House event was a lot of fun.  There was a little bit of everything for us to see there.  We started out by looking at a row of Ride On buses.  Apparently, this facility is used to train Ride On operators, because there is, more or less, one or two of each type of bus that Ride On operates located at the facility.  We saw two Gillig hybrids, an Orion VII CNG, a New Flyer C40LF, and two Gillig 30-footers.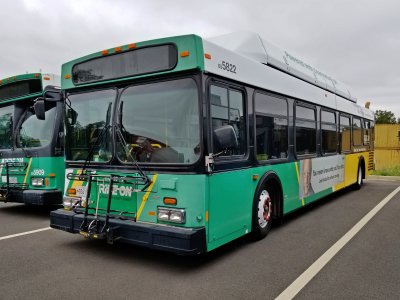 Ride On 5822, a New Flyer C40LF.  We all commented on how the one panel on the front was so faded.  No idea why.  I speculated at the time that it might be from the diagonal parking at the old Gaithersburg division's causing sunlight to hit that corner more than others, but after thinking some more about it, while certainly plausible, I don't know if I'd necessarily go with it now.
Continue reading…
July 23, 2017, 3:53 AM
This past Wednesday, Elyse, Aaron Stone, and I took a little road trip to Jefferson County, West Virginia.  There was some stuff for all of us, as Aaron wanted to see some stuff that Elyse and I had seen before, I wanted to see some stuff that I had spotted in some Instagram pix, plus wanted to get newer photos of some areas where I had been before.
But first, food.  We designed our trip to take us to Sunshine General Store, which is this little hole in the wall restaurant north of Brookeville, at the intersection of Georgia and New Hampshire Avenues.  Their hamburgers are to die for – thick and juicy.  However, you really have to know that they're there, because at first glance, the place looks abandoned.
After we had our hamburgers, we headed over to Brighton Dam.  The intent was to get some new photos of the dam, but much to my surprise, a dam rehabilitation project was underway, and the park where you got the best views of the dam was closed in order to accommodate the construction work.  The level of Triadelphia Reservoir was much lower as well, presumably because of the dam project, and from the looks of the now-exposed land, it had been lower for quite a while: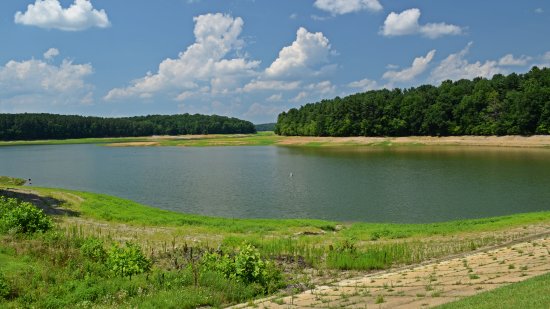 Triadelphia Reservoir, with the lower water level.  Compare to the water level in April 2014.
Continue reading…
December 28, 2008, 2:09 AM
I just finished giving my apartment a thorough cleaning ahead of my trip to Stuarts Draft for a week. I did the rugs, I did the floors, I dusted, I completely cleaned the kitchen, and I completely cleaned the bathroom. It was a long ordeal, but the place looks great now!
Most bothersome, though, was cleaning the carpets. I had Mom's shampooer, and I went the whole nine yards. I picked everything up, moved furniture around, and everything. I had my coffee table up-ended and in the kitchen, if that tells you anything. Bedroom, hallway, and then living room. The living room was perhaps the most challenging. First I had to make sure not to shampoo myself into a corner, but also what to do once the carpets were done.
\Determining what to do once the carpets were finished was actually pretty exciting. I grabbed my coat, my hat, my iPod, and my phone, and took to the Sable for a few hours late at night. Makes me glad that gas is cheaper again, because I finally got to explore a bit. It's time to see what's beyond Silver Spring. So I took a small late-night road trip. Previously, I'd only been on Georgia Avenue as far as Norbeck Road, which is not all that much further north than my street. Now, I followed Georgia Avenue a long way. I went through Olney, seeing roughly where Montgomery General Hospital is (the Y bus's northern terminus), and continued, finding out that Georgia Avenue narrows down to two lanes once you clear Olney. Olney also appeared to be a lot smaller than I expected. I expected a larger town, but there you go. And then beyond Olney, Georgia Avenue reminded me a lot of various back roads in Augusta County, Virginia, where I used to live. Lots of curves, and two lanes. For the first time in a long time, I broke out the high beams.
Continue reading…
January 28, 2008, 8:24 PM
The second day of the consulta went just as well as the first. We had a slightly smaller crowd, but it still worked. We couldn't get into the Frederick Cultural Arts Center right off the bat on Sunday due to the fact that a church had services in there at 11:00, so we started out at the Frederick Coffee Company for the first hour and some. There, we discussed affinity groups, protest tactics, and even "protest fashion", which was kind of like What Not To Wear: Black Bloc Edition.
Then we went over to an area about a block away from the Arts Center, and had lunch, courtesy of the local Food Not Bombs. There, they had a selection of vegan food, as well as what's called freegan, meaning it's stuff that was obtained for free after being cast off by the primary purchaser.
From there, we got into the Arts Center, and prepared for a workshop on police tactics. However, before that got going, while everyone was setting up, Jeff and Maddy had a chance to be wacky with a cart that was in there.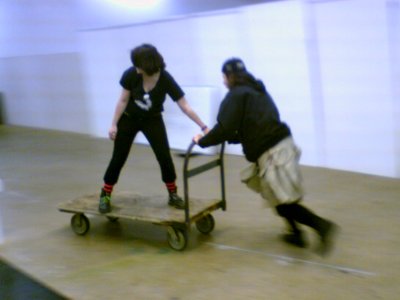 First Jeff pushed Maddy…
Continue reading…
January 26, 2008, 9:39 PM
Day one of the "Unconventional Action" consulta in Frederick, Maryland went quite well, indeed. The main thrust for the consulta was to prepare for the protests outside the Democratic National Convention in Denver, and the Republican National Convention in St. Paul, as somewhat indicated by the banner inside:

However, with Denver and St. Paul being out of range for many of us (I have neither the time nor the funds to go), it also worked well for things to apply in that hotbed of activism that's right in our own backyard – our nation's capital, Washington DC.
We discussed a lot of stuff, too, mostly related to protest tactics and community organizing. We started with discussion on how to combat gentrification (with handouts!), took a break, and then moved onto discussion about the logistics of the RNC and DNC. Bridges, hotels, locations of various buildings, perimeters, etc. Very interesting stuff. And lots of handouts! I like handouts.
Continue reading…