Taking my photography to the skies…
October 6, 2020, 10:37 AM
I suppose that it was inevitable.  When Elyse and I were out meeting up with someone in Baltimore back in March, they had a drone device that they used for a lot of aerial photography, and they showed it off to us.  I loved that thing, a DJI Mavic Pro 2, and they gave me all of the information about it so that I could do my own research.  I wanted one of those things, but I couldn't justify a $2,000 price tag for a drone that nice when I had zero experience flying a drone, and didn't have a good idea about what I wanted to do with it.  So I sat on the idea for a while, occasionally going on Amazon to drool over the drone that I knew I couldn't justify to myself.  Then I found a somewhat lower-end drone, the DJI Mavic Mini.  A $500 price tag was easier to justify, and that price also told me two things: first, it was expensive enough that it would do what I wanted it to do, but also cheap enough to be a good, accessible starter drone.  I asked the experts on Reddit, and the consensus was that it was a good entry-level drone, and it could do everything that I was looking for it to do.  So I went on Amazon and bought it.
One thing that I got a quick crash course in after I bought this was the regulatory environment for drones.  Basically, you can't just take this thing anywhere and fly it however you want.  Like the roads, you share the airspace with other users, and as a drone pilot, in the big hierarchy of pilots, you are down where the dog lifts its leg.  And that's how it should be.  I'm flying an unmanned vehicle, and as such, my feet are firmly on the ground at all times.  If something goes wrong with my aircraft while I'm flying, the worst thing that happens is that I lose my drone, as well as all of the material that's stored on the card.  I might be unhappy about losing my drone and the photos stored on the card, but no one's going to die should this thing fail mid-flight.  Compare to a real pilot, who's actually up in the sky with their aircraft, and if something went wrong there, there is a very real possiblity that someone could be seriously injured or lose their life.  Therefore, I quickly learned that you have to do your homework before flying.  Thankfully, there is a phone app called B4UFLY that will tell you what restrictions are in place in different areas.  Right offhand, I live in the Washington, DC area, and as such, there is a lot of restricted airspace there, because Washington.  In short, don't even think about flying in DC, and you probably don't want to fly in the suburbs, either.  Right around my house, I also have restrictions because there's a small airport (GAI) nearby.  Once you get out of the immediate metro area, though, it's fairly wide open, though national parks are a blanket no-go.  But outside of that, there's plenty of stuff to do.
My first flight was a place that I would otherwise probably never fly in: my living room.  I was sitting on the couch one night trying to figure out how to make it all work, since getting everything to power up and link up properly was a bit of a time-consuming challenge, but not insurmountable.  Once I got it all figured out, we were good to go, though, and everything ran perfectly.  And the living room was good enough just to verify that the product worked.  My first drone photos, fittingly enough, were selfies: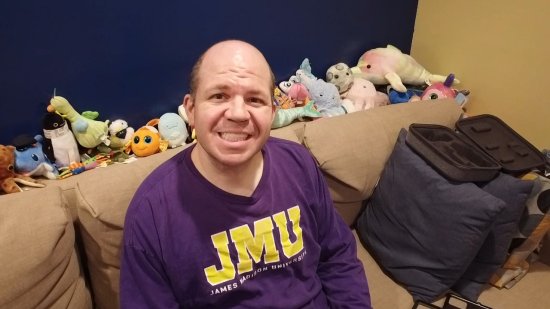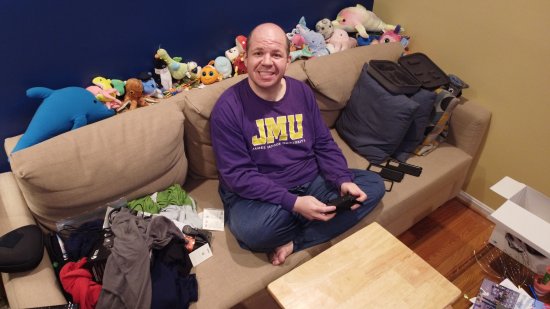 That first flight did not end successfully, though.  In maneuvering it around the living room, I came a little too close to a wall and made contact, which caused the drone to stall and crash land.  Thankfully, it was no worse for wear.  Then I took it outside for a quick flight.  I got this photo of the car: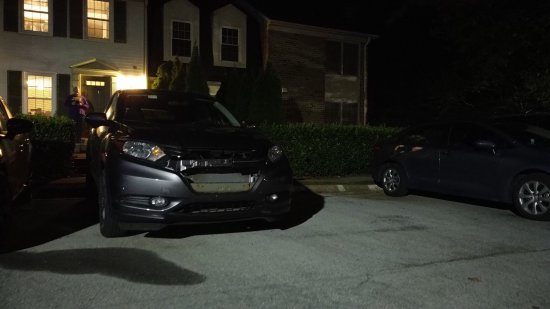 The HR-V, still sporting the deer damage, as this was taken prior to its being sent to the body shop for repairs.
Seems to work.  I got a good, working idea of how it flew and such.  I did find myself navigating mostly by looking at the drone directly rather than on the monitor, and only using the monitor to take a photo.  I suppose that worked well enough for a first flight.  I also was able to successfully land it, which was a good thing.
My next test flight was the following day, during the early evening.  There, I did a quick flight up and over the house, staying below the height of the trees (i.e. no chance of fouling any real pilots).  The goal was to put it through its paces and get a good feel for how it all handled before taking it out on its first operational photo shoot.  I also was showing Elyse how it all flew, since she wanted to also pilot it.  Here are the photos that we got from that test flight: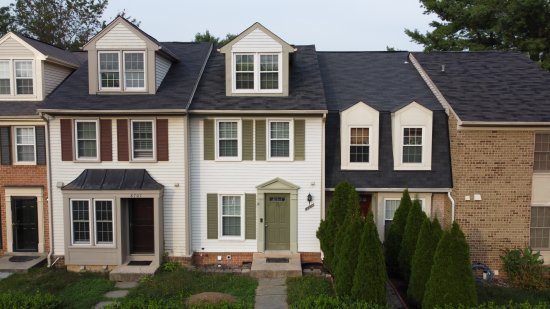 The house, from over the parking area.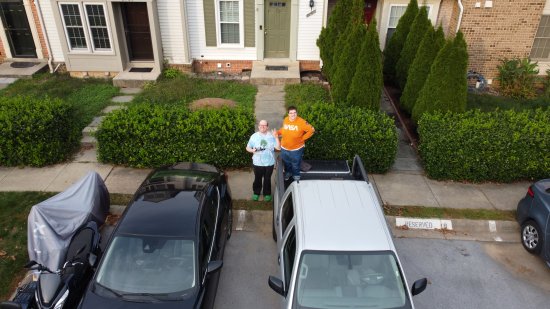 Drone selfie of Elyse and me.  Elyse is standing in the bed of a silver Nissan Frontier, which is the rental car that I have with the HR-V still in the body shop (it should be back later this week).

Photo of Elyse with the truck.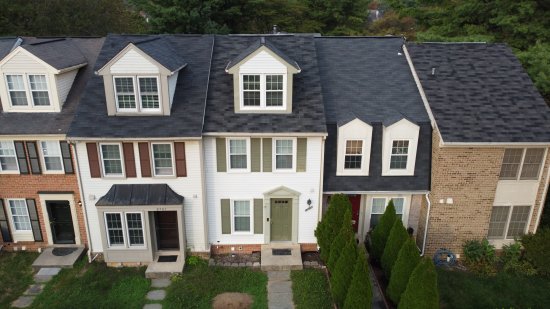 Higher view of the house.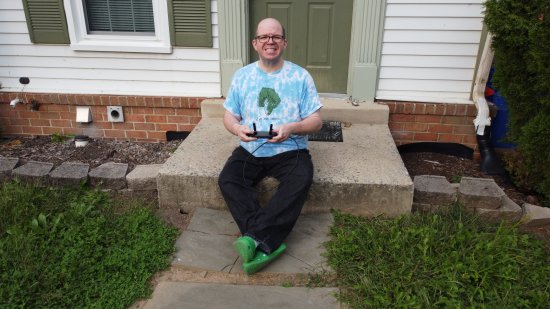 Selfie.  I ended up using this as the splash photo for October.  I definitely look smaller than I was a year ago, that's for sure (the difference is about 159 pounds).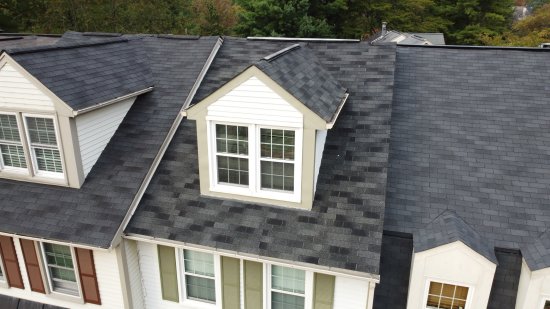 Higher view of the dormer at the mezzanine level.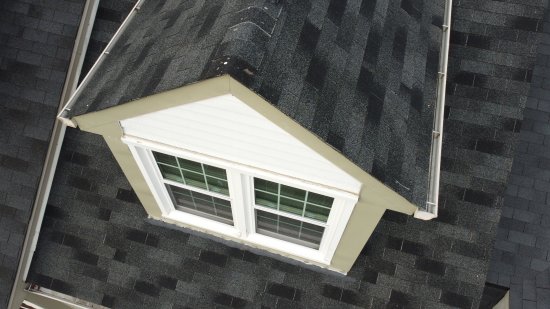 Overhead view of the dormer at the mezzanine level.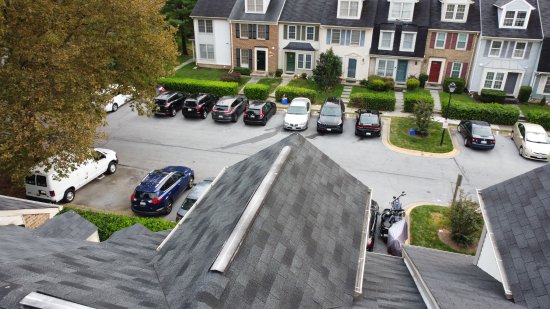 View facing towards the front of the house from just behind the peak of the roof.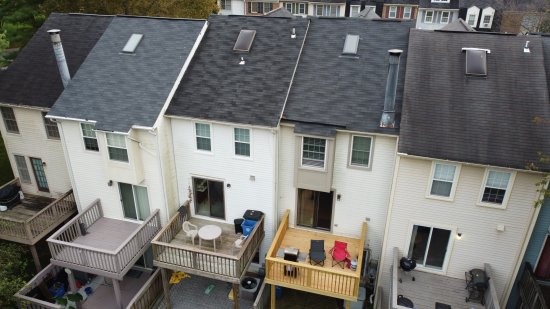 The back side of the house.
All in all, I got a good handle on flying this contraption.  I also discovered that it is very convenient to launch out of the bed of the truck, though that's not something I can do long-term since that's a rental, and I don't have an equivalent launching platform on the HR-V (and I can't wait to get the HR-V back).
I did a final test flight while Elyse and I were on an otherwise unrelated adventure to West Virginia.  Elyse wanted to photograph a siren at the fire department in Jefferson, Maryland (you can see it from Route 340), and so we went over there and took the drone for a flight.  Here's what I got: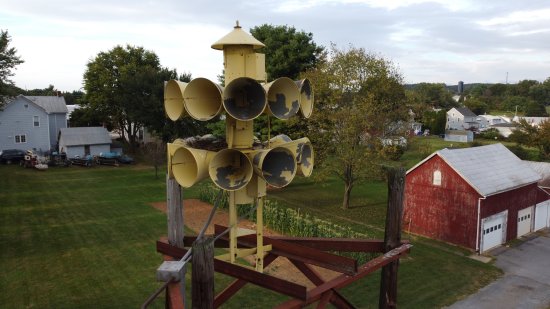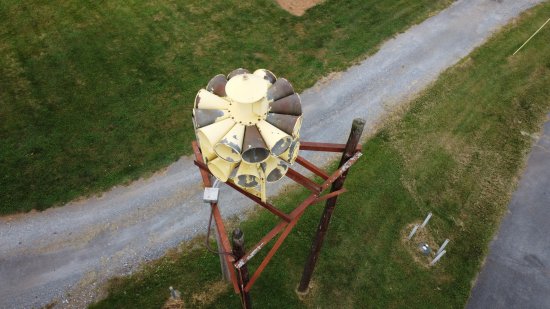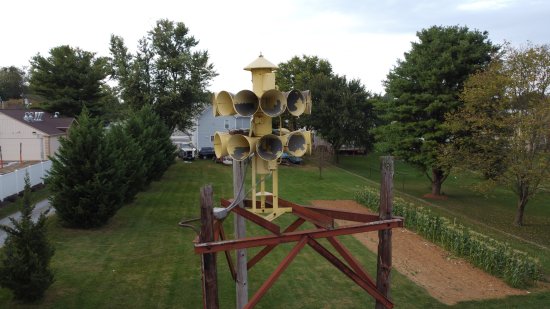 The siren, from various angles.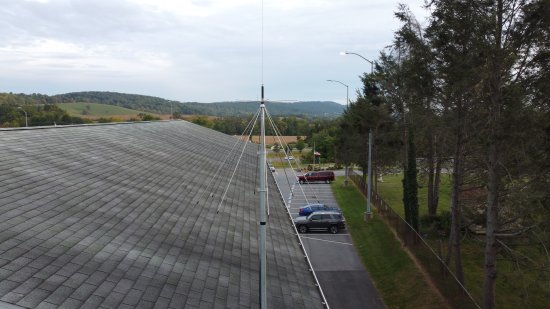 Some sort of antenna on the roof of the fire department.  I have no idea what this thing does.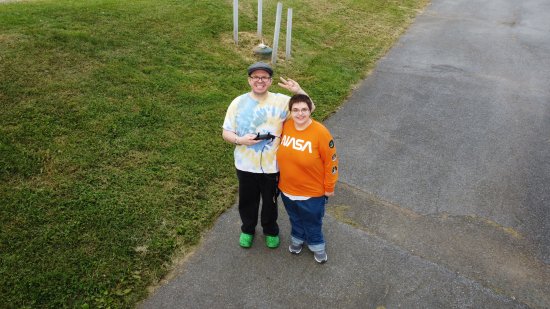 Selfie of Elyse and me with the drone.
Elyse also got a chance to fly the drone, and did a decent job with it.  With both of us piloting and photographing, we ran into an unexpected problem: who owns what?  Elyse and I both have our own various media properties online, and so we are both really careful about making sure that we know whose materials are whose when there's overlap in subject matter.  What happened in this case was that we changed pilots while the drone was still in the air, and kept on taking photos using the same card.  You see the problem, in not having a clear dividing line between pilots.  We don't want any guesswork, since that just muddies the waters in case someone ever wants to license this work.  It took a little doing, but we eventually figured out whose were whose and put them in our respective cloud drives.  I came up with a policy which solves everything: we may only have one drone, but we each have our own separate memory card, and the controls are not handed off until the drone has landed and the memory card is changed out.  In other words, while your card is in the drone, it's your baby.  With separate memory cards, getting the material to its proper home is a snap, since it's processed separately.  I'm also looking to get a separate (cheap) mobile phone just for use with the drone.
Since these test shoots were done, I've also completed two operational photo shoots with the drone.  In one of these shoots, I photographed an intersection in Ringgold which I had previously run as a photo feature.  I used the drone to get some close-ups of the signals, and some aerials of the intersection and surroundings.  In the other one, Elyse and I both investigated an electronic siren in Myersville, and I also investigated a cell phone tower in the Smithsburg area.  I also got some photos of the mountains and the sunset.  Not sure when those photos will appear yet, but they're in the queue.
All in all, though, I'd say that my photography work just got a lot more interesting, now that I can take to the skies.