July 30, 2016, 10:52 AM
This past Thursday, Elyse and I went up to Harrisburg with another friend to help test drive a bus.  My friend had been searching for a bus to convert into an RV, and located a school bus as a potential candidate.  I was there because I had a CDL, and therefore could legally drive the bus, and knew what I was talking about when it came to looking the bus over and getting a feel for how it drove.  Considering that my work as of late has had me around rail vehicles rather than buses, I was excited, because I hadn't driven a bus since April.
The bus was a 2007 Thomas Built HDX.  For those not familiar, that is a transit-style school bus, i.e. the kind with a flat front.  I definitely knew how to drive those, because transit buses have flat fronts, plus I first learned how to drive a bus on a Thomas Built MVP, which is an older version of this bus.  Only thing I did have to get used to with this bus was that the turn signal control was on the steering column, whereas on a transit bus, the turn signals are on the floor.  School buses should have them on the floor as well, for the same reason that they're on the floor for transit: it allows you to keep both hands on the wheel at all times.  Clearly, whoever placed the stalk for the turn signals had never operated a bus before, because it did feel like something of an awkward reach to operate the turn signal.
I was worried that I might have lost some of my bus-handling skill in the three months that had passed since the last time I had operated a bus, but once I got a feel for the bus, no problem.  As I discovered after being out for six weeks for that broken foot, it's just like riding a bike.  However, I did have to get used to the pedals on this bus.  Unlike every other bus that I had driven, where the accelerator and the brake pedals are attached to the floor, these were hung from above, like a car.  Go figure.  But once I got over that, no problem.
Continue reading…
July 24, 2016, 8:55 PM
…and now I have.  Elyse and I made an impromptu road trip to York, Pennsylvania on Thursday, July 14.  We got together in Ellicott City, but didn't know quite what we wanted to do, and so we ended up doing that.
However, our first stop was a completely unplanned one, in Catonsville.  There, the McDonald's in 40 West Plaza recently closed, and was in the process of being vacated.  At the time that we came by, they had started roofing over the McDonald's-style mansard, and removed the signage, and were packing stuff up inside.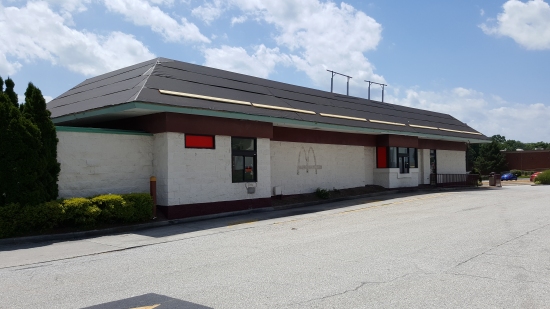 Continue reading…
July 7, 2016, 11:06 AM
July 7, 2001 was something of a milestone date for me.  It was my first full-on photo shoot in DC.  The result of that photo shoot was a Photography set called "The Schumin Web Salutes America".  I pulled the set during the WordPress conversion in 2012 because it was somewhat low quality, but you can still find it in the Internet Archive.  Looking back on the set, it was clear that I didn't know what I was doing, both in the photography itself as well as the post-production, but it was a start.
The set really embodied the way the Photography set started out, which was more like the modern Life and Times, but more subject-based.  Photography didn't take on its current form until 2008.  In that, it started out showing my coming up to the area, traveling in on the Metro, it showed the things that I observed on that trip, and also showed a few landmarks in between.
Looking back on this day, fifteen years ago today, it's funny to see how much has changed since this set was made.  I was 20 years old.  The camera was a Sony Mavica FD-73 – that means that I was toting a box of 3½" floppy disks around DC to save my photos.  Buildings are now here that weren't in 2001.  Some buildings are gone now.  This was also my first time riding past Smithsonian on the Blue and Orange Line, and my first time transferring to the Yellow Line, at L'Enfant Plaza, and going over the bridge.  So here we go…
Continue reading…