April 30, 2018, 2:25 PM
Lately, I've been reliving the computer games that I used to play in the nineties through the magic of YouTube.  I was a Sierra gamer for the most part back in the day, mostly playing in the Space Quest franchise.  I used to love exploring around the worlds that the game created, hoping to make some sort of breakthrough in the game to advance the plot.
Interestingly enough, my first introduction to Sierra was not through an adventure game.  I played Hoyle's Official Book of Games, Volume 1, which consisted of six card games: Crazy Eights, Old Maid, Hearts, Gin Rummy, Cribbage, and Klondike solitaire.  The game introduced the player to various Sierra franchises, as well as some other folks, via the various characters that you could play against.  You could play against Princess Rosella and King Graham from King's Quest, Roger Wilco from Space Quest, Sonny Bonds from Police Quest, and Leisure Suit Larry from the series of the same name.  There were also a few real people, such as Jerry Moore, who was one of the animators, and Warren Schwader, who programmed the game.  Jerry and Warren's kids, Devin and Christina, respectively, were also in the game.  I learned a lot from that game.  I learned how to play several card games, plus I learned about a number of other Sierra franchises by playing cards with their characters.
At the same time as the Hoyle game, I also had King's Quest IV, which featured Princess Rosella, whom I knew from playing cards.  I didn't do too well with that game, though, because I didn't know that it had a text parser interface – and who reads instructions?  I thought it was all point-and-click like Hoyle was.  So I would just wander around aimlessly and eventually either get bored with it or die, either by falling off one of the cliffs, or by getting caught by one of the trees.
Continue reading…
April 22, 2018, 1:44 PM
I always enjoy that feeling of accomplishment.  I recently had a vacation from work, and knocked out two home improvement projects: counter-height chairs for the kitchen, and painting Elyse's bathroom.  Both of these were long in progress, and several days off of work meant that I could finally complete them.
The kitchen project probably had the most impact on me.  Since moving in, Elyse and I had been using chairs that were the wrong height: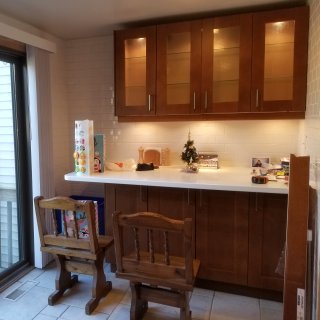 Continue reading…
April 2, 2018, 2:23 PM
In the time since the Soul burned a little less than two months ago, Elyse and I had been wondering what happened to it afterward.  We knew that it had been taken to Terry's Body Shop in Purcellville immediately after the fire, and then the insurance company moved it to a facility in Culpeper in order to do their investigation.  The sequence of events that I described and the photos of the fire itself pointed to a fuel fire, i.e. that fuel started leaking out near the engine, and then, presumably, once the leaked fuel hit the hot engine, it ignited, and the rest was history.  However, the results of the insurance company's investigation were inconclusive, as the fire had burned everything so thoroughly that their experts were unable to formally determine a specific cause that triggered the whole sequence of events.
Elyse had wondered if the car would end up on one of those auto salvage auction sites, and went hunting online to see if she could find it.  Her search came up empty.  Then, a few weeks later, I put the Soul's VIN into Google to see what came up.  I didn't expect to find anything, so I was a bit surprised to hit pay dirt.  I found a page from Insurance Auto Auctions with photos of my former car.  The listing indicated that the damage was "total burn", with a black exterior and a black interior.  The black interior was correct, though I imagine that they weren't thinking of the one that I remembered, but rather the one that existed after the fire.  The description of the exterior color as "black" amused me, because most of the body was no longer green following the fire.  Considering that, it's pretty hard to argue with that description of the color.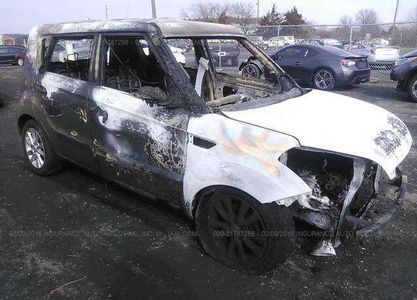 Right front view.  I imagine that this side, with its heavy smoke and fire damage, is what led the auction site to list the car's color as "black" instead of green.
Continue reading…