June 26, 2021, 10:10 AM
It's funny what things people lock onto, take out of context, and run with in the age of the Internet.  I remember when my Code Pink photo in front of the White House became a discussion about President Obama and the 2012 election.  That made enough sense, because while it was a different context than the original one, it was still in the same vein, being anti-war and all.  More recently, though, a very old photo of mine was dusted off by a certain crowd and run in a completely different context than intended.  Remember this photo?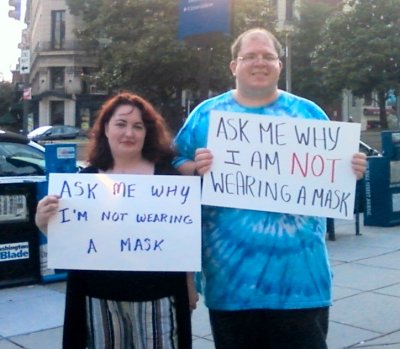 Continue reading…
June 7, 2021, 11:20 AM
On Tuesday, June 1, Elyse and I went on a little adventure in Prince William County, Virginia, where the goal for me was to photograph some old AT&T Long Lines infrastructure up close with the drone.  First of all, for those not familiar, AT&T Long Lines is a now-defunct system from the mid-20th century used for telecommunications via microwave transmission.  It has long since been replaced by more modern systems, but many of the towers still remain.  Some have been converted to cell phone towers, with varying amounts of the old Long Lines infrastructure abandoned in place.  I've photographed about six of these things in varying degrees of detail, mostly in Virginia, both ground-based and with a drone.
On this particular day, I had two towers in my sights: one near Dumfries, and one near Manassas.  The Dumfries one was directly off of Route 234, and the Manassas one was a little bit further off of the beaten path.  The Dumfries tower was in full form, with its horn antennas still attached, while the Manassas tower had lost the old horn antennas.
Here are some of my photos of the Dumfries tower:
Continue reading…
June 4, 2021, 3:42 PM
This past Sunday, I turned 40.  I remember the first time that I heard about someone turning 40.  In that case, it was Uncle Johnny, i.e. Mom's brother, back when I was still in my single digits.  That age sounded so old for someone who was in elementary school.  It was more than four times the age that I was at the time, and seemed so far off.  And now I'm there.  Uncle Johnny, meanwhile, is now in his seventies, and he and Aunt Beth are retired and living their best life.
My actual birthday, meanwhile, was pretty quiet, by my choice.  At work, it's in our union contract that we are guaranteed to have our birthday off as a "floating holiday", but I opted to work on my birthday and take the holiday the next day in order to have a three-day weekend.  This was also a bit of a weird birthday, because I definitely had a mental hang-up about turning 40.  I watched all of my classmates from high school post about turning 40 on Facebook, and I couldn't help but think that it felt wrong for all of these young people that I went to school with to be turning 40.  I didn't really want to turn 40, because 40 felt old.  You weren't "young" anymore, but instead were "middle aged".  Funny thing, though, is that I have one friend who acted like his life was practically over when he turned 40 a few years ago, and I had to reassure him that it wasn't the case, and here I was having a hang-up myself over "40 is old".  The morning of my birthday, I woke up, thought to myself, I'm 40!, mentally groaned for a moment, and then rolled over and went back to sleep for another hour.
But then after I got to work, I got to thinking (operating the train gives you lots of time to think), and I realized that I was 40, but I didn't feel any different than I did the day before, when I was still 39.  I soon came to realize that it was going to be okay. I didn't feel old.  I felt just as good as ever.  Sure, I have a few lines where there were no lines before, and a lot of things sag now (mainly from the weight loss), and I have to hold things a little bit further away from my face in order to read them than I used to, but all in all, I'm doing pretty well.  But don't get me wrong – I still hate birthday greetings.
So now that I'm in my forties, here's to another decade of adventures, I suppose.