When your drone starts to act up…
June 7, 2021, 11:20 AM
On Tuesday, June 1, Elyse and I went on a little adventure in Prince William County, Virginia, where the goal for me was to photograph some old AT&T Long Lines infrastructure up close with the drone.  First of all, for those not familiar, AT&T Long Lines is a now-defunct system from the mid-20th century used for telecommunications via microwave transmission.  It has long since been replaced by more modern systems, but many of the towers still remain.  Some have been converted to cell phone towers, with varying amounts of the old Long Lines infrastructure abandoned in place.  I've photographed about six of these things in varying degrees of detail, mostly in Virginia, both ground-based and with a drone.
On this particular day, I had two towers in my sights: one near Dumfries, and one near Manassas.  The Dumfries one was directly off of Route 234, and the Manassas one was a little bit further off of the beaten path.  The Dumfries tower was in full form, with its horn antennas still attached, while the Manassas tower had lost the old horn antennas.
Here are some of my photos of the Dumfries tower: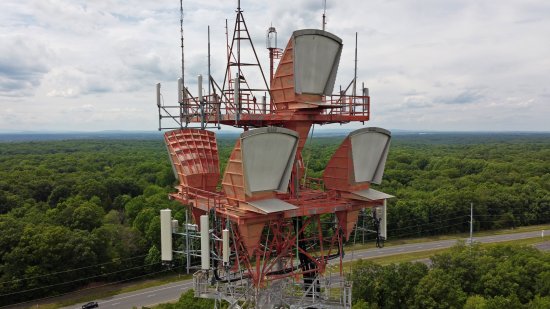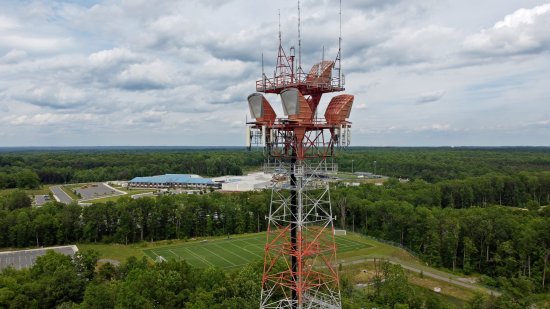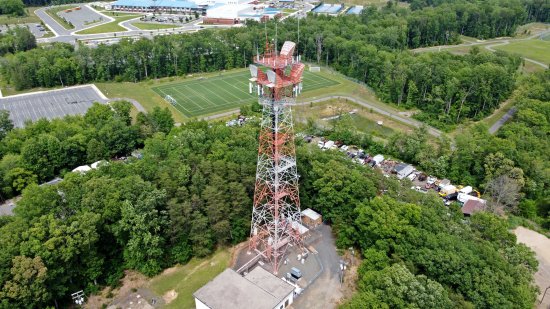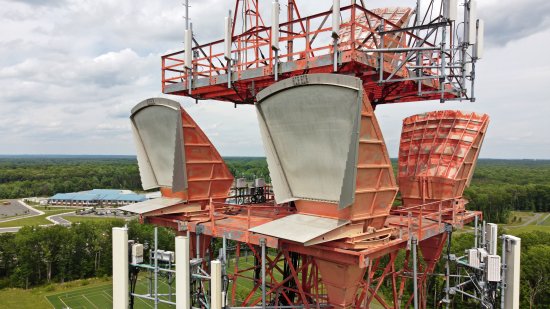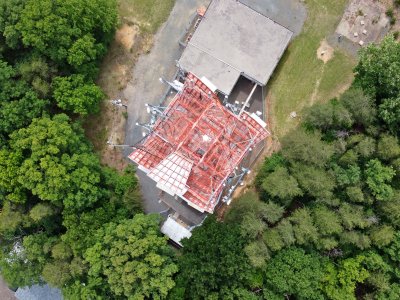 And here are some of my shots of the Manassas tower: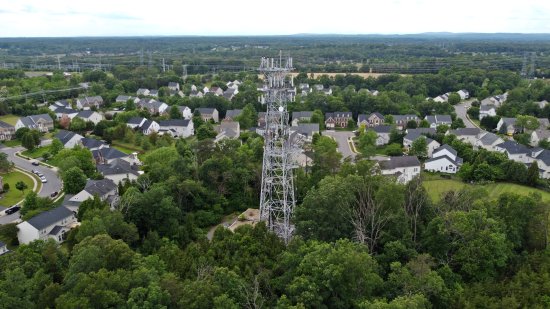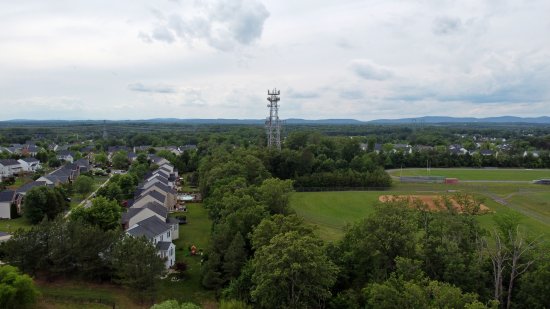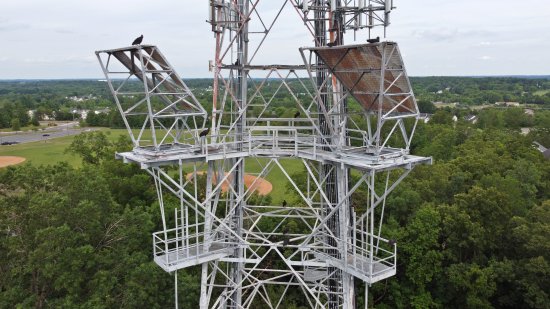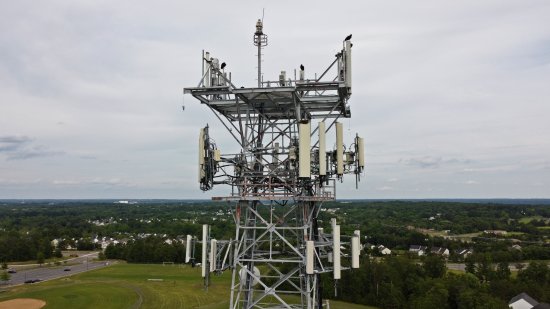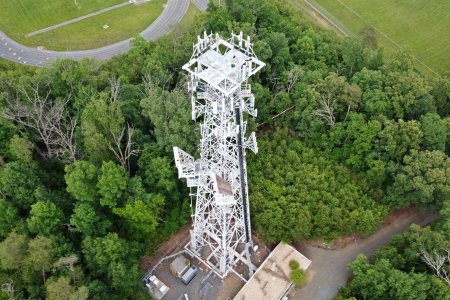 However, this adventure was more challenging than most due to some hardware issues.  I've been flying a DJI Mavic Mini drone around for about eight or nine months at this point, and the only problems that I've had were clearly user error, mostly accidentally flying into obstructions due to poor observations on my part, i.e. misjudging my distance.  But this time around, it just was never operating quite right, like it got up on the wrong side of the bed or something.  It was flying fine, but the camera couldn't seem to stay level.  Usually, it does a very good job at keeping the camera level, to where I almost never have to rotate the photos in post-processing.  But on this particular day, it seemed confused about things, and it gave me gimbal motor overload error messages.  It would cock the camera to one side, and would be quite jittery as it attempted to correct itself.  I would bring it back to the start point, land it, restart it, and then take off again, and it would work for a while, and then it would malfunction again, making for a very frustrating day of flying.  If it tells you anything, I was quite happy to finally put the drone away after completing my last flight of the day.
Here's how the malfunction manifested itself as far as photos went, shown here at the Manassas site: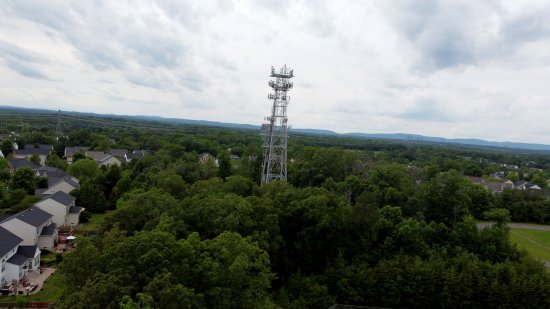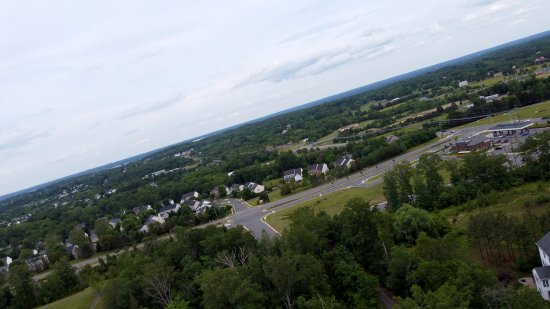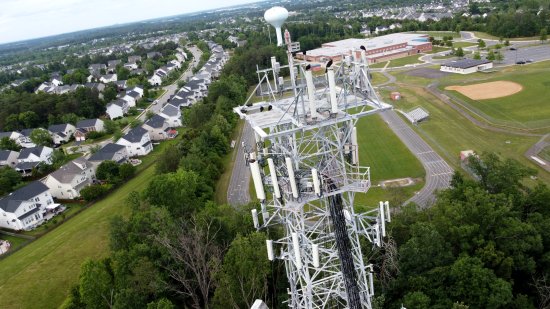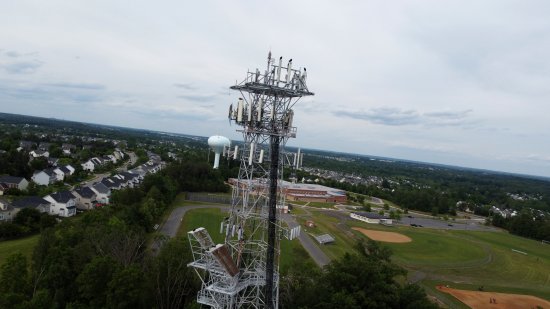 Note that the horizon is not level, as it should have been if the drone had been operating normally.
Here's the way that the camera was sitting in the drone's housing while in flight and malfunctioning: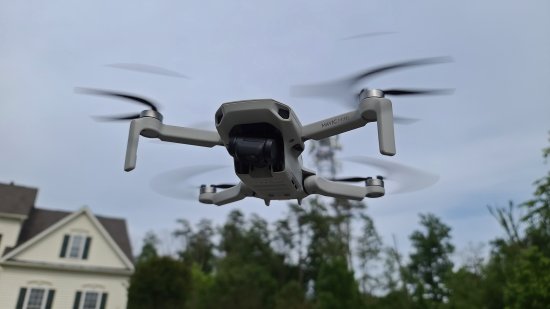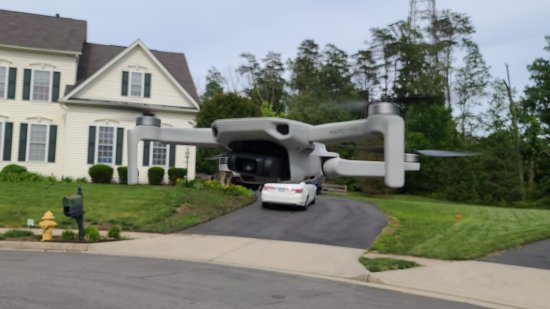 Note that the camera is cocked to one side.
And finally, here are videos that I shot at both the Dumfries and Manassas sites to demonstrate the jittering:
In all three of these videos, I put the drone into an automated return-to-home process, and so the drone is, for the most part, flying itself back to its launch site.  I rotated the drone around and adjusted the camera angle a bit on these flights, but the actual movements that you see were under automated control, except where I had to make some adjustments so as not to land on the car, or where I took the photos of the drone that you saw earlier.
While I was still in the field, I did just about everything that I could think of to remedy it.  I turned it off and restarted it.  I recalibrated everything that I could think of, including the compass, the IMU, and the camera gimbal.  I also made sure that the device firmware was up to date.  Nothing made a difference.  I would take off and it appeared to be acting normally, but then it would start acting up again after a few minutes of flight.
But then the following Sunday, when I had a chance to tinker with it at home, I used an air duster to blow everything out around the gimbal and took it for a test flight over the neighborhood.  The entire system operated flawlessly.  So I'm going to chalk it up to a tiny foreign object's getting up somewhere it shouldn't have been (likely from dust or other debris on a landing site), and move on.  Still annoyed that I lost a lot of productive time while out in the field dealing with the issue, but at least it's not fatal, and I don't think that I'll have to send it out for a repair.  However, it also makes me a tad nervous that it cleared up that easily.  Thus I'm concerned that it will come up again, and if it does, it might not be so easy to remedy, or it will be a recurring issue that causes lots of issues in the future.  But I suppose that we'll cross that bridge if we get there.  But for now, I guess I can fly.