January 19, 2020, 2:05 PM
It has been a little more than a month since I had the gastric sleeve surgery.  As of my one-month follow-up appointment with the doctor on January 7, I had lost 23 pounds since the surgery.  That is on top of the 16 pounds that I lost while I was on the pre-op liquid diet, for a total of 39 pounds lost in about six weeks.  Not bad.  I will get weighed next in the middle of February when I have my DOT physical, and so I'll see how my weight loss is continuing at that time.
The time in the hospital was certainly an interesting experience, and my discussion of it in a previous Journal entry was a bit inadequate, since I was not quite feeling like myself again when I wrote it.  I've also learned a few things since then about what I experienced that I didn't know at the time.  For one thing, I realized that the reason that I hurt all over was from the gas that they use with the laparoscopy.  As part of that process, they pump your abdomen full of carbon dioxide, and that stuff has to go somewhere once the surgery is over.  When everyone said "gas pains" about the surgery, I was expecting something more akin to bloating like when you eat something that doesn't agree with you.  You know the kind where you go into the bathroom, you produce a little tiny Brazil nut-sized poop and then just fart a lot but feel better afterward?  That's what I was expecting.  This was not that.  It turns out that the body has to absorb that gas, and it makes everything hurt, including things that had nothing to do with the surgery.  My upper back was sore.  My shoulders were sore.  My calves were sore, too.  It went away after a couple of days, but it definitely made for an unpleasant night at the hospital, since I was sore from that, and all of the stuff that they had attached to me made it difficult to move around in the bed.  Let's just say that I was thankful to sleep in my own bed again the following night.  That pain from the gas was a lot more manageable when I was in familiar surroundings and not hooked up to a bunch of stuff.
You've also got to love the things that you say while you're under the influence of the various things that they have you on in the hospital.  They gave me all kinds of anti-nausea meds, for one, but then when it was time to go into the operating room, they gave me some stuff through my IV that made me a bit loopy just before wheeling me in.  I got into the operating room, and I was thinking, oooooooooooh, look at the pretty lights as I studied all of the reflectors on them.  Then when they gave me the gas to put me out, all I could think of was that I wasn't feeling sleepy.  Then the next thing that I remembered, it was done.  Later, as two nurses were wheeling me to my room on a stretcher, my hospital gown was apparently disheveled, because they asked me if my testicles were swollen.  I said, "No, I just have long nuts."  I imagine that the nurses kind of died a little inside when I said that, but I suppose that such is what happens when the anesthesia is wearing off, because I certainly wouldn't say that in real life.  But it made for a good laugh later on.
Continue reading…
January 18, 2020, 10:37 AM
Back on July 8, 2007, my friend Matthew and I went on a railfan adventure with a different purpose than we would usually do.  Normally, a railfan adventure involved lots of photos and videos.  This time, instead of a camera, we brought a laptop and a microphone.  The goal was to get some audio recordings of the trains from the interior, for use in BVE, which is a train simulator program for Windows.  We worked from the double-ended seats, which were located more or less directly over the wheel trucks and traction motors.  I worked the laptop while wearing headphones, while Matthew held up the mic.  I've never been a big train simulator enthusiast (I prefer watching the real thing vs. operating a simulator), so I don't know if these recordings ever got used in any of the final versions of these trains, but I loved doing the field work for these sorts of community-built projects.  I also did a set of Red Line announcements for the simulator.  As I know, there has never been a commercially available train simulator for the DC Metro, so for that, I enjoyed contributing in a small way to what was the only WMATA train simulator out there.
Our adventure that day took us on the Red, Orange, and Blue Lines, and we got recordings of cars 3273 (Breda original), 3185 (Breda rehab), 5028 (CAF), and 1130 (Rohr).

Original Breda car 3273 from Forest Glen to Silver Spring
Continue reading…
January 5, 2020, 8:53 AM
Friday, January 3 concluded my second experiment in growing facial hair.  You may recall my first in October 2009, when I let my whiskers grow during a two-week vacation (16 days' total growth), and then shaved it off at the end.  This time around, Elyse and I made a deal that I wouldn't shave while I was at home recovering from my recent surgery, with the day of surgery's being my last shave.  The agreement was that I wouldn't shave again until either I couldn't stand it anymore, or I went back to work, whichever came first.  As it turned out, I was able to go with it for the full period that I was out, which meant that I had 29 days' worth of facial hair by the time that I shaved.  This is what a month's worth of facial hair growth looks like on me: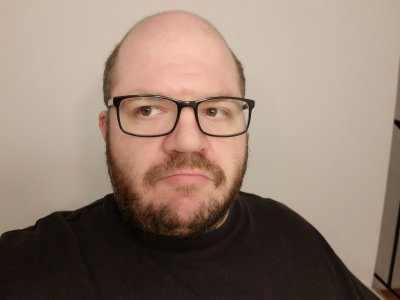 Continue reading…