March 21, 2014, 11:34 PM
So my Friday was fun.  I got together with my friend Matthew, we did some cooking, and then after Matthew and I parted company for the day, I headed over to Dulles Town Center for a bit.  Over the course of the day, I spotted a few things that I found mildly interesting.
On the way in, I stopped over at Aardvark Swim in Chantilly.  I usually go to the Rockville location, but since they were out of goggle straps (the bungee cord kind) in Rockville, and I knew I was going to be out this way sooner than Rockville would get more in stock, I swung by and here to get them.  Those of you who follow me on Instagram may remember that I was contemplating whether or not to buy this: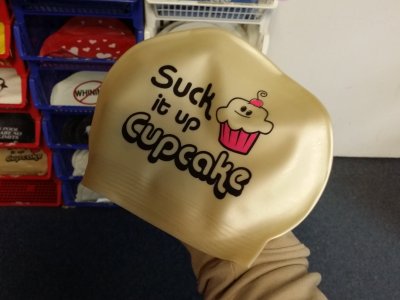 Continue reading…
March 15, 2014, 10:16 AM
So according to The News Virginian, The News Leader, and WHSV, Staunton Mall has been sold to a Delaware LLC for $4.5 million.  Little is known about the new buyer or their intent, however, according to The News Leader, "The sale includes permits for development and land rights and assignment of leases, rents, deposits, profits and other agreements."  This makes me wonder if someone is finally planning to redevelop Staunton Mall into something better and/or more modern.  At this point, we can only speculate. That said, Staunton Mall does look pretty dismal right now, shown in this file photo from January: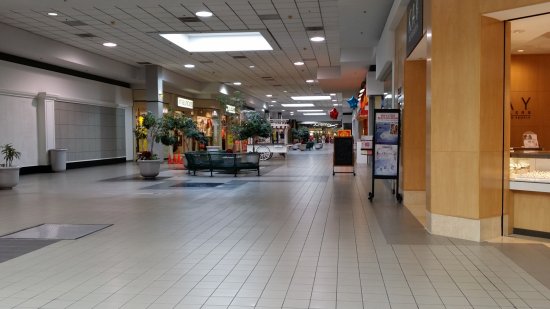 Continue reading…
March 9, 2014, 1:25 PM
For my commercial driving class, I had to watch others' driving to identify distracted and at-risk driving behaviors and document them.  Normally one would do this while another student was driving the bus, but since I'm the only student in the class, I am doing this as homework.  Since I had some issue with making the arrangements for someone else to drive me around so that I could write, I decided to take matters into my own hands and attach my cell phone to the visor to make a movie of my own driving for later analysis.  In other words, something like this: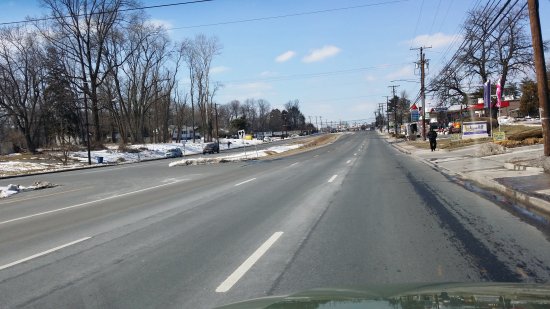 Continue reading…
March 3, 2014, 11:05 PM
I got a very interesting series of phone calls Saturday night (technically early Sunday morning) beginning around 2:00 AM.  Apparently a woman was looking to have pizza delivered from one of the many fine pizza establishments located in the District of Columbia.  So she called my phone number.  At two in the morning.  I believe that the initial call was an honest mistake, but after I told her in no uncertain terms that she had not reached a pizza establishment, she firmly earned her place in the customer hall of shame.
The first call came in at 2:04 AM from a New Jersey number.  I ignored the call.  After all, it was 2 AM, I was beyond tired, and I didn't recognize the number.  I figured that once the person heard my "You have reached Ben Schumin" voicemail greeting, they would figure out that they had dialed a wrong number.  If it did, in fact, end up being for me, they could leave a message, and I would get back with them at my convenience.  And if it turned out to be important, I would have called them back right away.
A voicemail came in from the unfamiliar number.  It was a woman's voice, and she was looking for pizza:
Hey, I'm interested in purchasing, um, an order for delivery.  Please call me back.  My phone number is 201-981-7557.  I've heard great things, and I'm really looking forward to it.  Thank you!  Bye.  (listen to audio)
This seemed reasonable enough so far.  I occasionally get callers who intended to call someone else.  The way I figure, I have a Washington DC number, i.e. 202 area code, and being a major city, there are lots of similar phone numbers, and so there must be a pizza place with a number similar to mine.  Also, noting that 201 is an area code for New Jersey (more specifically, North Jersey), I wondered if perhaps she misdialed the area code, and meant to dial another 201 number rather than a 202 number.  It happens.  After quickly verifying online that the number was, in fact, a cell phone, and wanting to let the caller know that she had not reached the place that she had intended (but at the same time, not wanting to actually talk to her), I sent the caller a quick text message at 2:07, saying, "So you know: I think you may have dialed a wrong number.  I have no idea what you are referring to regarding orders for delivery."  I figured that would be the end of it, or, at most, get a quick text back apologizing for the mistake.
Continue reading…