September 22, 2015, 11:20 PM
This past Sunday, I was at the National Capital Trolley Museum with Elyse.  Unlike most days, where they only run one or two streetcars, this particular day, they were running four.  They were running a streetcar from Brussels (by way of Grand Cypress Resort in Florida), a streetcar from New York City's Third Avenue Railway, the 1971 PCC car from The Hague, as well as an open-air car referred to as "the boat".  We got to ride the first three, but the boat had already been brought in for the day by the time we got there.  Ah, well, there's always next time, as I literally only live two and a half miles away.
These are the cars that we got to ride.  First, the former Brussels car: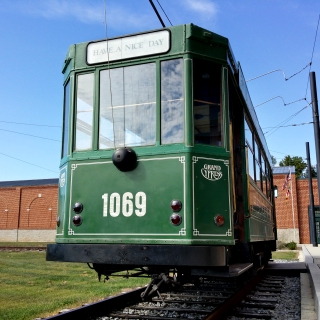 Continue reading…
September 16, 2015, 5:46 PM
This past Friday, I was out with my friend Elyse checking out a few interesting shopping centers in the Baltimore area.  We weren't so much interested in shopping as we were in seeing the centers themselves, and their various eccentricities.  We first visited Owings Mills Mall, which is a large. two-story facility in Owings Mills, Maryland that contains only six tenants: Bath & Body Works, DTLR, Gymboree, JCPenney, Macy's, and Victoria's Secret.  Needless to say, this was a dead mall.  Then we visited the Centre at Glen Burnie, which is a small and well-hidden single-level indoor mall off of Route 2 in Glen Burnie.  This was no dead mall by any means, but its being an enclosed mall surprised me.  I'd been by this shopping center many times in the past, and shopped at the Target store there, and never would have guessed that this was an enclosed mall.  Then our third and final mall was Security Square, a mid-sized single-level mall in Woodlawn.  Security Square was interesting for its former JCPenney building, which, after Penney's closed, was converted to "Seoul Plaza", a mall-within-a-mall consisting mostly of Korean businesses, though now approaching dead mall status (though the rest of the mall is doing well).
However, the biggest surprise of the day came as Elyse and I were walking through the Sears wing of Security Square.  Does this remind you of anywhere in particular?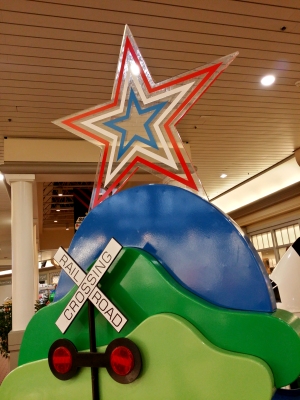 Continue reading…