June 4, 2017, 2:30 PM
This past Thursday, Elyse and I finished up a round of taste tests on a bunch of novelty sodas that we bought at Rocket Fizz in Richmond back in March.  Recall from the second Journal entry about our Richmond trip: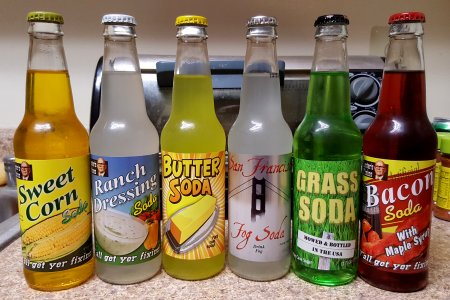 Continue reading…
April 6, 2017, 2:07 PM
So, as promised, here's the rest of the trip to Richmond that Elyse and I made.
After leaving the Science Museum, we headed over to Carytown.  Elyse wanted me to see Rocket Fizz, which is where she got some bottles of "Stalinade", a strawberry-flavored soda that, as I said on Instagram at the time, was "Communism in a glass.  Definitely tastes the way that I would expect communism to taste: red."  They have a very large selection of unique sodas, and some with novelty flavors, and some with novelty names.  I ended up buying a six-pack of novelty flavors.  Here was the take: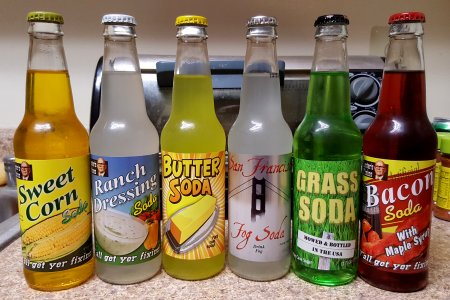 Continue reading…
March 30, 2017, 8:35 PM
This past Tuesday, March 29, Elyse and I headed down to Richmond for the day.  The idea was that we wanted to go somewhere, but it was going to rain, and so we needed a good indoor venue.  So we decided to go to the Science Museum of Virginia.  I had not been in a very long time (15 years!), it was indoors, and Elyse liked it a lot when she went a few months ago.
I was surprised to find out that all of the exhibits were different compared to previous visits.  The exhibits had changed gradually over several visits in the nineties, but this change was a bit more dramatic, with all new exhibits, as well as the removal of a mezzanine level that previously existed in the main hall.  The new exhibits seemed more child-focused, which is something that I don't remember from my last visit in 2002.  They had a hurricane simulator, where you could experience gale-force winds, tropical storm-force winds, and hurricane-force winds.  They also had a track that challenged you to outrun different kinds of animals (turns out that I can run faster than a rat, or at least keep up).
There was also a demonstration of robotics that used an air hockey table.  There, you had to beat the robot at air hockey.  All went well at first, but this was more exciting than most.

Yes, the puck got stuck.  There was a spot on the robot's side of the table where the puck was prone to getting stuck, and since it was on the robot's side (and thus protected by plexiglass), we couldn't get it loose.  The robot was set up to shoot a puff of air when the puck got stuck, but it couldn't make it move.
Continue reading…
April 1, 2013, 11:05 PM
So on Saturday, I headed down to Richmond to visit an area that I had not visited in about ten years: the Canal Walk.  You may recall that I first featured the Canal Walk in 2002 in a three-part set in Photography.  Then I visited the area again in 2003 for the Richmond portion of An Urban Comparison.  I photographed the Canal area again with Big Mavica since I was already in the area, but I never really did much with the photos.  There were three Photo Features from that day: one of the Reynolds Tobacco building, one of the skyline, and one of Riverfront Plaza.  Now, ten years later, it was time to get new photos.  I didn't expect that the Canal area would change much, but I had changed quite a bit.  My Canon Powershot SX10 IS is a far superior camera to Big Mavica, and my technique has also improved.  I also have a polarizing filter that I got in January, and I wanted to give that another spin.  The Sandy Point photos that I took in February (photo set from this on its way before too long) came out wonderfully using it, and so I wanted to give it a spin again in a city environment.
I did the same thing that I did ten years ago, parking at the east end of the Canal and walking to the other end.  Like in 2003, I walked down the Canal and then headed over to the Belle Isle pedestrian bridge.  I also explored Belle Isle just a little, which I had never done before, as I had previously just gone to the end of the bridge and then turned around.
The biggest take from this trip was that the Canal area had grown up in ten years.  There were some new buildings, and there were new businesses in some of the older buildings.  The area had flooded in 2004 due to the effects of Hurricane Gaston.  I also noticed a lot more character in the area.  One semi-enclosed section of the Canal Walk now had all sorts of murals painted on it.  There was also a lot more life along the Canal itself, with recently constructed housing nearby, and shops and restaurants fronting the Canal.  Previously, the Canal was somewhat disconnected from the surrounding neighborhood, with not much to do on the Canal Walk except to walk.  Not anymore.
Continue reading…
April 12, 2009, 10:19 PM
No one expects the Inquisition. And this time, Anonymous, as part of Operation Inquisition, raided the Scientology "Mission" in Richmond, under the theme of "Operation GENTLEMEN".
Richmond was a little different than most, because in Virginia, wearing a mask is illegal. Seriously – it's a class 6 felony. Thus Anonymous went unmasked. That's not to say, however, that people didn't go to this raid completely out in the open. While some people didn't care about being seen and photographed completely unmasked, others used fake facial hair to disguise themselves. One Anon wore a set of "Groucho glasses" with a fake nose and mustache, while the women used spirit gum to attach fake mustaches and goatees to their faces. And so here we are, raiding in Richmond: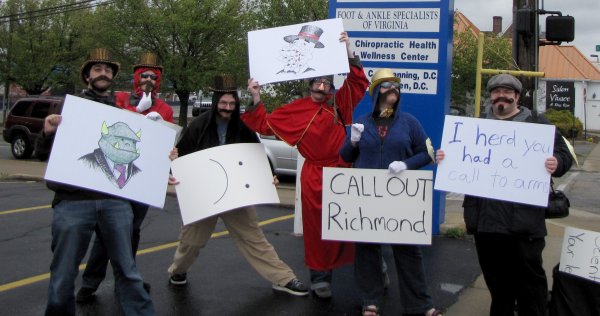 Continue reading…