A weekend trip to Richmond…
May 4, 2022, 8:30 PM
From April 14-16, Elyse and I did a weekend trip to the Richmond area.  This was a case where one adventure begets another, as Richmond really got the short end of the stick on our October trip to North Carolina and Hampton Roads.  We had plans for the Richmond area on the outbound trip as well as the return trio, but they ended up being greatly abbreviated in the interest of keeping it moving.  Richmond is in that little spot where it's close enough that we can go any time that we want, but difficult enough to get to so that we typically don't.  Our last day trip to Richmond was about five years ago, and more recent visits to Richmond have occurred while we were passing through on our way to other places.  I think that the biggest impediment to our visiting Richmond more often is I-95, as it's fairly unreliable, being subject to backups on a very regular basis, making it difficult to predict when we will arrive in the Richmond area.  In any event, inspired by our earlier trip, we had gathered up enough stuff that we had wanted to see to make a weekend trip to Richmond worthwhile.  So we picked a month and did a weekender.
On this particular occasion, we left the house and got going, taking I-270 to the Beltway to the I-95 express lanes, which were pointed southbound at the time.  We soon learned that there was a very long backup on I-95 southbound.  So we bailed, taking an express lane exit to US 1 near Lorton.  A major backup on I-95 had the potential to derail our entire day, so Route 1, while slower, was still a better bet than taking 95.  This routing took us past a number of places, and and we made some planned stops and unplanned stops.  The first stop was unplanned, at the Harley-Davidson place in the Quantico area.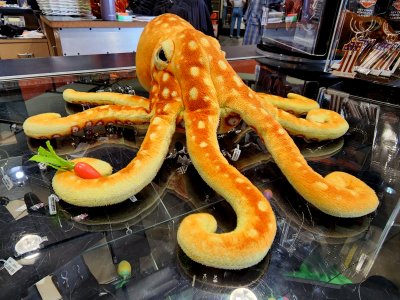 Elyse gave Woomy a little carrot to hold at the Harley place in Quantico.  Woomy was having none of it, but at least he cooperated.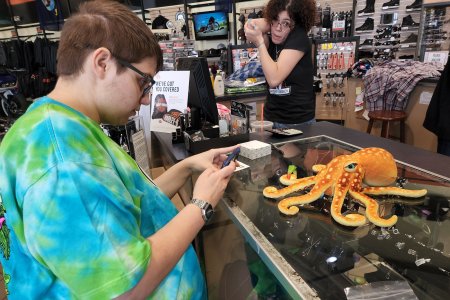 Elyse photos Woomy while an employee looks on.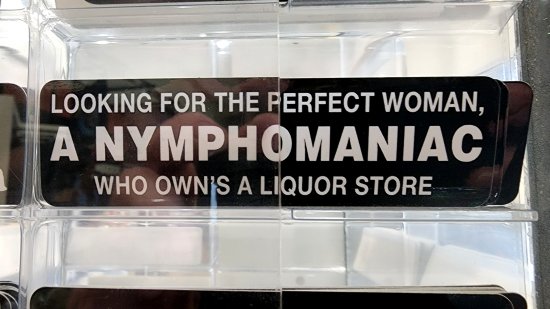 This sticker bothered me quite a bit, but I don't know what bothered me more: the sentiment expressed in the sticker, which I find pretty gross, or that misplaced apostrophe in the bottom line.
After that, we headed down to Stafford for a planned stop.  Here, Elyse was planning to photograph some toilets for a friend of ours, while I went to ship a coloring book to another friend of ours who has a child in the hospital.  I also somehow ended up buying a bunch of those giant gift soaps at a big discount at a nearby Ross store.  We then continued on through Fredericksburg, where we visited another Harley place.  This one was also unplanned, but we were going right past it, so… why not.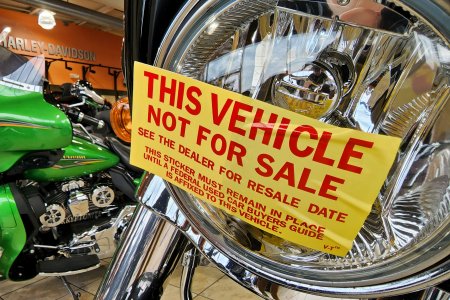 This sticker on one of the bikes on the showroom floor piqued my interest, as I had never seen something like this before.  Turns out that it is referring to the window sticker that you typically see in used cars, i.e. this.
South of Fredericksburg, Route 1 becomes pretty rural, though it's still at least four lanes the entire way through.  We kept it moving through here until we got to Ashland.  Ashland is a cute little town just north of Richmond, and we went to their downtown area.  There is a live webcam focused on the train tracks.  Whoever was operating the camera zoomed in on us at one point, and we waved back to the camera.  We also got to photograph a few trains while we were at it: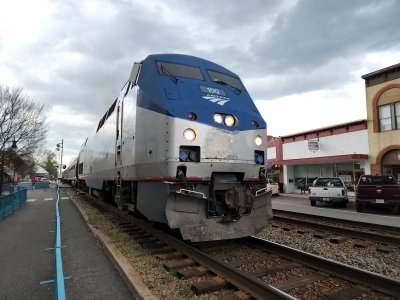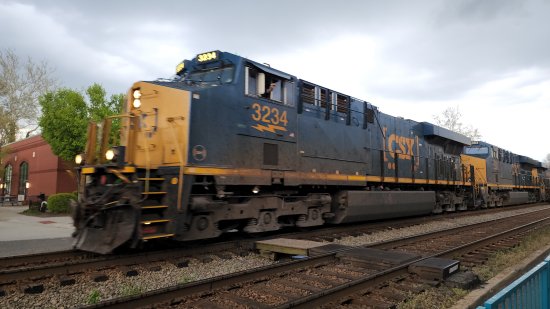 Leaving Ashland, we headed over to Virginia Center Commons, a dead mall in Glen Allen.  Virginia Center Commons was definitely a shell of its former self, with half of the building demolished in order to make way for an indoor sports facility, and many empty storefronts in what remained.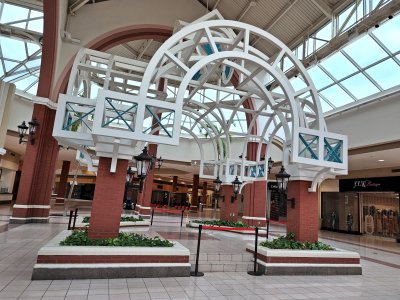 A weird, dated bit of architecture in what I believe is the center court of the mall.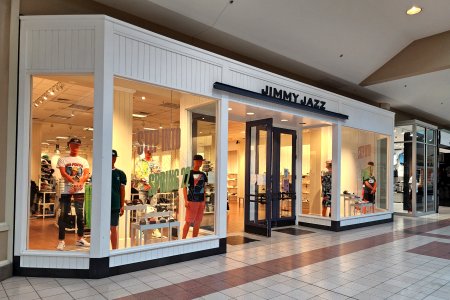 Jimmy Jazz, housed in what is clearly a former American Eagle Outfitters store.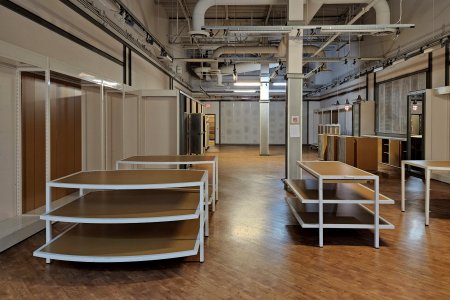 Interior of a former Aeropostale store.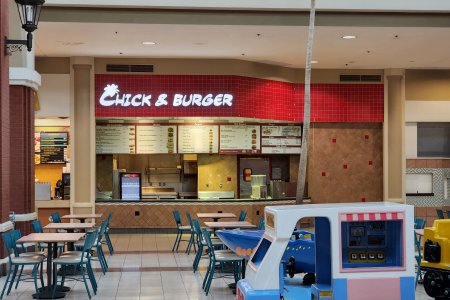 Chick & Burger, a knockoff of Chick-fil-A in a former Chick-fil-A space.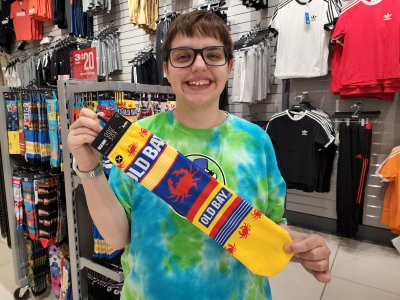 In an athletic shoe store, Elyse found a pair of Old Bay socks.  We didn't buy them, though.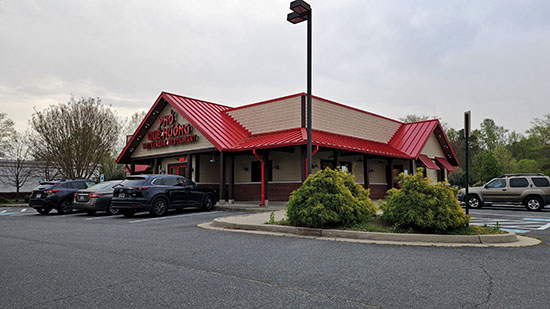 On an outparcel lot, I found a former Outback Steakhouse, now a Vietnamese place.
We then headed over to Short Pump Town Center, which is a two-story outdoor mall.  Seriously, it's like a regular two-story shopping mall, but the interior corridor is open-air.  Take a look: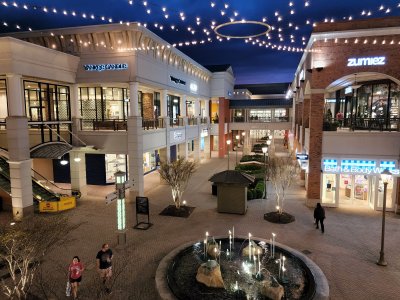 Here, we went to Zumiez, where Elyse got a pair of pants.  I made a very bad joke while there, pronouncing the store name as "zoo-me-ay" as if it was French, similar to Target as "tar-zhay".  It wasn't offensive or anything – it just wasn't funny.  The employee didn't get the joke at all, and Elyse panned it.  But hey, I tried, even if it went over like a lead balloon.
We also went to Richmond Draftcade, which is a bar at Short Pump Town Center that is filled with vintage arcade machines set on free play.  It was a great place, with a lot of games that I hadn't played before, including the original Street Fighter game.  Fun times all around.  We also spotted one of the new Siemens pull stations for the first time: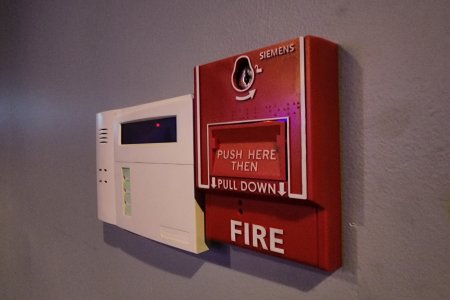 It clearly looks like a Siemens pull station, but it's very different from the classic Siemens pull station.  I suppose that it will take some getting used to, but it's definitely special.  I miss the little flame graphic, which was removed in favor of braille writing.  That's important, so I totally get it, but it was kind of cute looking nonetheless.
From there, we headed down to our hotel, the Holiday Inn Express on Staples Mill Road.  That was unusual for us, because I don't typically stay in the city itself.  I tend to stay in the suburbs more often than not, or am otherwise somewhat removed from my actual targets on a trip.  When Elyse and I go down to Staunton, we stay at Hotel 24 South, but we've never actually spent a full day in Staunton.  We're always going off to other places, so even though it's in downtown Staunton, it fits the mold.  My original plan for this trip was to stay at the Hampton Inn off of Research Road in Midlothian, which is somewhere I stayed in 2002 and 2003, but two factors worked against that.  First, the hotel's website indicated that it was undergoing a remodel, which we wanted to avoid.  We've found that hotels that are renovating tend to have unusual things, such as the Holiday Inn Express in Wilkes-Barre where they had replaced the mattresses in all of the guest rooms, even if they had not put the corresponding bed frames in yet, which resulted in a bed that was too tall for Elyse to get into without her leg braces on.  Additionally, Elyse wanted something transit-accessible, which the Midlothian hotel was not.  The Holiday Inn Express on Staples Mill fit the description quite well, being walking distance from a bus rapid transit line, and had prices comparable to the suburbs despite being in the city.  Funny thing, though, was that despite our avoiding another hotel due to renovations, they were renovating the elevators at the Holiday Inn Express: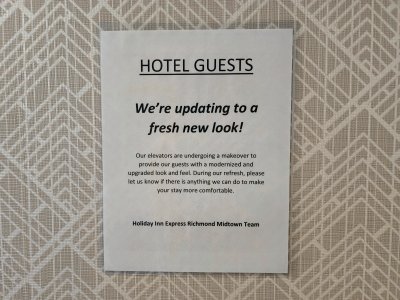 Yep – the elevators were undergoing modernization, which meant that for an eight-story building, there was only one elevator available, as one was running and the other was down for refurbishment.  Additionally, it was clear that the interior of the one working elevator was incomplete, but ultimately, whatever.  This maintenance work has to happen some time, and it was limited to the elevators, so I was fine with it.
The next day, Elyse and I initially did our own thing.  She left super early to go ride the buses, while I headed out later on, with a plan to meet up in the Petersburg area later on.  We ended up meeting back up in Hopewell, which is a town similar to Petersburg, in that it is kind of dumpy, and past its prime, with a large industrial area on the east side of town.  We initially gravitated to the industrial area, photographing railroad stuff and other infrastructure: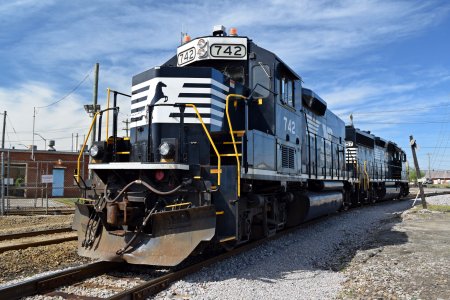 Norfolk Southern 742 and 3057.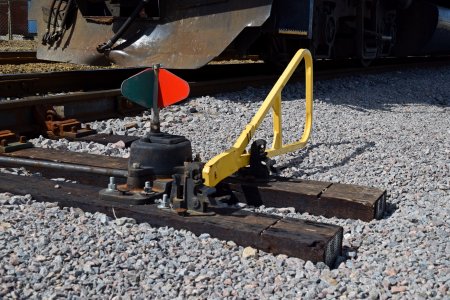 Switch for a turnout along Industrial Street.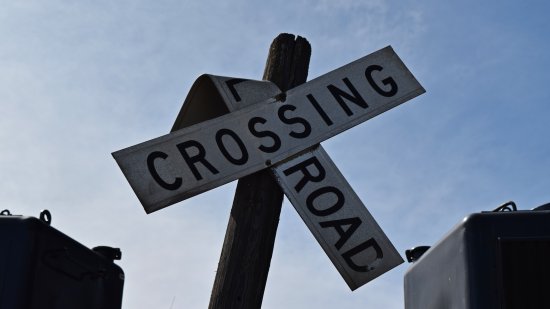 Wilted-looking crossbuck sign.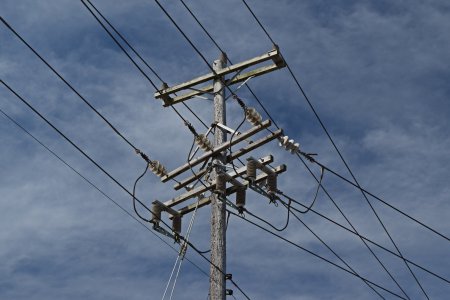 Power lines.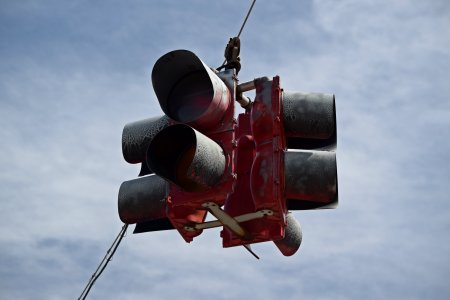 A red blinker signal on Industrial Street at one of the entrances the AdvanSix facility.  While I was photographing that, I attracted the attention of a security guard, who was wondering what I was up to.  He quickly realized that I had zero interest in whatever he was guarding (i.e. no industrial espionage), and that my interest was just in the red traffic signal.  He was pretty cool once he realized that we weren't interested in anything relating to his charge, but still, he wouldn't answer Elyse's question about a siren.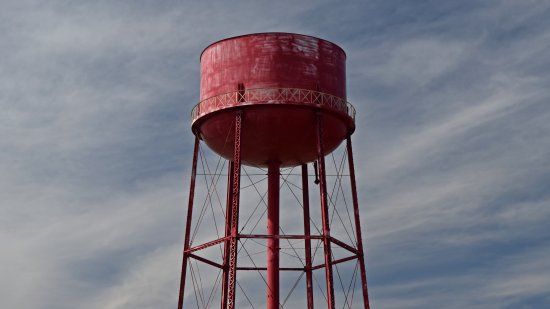 A red water tower.  I photographed it because it looked funny, appearing not to have a top.  As it turned out, based on Google Maps imagery, it really didn't have a top on it.
Moving to downtown Hopewell, Elyse and I again did our own things, as I took the drone up for a flight over the river, while she explored downtown.  Here's what I got of the Appomattox River: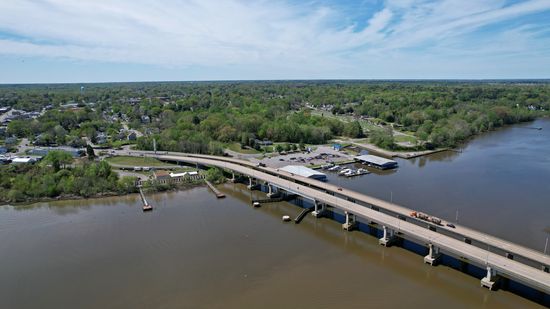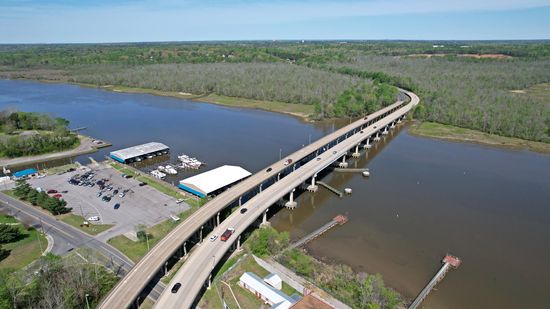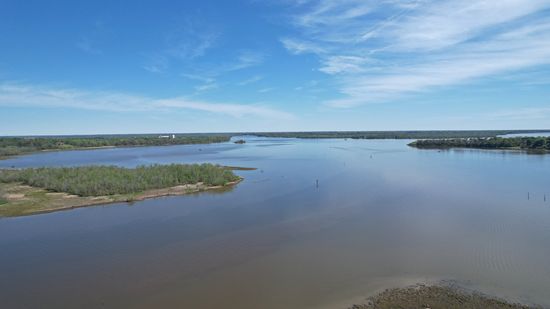 After we met back up, we also got a few other bits and pieces in Hopewell: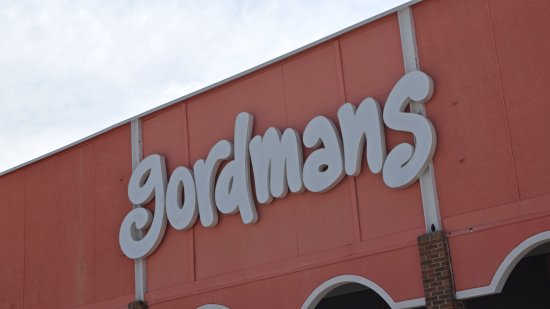 Sign for a former Gordmans store in the Cavalier Square shopping center.  This store was a short-lived conversion from Peebles, and closed when the rest of the company went under.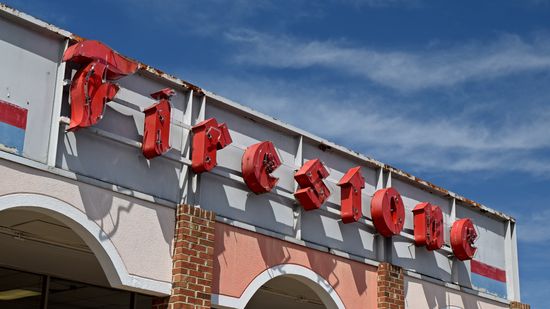 Sign for a Firestone tire shop in Cavalier Square.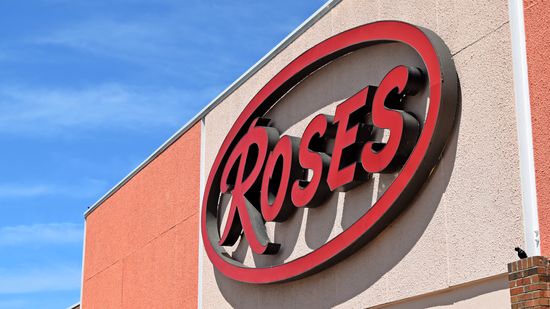 Sign for Roses in Cavalier Square.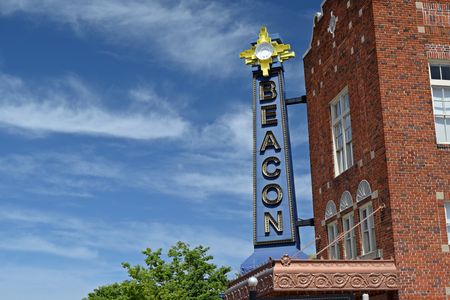 Sign for the Beacon Theatre downtown.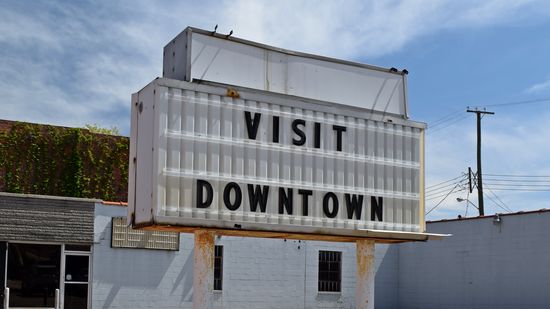 "VISIT DOWNTOWN" sign off of East Cawson Street.
Downtown Hopewell was not a bad place by any means.  Like the rest of the town, it appeared to have been past its prime, with a lot of empty storefronts, but it was cute nonetheless.  We found a comic book store there, and the people there were quite friendly.
From here, we stopped in at the Hopewell Visitors' Center, and then at a Hampton Inn so that Elyse could get an elevator.  We were surprised to see the shape that this elevator was in, as Elyse shows off: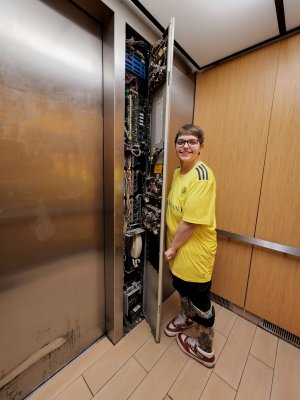 Yeah, that looks safe.
We then headed over to Petersburg.  Our first stop in Petersburg was a bit of cleanup from the October trip.  There, we visited that abandoned former Ramada Inn that had eluded us in October.  I had no intention of going in, for lack of proper safety equipment and safety concerns related to the condition of the building, so by "visited", I mean that I parked across the street while I sent my little eye in the sky out to get a good look at it.  So here it is: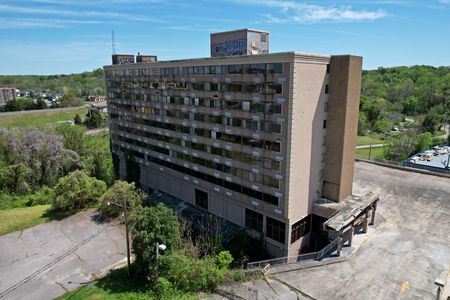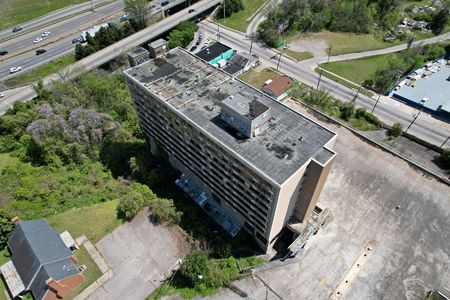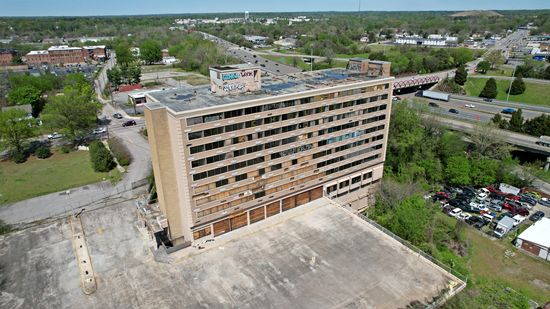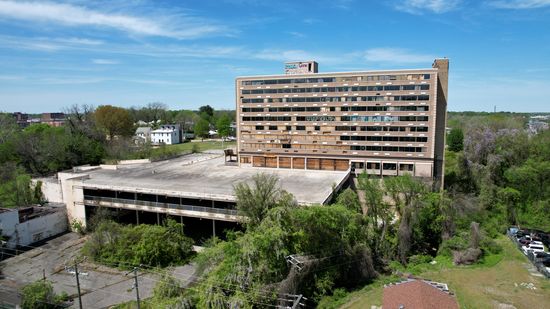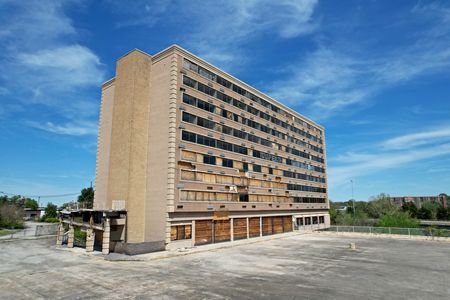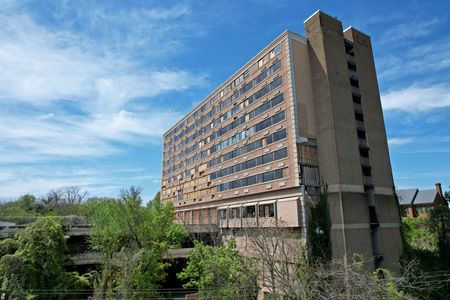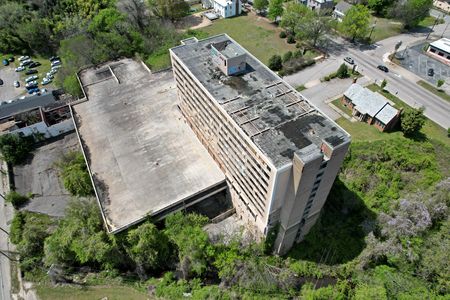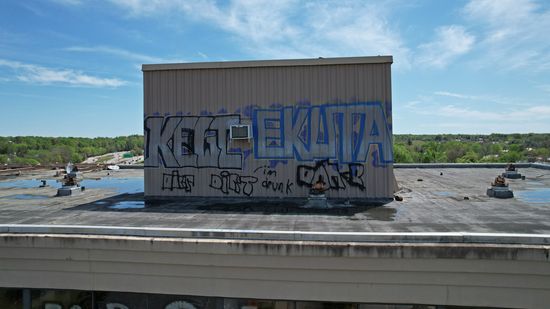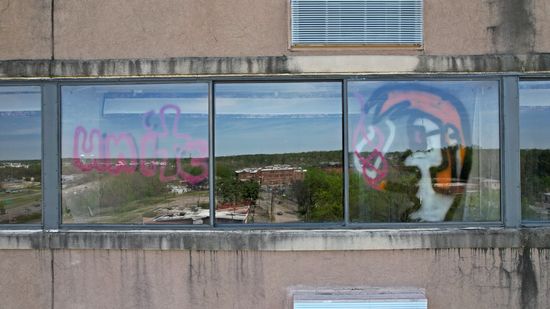 As I understand it, this facility was built in 1973, and operated as a Ramada Plaza Hotel (i.e. a big Ramada Inn) for most of its time in operation, and later went independent as the Fort Lee Regency before closing in 2012.  It has been vacant ever since.  There were plans at one time to renovate and reopen the hotel, and a sign was standing in front of the hotel to that effect, but those plans ultimately fell through, and the city is now going through the legal process to have the building demolished.
While we were over here, we also did a segment of I-95 that we had missed in October, from the Washington Street exit to the Crater Road exit, encompassing the I-85 split.  We missed this segment because of that funeral procession, and Elyse wanted to ride it in order to finish ("clinch" in roadgeek terminology) I-95 in Virginia.  So we did.  We also went down I-85 for like two exits in order to get photos of a shield: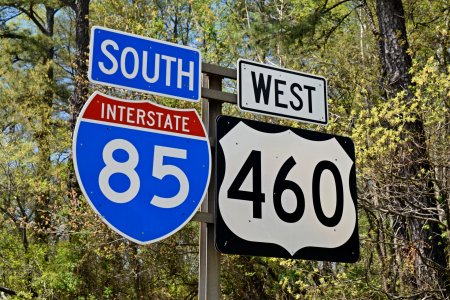 I-85 shield with a US 460 shield.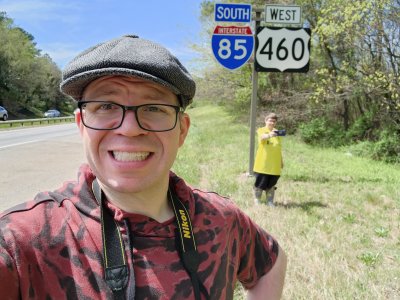 Selfies with the highway shields.
After this, we went into Petersburg via Crater Road.  By chance, we spotted a restaurant called "What-A-Burger":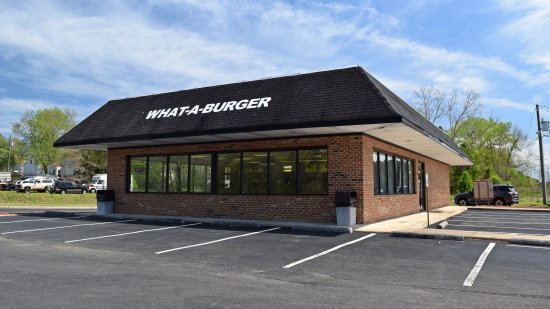 This is a small Virginia-based chain of burger restaurants, completely unrelated to the better-known Whataburger chain in the western US.  We had heard of this chain before, and wanted to check it out some time when we were out this way.  Unfortunately, when we came by, their dining room was closed, and they were doing all of their business through the drive-through window, so we passed on it due to the inconvenience factor, and limited our visit to photos of the exterior.  Something for another time, I suppose.
We then headed over to the Habitat for Humanity ReStore in Petersburg, and checked the place out.  They had a vintage elevator, though it was no longer being used (it was stationary and used for storage).  Therefore, we only photographed the hall station: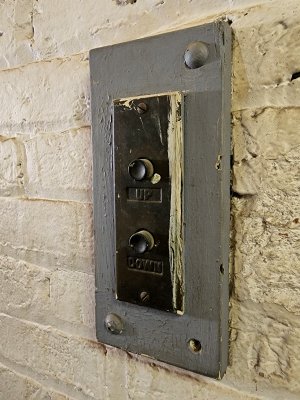 After the ReStore, we headed into downtown Petersburg.  We got to downtown Petersburg a little too late in the day, so the light was not ideal for photographing the buildings, with many shadows.  So that went into the "something for next time" file again, though we did explore around in the car a little bit and get ideas for the future.  I don't regret getting there too late because we got great photos in other places, though I was a little disappointed to miss it again.
What was well lit, though, was the statue of justice on the Petersburg Courthouse, so with a better drone than I had last time, I photographed it again, getting various angles of it: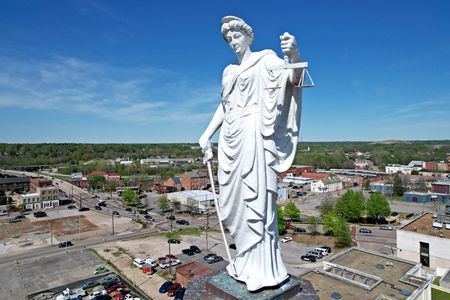 Similar angle to what I got in October.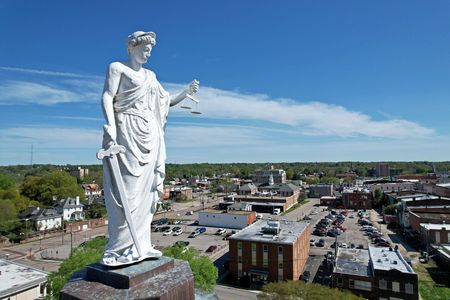 The other side of the statue, which I wasn't able to get over to with the Mini for some reason.  I thought that the statue didn't look as much like Bea Arthur from this other angle.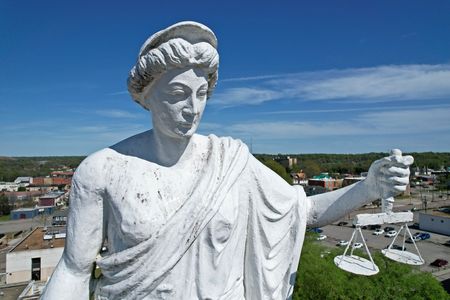 Close-up of the statue from her right side.  I was surprised to find out that the figure was not fully clothed, as her right breast was exposed.  I also got the sense that the statue had been painted many times over the years, and is probably a good candidate for a restoration, i.e. removing all of the old paint and applying a new layer of paint on top of the bare statue.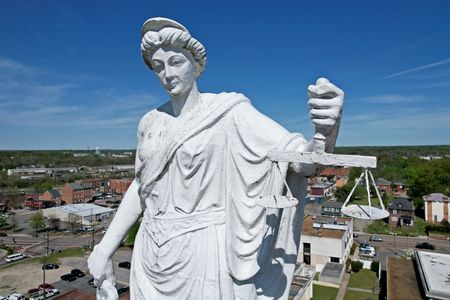 Close-up of the statue from her left side.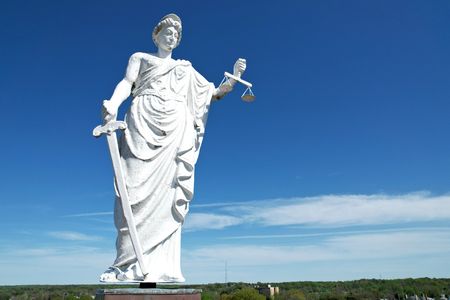 Low angle of the statue from her right side.  I was surprised to find that the statue was attached to the rest of the structure via a relatively small pole, and that there was a gap between the statue and the rest of the tower.
From here, we left Petersburg and headed over to Colonial Heights.  We had lunch at a Publix store, and we met up with Aaron Stone and Evan Stone there.  Elyse got a sandwich, while I got some buffalo chicken salad: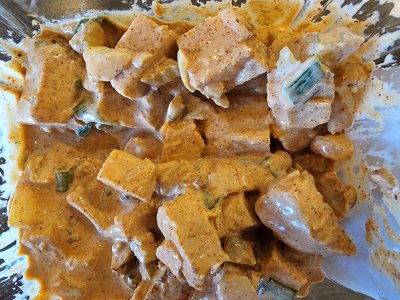 Not a bad meal.  We then headed over to the commercial area that we visited before in Colonial Heights in order to get some more photos of things now that we had more time.  I photographed an antenna, as well as got better photos of the various retail around there: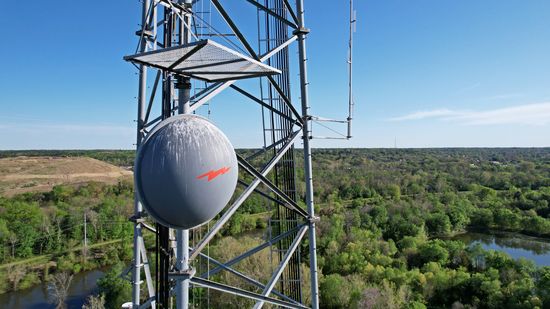 Device on an antenna, covered in bird poop.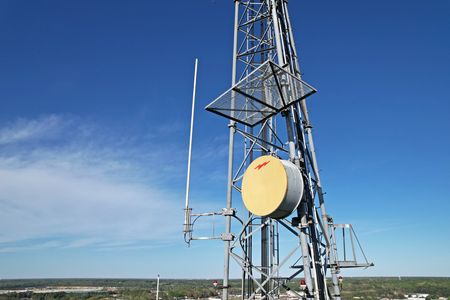 Another device on the same antenna, also covered in poop.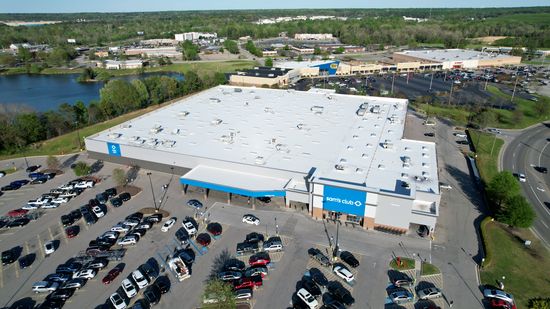 Sam's Club in Colonial Heights.  This property used to house a Walmart store, which was destroyed by a tornado in 1993.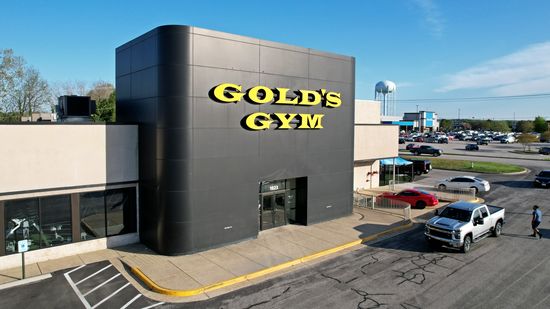 The Circuit City turned Gold's Gym.  I photographed this because I thought I could do better than I did in October.  I think that I did.  This was taken later in the day, and from a better angle.  You can also read the labelscar on the building from its time as Circuit City in this photo.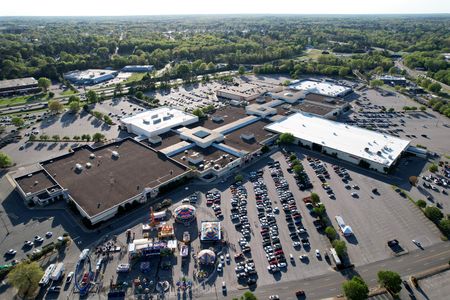 Southpark Mall.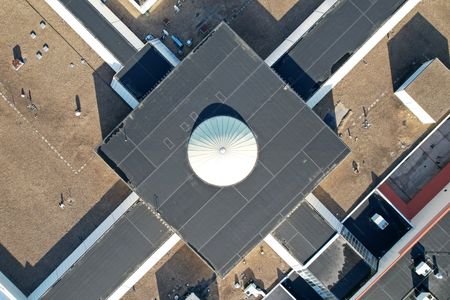 Skylight over the northernmost court at Southpark Mall.
From here, we all headed back to our hotel.  We left Aaron and Evan's car at our hotel, and we headed downtown.  We were going to do the Canal Walk, but first, we headed to the Krispy Kreme located next to our hotel.  We watched donuts get made for a while, and also each had one of the defect donuts.  These weren't bad donuts by any means, but misshapen due to their landing on other donuts or otherwise making contact with the equipment in some way, making for a bad shape.  Here are our mutant donuts: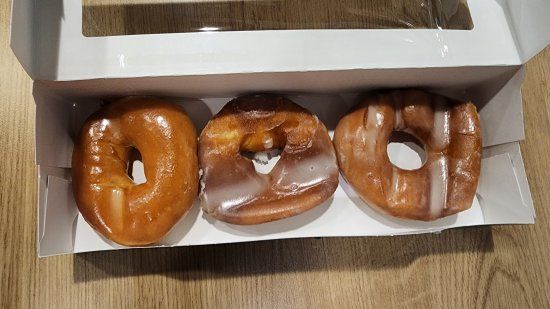 Yeah, they're a little ugly, but they tasted like a Krispy Kreme donut ought to taste like.  I was content, and so was everyone else.
From here, we headed downtown, and parked down by the canal.  Getting out there, we first had some fun with a sign about biking the Capital Trail.  It had a number part that you could change, and we decided to be honest about it: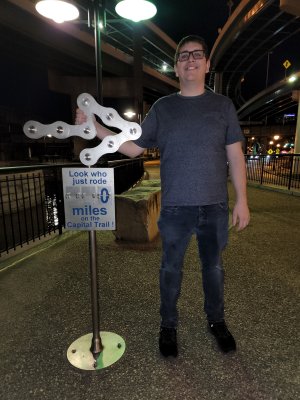 Zero miles.  Like a boss.
For this nighttime walk along the canal, I just brought my phone.  I figured that I would take night mode on my phone for a spin, and see how well it did.  It performed well enough, but if I'm taking real night photos, I'm pulling out the tripod and the SLR, because this thing is not quite ready for prime time.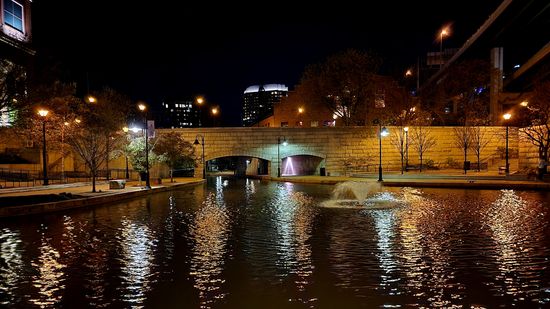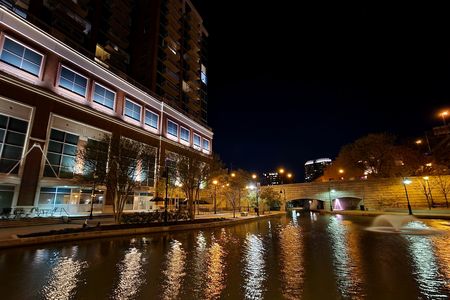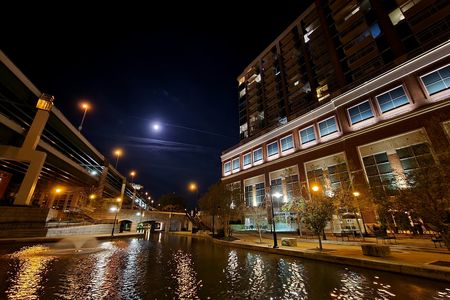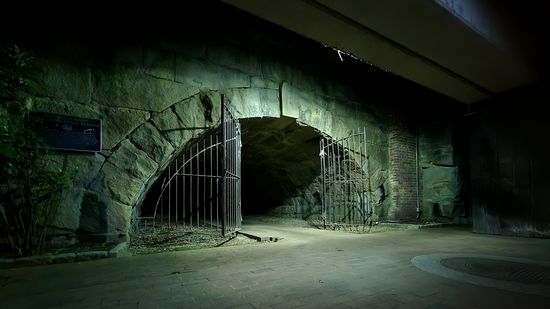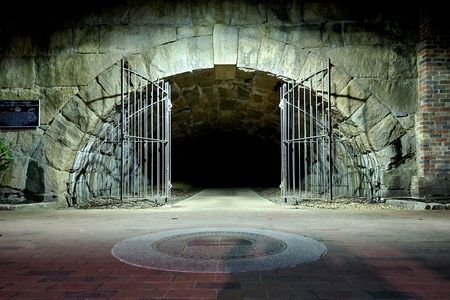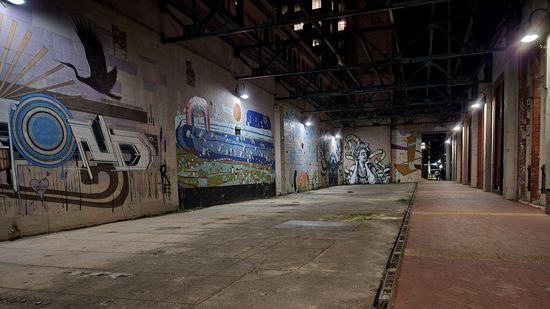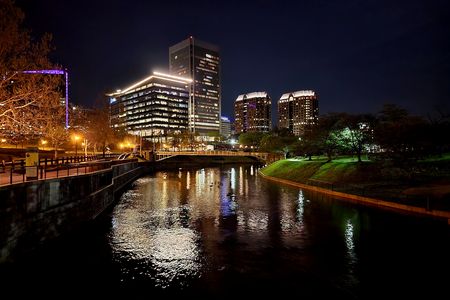 In any event, while I thought that the photos were kind of lacking (but I admit that the point was not so much photography as it was hanging out together), I could totally spend an evening doing night photography in this area.  I suspect that I could easily go down here and spend all night photographing along the canal like I mean it, using my real camera and the tripod.  I could even day-trip it if I really wanted to, sleeping until later in the day, driving down to Richmond in the early evening, and then spending all night going through this area and returning home at sunrise, similar to what I did with the nighttime phase of the Washington Monument scaffolding photo set.  It could be fun, though restroom access might be a challenge (unless I just want to use a bush or something).
From there, we headed out to Sheetz, and had dinner together in the lobby of the hotel prior to saying goodbye to Aaron and Evan.  Here, we experienced two things that kind of soured us on this hotel for future visits.  First, the front desk called the fire department for what turned out to be someone smoking pot.  This seems extreme, and caused more alarm than was necessary among Elyse and me, with the thought's being that the place where we were staying might be on fire, and if so, we might have a lodging problem on our hands.  Deal with the pot smokers (since smoking of any kind was prohibited in the hotel), but don't call the fire department.  After all, marijuana smoke smells nothing like fire smoke.  Someone should have been able to tell the difference, or the hotel should have investigated better before summoning a large response like that.  I considered that response to be a bit ham-handed on the hotel's part.
The other thing that soured us on this place was their practice regarding their rear door.  This photo that Aaron took sums it up nicely: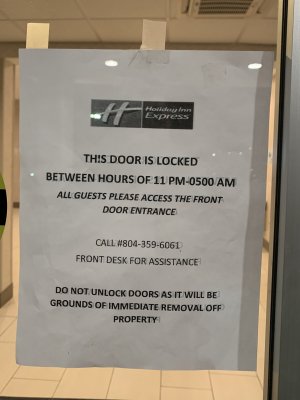 Photo: Aaron Stone
This would be all fine and dandy except for one problem: nearly all of the parking for the hotel is on that side of the building.  Thus in order to enter the hotel from your car after 11 PM requires walking all the way around the exterior of the building to the open entrance.  That is not a fun thing.  Additionally, there is a card access point on that door, meaning that they can limit building access to only registered guests.  But they chose to bypass that and lock the doors entirely, and instead post a note threatening removal from the property for touching the doors.  My understanding was that this was done to combat a problem where people experiencing homelessness would enter the lobby in the overnight hours in order to sleep.  The issue is that in order to combat that problem, they chose to inconvenience their paying guests in a major way.  These sorts of problems should be handled in ways that do not inconvenience paying guests, i.e. I, as a guest, should never know that there is a problem in the first place, because the hotel is taking care of it quietly and discreetly.
On the plus side, though, there was absolutely zero COVID safety theater anywhere in the hotel that I could see.  The staff was not wearing masks, the breakfast service was standard, and there were no plexiglass screens anywhere.  Our stay felt 100% pre-COVID normal, which I appreciated.
But In any event, on account of the two issues that we experienced, next time we come to Richmond for a weekender, we're probably going to stay somewhere else.
On Saturday, Elyse and I planned to focus on Richmond proper, after spending most of the day south of the city on Friday.  After checking out of the hotel, we started with the Krispy Kreme around the corner.  Elyse went in to get something, while I entertained myself photographing the sign: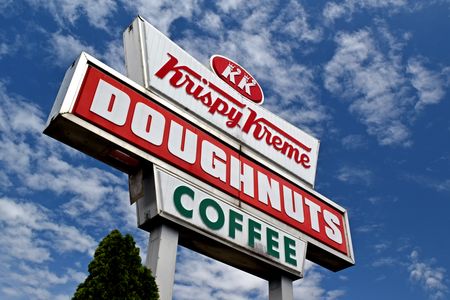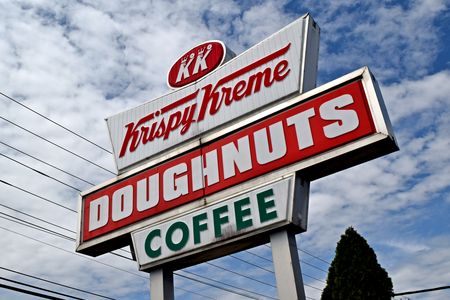 I enjoyed photographing this sign, specifically because it's uncommon.  There's another one like this on Richmond Highway near Alexandria that has neon that I also need to photograph.  One day, I will get that one, but ironically enough, it's easier for me to photograph things when I'm traveling vs. going about locally, because then I'm on the prowl for stuff to photograph, while I often have other things to do when I'm going around locally.
Finishing up at Krispy Kreme, Elyse needed to dip into Target, so we stopped at the one in the Libbie Place shopping center.  Then we stopped over at the Markel Building, which is very unique architecturally: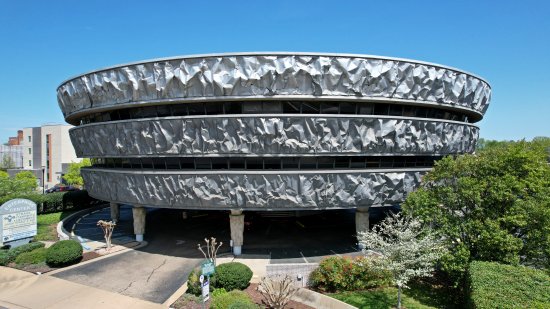 First of all, the building is round, and then the exterior cladding has an interesting story: the design was inspired by a baked potato wrapped in aluminum foil served to architect Haigh Jamgochian while attending an American Institute of Architects event.  It's product of its time (the mid 1960s), for sure, but it's kind of cute.
We then headed over to Hollywood Cemetery.  Remember that trip to Richmond that I did with Anonymous back in 2009, when we visited the pyramid after our raid?  I finally got a chance to go back and photograph it without anyone in front of it: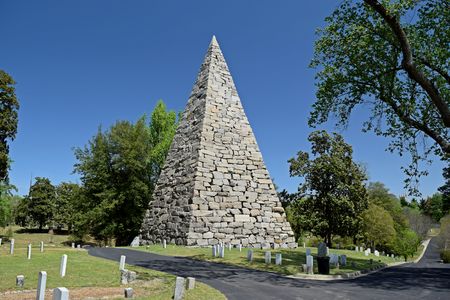 I also threw the drone up in the air to get some photos from higher up: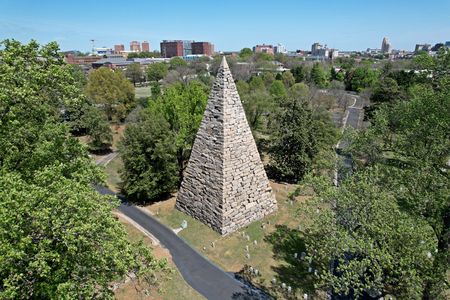 I liked this view because it puts the pyramid in some context with the city.  Normally, the city is hidden from view when you're in the cemetery because of all of the trees, but this rises above that that and shows how it all fits together.
We then drove around the cemetery a bit, because Elyse had never been, and in my previous visit, it was a relatively quick in-and-out with the pyramid.  It's not a bad place overall, and a very quiet and peaceful place in an otherwise busy city.
From here, we headed over to Carytown.  Elyse wanted to visit Chum Chum Onigri for food, as well as Bits + Pixels and Tokyo Mart.  I set her down along the main strip, and then went off in search of parking, which I found about two blocks away in a nearby neighborhood.  I met back up with her while she was chatting with a postal worker on her mail route.  Elyse was able to mail something, and then we continued on to our various destinations.  I was particularly pleased to see Tokyo Mart, because we visited there on our April 2020 trip at the beginning of the pandemic, and the place looked pretty sad at that time.  Now, none of the staff was wearing masks anymore, and in addition, the store had expanded into the space next door to it, thus doubling in size since my last visit.
On the way back to the car, meanwhile, I got a few photos: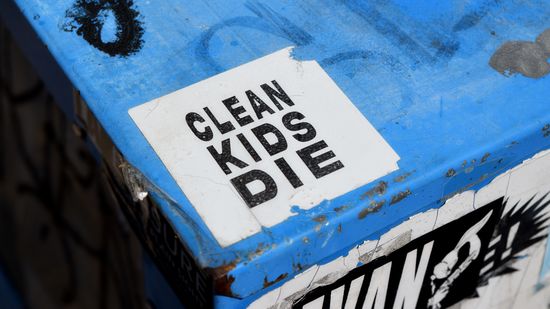 "CLEAN KIDS DIE" sticker on a newspaper box.  All that I could find was that this was apparently a graffiti campaign of sorts in Richmond, but nothing about any meaning behind it.  I assumed that it meant something about living life to the fullest, with the idea that the immune system needs a lot of practice to stay in tip top shape.  But I could be reading more into it than I should.  Who knows.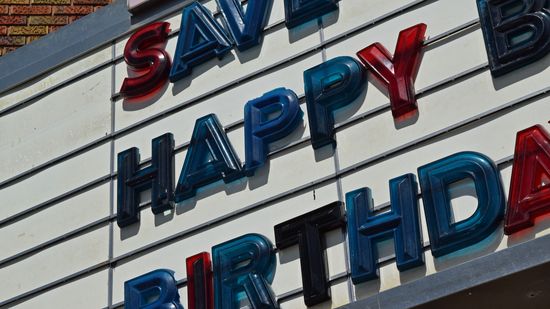 "HAPPY" lettering on the marquee of the Byrd Theatre.  The entire marquee reads, "SAVE FERRIS/HAPPY BELATED/BIRTHDAY ADHYA".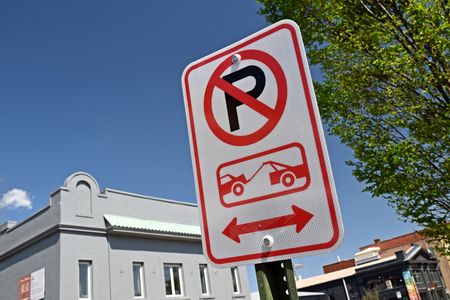 No parking sign along Cary Street.
We then headed back to the car and went downtown.  When we got there, I set Elyse down at Main Street Station, where she was checking out a few things over there and then riding a few buses while I went around various places with the drone.  Since this was downtown in a fairly large city, my drone work consisted of many quick up-and-down flights in order to not overfly anyone or anything that I wasn't supposed to.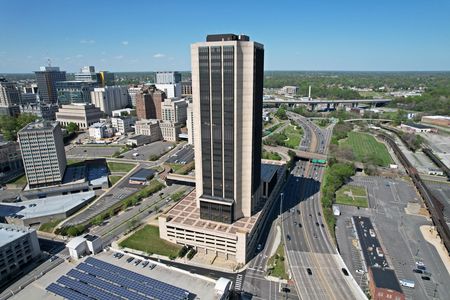 The James Monroe Building.  This was, for a time, the tallest building in Virginia.  It was eclipsed in 2008 by the Westin Virginia Beach Town Center.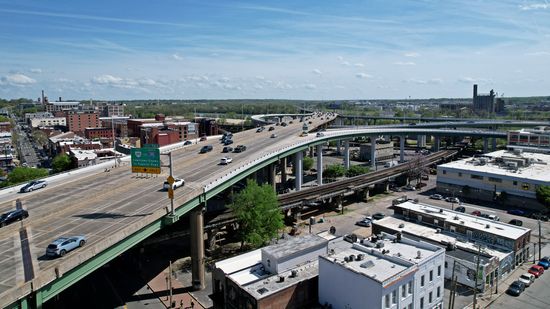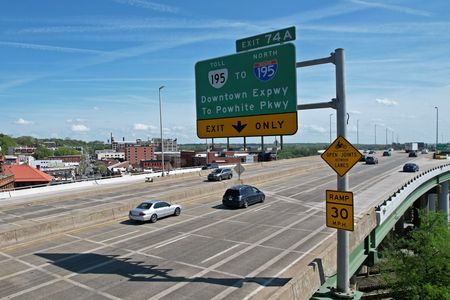 Interstate 95 at the Downtown Expressway split.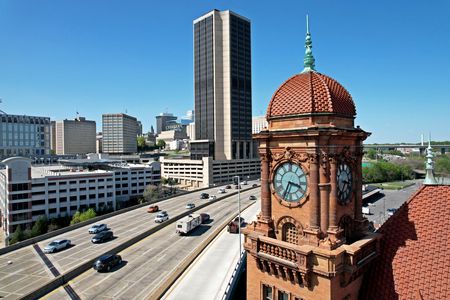 Cupola on Richmond Main Street Station, with I-95 behind it.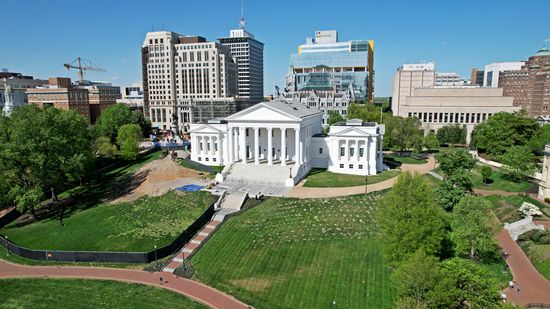 The Virginia State Capitol.  I was surprised at exactly how small it looked.  I expected a bigger building for some reason.  Also funny that for as many times as I've been to downtown Richmond, I never actually saw the Capitol.  It's well hidden, for sure.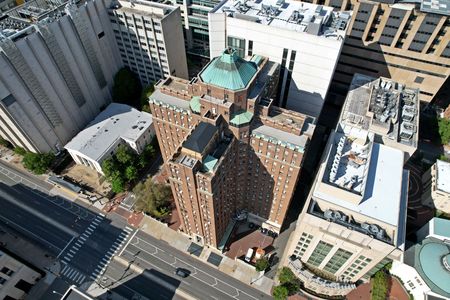 The original Medical College of Virginia (now VCU Medical Center) building.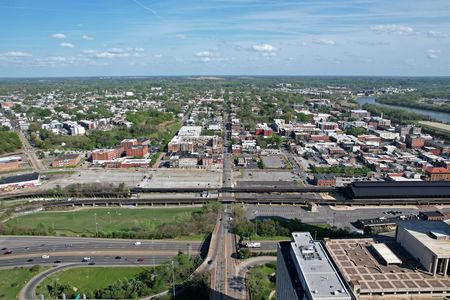 Richmond east of I-95.  The freeway runs along the bottom of the photo, and East Broad Street runs down the center of the photo.
I then headed over to Brown's Island, at the west end of the canal.  I wanted to get some photos of the Federal Reserve building and other things, and made a beeline for that spot.  I flew around a few spots, mostly over the canal and the river.  First, I flew over the canal and nearby: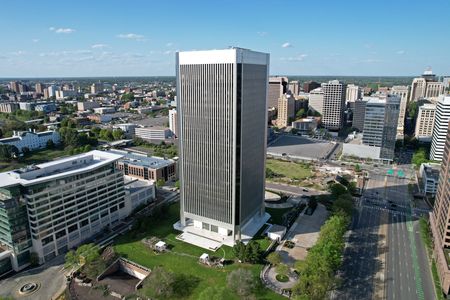 The Federal Reserve building, viewed from above the canal.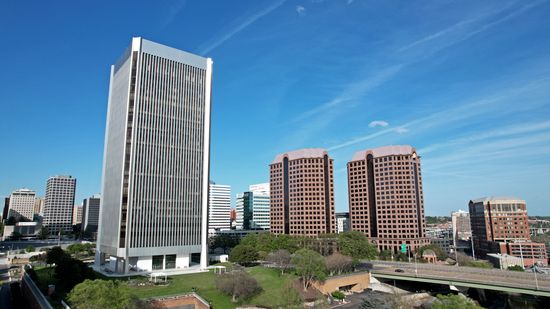 The Federal Reserve building, with the Riverfront Plaza towers nearby.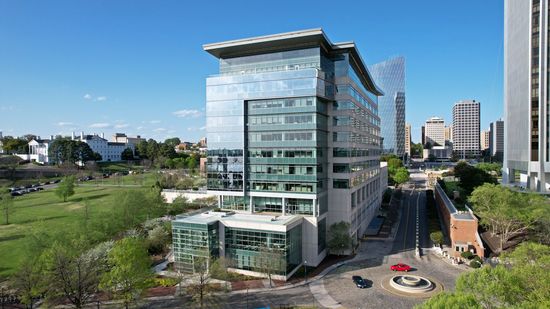 The former MeadWestvaco headquarters building, now home to CoStar, a commercial real estate information company.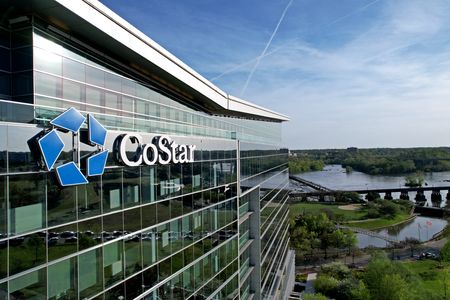 CoStar sign on the building.  I feel like this photo could easily go on an annual report or a corporate website or something.
And then I went over the river: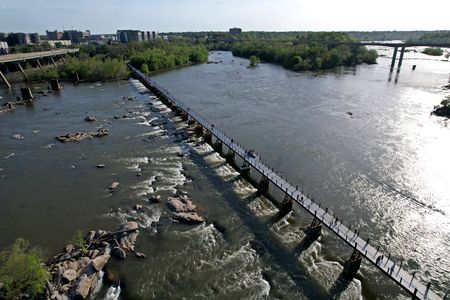 Aerial view of a footbridge over the James River.  On my previous visits to this part of Richmond, this bridge was still an abandoned railroad bridge, cut off from actual use.  Now it connects all the way across, and people were using it.  I didn't go across the bridge due to time constraints, but it definitely seems worth exploring in the future.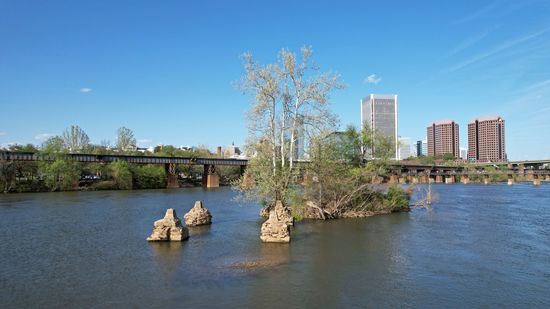 A small island in the middle of the diver, with some disused manmade structures nearby.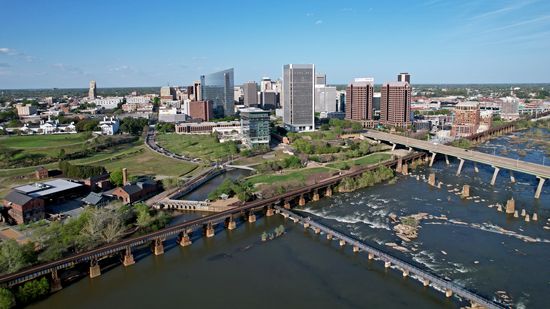 The Richmond skyline, viewed from over the river.  If there's one thing to say about Richmond, it does have a very photogenic skyline.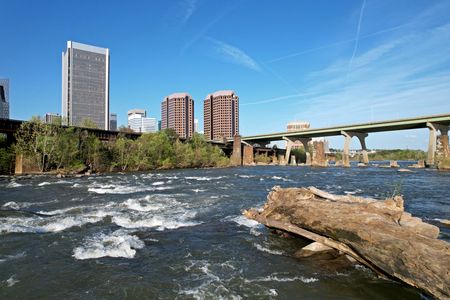 Skimming over the river at a low altitude.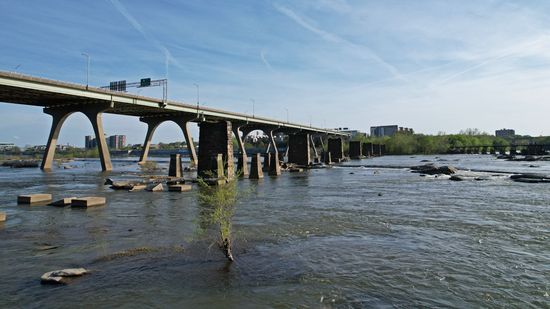 Manchester Bridge.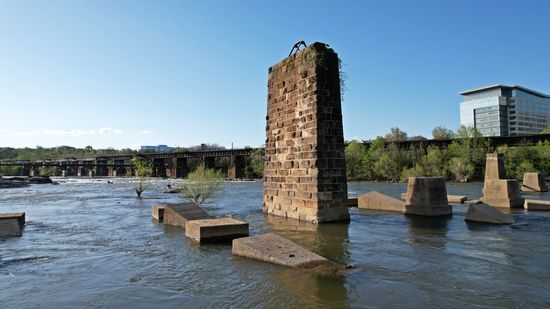 A disused bridge pier, presumably for a former railroad line, along with some other disused concrete structures.
From there, I returned to the car and went to scoop up Elyse.  I found her near the BookHolders store near VCU, and parked on the street.  The BookHolders lot, meanwhile, was actively being monitored, and unauthorized cars parked there were being booted.  I squatted down and photographed one of the boots: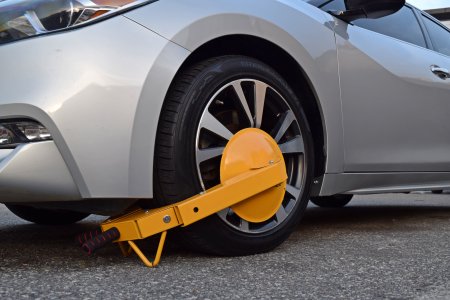 I can only imagine that the people parked here were unhappy about the boots.  The guy doing the booting was nice enough, though.  We chatted for a few minutes about it, since I was only interested in photographing the boots because nerd, and I had no skin in that game otherwise.
From there, our trip started to wrap up.  We went out in search of food, sweeping through the entire Carytown strip looking for a place to eat, and finding nothing that we both wanted that we could find parking near.  We ended up going to a Whole Foods on Broad Street, where I had a chicken salad.  From there, we got on I-95, and headed home.
All in all, I'd say that a good time was had by all, and I would definitely enjoy doing more weekenders to Richmond in the future.  Lots to do, and lots to explore.