A trip out to Hampton Roads…
April 19, 2020, 10:15 AM
From April 3-6, Elyse and I made a trip to the Hampton Roads area of Virginia to visit friends and do some photography.  The way I figured, the trip was already paid for, and so as long as we took adequate precautions, I saw no harm in running it as planned.  After all, I go out every day to go to work transporting the public, so it's not like we were "breaking quarantine" or anything, since I'm out in the environment on a regular basis throughout all of this.  All that said, if you don't like that we took this trip, keep it to yourself, because I don't want to hear about it.  On our trip, we stayed in Williamsburg, and had a fun time, mostly photographing architecture and infrastructure with friends Aaron and Evan Stone.
Meanwhile, leaving the house, I had the worst shotgun passenger ever: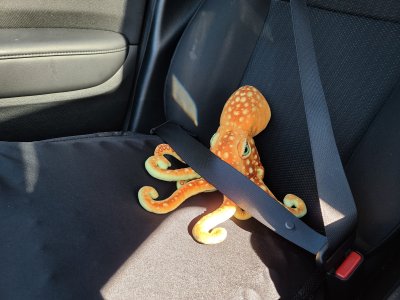 I mean, despite his sour disposition, you really didn't think that we'd take a trip without bringing Woomy along, did you?  Elyse quickly threw him out of the front seat so that she could ride, and so Woomy rode in the cup holder.
We made our way down via I-95 and I-64.  At a rest area, I really had to question a sign that I spotted: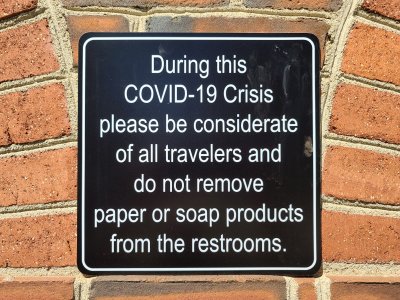 I looked at this and was like, "Really?"  People are actually stealing toilet paper and soap from the highway rest areas?  You know, I had heard of people panic-buying paper products at the beginning of the coronavirus pandemic, but this was ridiculous, especially considering the Grade-F toilet paper that rest areas typically stock.
When we got to Williamsburg, we checked in at the Country Inn and Suites.  That place was dead.  We had room 210, and according to the lady at the front desk, we were one of only twelve rooms that were occupied.  In a normal year without a pandemic, the place would be at full occupancy (but you really couldn't beat $60 a night).  The hotel was also rotating what rooms they were using because of the pandemic.  From what I was told, after guests left, the rooms would sit idle for four days, and only then would the staff clean them and turn them over for the next guest.  However, we did still have daily housekeeping.
In any case, our first full day in Hampton Roads was on Saturday, and we spent it mostly in Williamsburg.  The first thing that we saw was the old Howard Johnson's, well on its way to becoming history.  The restaurant had long since been demolished and replaced with a Cook Out restaurant, and now the motor lodge was actively undergoing demolition.  The guest buildings had been completely demolished, and the gate lodge was still intact, though I imagine that it wouldn't be for long.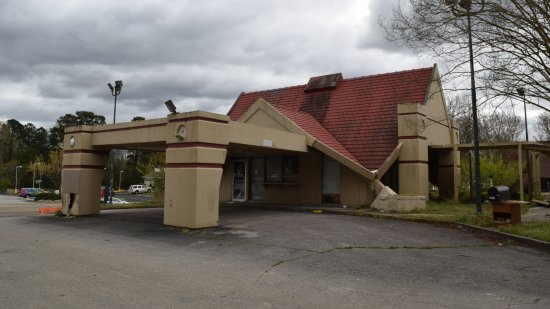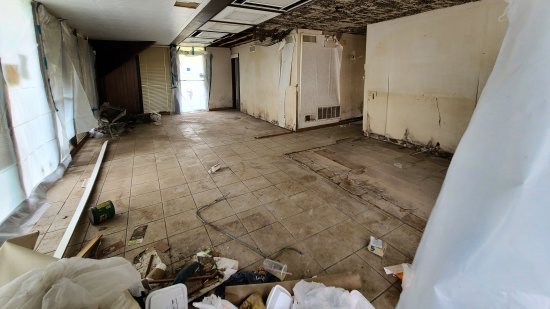 Peeking inside the gate lodge, it was clear that this place had not been occupied for a very long time, with a sign on the door indicating that the motel was closed for the winter season and would reopen in March 2012 confirming that.  I suspect that the motel never reopened after it closed for the season in 2011.  Now, though, I believe that the gate lodge was in the process of undergoing asbestos abatement ahead of demolition.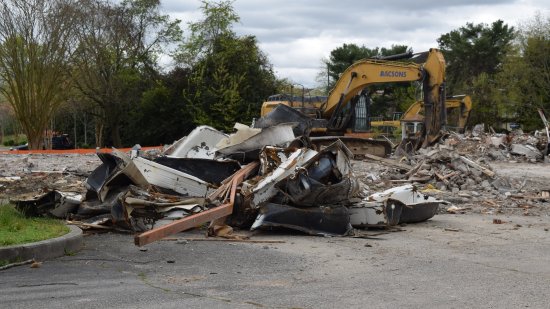 The motor lodge was gone, now just rubble.  A number of old metal bathtubs sit in a pile in the foreground.
We also photographed an AT&T Long Lines microwave tower: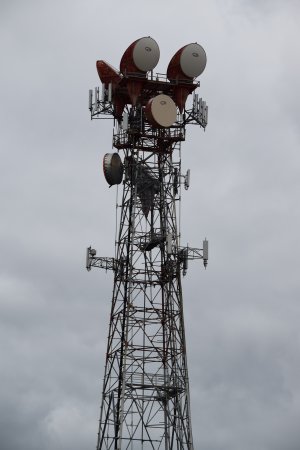 These Long Lines towers would become a recurring theme, by the way.  We photographed a few of these on this adventure.
Later, we headed out to Newport News, where we photographed another Long Lines tower: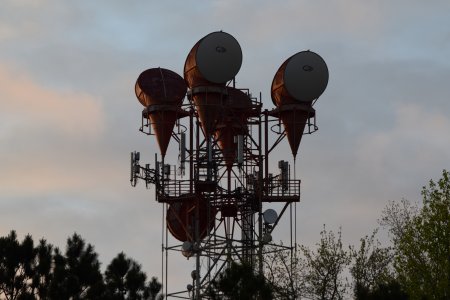 Next to the tower was Rip Tide Car Wash, which was a tunnel-style wash, i.e. the kind where you put your car in neutral and it pulls your car through the tunnel as it washes your car.  This one was pretty fun, since they put extra effort into putting on a good show, with lots of LED lighting effects throughout.  It really made for an interesting show as the car became spotless: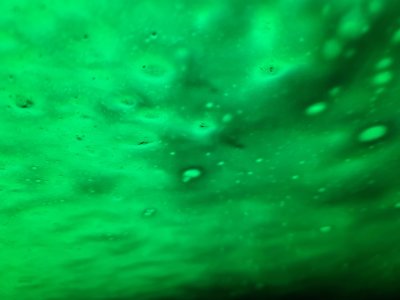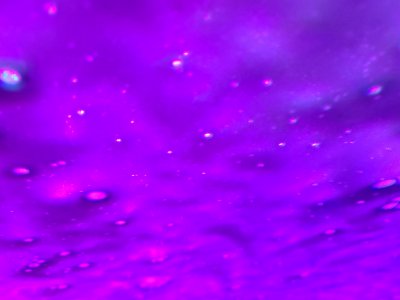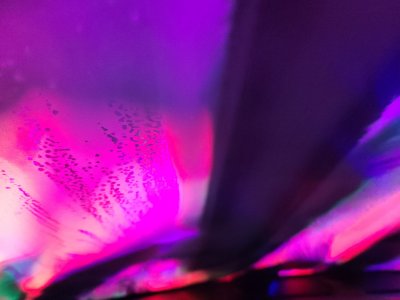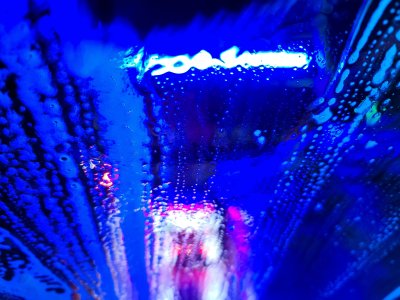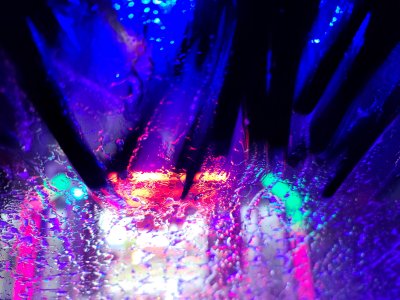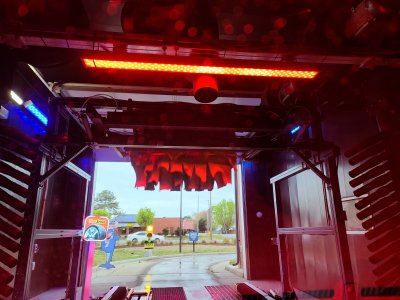 We then went over to vacuum the inside of the car, which, to be quite honest, needed it pretty badly.
With the car clean in and out, we went to a nearby parking lot, where Evan and I tried out each other's lenses.  He had a 50mm lens that he said was good for portraits and macro that I was curious about, and he was curious about my zoom lens.  So we tried them out on our cameras.  Here's what I got: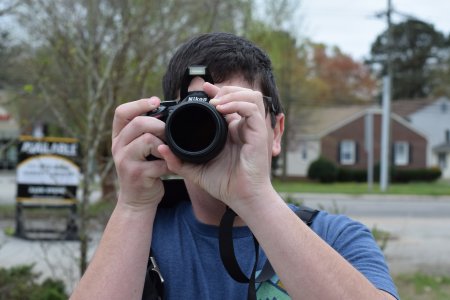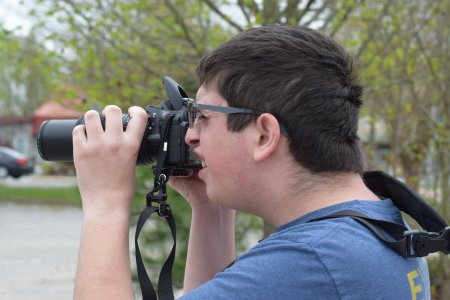 Evan lines up a photo of the Long Lines tower with my zoom lens.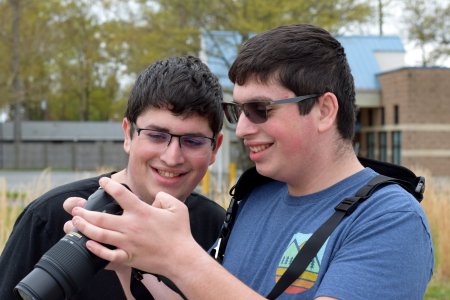 Aaron and Evan look at the shots that Evan took.  This photo reminded me of one that I took in 2011 at a polar bear plunge showing two girls looking at photos of themselves on a camera.
After this, we headed up the road a bit, and found ourselves at "Romantic Kingdom", which was an adult store.  As far as adult stores go, this one was kind of "meh".  It had everything that you would expect an adult store to have, but didn't have anything that would particularly make your head turn.  Comfort Zone in College Park is still better.  The best thing there was what I said when Evan asked why an adult store would sell batteries: "Those Hitachi magic wands won't power themselves!"  That made the ladies working behind the counter laugh.
Before leaving Newport News, we got dinner.  With all of the various restaurants' being take-out or drive-through only, we ended up hitting up three different places.  I didn't get anything, choosing to continue to work on a Wawa protein bowl that I had bought earlier in the day.  Elyse got Cook Out.  Aaron got Zaxby's.  And Evan got Rally's.  The Rally's took the most time to prepare, so we pulled to the side, and I got some photos while we waited: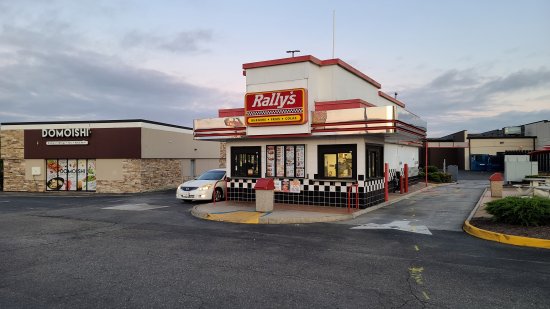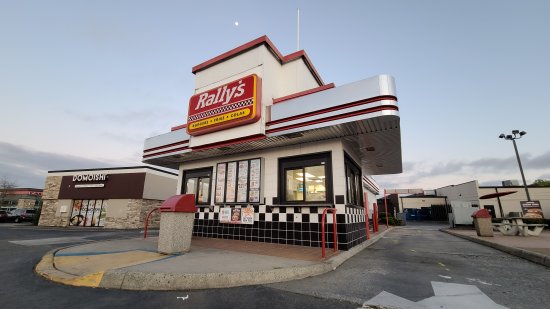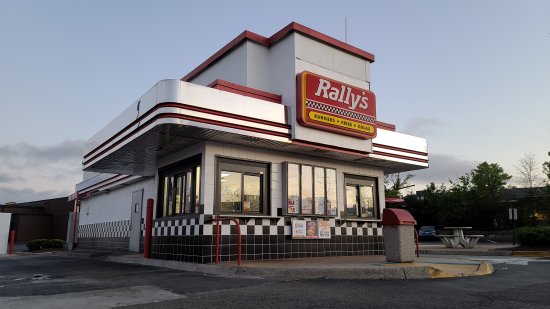 I think that I was drawn to this because of the brand name.  I had not seen a Rally's location in person since I had lived in Rogers, Arkansas.  That led me to photograph this despite there being a near-identical building near me branded as Checkers.  Plus the Rally's in Rogers didn't look at all like this, dating from before the companies merged.  Go figure, but it was something fun to do while we waited.
We also stopped at a Big Lots, mainly to use the restroom.  While we were there, Elyse found a new critter in a fuzzy little lobster, which I named Hugh: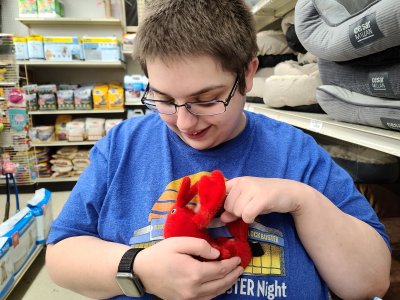 After this, we went back to the hotel, and we all took a swim in the hotel pool.  Not a bad time.
Then on Sunday, we were up early to take on the big enchilada: a trip around all of Hampton Roads.  Aaron and Evan met up with us at our hotel, and we got started.  But not before Woomy had a look at the decor in the hotel lobby and passed judgment on it: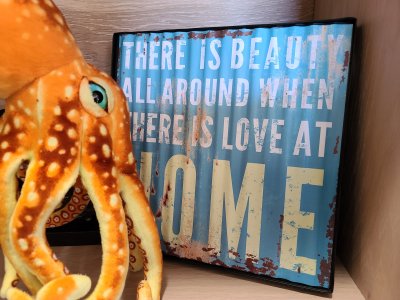 "I don't like that!"
We also discovered on the way out of the hotel that our room had a different window from all of the other rooms: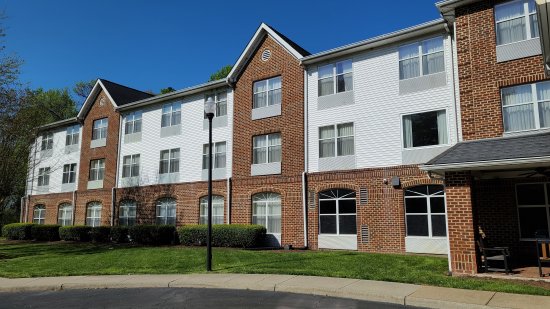 Can't unsee that now.  Presumably, our window was replaced at some point, and the replacement was a single panel rather than the four-panel design of the other windows.  Considering that the hotel looked nice on the surface but everything was a bit janky when you looked a little more closely, this fit the character.
Our first stop after leaving was the Hampton Coliseum, which is a lovely example of 1960s architecture: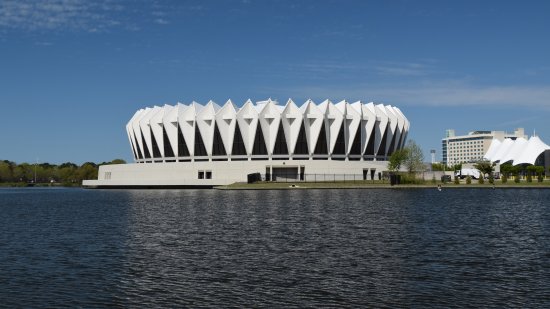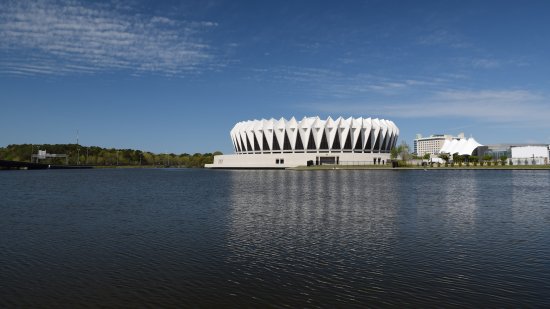 The best place to photograph this place, by the way, is from a nearby townhouse development.  We would be back here later to photograph it again at night.
From here, we went more or less counterclockwise around the Hampton Roads Beltway.  We went through the Monitor-Merrimac Memorial Bridge-Tunnel and ended up in downtown Norfolk, where we spent about two hours photographing around.  I had last been in downtown Norfolk in March 2003 when I made the Norfolk section of An Urban Comparison, and it was clear that a lot had changed in 17 years' time, some of which surprised me.
But first, I had to be made pretty.  Elyse found some flowers, and so she embellished my appearance slightly: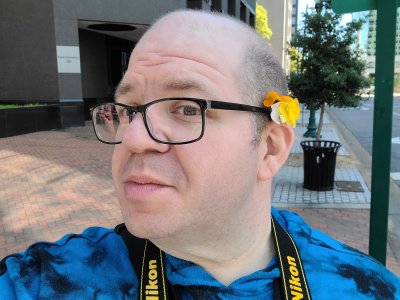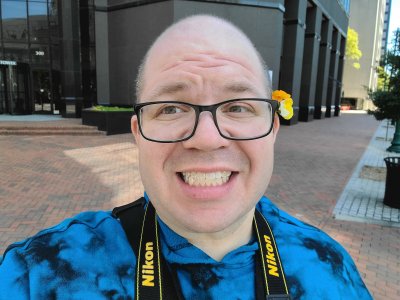 It worked, I suppose, but the flowers didn't stay too long before the wind and normal movements took them away.
One of the first things that we did was ride the Tide, which is the light rail system in Norfolk.  This was not there the last time I was here, and so we had to see it: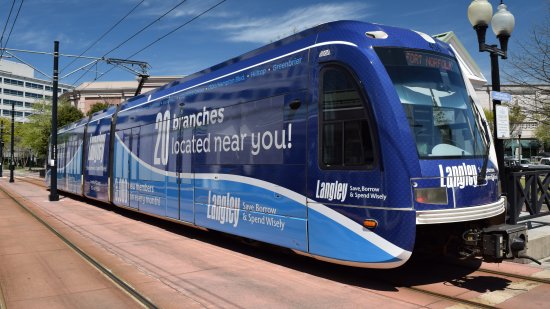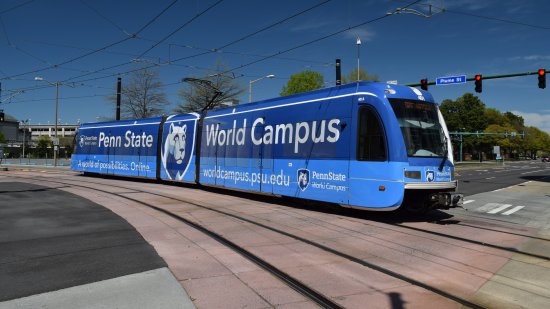 However, due to time considerations, we only rode one stop.  We'll give it a more thorough ride another time, when there's a full schedule, and half of the seats aren't taped off in an attempt to enforce social distancing.
Otherwise, I got a chance to photograph a few buildings.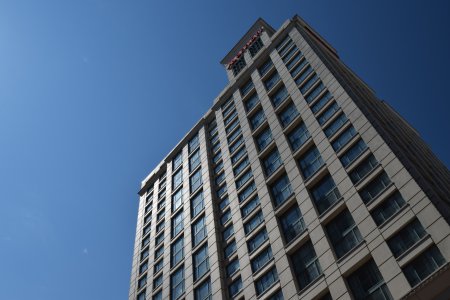 The Norfolk Marriott.  We went in so that Elyse could film the elevator.  That was a rather strange experience.  The hotel was undergoing renovations at the time, but owing to the pandemic, the place was completely dead (though that could also be said for most of downtown Norfolk).  The lights were on and the staff was welcoming, but it was just altogether too quiet in there.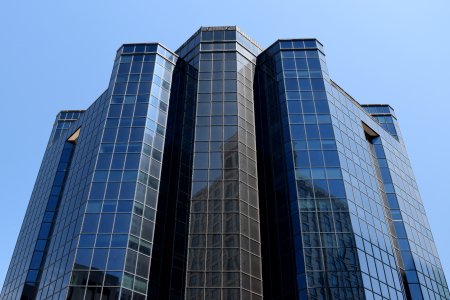 Main Street Tower.  I photographed this building in 2003 from a similar location for An Urban Comparison.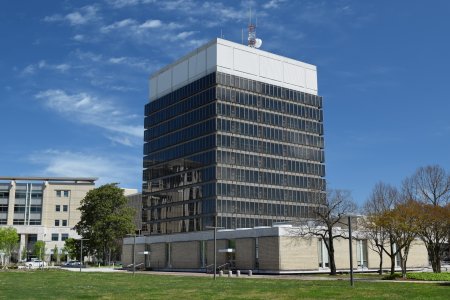 Norfolk City Hall, an example of modernist architecture.  I missed this area in 2003, since I stayed entirely to the west of St. Paul's Blvd. on that trip.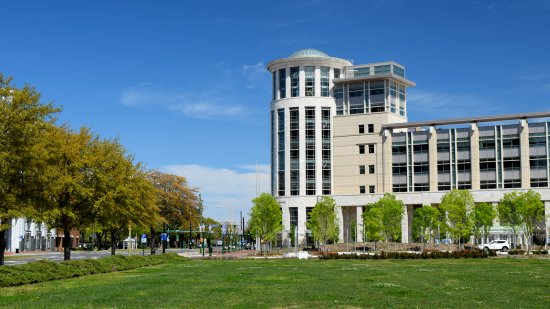 City of Norfolk Courthouse.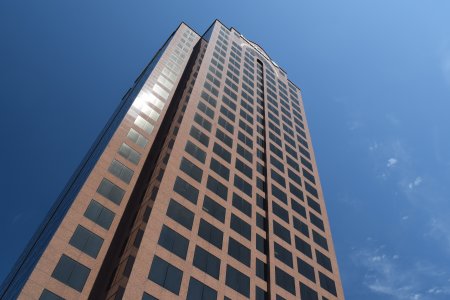 The Dominion Tower.  First Union's name was on this building back in 2003, and so considering the succession of mergers, where First Union became Wachovia, which then became Wells Fargo, I expected to see "Wells Fargo" at the top of the building.  Surprisingly, it was Bank of America's name up there.  I wasn't expecting that, since Bank of America's name was on a different building in 2003.
In looking through the 2003 photo set, one thing I commented on back then was skywalks.  There used to be a skywalk connecting this building with the rest of downtown, but now, that skywalk is gone, having been removed in 2019.  Modern urban design principles generally frown on skywalks, and many skywalks have been eliminated over the years, though I didn't check the status of any of the others that I photographed in 2003, save for the one connecting the garage to the Marriott, which we walked over.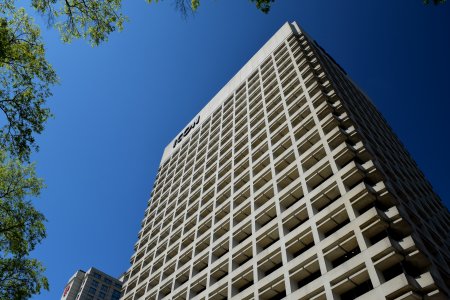 Icon Norfolk.  This was Bank of America's building in 2003, and now it's been renovated into apartments.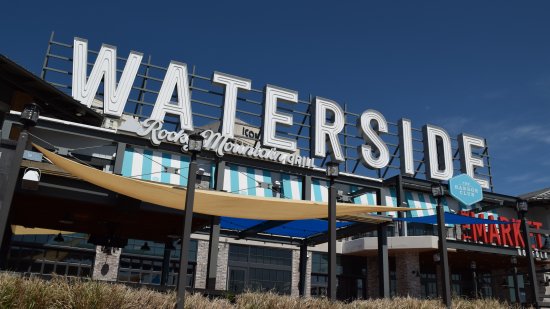 The Waterside has really changed in the intervening years.  It's the same building, but it has been completely renovated and now looks very modern.  We couldn't go in because of coronavirus-related closures, unfortunately, so I can't comment on the interior.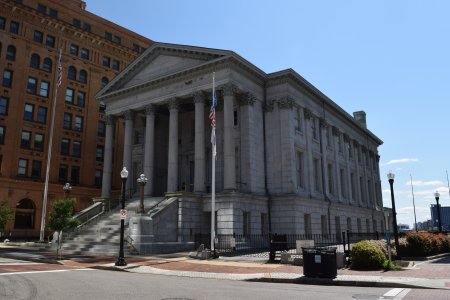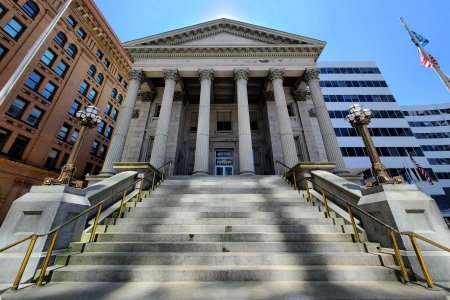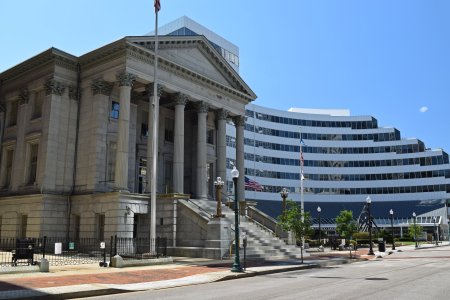 The Owen B. Pickett United States Custom House.  I photographed this in 2003, and it looks the same, which isn't too surprising for a government building.
I went to extra effort to photograph this building, because of the experience that I had in 2003 while photographing it.  I photographed this building as part of An Urban Comparison, and a federal officer stopped and detained me for some questioning after seeing me take my photos.  After all, in the decade following 9/11, people tended to wet their pants whenever they saw someone pull out a camera, because terrorists obviously photograph their targets in plain sight before they fly planes into them.  I mean, wouldn't you?  In any case, I was really put off by the entire experience, with this guy asking me for ID, and questioning me why I was here, and what I did for a living.  I really also was afraid that I would be arrested for photography, and really didn't want to have to deal with anything related to that, even though what I was doing was and still is 100% legal.  That experience of being harrassed by a police officer for photography was also a big factor as to why I didn't go back to Norfolk for 17 years.  I mean, would you want to go somewhere again after being treated like that?  This time around, I encountered no resistance with any of my photography.  After all, times have changed, and attitudes about photography have changed, with everyone's having a camera in their pocket via their smartphones nowadays, selfie culture, and all of that.  It's a lot more like it was before 9/11 now than it was in the years immediately following 9/11, and that's the way it should be.  Nowadays, when someone sees me photographing, it's typically to chat it up, rather than harass me.  And I appreciate that.  End of tangent.
We also spotted a rather unique notification appliance in Norfolk: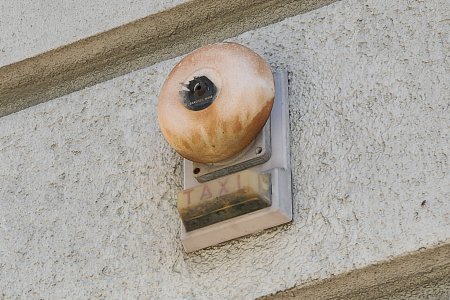 This is a Simplex bell and strobe from the early 1990s.  Note the lettering on the strobe, though: "TAXI".  I assume that this is used to notify cabbies that a ride is waiting.
After this, we rolled out and headed over to the Jordan Bridge: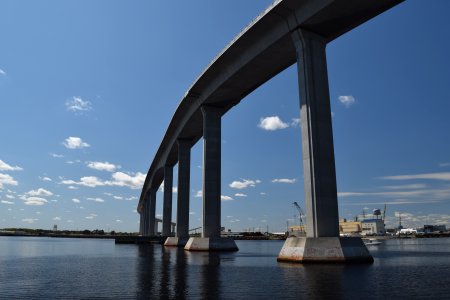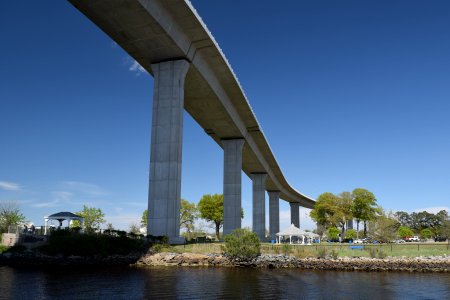 Not a bad bridge, in a nice park.  Nice bit of infrastructure.
From here, we went on a planned side trip.  We took VA 168 and headed down to Border Station on the Virginia/North Carolina line.  The point here was mostly to touch North Carolina, but it also worked out as a place to have lunch.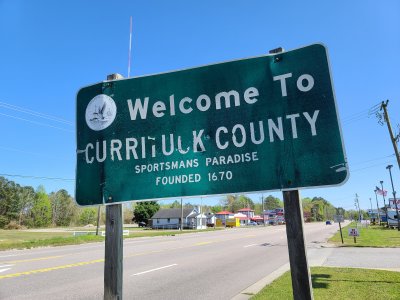 Sign welcoming travelers to Currituck County, North Carolina.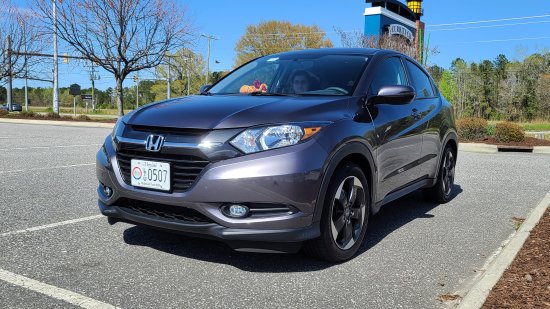 The HR-V in the parking lot of the Currituck Outer Banks Visitor's Center in Moyock, across the street from Border Station.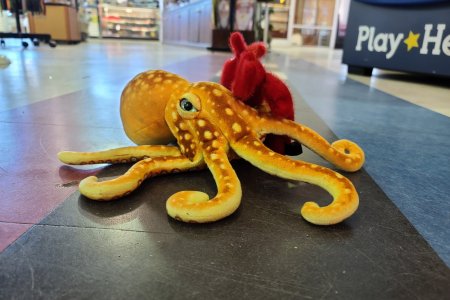 Woomy, with Hugh, straddles the line between Virginia (left) and North Carolina (right).  He didn't like the border.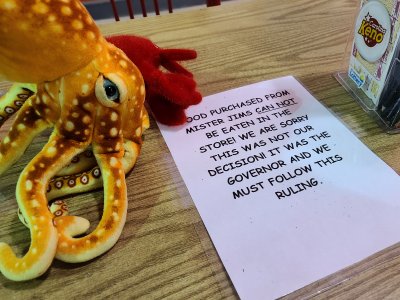 Woomy looks at the note on the table advising patrons that they are not allowed to consume food in the store due to coronavirus-related decrees handed down by the governor.  Woomy, like me, is a skeptic about the value of the various coronavirus-related lockdowns and restrictions enacted by fiat, and he was quick to declare that he did not like it.

Carolina-style barbecue.  Elyse and I shared this.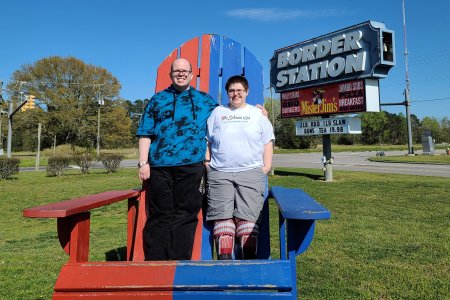 Evan got a photo of Elyse and me standing in the adirondack chair on the line between the two states.  I'm standing in Virginia, and Elyse is standing in North Carolina.  I still contend that the colors should be switched, since the Virginia flag is primarily blue, and North Carolina's flag has a lot of red in it.
From here, our next stop was Virginia Beach.  I had not been to Virginia Beach since 2008, when I took a five-day vacation there and spent most of my time there feeling bored and uninspired.  Let's admit – the part of Virginia Beach near the ocean fits the character of a dumpy resort town, and it's not very inspiring for photography.  In this case, we started out doing a drive to the north end of the strip and then down to Rudee Inlet.  It was just as dumpy as I remembered, though the no-swearing signs that were posted all over the place on past visits had been removed.  Apparently, a business group was successful in lobbying the city to remove them in 2019, considering them unwelcoming and ineffective.  Good riddance to them.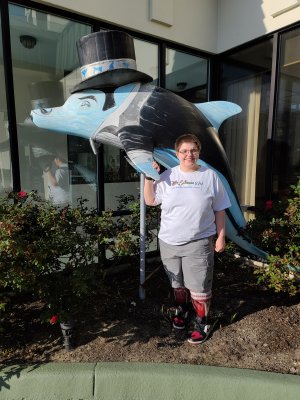 Elyse poses with a dolphin in front of one of the hotels along the strip.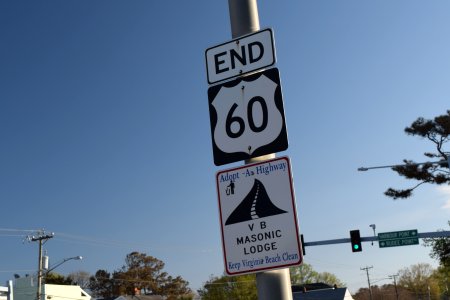 We went over to the "END" sign for US 60 just after Rudee Inlet.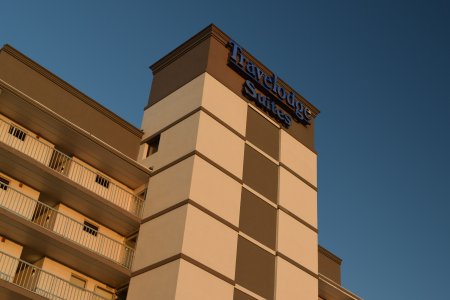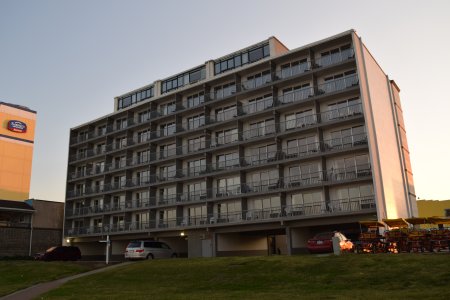 I captured a few photos of the Travelodge, where I stayed in 2005 and 2008.  It appeared to be just as dumpy as it's always been.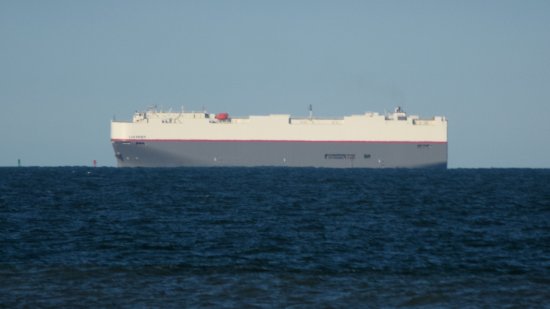 The first of two car carrier ships that we spotted.  This is the Leo Spirit, and from what I could tell researching online, it was on its way to the Port of Baltimore.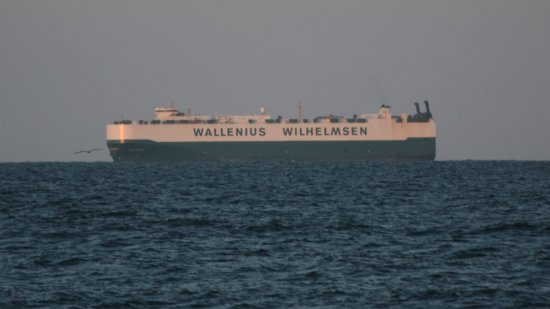 The second ship was operated by Wallenius Wilhelmsen, but unfortunately, my camera couldn't resolve the name because of distance.  If you know what ship this is, let me know.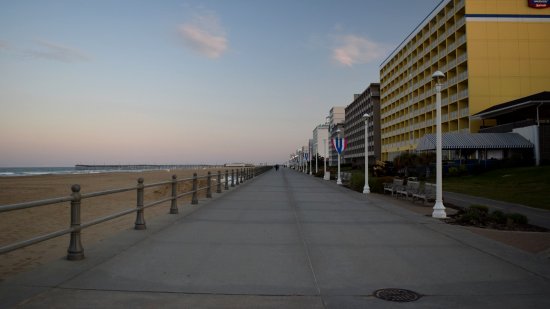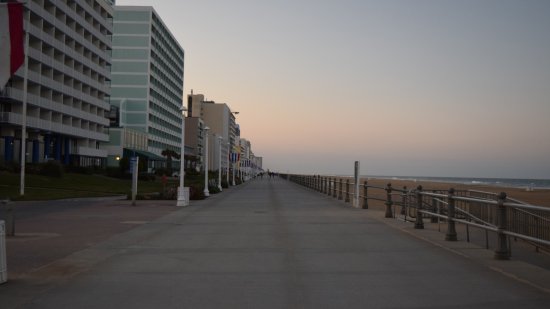 The Virginia Beach boardwalk, at approximately 20th Street.
At this point, we were running out of sunlight, and so we turned our attention to our nighttime activities, where Evan and I were breaking out the tripods and photographing at night.  We started in Portsmouth, photographing the portal for the Downtown Tunnel, photographed downtown Norfolk from across the river, then we photographed the portal to the Midtown Tunnel, and then we returned to photograph the Hampton Coliseum.
First the Downtown Tunnel: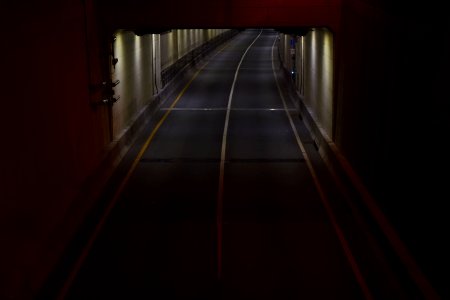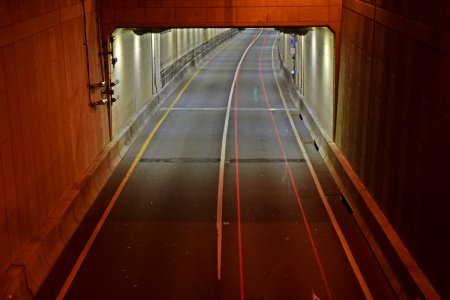 I wasn't too pleased with the results from the Downtown Tunnel, as I was trying out bulb mode for the first time.  I'm used to setting timed exposures, and so this was something that I'm not as accustomed to, and it shows.  I'm sure that with practice, I could become proficient with it, but an operational photo shoot really wasn't the time to experiment with it.
After this, we headed to our across-the-river view of Norfolk, from Portside Park:

Two ships at Washington Point.  The ship to the left, in dry dock, is the USS Jason Dunham, an Arleigh Burke-class destroyer.  I was not able to determine the identity of the ship to the right.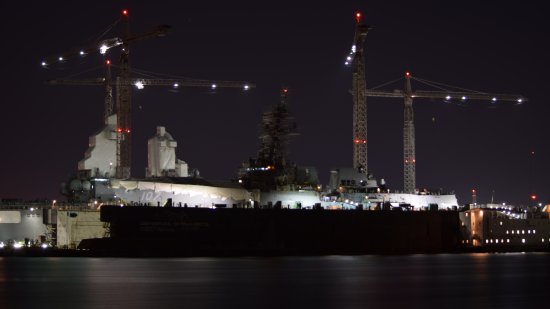 The USS Gravely, another Arleigh Burke-class destroyer, elsewhere at Washington Point.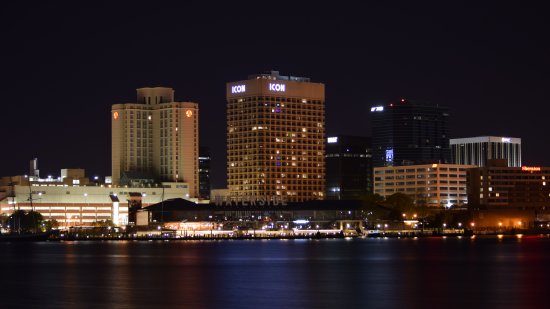 The area that we saw earlier: the Marriott, the Icon, and the Waterside.  The headquarters building of the Norfolk Southern railroad is also visible at right.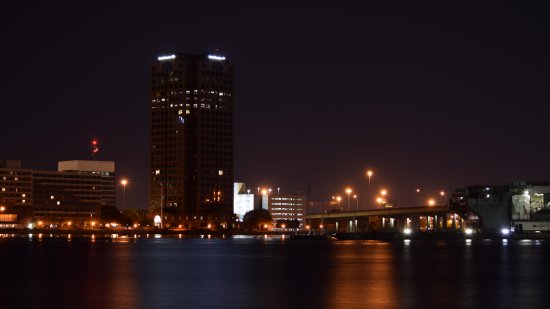 The Dominion Tower.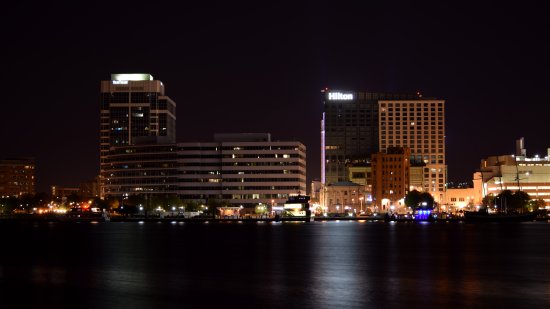 150 West Main Street, the World Trade Center, and the Hilton, among others.  I photographed this part of downtown in 2003, but didn't go over there this time.
And then the Midtown Tunnel: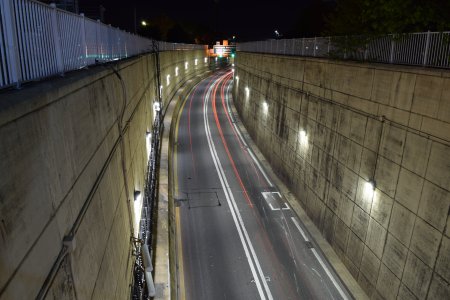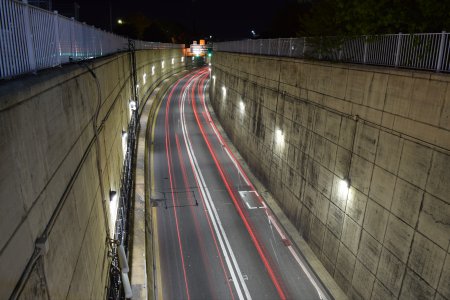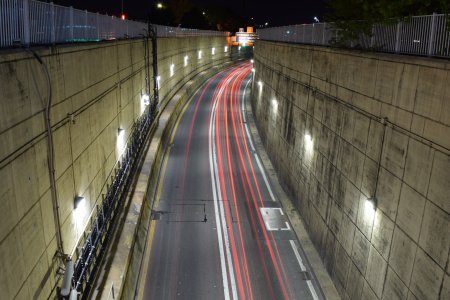 Stacked exposures of the Midtown Tunnel portal, showing taillight streaks.
And finally, the Hampton Coliseum: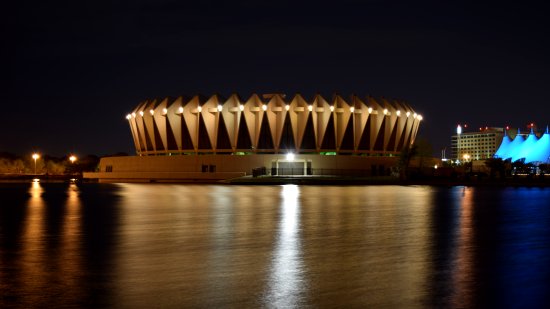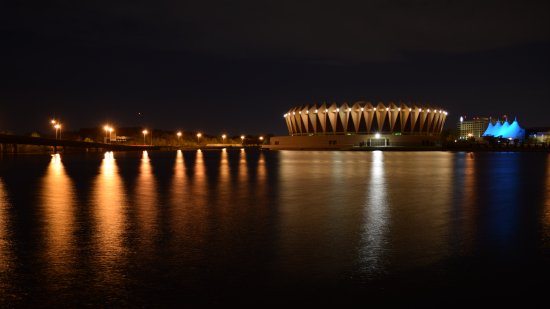 From here, everyone got dinner (I still had my leftover Wawa), and then we headed back to the hotel.  We said goodbye to Aaron and Evan, and then went to bed, because we had a full day ahead of us, plus we had to end up back at the house at the end of it.
After we checked out of the hotel on our final day, we first headed out to photograph the Long Lines tower in Williamsburg.  We had photographed that earlier in the trip, but now we had clear skies: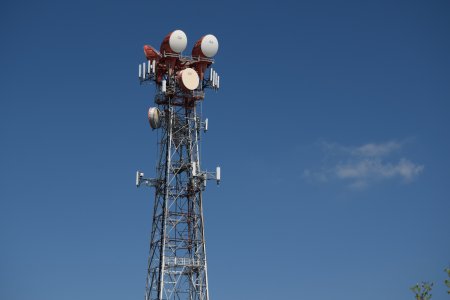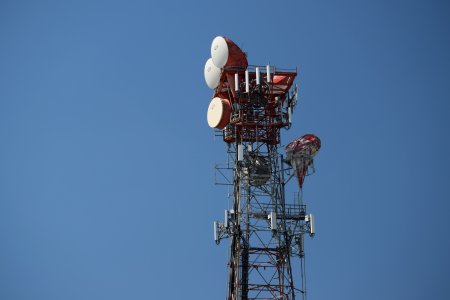 Elyse knows a lot about these things, and made a somewhat educated guess that the three big units were pointing at the other tower in Newport News, and that the other devices were pointing at another tower to the southwest.
We then went downtown and took a bus ride.  We rode the WATA route 5, which is signed for "Monticello".  Then we photographed afterward: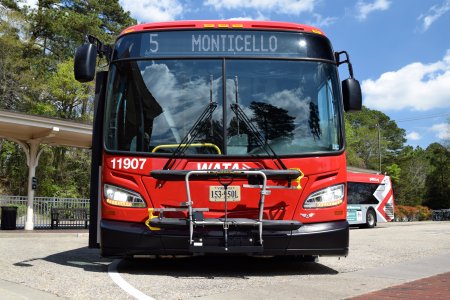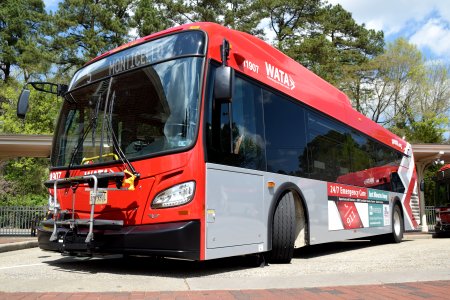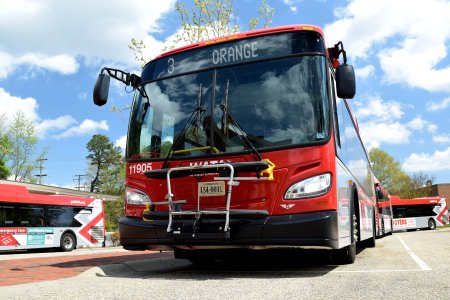 What surprised me most about WATA was that they ran mostly New Flyer Xcelsior buses.  For an agency that size, I would have expected a fleet dominated by Gillig buses.  In my experience, bigger agencies like Metro, MTA Maryland, SEPTA, and so on tend to use New Flyer, while the smaller agencies tend to use Gillig, though this is not a hard-and-fast rule (Fairfax Connector also uses New Flyer despite their smaller size).  Also, every time I saw "WATA", I kept thinking that they forgot the "M", since I am so used to seeing "WMATA" for Metro.
We then headed to Richmond, just as it was starting to get cloudy.  The original plan was to meet up with another friend, but unfortunately, he had to cancel at the last minute due to his not feeling well.  We wished him well, and we'll plan a trip to see him another time.  Because our visit with our friend didn't pan out, we ended up zipping west down Broad Street, only stopping at Cook Out so that Elyse could get lunch, and then at an Asian grocery store.
Our next planned stop was just west of Richmond: a rest area in Goochland County with some personal significance.  Back in 1993, on the way back from our first trip to the Outer Banks, we stopped here for a restroom stop.  Mom said, "Everybody try!" in regards to use of the bathroom.  Okay, fine.  I went in there, I produced, and then I reported back, saying, "I did a big, juicy poop!"  Mom was mortified, but I mean, hey, I was twelve years old, and that's the sort of thing that twelve-year-old boys think is funny.  I had told Elyse this story, and so she wanted to see it and use the same restroom.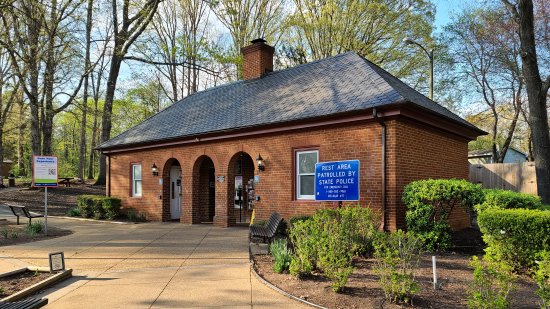 Here's the rest area, which is a typical older-style Virginia rest area with no enclosed vestibule.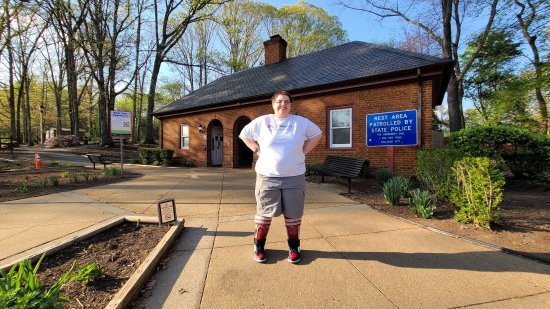 Elyse is all smiles after having left a token of her appreciation there, and then sending it on its journey.
We then got back on the freeway and turned around at the next exit.  Our travels were to take us up I-295 towards mainline 95, and up to the DC area from there.  We made a stop on 295 to see a Publix for the first time, and visited another AT&T Long Lines tower that we spotted on the way to Publix.  First of all, Publix was pretty nice: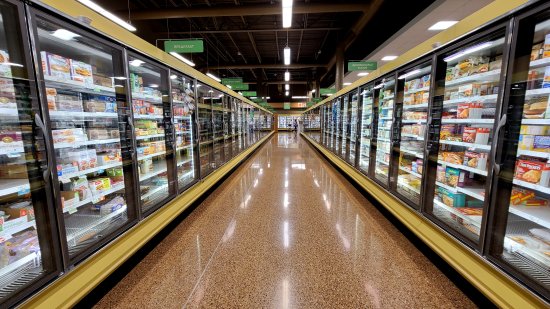 Not bad.  The service level at Publix reminds me of Harris Teeter, which is plentiful up near DC.  I would love to see Publix expand into Maryland, though, because it seems like a great addition to the mix up there, especially with the departure of Shoppers from our area.  We also found this cart interesting:
This cart is designed to be attached to a customer's existing wheelchair, rather than requiring that a person transfer to an electric cart or another wheelchair equipped with a basket.  It just snaps on and you go.
Then this was the Long Lines tower: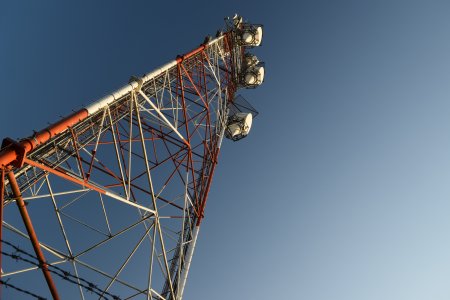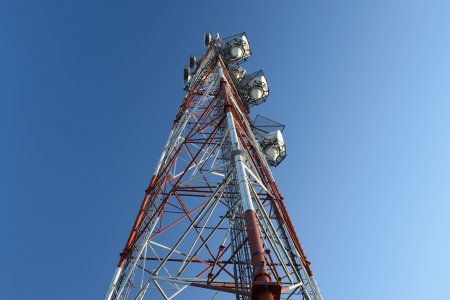 Not bad.  And then from there, we made a beeline up I-95 to Stafford, where we made a pit stop at Target, and Elyse and I got this photo making sport of the coronavirus-inspired "do not touch the displays" signage: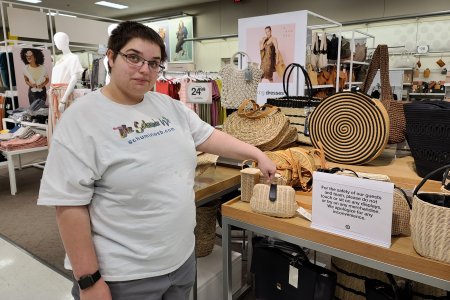 Touching that which we are not supposed to touch.
Then we took Route 1 for much of the rest of the way home.  All in all, this wasn't a bad trip.  I would love to do a longer trip down this way one day in order to give more attention to the various parts of Hampton Roads that we saw.