March 6, 2021, 9:36 AM
About a year ago, Elyse and I visited an abandoned former Days Inn in the Warfordsburg, Pennsylvania area, about twenty minutes south of Breezewood.  Since then, we had received reports of a fire at the site in September, which destroyed the motel building.  Six months after that fire, we didn't quite know what the site would look like, i.e. whether the remains would still be there or if it would all be demolished by now, so we went by to check it out.
First thing I did was fly over the site with the drone: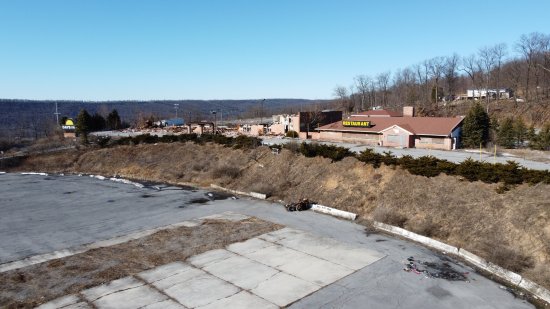 Continue reading…
March 7, 2020, 10:00 AM
I guess that you could say that my March came in like a lion.  On March 1 and 2, Elyse and I did an overnight trip to south-central Pennsylvania, a 350-mile journey that took us to an abandoned motel, to Breezewood, through three of the four mainline tunnels on the Pennsylvania Turnpike, to Harrisburg, and then back home.  All in all, we had a fun time.
Our first stop was the aforementioned abandoned motel.  This was a former Days Inn near Breezewood, and from what we could tell, it had been abandoned since 2013, and, from the looks of things, it will never be occupied again.  Just about every piece of glass in the place had been shattered, the ceiling in the hallways had either fallen down or been pulled down, and there was mold everywhere.  Lovely place.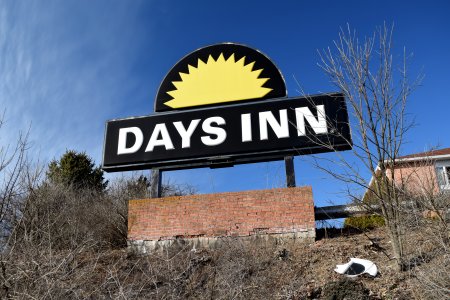 Welcome to Days Inn!
Continue reading…
November 6, 2016, 10:10 AM
In doing the writing for an upcoming photo set for Life and Times about a trip that Elyse and I recently made to Pittsburgh [update: photo set published in January 2017], I quickly realized that much of the discussion about the trip up builds on a photo set that I shot in May 2006 with the intention of publishing in Photography, but that I ultimately never completed.
In this case, the subject of the "lost" photo set was Breezewood, Pennsylvania.  For those not familiar, when one travels to Pittsburgh from the DC area, one of the places that you go through is Breezewood, a settlement best known for a quarter-mile stretch of US 30 that carries Interstate 70 traffic to the Pennsylvania Turnpike – a stretch of road that is loaded with gas stations and motels and restaurants.  I first traveled through Breezewood in 2003 during the LPCM trip to Pittsburgh, and it piqued my interest – even more so when I later learned that there was an abandoned stretch of the Pennsylvania Turnpike nearby, including two tunnels.  I discussed a potential trip to Breezewood for a photo shoot in 2005, and then made a trip from Stuarts Draft to Breezewood – a three-hour drive each way – on May 2, 2006.  About the only bit of evidence of the trip on here was five photo features showing Breezewood, a short Journal entry with no photos, plus a few things here and there on Wikipedia and Panoramio, as was my practice at the time.  The intended Photography set, with the working title "Town of Motels", was never made.  Kind of a shame that, for a trip that was that far away and entirely dedicated to photography, so little was actually published from it.
I'm pretty sure that I never published the set because I didn't feel like the photos were up to par, even for the (lower) standards that I operated under at the time, and thus couldn't find the inspiration to complete it.  Most of the photos had a yellow cast over them, and I clearly didn't take enough time in composing my shots.  In hindsight, while I had fun doing the shoot, the idea was something of a loser.  After all, it was, for the most part, just a clustering of chain businesses along a unique stretch of highway.  The road configuration, created due to regulations in place at the time that precluded the use of federal funds to build direct connections to toll facilities, was what was unique, but that wasn't the focus of my photography.  I focused mostly on the chain businesses themselves, which weren't particularly unique.  The chain businesses looked a lot like "Anytown USA", i.e. they were much the same as you would find anywhere.
Continue reading…