December 27, 2018, 2:44 PM
Elyse and I drove around our immediate area in Montgomery Village looking at lights after I got home from work on Christmas Eve.  The sense that we got from driving around was that this wasn't a big year for decorating.  There were some houses that were decorated, but on the whole, there was not a whole lot going on.  Last Christmas was definitely better, though admittedly, it is more of a challenge to successfully decorate townhouses than single-family houses.  Nonetheless, I have a few highlights to share: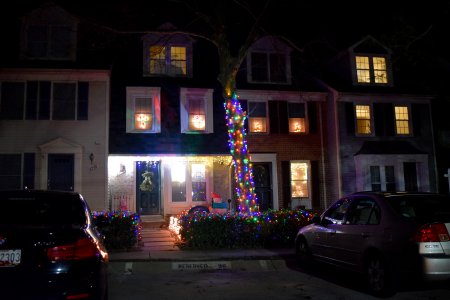 These were the only decorations of note on my street.  It appears that these two houses coordinated their efforts, as the decorations in the second-floor windows match, and the lighting on the hedges on both properties also matches.
Continue reading…
December 14, 2018, 2:00 PM
One of my favorite books as a small child was Sir Andrew by Paula Winter.  For those not familiar, it is a wordless picture book about a donkey who is very vain, who both gets in and causes trouble over the course of the story due to his vanity.  We first found it at the library in Rogers, Arkansas, where we lived at the time.  Apparently, I wanted my own copy of Sir Andrew, having liked the book that much.  However, in the mid 1980s, over a decade before Amazon and the Internet became commonplace, locating a book like that for purchase was a very tall order.  So my mother did what she could to make me happy: she photocopied the entire book, colored it, and bound it.  I knew that it was a homemade copy from the moment that I saw it, but I was pleased as punch nonetheless.  This was the Sir Andrew that I grew up with: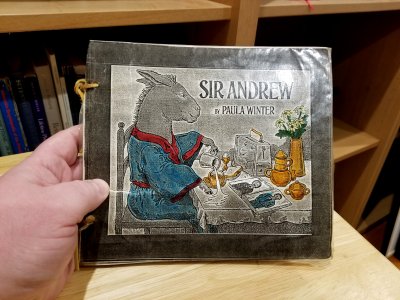 Continue reading…
December 1, 2018, 8:00 AM
At last, my journey into the land of unfinished furniture is over.  Four dining chairs and an end table are now complete and in service.  My house looks way better for it, but I am so glad that it's done and over with.
For this project, I was staining to match existing furniture.  I tested a few colors, and ultimately settled on Varathane "Early American" for the stain.  Unlike the kitchen chairs, stain and polyurethane were separate efforts for these pieces, since the right color was not a combo item like it was for the kitchen chairs.
I've already shown the unfinished chairs in the Journal entry about the rugs.  Recall: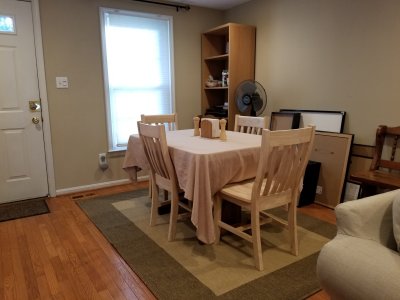 Continue reading…