I don't want to undertake another unfinished furniture project for a long time…
December 1, 2018, 8:00 AM
At last, my journey into the land of unfinished furniture is over.  Four dining chairs and an end table are now complete and in service.  My house looks way better for it, but I am so glad that it's done and over with.
For this project, I was staining to match existing furniture.  I tested a few colors, and ultimately settled on Varathane "Early American" for the stain.  Unlike the kitchen chairs, stain and polyurethane were separate efforts for these pieces, since the right color was not a combo item like it was for the kitchen chairs.
I've already shown the unfinished chairs in the Journal entry about the rugs.  Recall: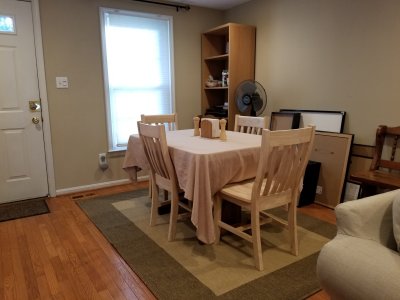 Then this photo amused me: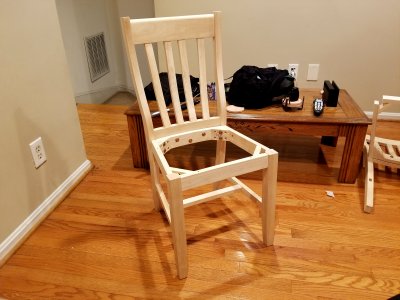 This was during the assembly, before I put the seat on.  I remarked that we could always leave it like this and just slide a chamber pot underneath.
And then this is the end table: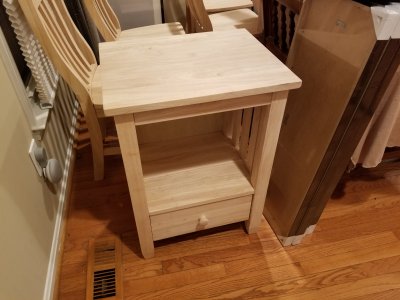 I did the whole thing as three distinct projects: the first chair, the remaining three chairs, and then the end table.  The process was an initial light sanding, staining, two or three coats of polyurethane, a second light sanding, and then the final coat of polyurethane.
The biggest challenge with this project was the staining.  This was my first non-water-based staining project, which presented new challenges because it didn't just rinse away with water like I was used to.  To clean up, I had to use mineral spirits, which presented its own challenges.  In my initial staining session, I learned pretty quickly that it's easy to spread that stain around if you're not careful, and mineral spirits make it far more complicated to clean.  What I ended up doing was going full-on disposable.  I bought a big bag of painting rags and foam brushes from Amazon, and I wore rubber gloves.  At the end of each staining session, everything went into the trash, and I didn't need to use the mineral spirits.
Here's a half-stained chair up on the breakfast bar: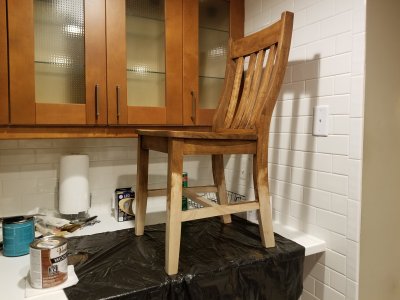 And then this was the final result after all of that work: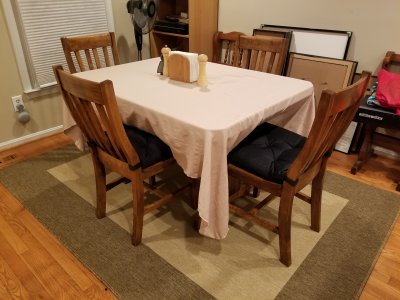 That night, Elyse and I had dinner at the table, on the new chairs.
And here's the completed end table: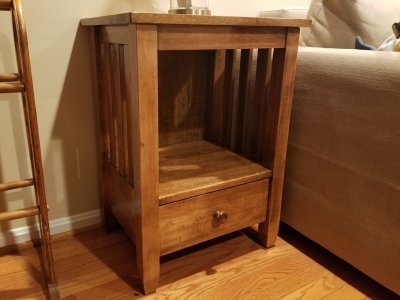 Not bad, if you ask me.  My plan is to put a lamp on top of the table and keep items for use with the TV in the drawer, but I'm not sure what I'm doing with that open space inside just yet.  The original plan for the lamps was to put a new lamp there with some sort of generic filler inside of it, but then, not being satisfied with any of my options for the living room, I decided to move the shell lamp from the mezzanine to the living room, and then put the new lamp in the mezzanine, with a filler to match that space.
So all in all, things are slowly coming together.