March 29, 2013, 11:38 PM
Thought I'd share.  Here's a photo that Isis got of me at Landmark Mall in Alexandria today that I found amusing: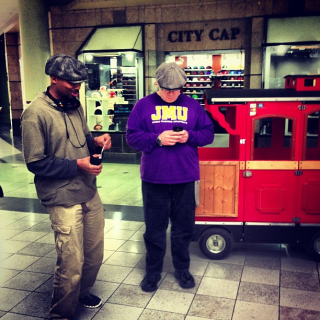 Photo: Isis
Isis found it interesting because everyone in the photo was wearing a hat in front of the "CITY CAP" sign and the mall train (both the other gentleman and I are train enthusiasts).  I found it amusing because I'm standing in a common pose for me when I'm out and about.  Holding my phone and tapping away.  After all, those amusing Facebook/Twitter/Instagram posts don't just post themselves, right?
Continue reading…
March 28, 2013, 12:44 PM
So I got back Tuesday night from a trip to Stuarts Draft.  That was fun, though not the fun that I was expecting.  I got to visit my friend Bergit in Charlottesville, and then spent two days spending time with my parents.  The original plan was to go to Roanoke with Mom on Monday and also visit friends and see transportation-related stuff, but that unfortunately got snowed out.
But first, though, in case you're wondering what the deal with the title is, let me explain.  My trip started out with proof that my kidneys do great work, and that having a cup of coffee before a three-hour road trip is inadvisable.  Yes, I took far more restroom breaks on this trip than I normally would.  I ended up stopping at the rest area on I-66 near Manassas, Sheetz in Madison, the new Trader Joe's in Charlottesville, and then the rest area on I-64 near Ivy.  Usually I can make it on one restroom break.  But, noooooo… my body decided that this was the perfect time to unload a bunch of water.  And I was not shy about discussing restrooms on social media on the entire trip.  This from the Sheetz in Madison: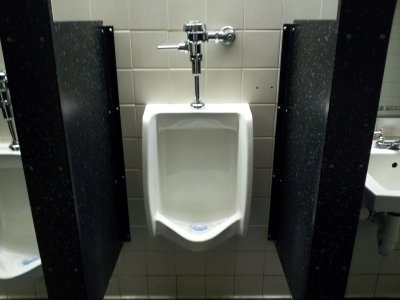 And I accompanied this on Instagram with the following caption: "This road trip has been brought to you by the letter P, and by the number 1."  Yep… that kind of day.
Continue reading…
March 21, 2013, 5:58 PM
A friend of mine recently sent me a link to this article by Dr. Christopher M. Bailey, a geology professor at The College of William & Mary.  The article discusses the name of a place that many people in the part of Virginia that I grew up with are most likely quite familiar with: Afton Mountain.
The article is titled, "Mind the Gap! Where is Afton Mountain?" and discusses the geology of the area, specifically Rockfish Gap, and a few quirks of the local culture.  First, for those not familiar, Rockfish Gap is a wind gap in the Blue Ridge Mountains, which separate the Shenandoah Valley and the Piedmont region in Virginia.  Because it is the lowest gap for quite some ways traveling both north and south, the area became an important way to travel east and west.  Today, Interstate 64 and US 250 carry travelers through Rockfish Gap.
Technically speaking, this is Rockfish Gap, seen here in a 2003 Schumin Web file photo: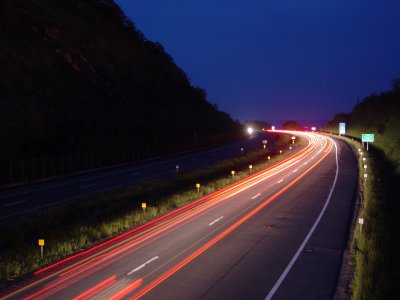 Continue reading…
March 12, 2013, 10:16 PM
According to an article on Patch.com, since January 22, four pedestrians and one cyclist have died in collisions with cars in the eastern part of Montgomery County.  The cyclist was struck in downtown Silver Spring.  The pedestrian fatalities all occurred outside the Beltway.  One involved a woman's being struck while on the sidewalk, and the other three were struck and killed while attempting to cross major arterial roads in the county – specifically, Columbia Pike (US 29), Connecticut Avenue (MD 185), and Georgia Avenue (MD 97).  Ken Silverman, an analyst for county councilwoman Nancy Navarro, created a map showing the location of the accidents.
Now in looking at all of this, I latched onto the fatalities related to crossing the arterials.  I am on each side of the pedestrian-driver coin in Montgomery County at various times, and so I am familiar with both driving around pedestrians, and walking around cars.  I have also crossed Georgia Avenue on foot many times.  In these instances, the Columbia Pike incident happened in the southbound lanes at the intersection with Oak Leaf Drive in White Oak.  The Connecticut Avenue incident happened at the intersection with Everton Street, in the Wheaton area.  The Georgia Avenue incident occurred at the intersection with Heathfield Road in Aspen Hill.  I looked at these areas, and there are some common factors in all of them:
All three incidents occurred after dark
All three incidents occurred at unmarked crosswalks (any intersection is considered a legal crosswalk in Maryland whether it's marked or not)
The main roadway in all three locations is a six-lane divided highway with three lanes on each side
There are bus stops on both sides of the road at all three locations
There is street lighting on the side of the road where the incidents occurred (Columbia Pike and Georgia Avenue have lighting on only one side in these areas, and Connecticut Avenue has lighting on both sides)
Continue reading…
March 3, 2013, 10:01 PM
So you may have seen the new splash photo, showing me holding a monkey wrench at Home Depot.  I was amused enough by it that I decided to make an "Internet meme" version of it.  Take a look: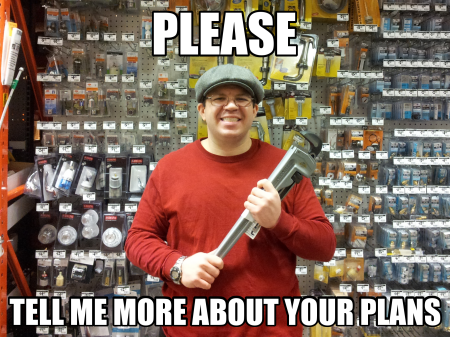 After all, what's the fun of having a monkey wrench if you can't throw it in someone's plans, right?
Continue reading…